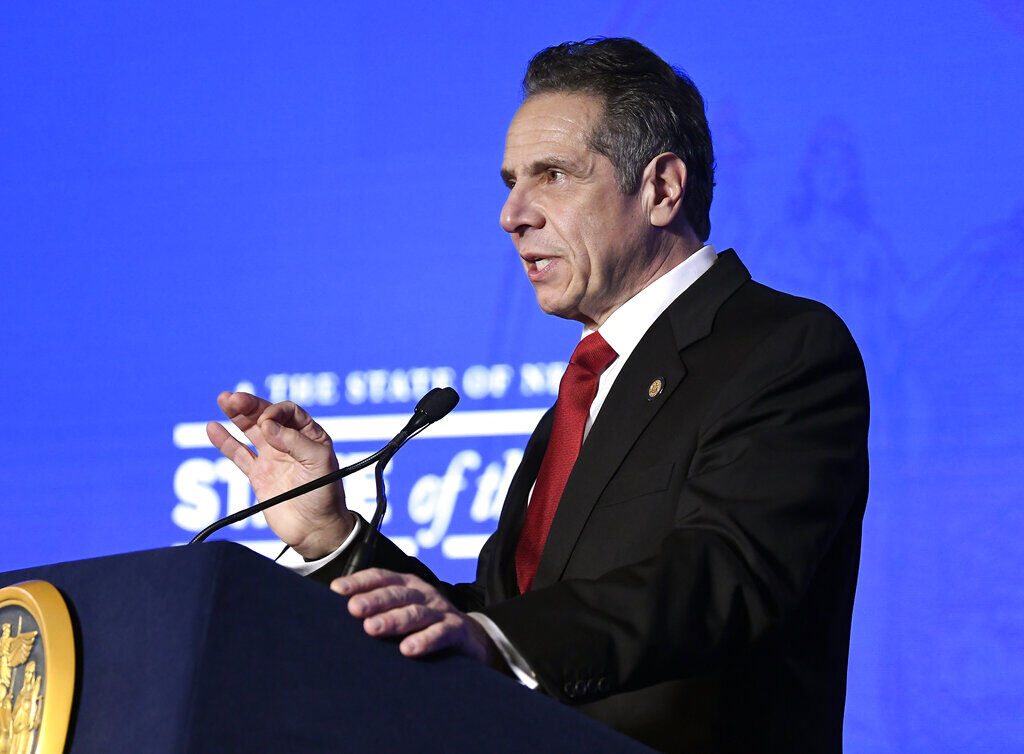 ALBANY – Gov. Andrew M. Cuomo spent parts of four days last week giving State of the State speeches.
On Tuesday, he provides a far more important address that will, in one way or another, affect all New York residents and every company doing business here: the unveiling of his 2021 state budget plan and his ideas for how more than $150 billion is raised in taxes, fees, borrowing and federal aid – and how it all gets spent.
The fiscal plan by Cuomo comes as thousands of additional New Yorkers are contracting Covid-19 each day, many businesses are struggling to stay afloat or have already shuttered, and local governments have been forced to cut some services or jobs because of their own drops in revenues, including once-promised state aid they had budgeted to receive.
Still, while the task of budget balancing will be a challenge for Democrats who control the governor's office and both houses of the state Legislature, it will not be nearly as devastating to groups that rely on state funding as predicted by officials last year during the pandemic's first wave.
Cuomo and lawmakers have an improving economy and bailout help from Washington, both already approved last year and future aid recently promised by President-elect Joseph Biden. Billions in special aid was approved in 2020, including as recently as December, to help schools and transportation agencies as well as the Medicaid health insurance program.
Biden's stimulus plan that he expects to get approved early in his new administration, will total $1.9 trillion, of which more than $50 billion is expected to flow into New York, Democratic U.S. Senators Charles Schumer and Kirsten Gillibrand said Sunday.
Some level of that funding will go to the state government, as well as local governments, but the number also includes everything from cash payments to residents, unemployment benefits, vaccine efforts and transit programs.
A host of budget and policy questions await some initial glimpses in Cuomo's new budget plan, which is subject to revisions as he negotiates with the Legislature leading up to the March 31 budget deadline, including:
• Will the Legislature continue to grant Cuomo, as it did last year, new powers over spending decisions after the fiscal year begins April 1?
• How much will Cuomo rely on new or higher taxes on New Yorkers, and will he embrace, as many Democratic lawmakers want, a big tax hike program aimed at millionaires and billionaires? Cuomo has often raised concerns that such a tax increase will drive many of those wealthier New Yorkers out of the state and that the legislative tax hike plan on the rich won't raise the amount of tax receipts as lawmakers and outside groups project.
• What sort of state aid number will Cuomo propose for the state's 700 school districts, a decision that could affect everything from classroom programs to the level of taxes paid by property owners in those districts?
The governor is also expected to lay out his plan for the legalization of marijuana, including its use by adults, and the cultivation, distribution and taxation of the drug. Cuomo believes legalizing the drug will bring the state $300 million in annual tax revenue, which likely would be two years off considering the complexities of enacting a regulatory plan.
The big question on marijuana legalization policies: Will Cuomo, unlike the past two years when he offered legislation to legalize the drug, embrace lawmakers' ideas to drive much of the revenues raised into low-income communities that over the decades were disproportionately affected by the war on drugs and high arrest rates in those minority neighborhoods?
Cuomo's new budget plan will return to the gambling industry to bring in money to Albany. In the 2021 version, Cuomo's budget will provide details of how he thinks an online sports betting program should be run. From the brief highlights he has given already, his plan is less market-oriented and more heavily regulated than what many lawmakers have envisioned. But the Cuomo plan also brings in more money for the state: an estimated $500 million annually.
Another question for the Cuomo budget: What are his ideas for restoring New York's economy? Last week, he unveiled a $306 million infrastructure program, with most of the big construction projects planned for Manhattan. A number of the projects he included in the overall price tag were previously announced or are already underway, but he envisions focusing on infrastructure improvements as a major job creator.
Will Cuomo give tax breaks to spur the economy or commence other job creation programs funded by the government? Maryland Gov. Larry Hogan last week called for a $1 billion emergency fund to help pay for things like stimulus checks paid directly to residents. In California, Gov. Gavin Newsom two weeks ago proposed in his state budget plan several economic boosters, including $600 checks to 4 million low-income residents.
Among those closely eyeing the Cuomo budget plan are localities, such as counties, that have seen large state aid cuts this year. The New York State Association of Counties recently called for Albany to support long-requested changes in state law to give counties more flexibility – instead of costly mandates imposed by the state – in the running of various kinds of government services. They want to end what county leaders call a "diversion" of some county sales tax receipts to the state and want a share of taxes raised by the legalization of marijuana.
"Local governments have been doing more with less than anyone ever thought possible, leading the local response to the pandemic, while suffering major losses in sales tax revenue and cuts to state reimbursements," Stephen Acquario, the executive director of the county association, said in recently releasing its 2021 priorities for the budget and session.
The governor talks often of a $15 billion deficit. The deficit for the fiscal year ending March 31 has been pegged by his advisers at about $8 billion. But many outside budget watchers and lawmakers say the more accurate number, when delivered federal aid and an improving economy are factored in, is at most $4 billion.
State Comptroller Thomas DiNapoli, a Democrat, recently said that while state tax revenues are down in the 2020-2021 budget, they are actually running $3.8 billion above what the Cuomo administration project just last spring.
How Cuomo will treat the promise of more federal aid in his budget will be revealed Tuesday. The most relevant precedent, according to E.J. McMahon, senior fellow at the Empire Center for Public Policy, was in late 2008 when then-Gov. David Paterson presented his budget plan a month early and without reliance on extraordinary federal aid. But, McMahon said, Paterson knew incoming President Obama and a Democratic-led Congress was going to be delivering a big aid package to recession-slammed states – and New York did get $10.5 billion in early 2019.
McMahon noted that Cuomo can't submit a budget containing appropriation bills with "placeholders or TK marks" if he is to preserve his line-item veto control in the spring. Cuomo must, he said, introduce bills with specific spending cuts he is willing to support, like to public schools, the largest component of the state budget. State aid to schools, under current law, is projected to grow by $1 billion in the coming year, but it would be impossible, he said, for Cuomo to close a multibillion deficit without controls put on school aid and the second biggest budget cost driver: Medicaid.
"I would expect (Tuesday's) budget presentation to be an exercise in political spin on hyperdrive. To the extent revenues are undeniably up over his previous estimate, he will have to show it in the financial plan but will otherwise downplay the improvement and continue to make the budget gaps look as massive as possible," McMahon said.
Localities hit by state cuts
The budget adopted last April permitted the Cuomo administration to reduce spending up to $10 billion during the year as a result of the impact of Covid and uncertainties over federal aid. The largest share of the cuts that Cuomo could make unilaterally: aid to localities. From June through September, the state "withheld" $2.4 billion in money approved last April, including for costs associated with schools, health care, higher education and transportation.
On Monday, Freeman Klopott, a spokesman for Cuomo's budget division, said the state government, even with DiNapoli's most recent rosier revenue projections, still is left with a loss in tax revenues of $12 billion in the current fiscal year and $10 billion in the coming fiscal year.
"As we've said, the federal government must follow through on its promise to deliver funding so that the state can continue to support critical services and lead the national recovery. In the absence of federal funding, the state will consider spending reductions, borrowing, and revenue increases to close the deficit," Klopott said.