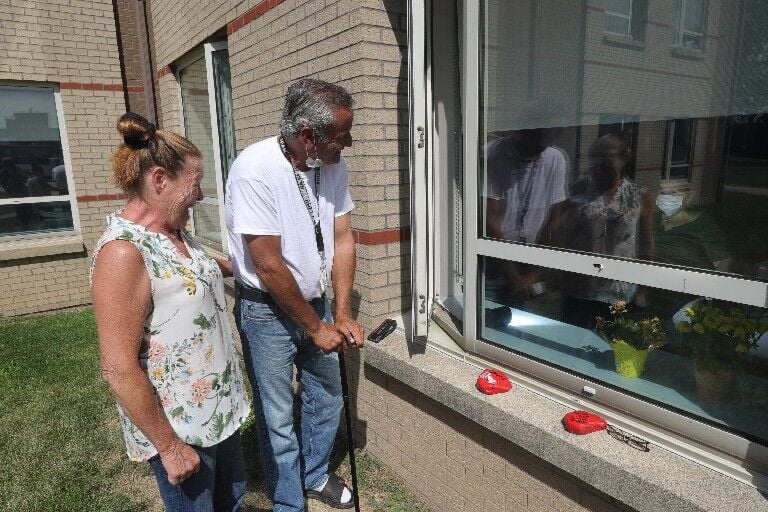 ALBANY – The U.S. Justice Department's civil rights division on Wednesday sent letters to Gov. Andrew M. Cuomo and the Democratic governors of three other states seeking information on Covid-19 nursing home deaths.
The letter to Cuomo from federal prosecutors said no conclusions about the matter have been reached but that officials in Washington are considering whether to formally initiate an investigation under the U.S. Civil Rights of Institutional Persons Act designed to protect the civil rights of people living in nursing homes.
The letter said the department is seeking information about state orders that "may have resulted in the deaths of thousands of elderly nursing home residents" from the Covid-19 virus.
Cuomo and Michigan Gov. Gretchen Whitmer, a Democrat who also received the Justice letter, issued a joint statement Wednesday evening saying the nursing home information request was "nothing more than a transparent politicization of the Department of Justice in the middle of the Republican National Convention." Similar letters were also sent to the governors of Pennsylvania and New Jersey, also Democrats.
Cuomo and the Michigan governor said other states, including at least three led by Republican governors, issued similar nursing home admission orders last spring and that the Justice letters Wednesday only targeted New York and the other three states headed by Democratic governors. They said their nursing home orders were modeled on federal guidance.
It is unclear how sweeping the Department of Justice review might be since the information request sent to Cuomo said it pertained to nursing homes "run by, or for, the State of New York."
The Justice Department, in a response to The Buffalo News, said Wednesday evening that the federal law that could be used for a civil rights investigation, if that route is taken, applies only to state-owned or state-run nursing homes and not private nursing homes receiving Medicaid.
The letter to Cuomo and the other three Democratic governors came after mounting criticism – and news reports of White House intervention – of a federal decision to relax certain Covid-19 testing guidance by the Centers for Disease Control and Prevention. Cuomo earlier in the day lashed out at Trump, the CDC and the Justice Department, with Cuomo saying the less restrictive federal testing guidance was part of a political effort to reduce Covid-19 testing in the United States.
The letters seeking a range of information from Cuomo, as well as the governors of New Jersey, Pennsylvania and Michigan, come after the New York governor has gotten criticism over a March order requiring that state-regulated nursing homes accept patients from hospitals who had tested positive for Covid.
Cuomo has defended the order, which was later amended when Covid's impact on hospital capacity declined and did not hit the peaks some experts were predicting for New York. State health officials have said the Cuomo order did not play a role in the thousands of Covid deaths of nursing home residents. They have said many residents contracted the virus from nursing home staff members and visitors before visitation rights were shut off in the spring.
In a statement Wednesday afternoon, the Justice Department noted the large number of Covid deaths in New York nursing homes and reprinted Cuomo's March 25 nursing home order saying that no resident "shall be denied" readmission or admission to a nursing home based solely on a confirmed or suspected diagnosis of Covid.
"Protecting the rights of some of society's most vulnerable members, including elderly nursing home residents, is one of our country's most important obligations," said Assistant Attorney General for Civil Rights Division Eric Dreiband. "We must ensure they are adequately cared for with dignity and respect and not unnecessarily put at risk."
In the Justice Department's letter to Cuomo, the civil rights division said it wanted, within 14 days, answers to an array of questions, including:
• Numbers about all nursing home residents, workers, guests who contracted Covid-19 "regardless of where such persons contracted Covid-19."
• The number of nursing home residents, employees and guests who died of Covid-19 either at a nursing home or another facility to which they were transferred. At least 6,400 people died from Covid-19 in nursing homes in New York, but the state has not yet revealed how many Covid-positive residents died after being transferred to hospitals.
• Records about all state-issued directives pertaining to admission rules for nursing homes and data about nursing home admissions of Covid-positive individuals.
New York State lawmakers, led chiefly by Republicans but also by some Democrats who are in the majority in both legislative houses, have been calling for an independent probe of Covid-19 deaths at nursing homes in the state.
Two legislative hearings were held earlier this month. On the first day, Dr. Howard Zucker, the state health commissioner, said his agency was still working to confirm precisely how many nursing home residents died from Covid-19. The response did not sit well with lawmakers.
"It seems, sir, that you are choosing the information so that you can look better," said State Sen. Gustavo Rivera, a Bronx Democrat and chairman of the Senate health committee, told Zucker at the Aug. 3 hearing.
The Buffalo News: Good Morning, Buffalo
The smart way to start your day. We sift through all the news to give you a concise, informative look at the top headlines and must-read stories every weekday.