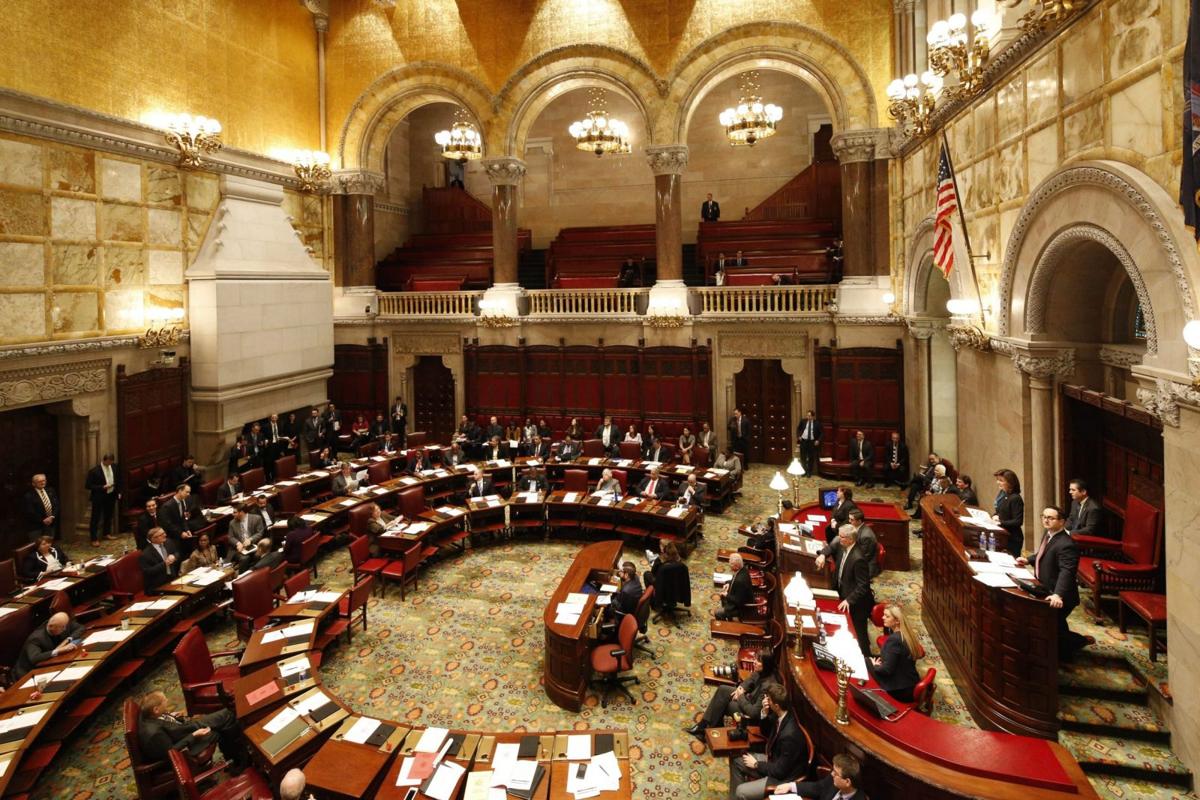 ALBANY – When they were in power in the state Senate, Republicans took extraordinary and creative means during the once-a-decade redistricting process to re-draw legislative district lines in ways to help keep them in power, despite changing party demographics in blue-state New York.
Districts were shaped as only surrealist artists could imagine. They were given not-so-complimentary names to describe boundary shapes: "Abraham Lincoln Riding a Vacuum Cleaner" and "The Splattered Bug of the Bronx" and "The Long Island Lobster Claw."
Cities were sliced and diced. Suburban Republican lawmakers, for a time, represented tiny parts of Buffalo to help meet minimum population counts for their districts. The number of Senate districts were boosted over the last few decades from 60 to 63 to help the GOP stay in power, despite lagging population growth in GOP areas.
On Thursday, it was payback time for the Democrats.
Lawmakers on Thursday gave first passage to a constitutional amendment that – through all its detailed components – will surely result in one thing: more reliably safe districts for Democrats in the state Legislature in Albany.
Democrats say it's a matter of fairness, even if the measure was drafted by Democrats and written in a way that will result in more and more Democratic legislators for many years, if not many decades, to come.
"My view has always been that a simple and fair system would result in that because we've been living in a gerrymandered world they created," said Senate Deputy Majority Leader Michael Gianaris, a Queens Democrat, of the decades the GOP reshaped districts to the political detriment of Democrats.
"We're dealing with a process set up by Republicans when they had (Senate) control to achieve a specific partisan result. What we're doing is removing the partisan bias in this process," Gianaris said.
Republicans have a different take, saying Democrats are using their new power, according to Senate Minority Leader Rob Ortt, a North Tonawanda Republican, to "undermine the will" of New Yorkers, who in 2014 approved a new method of drawing district lines.
The importance of redistricting — which determines what residents in what part of New York are represented by majority party legislators or out-of-power legislators — cannot be overstated. It is as insider politics as it gets, with consequences, however, for which neighborhoods or communities end up being winners and losers on everything from state school aid allotments to pork barrel spending for a host of popular projects.
The 213 districts in the state Legislature – 63 in the Senate and 150 in the Assembly – are redrawn every 10 years after the U.S. Census to take into account ever-changing population demographics. Democrats have controlled the Assembly for decades, and they took care of map drawing duties for that chamber. But the GOP only firmly lost its grasp on power following the 2018 elections, and now it has no say in how the next Senate lines are devised.
The 2020 census has been disrupted by the Covid-19 pandemic, making an already tight deadline to devise new district lines even more challenging. The new lines are supposed to be in place for the 2022 elections for both state legislative and U.S. congressional lines.
The new constitutional amendment plan by Democrats must be approved again by a separately elected session of the Legislature. That can, and will, take place next year, with the plan to amend the constitution being put before voters in November 2021. Gov. Andrew M. Cuomo has no approval or veto authority on constitutional amendments.
An all-Democratic redistricting approach
The new amendment changes certain timetables for mapmaking and removes certain redistricting provisions going back to 1894 that lawmakers say are unconstitutional to ensure "one person, one vote" protections. It also enshrines in the constitution a 2010 law that required incarcerated individuals to be counted for their last place of residence, not state prison, which are often in upstate Republican districts.
The plan, importantly, also calls for eliminating what's called the "block on border" requirement in redistricting, a provision that permitted the carving up of city neighborhoods. Rochester, for instance, has a population two-thirds the size of a Senate district but has three senators representing portions of it.
Democrats say the GOP used that provision to gerrymander districts, using the lines to add some marginal amounts of Democrats to their mostly Republican districts in order to attain district sizes that meet legally required minimum population levels. Democrats say minorities were disenfranchised as a result. Retiring Sen. Michael Ranzenhofer, for instance, is an Amherst Republican, but his district stretches all the way into several areas of Rochester.
The Democratic measure also fixes the number of state Senate seats at 63. Facing elimination, the GOP turned to a bigger Senate; it raised the number of seats from 60 to 61 in 1982, and to 61 after the 2000 census and then to its current 63 after the 2010 census.
The Democrats are taking two other paths with redistricting.
First, the plan they agreed to adopt reverses a route the Republicans enacted before they lost power: a requirement that redistricting plans be approved by two-thirds of the two houses. If that level was not reached, the maps would go to a judge to settle. The new plan: 60% majority vote. That's a number Democrats, given their numbers, can attain without any help from GOP votes come 2022. At two-thirds: Republicans, if they held their current seats, could block the next redistricting.
Second, the new initiative permits the state to conduct its own census – precisely how is not clear – if the federal census "intentionally" omits certain residents. That is in play now because of President Trump's recent directive that census takers not include people living in New York State who are in the country illegally – a group that Democratic lawmakers say should legally be included in any official count of New York's population. Democrats also worry that the Covid-19 pandemic will have a major effect on the ability of federal census takers to get a complete population count.
Democrats are upfront in acknowledging that the plan could further boost their influence in Albany. But they say that is fair – and legal, no matter what expected, future court challenges might say – given what they call the GOP's gerrymandering campaign for decades in the Senate.
Democrats: Plan ends GOP gerrymandering
Gianaris, the Queens Democrat and sponsor of the redistricting measure, said the effort is simply "removing many of the tools Republicans used to grossly gerrymander.''
Republicans say the effort is just one of many manifestations that Albany has seen with the one-party control of state government. "It stifles the voice of the minority, it denies the will of the people and it's the antithesis of independence," Sen. Patrick Gallivan, an Elma Republican, said .
Government watchdog groups Common Cause, the New York Public Interest Research Group and Reinvent Albany urged lawmakers to go further in their new effort.
A not-so independent process
Politicians point to the 2014 amendments approved by voters statewide that created – in a coming process to be completed sometime in 2022 – what they called an "independent" commission to draw the lines. It's far from independent, however, given that state politicians control the appointments.
Blair Horner, executive director of NYPIRG, noted that his group and others opposed the 2014 amendment because, in part, it kept map-drawing in the hands of politicians in power.
The new proposal Democrats agreed to this week in Albany is nice, watchdog groups say, but they are not throwing confetti. "It does a number of things we think are good," Horner said, such as getting rid of some unconstitutional language and capping the Senate's size.
"We think it's an improvement over the 2014 amendment, but more needs to be done in terms of really making it an independent process that reflects the public interest," Horner said.
The League of Women Voters and Citizens Union strongly opposes the new measure, saying it would eliminate minority parties "from having any effective voice in redistricting."
During Senate floor debate Thursday afternoon, Republicans said Democrats are undermining voters' will from 2014 by obstructing the work of the new map-drawing commission that has not even yet held its first meeting. They said the new measure will delay the new redistricting process, thereby ensuring Democratic domination over the new lines.
" It's clear it's an attempt to control the whole process to draw the minority conferences out of existence," Sen. John O'Mara, a Chemung County Republican, told senators on the floor.