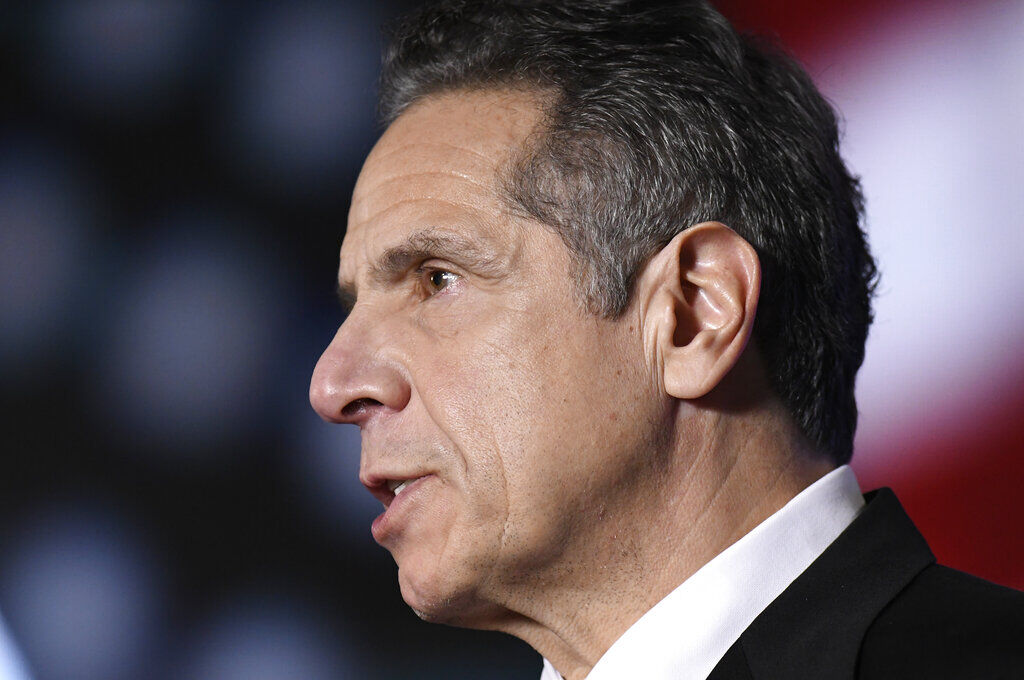 ALBANY – Gov. Andrew M. Cuomo on Tuesday unveiled a state budget plan that calls for big spending on education, health care, social services and big tax breaks for certain sectors especially hard hit by the Covid-19 pandemic and economic closure orders.
But, there's a catch: The ideas will become reality only if the incoming Biden administration and Congress provide the state with a direct aid package totaling $15 billion. If not, big cuts and tax hikes and borrowing are coming, Cuomo warned as released his 2021-22 state budget plan.
Such a level is higher than federal officials have been talking about going to New York in one pot of stimulus money from Washington that Biden and federal lawmakers say will total about $350 billion for all 50 states and local governments across the country.
Cuomo said his budget plan is about "reconciliation" of the costs of Covid-19, which he has said repeatedly is the responsibility of the federal government because of what he has called a botched job by Washington in handling the pandemic.
The Democratic governor proposed an unusual means of budget crafting that create two options: a "worst-case scenario" and a "fair funding" scenario.
The worst-case option would mean Washington sends a check to Albany for $6 billion out of the stimulus pot totaling $350 billion. In that scenario, Cuomo said the state will be forced to cut spending and raise taxes by $9 billion, forcing major cuts, for instance, in state aid to 700 public school districts.
"We want federal help but we want the help that is fair," Cuomo said.
If New York got $15 billion, he said it would help resolve a budget deficit for the current and next fiscal year.
"Washington should finance the Covid war and the reconstruction," he added.
A $15 billion bailout would fund programs he wants in the next budget, which include: adding more child care programs; capping insurance co-payments for 400,000 low-income residents; providing $1 billion in higher education student aid; and giving $50 million in tax breaks for small businesses, $50 million for hard-hit restaurants and $30 million in tax breaks for the music and theatrical industries.
On the day before President-elect Joseph Biden is to move into the White House, Cuomo also threatened to sue the federal government if the full, $15 billion request is not met. Cuomo also wants Washington to reverse limits put on taxpayers during the Trump administration on deductions for state and local taxes, a fight already in the court system without much success.
Later in the speech, Cuomo then threatened lawmakers with no salary increases for themselves if they don't pass a budget by the fiscal year starting on April 1.
Cuomo left many details out of his presentation, which featured a host of lines from past speeches and media appearances since Covid-19 was first found in New York last spring. His budget would total $193.3 billion, up 0.2% from the present budget.
The Cuomo plan – wherever it might end up – needs state legislative approval and some lawmakers have signaled a new resolve to go to battle with him over major tax and policy matters.
Cuomo spoke for about 50 minutes Tuesday in a remote address from the Capitol's historic Red Room, a Covid-forced break from the tradition where such speeches are done before lawmakers and various stakeholders in the budget process.
Cuomo, who has opposed raising income taxes on wealthy people, embraced a tax hike on people making more than $5 million annually – but only if Washington does not come up with the full, $15 billion in aid he is requesting. He said such a plan would raise only $1.5 billion, 10% of what he says the state needs to close the red ink. The state income tax rate would rise for those affected from 8.82% to 10.82%.
Officials said the tax on wealthy earners would create a top tax rate in New York that would be the nation's highest.
A host of other "revenue actions" was proposed Tuesday, including a new state and local sales tax imposed on the vacation home rental industry and a new $1 "convenience fee" imposed on motorists who do transactions online with the state motor vehicle agency. SUNY campuses would be permitted for another year to automatically raise tuition by various levels.
As he has done in his previous two annual budgets, Cuomo called for the legalization of marijuana. The proposal creates a complex regulatory system to control the cultivation, distribution, marketing and selling of the drugs to people 21 and over. Officials believe it can bring in $350 million in tax revenues each year, though a Cuomo budget adviser said the marijuana market won't be fully mature for four years.
Some lawmakers want marijuana tax revenues dedicated to low-income, mostly minority communities that were hit by high arrest rates during the war on drugs. Cuomo said he's offering to give $100 million to a "social equity fund" with the remaining $250 million going to the state's general fund.
After opposing the effort for several years, Cuomo also included in his budget the legalization of mobile sports betting run through computer servers at several upstate commercial casinos and Native American-owned casinos. It could bring Albany $500 million annually. But it is less market-driven than legislation pending in the Senate and Assembly, and gambling industry players have expressed concerns about limits contained in the Cuomo plan.
Budget documents show the sports betting plan will raise about $400 million by 2023.
The State Senate racing, wagering and gaming committee on Tuesday advanced a legislative alternative to the Cuomo plan, which would allow greater competition in the industry by permitting casinos to offer more sportsbook operators to provide betting on college and pro sports contests.
Before the pandemic and shutdowns of the economy took a hit on the state's tax receipts, Cuomo in recent years blocked mobile sports betting, saying its legalization could come through a multiyear constitutional amendment process, including a statewide referendum, and not – as he now proposes – through a statute change that can be accomplished by including the matter in the budget.
Groups that would prefer the state raise more money by a more aggressive tax hike plan than Cuomo proposed Tuesday for people making over $5 million say the governor's marijuana and sports betting plans would take too long to ramp up, offer less in the way of tax revenues than tax increases on the wealthy, and would rely on new regressive tax raising means that will fall harder on lower-income people.
Michael Kink of Strong Economy for All, a group pushing for the tax on wealthy New Yorkers, say Cuomo's proposed top tax rate of 10.82% affects only those making more than $100 million a year – and there are only 118 of them. He said applying a tax hike on people making over $1 million a year – instead of the $5 million floor Cuomo is proposing – would bring the state more than $3 billion annually.
Cuomo budget director Robert Mujica said a lower federal aid bailout level would also result in a freeze on a middle-income tax cut program. That would mean a one-year freeze in a program that would be worth $394 million to middle-class taxpayers in the coming year.
Cuomo proposes to keep alive a $420 million tax credit for the film industry until 2026, which he says encourages film production in New York but critics call a major gift to an industry that already makes films in the state.
While unemployment levels have decreased since the spring, the job recovery is now "losing momentum." He noted that pre-Covid employment levels are not expected to return until at least 2023.
The Cuomo administration has withheld $2.9 billion in the "aid to localities" portion of the budget compared with what local governments were promised when the current year's budget was OK'd last April. It covers everything from education and transportation to health care costs localities provide.
Mujica said higher-than-projected revenues to the state will permit Albany to lower the plan to cut that local aid by 20% before March 31. Instead, the temporary "withholding" of state aid will become permanent cuts of 5% for local governments.
District-by-district school aid funding and a host of other areas of the budget have not yet been released. Overall school aid funding would rise by $2 billion to about $31.7 billion in the coming year – thanks largely to special federal aid increases.
Senate Majority Leader Andrea Stewart-Cousins, a Westchester County Democrat, said federal aid and a tax hike on high-income earners are both needed to close the deficit.
"We have a responsibility to ensure our recovery and that this recovery is not balanced on the backs of the hard-hit New Yorkers. The wealthy have gotten wealthier during this crisis even as the middle class has shrunk and millions of New Yorkers have struggled to make ends meet," she said Tuesday.