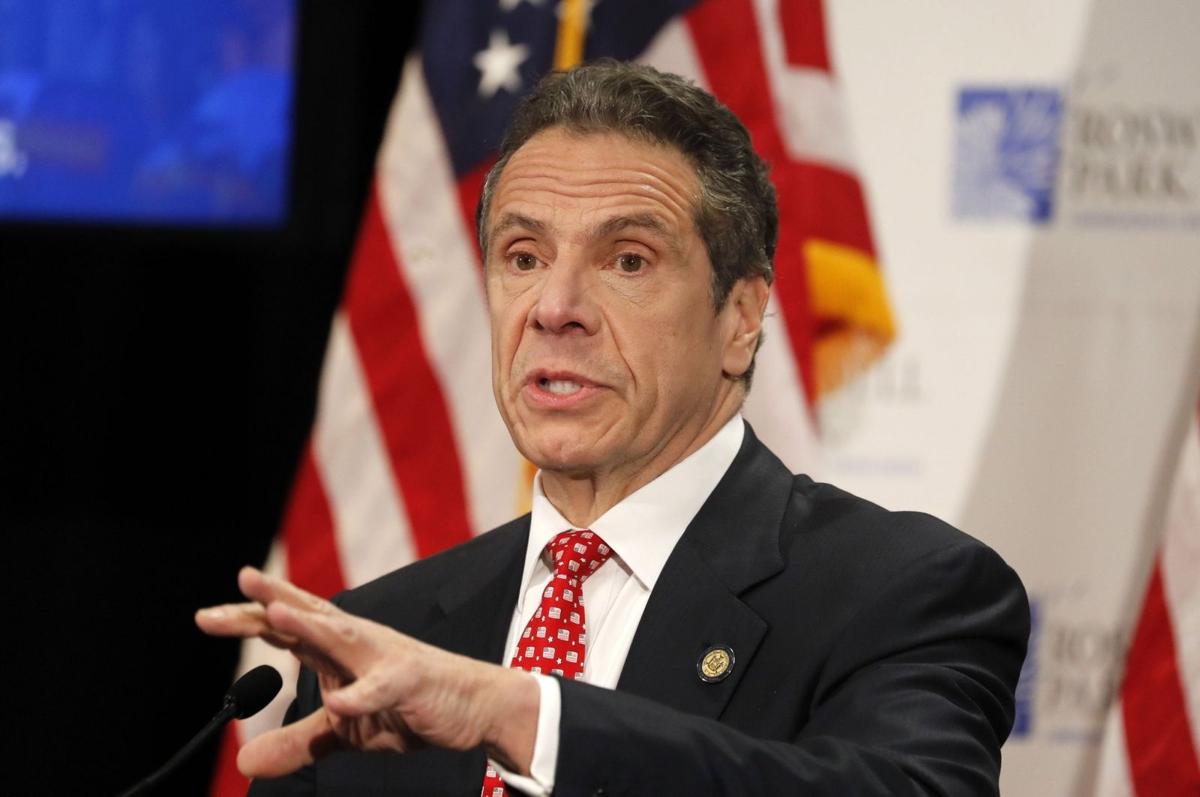 ALBANY – With the state facing a multibillion-dollar hole and a Covid-slammed economy, Gov. Andrew M. Cuomo will again push to legalize the sale, taxation and use of marijuana, while at the same time dropping his opposition to a years-old plan to permit mobile betting on an array of sports contests.
The efforts will be formally unveiled Monday when Cuomo delivers his State of the State address, a virtual event this year because of the worsening pandemic infection rates in New York.
Both the marijuana and mobile sports betting plans could bring in sizeable tax revenue, though hardly enough to solve New York's budget problems and, in the case of marijuana, won't be fully realized for some years.
However, Robert Mujica, Cuomo's budget director, said the online sports betting plan – which would be run through existing commercial casino facilities in the state – could more quickly bring in $500 million to the state under a plan that would drive more of the gambling revenues to Albany's coffers compared with lower tax programs in some other states, such as New Jersey.
On marijuana, Cuomo in 2019 – following years of calls by his fellow Democrats in the state Legislature – embraced legalization of a highly regulated, and heavily taxed, system of cultivation, distribution and sales. The idea ran into opposition by some suburban New York City Senate Democrats, Senate Republicans, as well as many Assembly Democrats who were not satisfied with the revenue distribution plan by Cuomo.
Lawmakers, including Assembly Majority Leader Crystal Peoples-Stokes, a Buffalo Democrat, have been adamant that a large portion of marijuana tax revenues be earmarked for various programs for areas of the state that have been disproportionately affected by marijuana law enforcement efforts. They said such areas, heavily dominated by Blacks and Latinos, should benefit from the revenues through additional education, health care, economic development and a range of other government programs.
Peoples-Stokes said such a dedicated funding stream is even "more critical" in any new effort as Covid and its higher infection and death rates in minority communities have shown the impact of less health care options and other services in poor neighborhoods.
The Buffalo Democrat has seen Cuomo push marijuana legalization before. "This is the third year in a row that he's been talking about it. I'm not sure that it means anything or if it's just conversation that he thinks people want to hear," she said in an interview Wednesday afternoon.
Opponents, which include the state PTA, physicians and law enforcement groups, already have begun mounting a campaign to try to derail the latest marijuana legalization effort. But supporters said the effort is long overdue in New York, which has seen legalization efforts approved in border states such as New Jersey and Massachusetts. The New York Civil Liberties Union Wednesday was among those calling for marijuana tax revenues to be reinvested in communities hit by what it called the "racist drug policies" in New York.
Cuomo in the past pitched plans that would drive most of the marijuana tax revenues into the state's general fund. The 2019 effort died.
Last year, the issue was thought to have political legs, but it was dropped – along with other complex issues – as Cuomo and lawmakers pushed to enact a new budget.
"I think it should have been passed years ago," Cuomo told reporters on Wednesday during a briefing on New York's ongoing dire Covid situation.
The Democratic governor, as he has in the past, portrayed marijuana legalization plan as righting a wrong that ended up punishing "too many" mostly poor Black and Latino people. "It's exaggerated the injustice of the justice system," Cuomo said.
But, he also acknowledged the need for more revenues by the state; he says the state has a $15 billion hole, but private budget analysts say that number includes expenses outside the state's own budget and that the true deficit is closer to about half that amount.
"For years I've tried to pass it. But this is a year where we do need the funding, and a lot of New Yorkers are struggling," Cuomo said of the marijuana initiative.
Cuomo believes the apparent looming control of the U.S. Senate by Democrats will drive new stimulus funds to New York State as Washington is poised to become Democratic-controlled when Joseph Biden becomes president Jan. 20. The U.S. House has been in Democratic hands.
The fully released annual $300 million from marijuana tax revenues in New York, however, will be "several years" off, Mujica said Wednesday. It could take at least a year before any legal marijuana sales occur in New York as officials – assuming a deal is passed this year in upcoming state budget talks – still have to create a regulatory system to oversee the distribution and sale of the drug, including everything from how companies can advertise their product to labeling and drug testing systems.
Mobile sports betting is a different story, at least in terms of logistics. Sports betting already is allowed in commercial casinos in New York, as well as at Indian casinos. But wagers must occur on-site, which casino executives say has limited the ability to bring in gambling revenues from bets on pro and college games.
But the Cuomo administration signaled it has no intention of going the way of some states that have low taxes or fees imposed on operators of sports betting ventures. Officials suggested mobile sports betting would be run and regulated much as horse track-based video lottery terminals have been for years in New York, which would include most of the gambling proceeds going to the state in the form of taxes.
Mujica said that New Jersey, the busiest sports gambling state that sees New Yorkers crossing the border to make bets, has brought in $45 million in state tax revenues over three years.
Some states, Cuomo added, have sports betting systems in place that "make a lot of money for casinos" but bring in only "minimal" tax revenues for the state. "I'm here to raise money for the state," Cuomo said.
The depressed economy and state's budget deficit is clearly pushing ahead the sports gambling issue. For several years, Cuomo has killed efforts by lawmakers to legalize mobile sports betting, insisting that simply changing state law would not be enough. Instead, he has said that form of betting could be authorized only by a change in the state constitution, a multiyear process that involves passage in a statewide referendum.
Cuomo on Wednesday did not specifically mention his past legal concerns about the issue.
A host of issues remains to be resolved before online sports betting can be legalized, including whether some key lawmakers, especially in the Assembly, would now support the expanded gambling venture.
State Sen. Joseph Addabbo, a Queens Democrat who chairs the Senate racing, gaming and wagering committee, said Wednesday it is "encouraging" that Cuomo is now supporting legalization of mobile sports gambling, which would permit online betting on a variety of sports anywhere within the state's boundaries.
"By legalizing mobile sports betting, New York will be able to reap the benefits of the economic gains it will create and help the state rebuild after the Covid-19 pandemic, in addition to increasing educational funding, addressing illegal (gambling) activity in the state and assisting those with gaming addictions," Addabbo said.
In an interview, though, Addabbo raised concerns about Cuomo's idea Wednesday that the state Lottery Division should run a mobile sports betting program, fearing, in part, that it would limit competition and a more free market approach that could drive more sports bets. "We have to get it right in the short term. I don't want to miss out on an opportunity," he said.