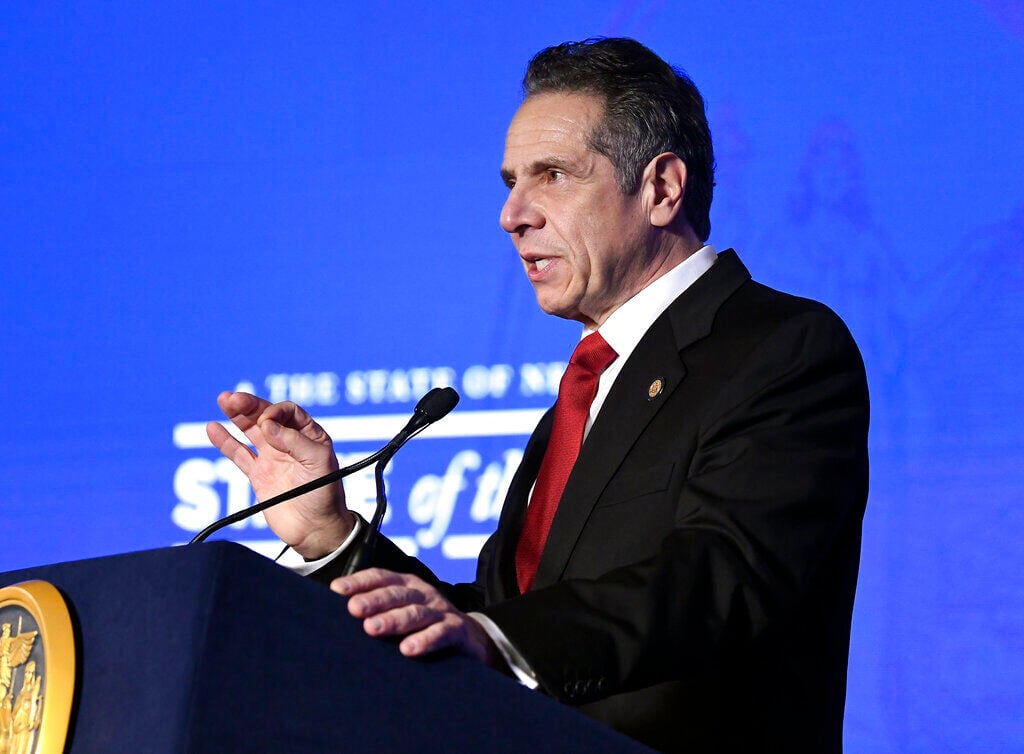 ALBANY – Gov. Andrew M. Cuomo, seeking to depict a can-do future in New York even as Covid took 202 more lives yesterday in the state, checked off a series of new and previously announced infrastructure projects that will move ahead in coming years, including removal of Buffalo's Skyway.
"We are taking down the Skyway, an idea first proposed 50 years ago and creating a spectacular park overlooking Lake Erie. Our construction team is ready to break ground as soon as the federal approval comes through," Cuomo said Thursday in a State of the State speech.
In a press release Cuomo's office issued later on the speech, officials said New York State will complete an environmental review process of the Skyway project sometime this year "and, with federal approval, will be ready to break ground this year."
In the past he has said the state would contribute 20% of the overall funding for the redo of the Skyway corridor.
The Thursday speech concludes what Cuomo turned into State of the State Week. Instead of the usual, one-day annual speech – an opportunity for the state's chief executive to report on the state's condition and outline an administration's plans – Cuomo broke his speech into four separate addresses that began on Monday. All have been done remotely without the usual crowds because of the Covid pandemic.
On Thursday, Cuomo focused his 24-minute speech on big and medium infrastructure projects, the largest of which will occur in Manhattan. In all on the West Side of Manhattan, various office, retail, housing and transit construction projects will total $51 billion, Cuomo said. He did not say how much of that will come from the private sector, or from Washington or state taxpayers through big borrowings.
Twice in his speech he cited President Franklin D. Roosevelt, a former New York governor and creator of the New Deal reconstruction effort during the Depression.
"New York will win the Covid war, and New York will master the post-Covid reconstruction," Cuomo said.
As he concluded the speech, his office emailed reporters with the daily Covid numbers for New York State. Once again, they were not good: 13,661 people, or 6.42% of those tested, were diagnosed yesterday with Covid and 8,823 Covid patients were in hospitals. Of the 202 deaths yesterday, 13 were in Erie County. Since the pandemic began, an estimated 39,000 people have died in the state, according to non-government projections.
As he has in other State of the State speeches this week, Cuomo bashed officials in Washington for what he said has been a short-changing of federal aid to New York. Again, he expressed confidence that Democratic President-elect Joe Biden, who has shown keen interest in big infrastructure projects over the years, will drive more money to New York to help fund some of Cuomo's spending ideas, as well as to help bail the state government out of a multibillion-dollar deficit.
In all, the various new and previously announced projects – soon to begin or already underway across the state – will total $360 billion, Cuomo said. Some portion of that will be funded through state borrowings, as Cuomo noted the price tag comes at a time of lower interest rates for government bond programs.
He said the projects are needed to help the state's economy and to show New Yorkers that Covid is not halting big, if expensive, ideas from government.
"Confidence is an essential component in our rebirth, confidence in leadership, confidence in government, confidence in our cities, confidence in our future," he said.
Cuomo gave geographic shoutouts to most regions of the state, from Rochester and Syracuse to Albany, the Lower Hudson Valley and Long Island. Some projects he touted have already been underway, such as rail improvements on Long Island.
The governor saved most of his most ambitious ideas for the West Side of Manhattan.
• A sprawling transit hub built atop 140 acres
• Reconstruction of the aging Penn Station
• Additional rail lines and also additional rail tunnels under the Hudson River pending federal funding
• A huge expansion of the Jacob K. Javits Convention Center
• Expansion of a popular pedestrian walkway
• Redevelopment of an old pier site along the Hudson
• Addition of 29 blocks to a subway line and refurbishing the Port Authority bus complex
"They will show New Yorkers and the world that a new New York City is in reach, and that the future is bright," Cuomo said.
Cuomo said the state will also add millions in a program that has brought various improvements, such as parking garages and passenger terminals, to airports around New York.