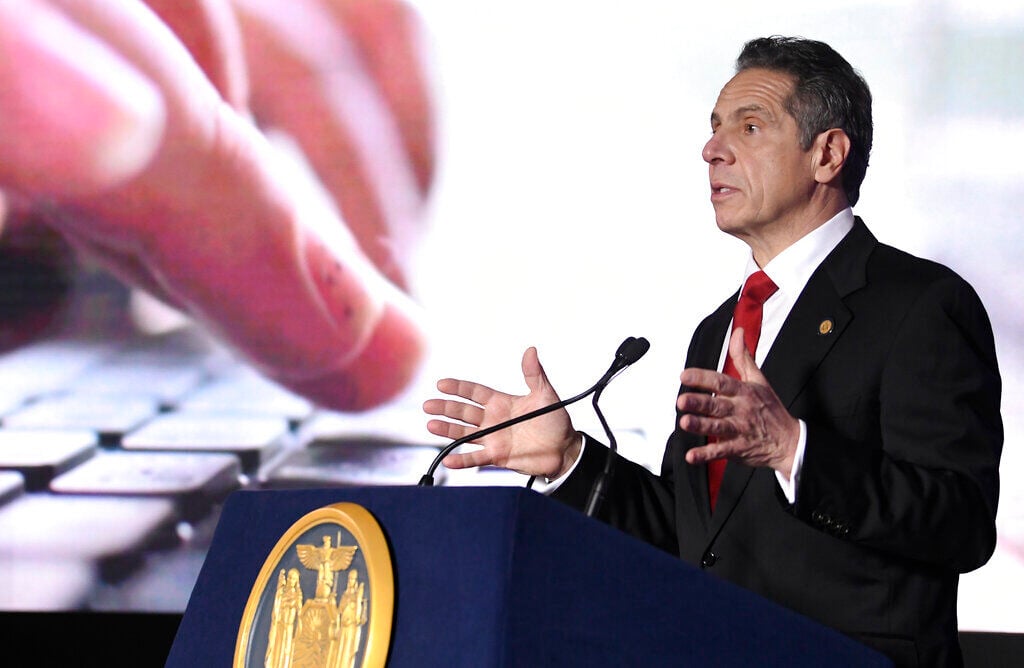 ALBANY – The state will increase rapid testing availability to help partly or fully shuttered offices, restaurants and theaters to reopen while launching a statewide series of concerts and other entertainment events as part of a new effort to "smartly and safely" get New York State back in business, Gov. Andrew M. Cuomo said Tuesday.
"We must bring culture and arts back to life," Cuomo said at the Capitol on the second day of a four-day rollout of his State of the State address.
The governor focused his second speech on two areas: reopening various arts and entertainment venues hit hard by his Covid-19-restriction orders and addressing how New York will deal with a new remote economy that is expected to stay long after Covid-19 has been controlled.
The governor's remarks come as infection and death rates rise amid a second wave of the pandemic to hit the state. Cuomo ordered the vast economic shutdown orders last spring across New York and more targeted ones that remain in place in areas such as Erie County today. His closure edicts, which he said were done to control Covid-19's spread, have also brought him criticism from businesses and political opponents who say many small and medium companies will never be able to recover from the shutdowns.
Cuomo said the state has to move to a reopen mode, even if the Covid-19 vaccine is not widely available to the general public for months. He provided no specifics about when certain businesses and venues that are now closed will be able to open, or when areas now classified in certain Covid-19 danger levels, such as the "orange zone" for Erie County, might be lifted to permit a broad reopening of the economy.
Some lawmakers say they are pleased Cuomo is pivoting on the issue of reopening the economy during the pandemic.
"I'm pleased that he's recognizing that we should be working to reopen our economy," said Sen. Patrick Gallivan, an Elma Republican, adding that the state's own contact tracing data has shown restaurants, gyms, salons and other businesses can reopen safely during the pandemic.
"It's high time for us to be helping our businesses and citizens do things safely instead of putting obstacles in their way," Gallivan said.
Cuomo used his 11th State of the State address to call for a new "spirit of optimism" and diligence to fight the pandemic.
Nick Langworthy, the state GOP chairman, called it a speech containing "more hollow rhetoric" from Cuomo.
"It's stunning that nearly a year after we've been battling this virus, the governor is only now talking about the importance of keeping our economy open and needing a plan to expand rapid testing," Langworthy said.
Cuomo said New York can't "float along" and permit the "psychological and financial trauma" to continue to rage. Mass, rapid testing will be a key way to proceed, Cuomo said, and he cited the experience last weekend in which he permitted the Buffalo Bills to allow 6,700 fans to attend Saturday's playoff game.
"All early indications suggest this model was successful," he said.
"We cannot wait until summer to turn the lights back on for the arts and provide a living wage for artists," he added, announcing a statewide program to commence Feb. 4 for a series of concerts and other events – held mostly outdoors in the beginning – and featuring such artists as Amy Schumer, Chris Rock and Hugh Jackman.
Cuomo said the state will begin addressing an economy that will be much different from pre-Covid-19 days.
Cuomo said that the state will work with the local real estate community to open additional rapid testing sites where people can get a rapid test hours before patronizing a business or engaging in a social activity.
"We will open hundreds of these new pop-up rapid testing sites statewide to bring this effort to scale," he said.
The state will also work with property owners and management companies to reopen "Covid-safe office buildings, with Department of Health-approved protocols," he said.
"Major commercial operators, with over 100 million square feet of space, have already agreed to offer testing services to all tenants in their buildings on a regular scheduled basis," Cuomo said.
The state is working with more commercial operators to bring them into the fold, he added.
"Office buildings are the engines of our economy," Cuomo said. "Bringing workers back safely will boost ridership on our mass transit, bring customers back to restaurants and stores, and return life to our streets."
"The truth is, we cannot stay closed until everyone is vaccinated," the governor said in his State of the State address.
Many large employers in the Buffalo area have shifted their employees to working from home, and some of them plan to keep operating that way at least until the spring or summer.
"The remote economy is now real," he said. "Zoom will not go away. For some, work from home will be part of their new normal."
But Cuomo said many New Yorkers – from people in rural areas to students trying to learn from home while their schools were closed – have been hurt by the high cost of broadband services, which can average about $50 per month statewide.
Cuomo, who joined previous governors in talking up broadband internet accessibility needs, said 98% of homes in the state have access to broadband services.
"Access, if it's not affordable, is meaningless," he said.
To that end, Cuomo said he is going to propose a mandate on internet service providers to offer broadband internet services to low income New Yorkers for $15 per month, and is looking at a program to help students who can't afford that level and accelerate state bond act funding for schools to purchase more laptops and ensure internet hot spot zones in areas.
The Buffalo News last year reported on the disparities of internet service in Western New York, noting Census Bureau data showing that while 80% of households in Erie and Niagara counties are online, the numbers drop sharply in low-income neighborhoods, especially Buffalo's East Side, where fewer than two in five homes have internet services on some blocks.
Debabrata Talukdar, a University at Buffalo professor who studies inequities in internet access, said internet availability varies across the state.
"It cannot be something that solves the problem in regions where there is no access or limited access, but in regions with access this is going to be helpful," he said of Cuomo's idea to place monthly limits on what low income families can be charged for broadband services.
The marketing professor in UB's School of Management said the pandemic has illustrated that internet access is "more of a necessity" for many people, such as students he teaches remotely.
The state will also create a commission, overseen by a school of public service at New York University, to consider the full range of issues associated with a post-Covid-19 economy.
"Will New York be what it was? The answer is no. But it will be better," Cuomo said.
News staff report Matt Glynn contributed to this report.