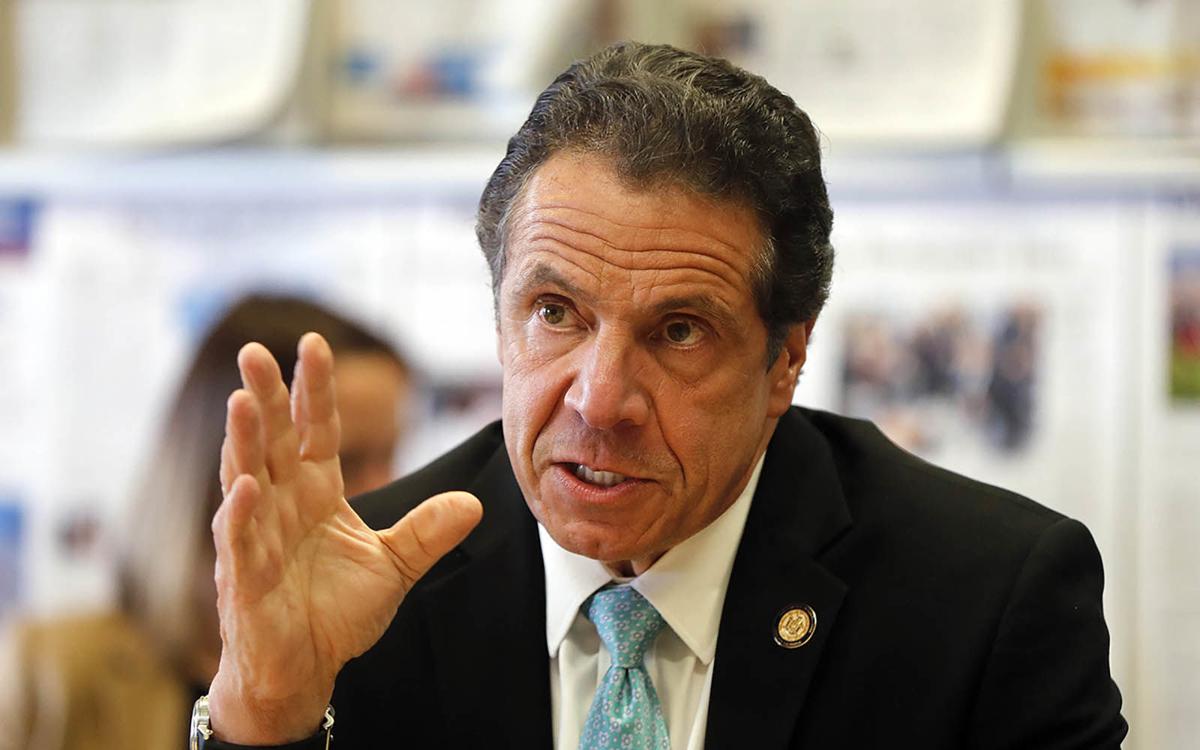 ALBANY – It could be expected that Republicans would pounce on a scathing report issued Thursday by the state's top lawyer showed that Gov. Andrew M. Cuomo's administration had underreported the number of nursing home residents who died from Covid-19.
Cuomo should be further investigated, the GOP said. His top health adviser should resign, they insisted. Extraordinary emergency powers lawmakers granted to Cuomo to deal with the pandemic should end, several said. And they criticized Cuomo for writing a book in 2020 praising his own performance during the Covid era when, they have insisted, he led policies that led to thousands of Covid deaths.
Cuomo on Friday defended himself and the state's response. But what about the stakeholders with some sort of business before his administration, who regularly perform email stampedes to news outlets declaring their support for either Cuomo personally or for some new fiscal or policy matter he's proposed? What would the people and groups known around Albany as "validators" contribute to the conversation?
Silence. But what he got from fellow Democrats was worse.
From downstate to Buffalo, Democrats took to emails, Twitter and phone calls to criticize the administration for its handling of the pandemic in nursing homes, a response one consultant suggested was an opportunity for Democrats to register their unhappiness with Cuomo.
For the governor, it has been another wake-up call from within his own party. He has been pounded from the left for being too cozy with Republicans, such as help he gave to keep the GOP in control of the Senate for much of the 2010s. He has been blasted from moderates for waffling between their ranks and liberals, depending on how close it is to the statewide elections since he first was voted in as governor in 2010.
Attorney General Letitia James was given important political assistance by Cuomo in her successful quest to become attorney general in 2018 after Eric Schneiderman resigned in disgrace. He raised money for her, took her on a government trip with him to Puerto Rico and, since she became attorney general, Cuomo and James appeared to enjoy a close public relationship.
That would appear to have been shattered on Thursday, when James issued her investigation into how Covid became such a problem in nursing homes. She released her report first thing in the morning and, according to a source, gave Cuomo little notice of the timing of its release.
James had serious allegations against nursing home operators over staffing levels and other problems. But the one that grabbed headlines and made it into news alerts and onto network TV news shows Thursday: that the Cuomo administration had undercounted by as much as 50% the number of nursing home residents who died from Covid because, as the media, lawmakers and outside researchers have said for months, Cuomo did not count as nursing home deaths those residents with Covid who died in a hospital.
By the afternoon, the Cuomo administration released numbers requested by many since last spring: that 3,800 such cases did occur. That added, by more than 40%, to the official number of Covid nursing home resident deaths.
On Friday, Cuomo sought to portray the report as a vindication of everything his health agency did with Covid in nursing homes. He said the controversy began with attacks last spring by the Trump administration. He also said New York State was simply following federal guidelines regarding nursing homes, a claim disputed last year by federal officials. He said the issue became a "political football."
"To play politics with it the way they did, that was mean," Cuomo said of the former Trump administration's attacks on New York's nursing home Covid death crisis in 2020.
"Whether a person died in a hospital or died in a nursing home, people died," Cuomo said.
He repeatedly defended his administration's handling of the nursing home situation.
"I understand the instinct to blame, or to find some relief for the pain that you're feeling. But it's a tragedy. I believe everybody did the best they could," he said Friday.
The overall Covid death count, now at about 42,000 New Yorkers, did not change with James' report; what did grow was the death numbers for nursing home residents.
As the report made more and more headlines, the lineup of Democrats coming to the public relations assistance of the governor was nowhere to been seen.
His most publicly loyal allies in the Legislature – Assembly Speaker Carl Heastie and Senate Majority Leader Andrea Stewart-Cousins – put out statements in response to the James investigation that made no mention of supporting Cuomo's Covid nursing home decisions.
Meanwhile, rank-and-file Democratic lawmakers were quick to proactively put out statements that were unusually critical of their governor. Or, they said nothing.
It's not an unusual scene for Democratic governors who tussle with lawmakers in their own party. Those fights are often more bitter than Democratic versus Republican.
When scandal embroiled Gov. Eliot Spitzer, whose fights with his fellow Democrats were intense during his brief time in office, Democrats sat by silently and watched him resign. More recently, Democrats were hardly a beacon of defense for David Paterson in his string of controversies as governor from the afternoon he took office after Spitzer resigned.
Health Commissioner Dr. Howard Zucker, who was the target of the Covid nursing home blame by lawmakers as much as Cuomo, issued a written response to the James investigation that read as much as a press release as a legal document, including citations of specific provisions of law.
But Cuomo could have used some of his fellow Democrats to defend him against claims that his Covid policies were inadequate or to push back against GOP criticisms that his policies were responsible for the deaths of some New Yorkers.
Some, like State Sen. Sean Ryan, a Buffalo Democrat, did not mention Cuomo directly. But the inferences were clear, such as how Ryan said that there was "an active effort to shield the fact that nursing home residents were not safe during the pandemic." He called on Zucker to appear before the Legislature to provide "full and complete answers" about the Covid nursing home situation.
Other Democrats were more direct. State Sen. Alessandra Biaggi, a Bronx Democrat who has not been shy about sharing her criticisms of Cuomo, said the New York State has "lacked integrity and compassion for the elderly" during the Covid pandemic.
"Few actions taken by this administration have been as egregious or appalling as this," she tweeted about the Cuomo administration soon after the James report was released.
There were other Democrats joining in to, from a newcomer from Syracuse complaining about lack of Cuomo administration transparency during Covid to an Albany veteran assemblywoman who called the underreporting of nursing home fatalities "alarming."
Assemblyman Richard Gottfried, a Manhattan Democrat first elected to the Assembly in 1970 and the longtime Assembly health committee chairman, said the James report revealed how the Cuomo administration had "hidden from the public" information about thousands of additional nursing home residents who died of Covid after they had been transferred to hospitals in their final days or weeks.
Gottfried called the situation "unconscionable but not surprising" given how lawmakers, reporters and the public have been asking since last spring for the Cuomo administration to give a full accounting of Covid deaths among nursing home residents.
State Sen. James Skoufis, an Orange County Democrat and chairman of the Senate investigations committee, called the James' report a "truly independent" probe of what happened in nursing homes under the governor's watch.
Skoufis has been threatening to issue subpoenas to the Cuomo administration to get more information about the spread of Covid in nursing homes.
Hank Sheinkopf is a veteran Democratic political consultant who has had a top shelf list of clients over the decades in New York and nationwide. He said what happened Thursday with Democrats is a result of Cuomo being in office for so long and having chilly – or no – relations with so many Democratic members of the Legislature.
"They don't like the governor and they want to put him in his place. They don't like the attention he's gotten," he said.
For almost as long as Cuomo has been governor, Democrats in the Legislature have grumbled about him – mostly in private, off-the-record conversations. He helped Republicans retain control of the State Senate for too long, they complained. He was too close to wealthy interests, whether real estate developers or Wall Street hedge fund executives or Hollywood elitists who were the beneficiaries of his lucrative tax break policies.