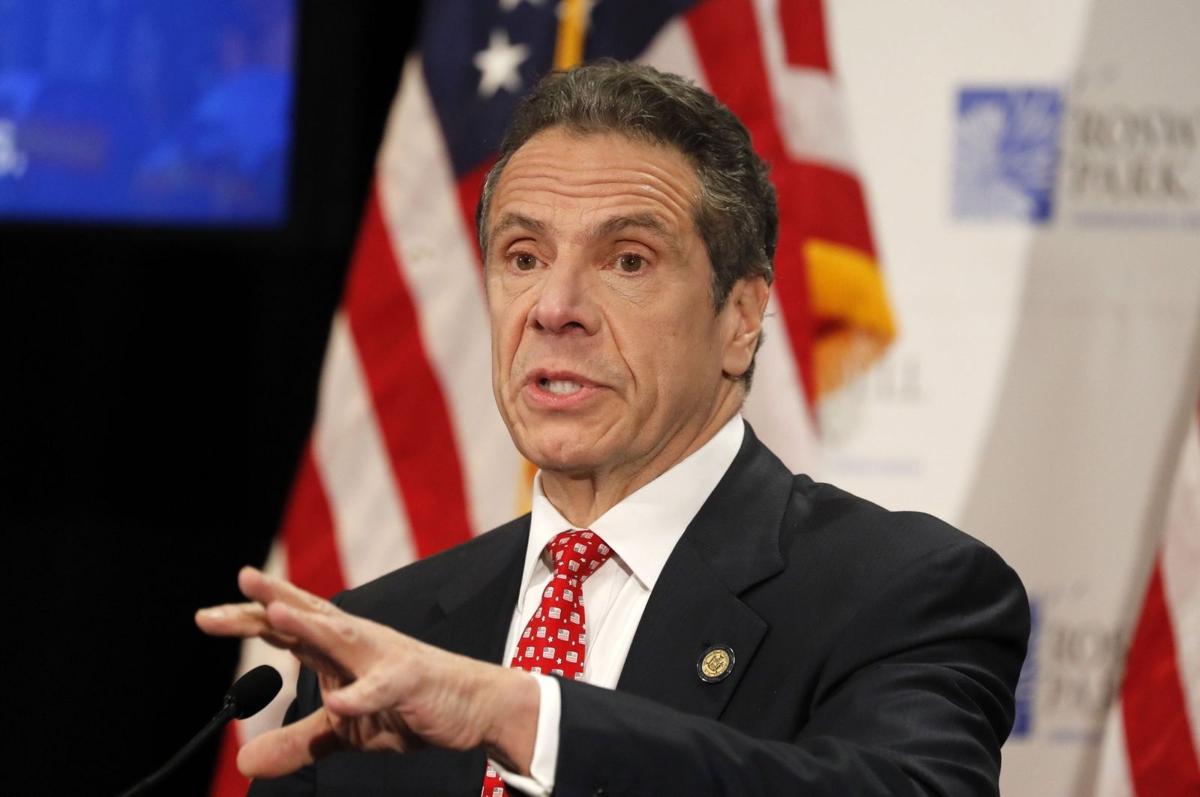 ALBANY – More than 6,500 New Yorkers on average each day this week were still testing positive for Covid-19.
Dozens every day are dying from the virus, and this week more than 5,000 Covid-19 patients were in hospitals statewide.
People are having to travel long distances, still, to get a Covid-19 vaccine in this state.
The economy faces multiple risks. The state budget – which will decide everything from how much state aid local schools get to fund operations to the level of funding to fix crumbling roads and bridges – is due in less than four weeks.
It is the time of year when a sprint gets underway between lawmakers and the governor to negotiate a spending plan that will total more than $190 billion, and decide major issues, such as whether the state is going to legalize marijuana sales and use or dramatically expand sports betting.
But Gov. Andrew M. Cuomo and his advisers are focused on something else: political survival. On Wednesday, in his first media briefing since Feb. 22, Cuomo said: "I'm not going to resign ... I'm going to do the job the people of the state elected me to do."
The governor's political standing was dented when Attorney General Letitia James in January said that Cuomo undercounted Covid-19 deaths among nursing home residents, a matter federal prosecutors are examining. Now, he is barely treading water after three women – including two former staffers – accused him of sexual harassment.
New York's challenges of confronting Covid-19 and an approaching budget deadline took second place to the political crisis ensnaring the governor.
If it were another gubernatorial administration, multitasking might work. But this is a governor who gets into the weeds, puts his stamp on everything from road sign designs to what words can be said about him by speakers at his public events.
Governor Delegator, Cuomo is not.
The distractions of scandals are being used by a growing number of lawmakers to make a demand: Cuomo must resign.
"A dark cloud hangs over our Capitol, the likes of which make it extraordinarily difficult for the Legislature to move forward with the essential work at hand," said Sen. James Skoufis of Orange County, who on Tuesday morning became the latest Democrat to join a list of lawmakers calling for Cuomo to leave office.
State budget talks each March take up much of the oxygen at the Capitol. Negotiators pull all-night sessions to put together final deals on major spending, as well as policy matters, such as another push this year to legalize the cultivation, distribution, sales and use of marijuana by people over age 18.
Add the continuing march of Covid-19, worries over Covid-19 strains, vaccination distribution problems and a precariously perched economy to the time-consuming state budget discussions and the need for a fully engaged, undistracted governor becomes even more evident.
"We're dealing with life and death issues right now, while he and his administration are dealing with their political lives and not focusing on the other stuff," said one legislative source who spoke on condition of anonymity.
The impact on budget talks? "There's a huge impact. They're not focusing on it," the source said.
Lt. Gov. Kathy Hochul of Buffalo has had very little to say about the sexual harassment allegations against Gov. Andrew M. Cuomo.
Part of the problem, especially in Cuomo's case, is the extraordinarily tiny circle of people around him that he considers to be his most trustworthy aides. And many, if not all, are having to deal with the scandals hitting Cuomo.
Assemblywoman Monica Wallace, a Lancaster Democrat, supports the investigation by the Attorney General's Office into sexual harassment allegations brought by two former staffers and another woman not on the state payroll who said Cuomo acted inappropriately toward her at a 2019 wedding party.
Between the issues surrounding the ongoing pandemic and the unresolved state budget, Wallace said of the new Cuomo scandals: "This is a particularly terrible time for them to be happening."
Wallace said that lawmakers are doing their due diligence, meeting late into the evenings as they come up with their priorities for a new budget.
"But we're definitely taking time away from our budget duties to respond to the issues that have arisen in the past week," she said.
The budget deadline is March 31. Cuomo and legislative leaders have yet to hold any in-person "leaders' meetings" – sessions among the governor, the heads of the Senate and Assembly and their top aides. Those gatherings would, ordinarily, be heating up in the next week or so, assuming Cuomo remains in office to negotiate this year's budget.
"The most powerful figure in New York politics suddenly finds himself lonely at the top," writes Robert J. McCarthy.
Republicans want Cuomo to resign because of the allegations made against him. But they are also using the time management worries as ammunition against Cuomo, given the otherwise extraordinary business demands of the governor's job right now.
"I think it's going to be very difficult for the governor and two houses to negotiate a budget," Senate Minority Leader Rob Ortt, a North Tonawanda Republican, said Monday at the Capitol as he repeated calls for Cuomo to resign.
The Cuomo administration is trying to present an image of normalcy, even in the face of near hourly calls from someone that Cuomo either resign or that lawmakers start impeachment proceedings against him.
For his part, Cuomo on Wednesday dismissed a question from a reporter who asked if he should step aside and let someone else negotiate a new state budget.
"I'm going to cooperate with the Attorney General's investigation and do the budget," Cuomo said.
The legislative blows to Cuomo are coming from major and rank-and-file Democrats in the Senate and Assembly.
Cuomo sought to remind New Yorkers that he and lawmakers put together a state budget last year at the end of March when Covid-19 infection rates were starting their first round of spikes.
He said it was a time that was "the most intense period of my life or this government's life or this state's life, and we did both and we'll do both here."
On Tuesday, Cuomo announced that he and legislative leaders Sen. Andrea Stewart Cousins, a Westchester Democrat, and Assembly Speaker Carl Heastie, a Bronx Democrat, had secured a deal acknowledging how much money will be available to spend in the budget.
Typically, such steps in the process are greeted with warm words of praise in news releases from Cuomo and the legislative leaders. But the five-paragraph statement included only commentary from Cuomo and his budget director.
On Wednesday, a group of New York City Democrats held a news conference in Manhattan urging Stewart-Cousins and Heastie to "take control" of the budget process.
Not missing has been an almost daily pounding of the governor from one of his chief political enemies: New York City Mayor Bill de Blasio.
Besides earlier calling Cuomo's alleged behavior toward his female accusers "grotesque," the mayor, according to a Politico reporter's tweets, on Wednesday said about Cuomo's disappearance from the public eye since the sexual harassment scandal broke: "If the governor is to remain in office, he has to govern." Otherwise, "step aside and let someone else do it."