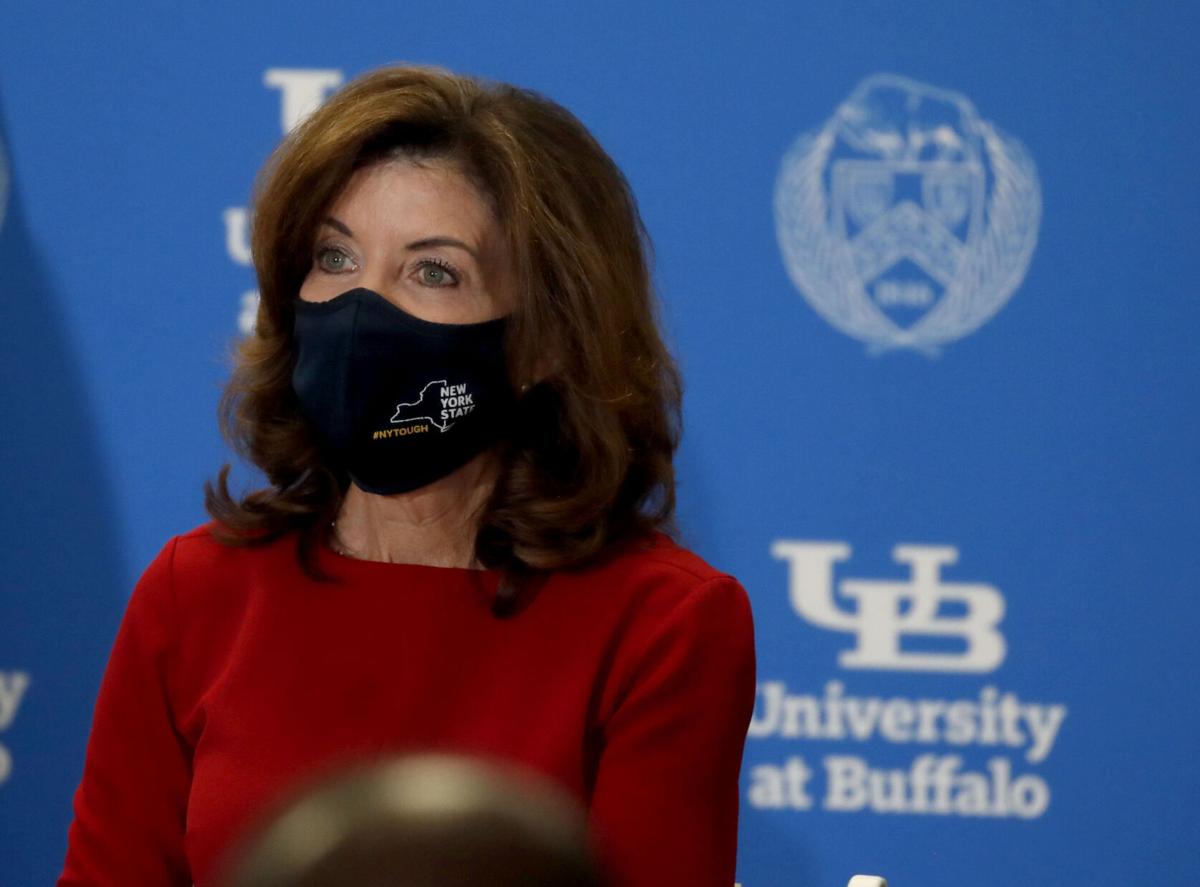 ALBANY – New York will offer a "safe harbor" for women from Texas seeking abortions after that state enacted the nation's strictest anti-abortion statute, Gov. Kathy Hochul said Monday.
The governor, at an event in New York's Central Park with other elected women leaders and women's rights activist groups, said the state will also be moving ahead with a public service campaign and new patient rights' notices to ensure health care providers and patients fully understand the state's abortion access laws.
"We do have your back," Hochul said in a message directed at women seeking abortions in Texas.
The governor did not propose specific incentives or other such means to assist women from Texas to come to New York for abortions.
The event came after the recent implementation of a Texas law that bans abortions when fetal cardiac activity is detected, which normally is about six weeks, a period before many women know they are pregnant. In speaking of the birth of her first child, Hochul said she went on a white water rafting trip not knowing she was three months pregnant at the time.
The Texas law also permits private citizens to bring legal actions against women seeking abortions after the six-week or so period, as well as against providers and others who help the woman in getting an abortion – a provision the U.S. Justice Department, which has sued Texas, said creates a bounty hunter environment in the state.
The new governor did not take the path of her predecessor, Andrew Cuomo, in declaring a Texas travel ban for New York State government employees. Cuomo in 2016 implemented those orders in North Carolina and Mississippi following adoption of controversial laws there.
Hochul said her first task is to make more clear abortion rights that are afforded to women in New York under the 2019 Reproductive Health Act. She said a panel will help devise ways to get that information out, including through public service announcements and clearly written abortion bill of rights documents that will be placed in health care providers' offices.
Without specifics, Hochul also called on social media platforms, such as Facebook, to work more diligently to reduce the "lies" that permeate the internet by groups "hijacking" social media outlets. She said the companies need to "help us wage a campaign of truths and not lies with respect to what's going on in Texas and what was going on here in the State of New York because misinformation spreads like wildfire."
Hochul was joined by leaders of New York's Planned Parenthood organizations, as well as U.S. Sen. Kirsten Gillibrand and New York Senate Majority Leader Andrea Stewart-Cousins, both Democrats like Hochul.