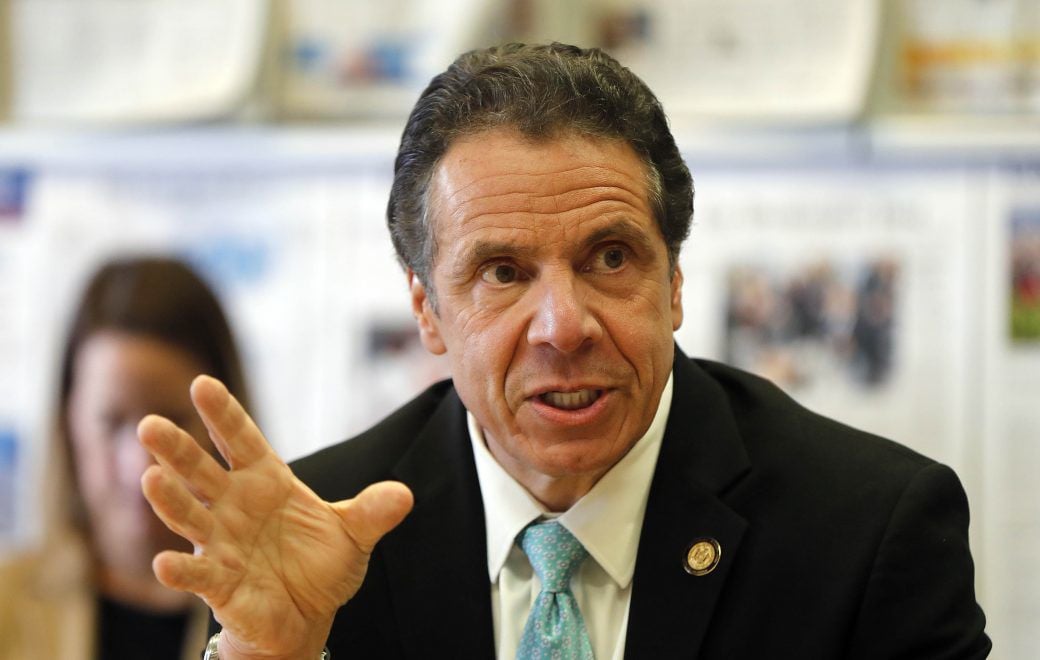 ALBANY – Gov. Andrew M. Cuomo's 2021 book deal on his handling of the Covid-19 pandemic totaled $5.1 million, according to his federal tax filings released to reporters on Monday.
The governor's book contract, which has been criticized by Republicans and Democrats, called for a $3.1 million payment in 2021 and $2 million over the next two years.
Documents released by the Cuomo administration and an accounting firm show that Cuomo had $3 million in net income on the book deal.
After federal and state taxes, Cuomo had a profit in 2021 on the book of just over $1.5 million. He gave $500,000 to the United Way of New York for Covid relief and vaccination efforts and the rest equally to his three daughters, according to Cuomo senior adviser Richard Azzopardi.
The governor's book – "American Crisis: Leadership Lessons from the Covid-19 Pandemic" – described his decision-making during the early months of the Covid pandemic. The publisher has since stopped promoting the book following a federal investigation into the Cuomo administration's undercounting of Covid deaths among nursing home residents and how the facilities for the elderly were ordered to take in Covid-positive patients from hospitals.
Attorney General Letitia James is also looking at whether Cuomo used state employees on government time, as well as state resources, to write the book last year. Cuomo has said any employees that helped did so on a volunteer basis rather than on state time.
Cuomo's adjusted gross income was $3,593,343 last year. That included the book income, $217,736 in salary from his job as governor and $428,000 in capital gains. In 2019, his adjusted gross income was $280,677.
Critics pounced Monday afternoon. "The fact that Gov. Cuomo lined his own pockets with more than $5 million while thousands of New Yorkers were dying horrific deaths is a national disgrace," said Senate Minority Leader Rob Ortt, a North Tonawanda Republican. He said "every dollar" should be donated to charity.
Assemblyman Ron Kim, a Queens Democrat and an outspoken critic of Cuomo's handling of Covid cases in nursing homes, said Monday that details on Cuomo's lucrative book deal "is further confirmation of the insidious and ugly truth that Andrew Cuomo took millions of dollars from Crown Publishing to write a book in the middle of the pandemic while families buried their loved ones." Kim's uncle died of Covid in a nursing home.
Cuomo has refused since last year to provide any financial details about the book contract. It came to light Monday on tax filing day, a time when governors of New York traditionally have released their personal tax information. Potentially more information might be released later today by a state ethics agency when they release his annual personal financial disclosure statement.
The Cuomo administration did not say what will happen with the coming two years' worth of book income – the remaining $2 million.
The Working Families Party, which has split from Cuomo after endorsing him in his past elections, said the revelation about the book deal's finances "is only further confirmation that he is unfit to lead."
The small but influential political party said Cuomo "rushed to pat himself on the back" while people were dying and his administration was declining to release information about Covid nursing home deaths.
Lt. Gov. Kathy Hochul, a Buffalo Democrat, and her husband, Bill, reported adjusted gross income in 2020 of $761,590.