ALBANY – The start of any negotiations involving a complex deal whose end product could be expensive, impactful and controversial can be an anxious time.
It's an anxious time right now in Buffalo and at the State Capitol in Albany.
Preliminary talks have begun between the owners of the Buffalo Bills, the State of New York and Erie County as officials consider a pitch by the team to build a new NFL stadium.
In fact, it's one of the largest asks for public money in pro sports stadium negotiations: Pegula Sports and Entertainment, the team's owners, have pitched a $1.5 billion proposal for a new stadium in Orchard Park and to help cover some renovation costs to the Pegulas' NHL Sabres arena in downtown Buffalo.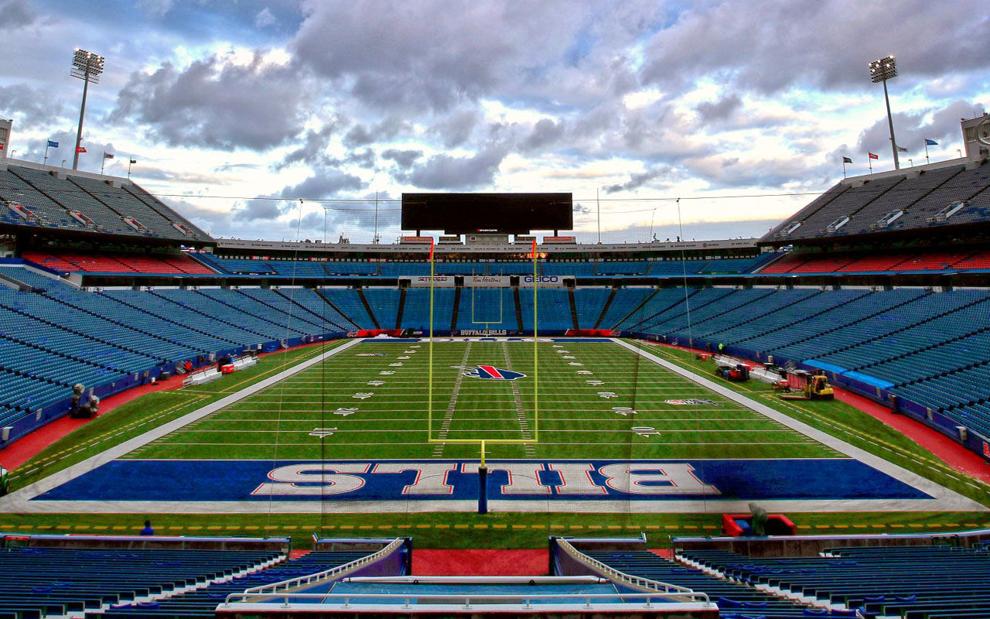 The public would provide an unprecedented 100%, according to multiple sources who spoke on condition of anonymity due to the high sensitivity of the early stage of negotiations.
This much, according to interviews with a number of key individuals in the past couple of weeks, is known, all of which is subject to change over the coming weeks and months as negotiations get more real:
• The team has floated to state and county officials an initial ask that the public pay all the costs for what will be, as is the current stadium, a county-owned facility. In Albany, the idea of such a payment scheme is a non-starter.
• A new stadium – that multiple sources say is expected to be built in Orchard Park adjacent to the team's existing facility so that there would be no need to temporarily relocate to another city during a multiple-year construction effort – would cost at least $1.1 billion, with the remaining several hundred million dollars of the requested package earmarked for renovations at the Sabres' KeyBank Center.
• The team has made no overt threats, sources say, to leave Buffalo if it doesn't get the full funding request, but it has made clear to government negotiators that there are other cities elsewhere that desire an NFL franchise and would pay handsomely for it.
Resolution of the issue, which comes ahead of the team's 2023 lease expiration of its current stadium deal, has broad fiscal, economic and social implications for the Buffalo area and beyond.
A PSE official declined to comment before this story was published.
After publication of the story, a PSE spokesman, Jim Wilkinson, said the team is not seeking any funds for work at KeyBank Center. Wilkinson also said the figure of at least $1.1 billion being sought in public money for a new Bills' stadium was incorrect; he declined to say if the request by the team was higher or lower.
The Pegulas are known to be hoping for a swift resolution in the next couple of months. Others close to the talks say that the initial due diligence process – determining the team and owners' financial worth, examining other stadium deals around the country and weighing that against a stack of other spending priorities – has only recently begun by the governor's office and his economic development agency, as well as an outside firm hired to advise the state on the matter.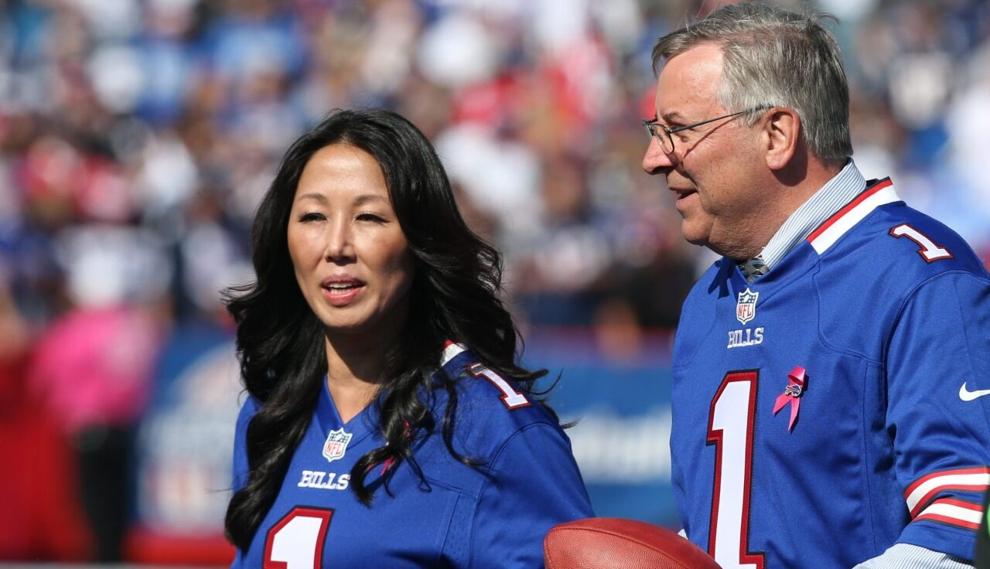 One person with knowledge of the matter noted that stadium projects around the nation have run the gamut: some with no public money, some as much as 40% to 70%. In some cases, they include more taxes on concessions or luxury boxes, though the person said such revenue flows won't be as big in Buffalo as a major market team might draw.
The person said the talks so far "have been fair" and that the government negotiators – regarding the build-new or renovate-existing dilemma – "understand why they don't want to invest in a stadium with a limited useful life."
That talks are heating up now makes sense given the construction timetables prior to the team's existing lease expiring in 2023, assuming the sides don't do a temporary extension of that lease. "They want to know where we are heading," the person said of the Bills immediate interests.
Opposition is already ramping up by groups that oppose massive infusions of government money for deals for private corporations. Their concerns will be embraced by some Democrats who control the State Legislature in Albany and who regularly lash out at what they call "corporate welfare" projects.
A key question is at hand: Can New York State afford, both politically and financially, to pay what the Pegulas might have in mind for taxpayers' role in a new stadium?
The answer will be shaped by the one certainty in all this: No state, local or federal legislator, or governor or county executive, wants the team to ever leave Buffalo, especially on their watch. They know it would represent a psychological and social blow to Western New York of gut-wrenching proportions if the team moved away.
Different times
Much has changed since 2014, the last time the NFL and the team were looking to Albany and Erie County for help with a possible new stadium. Gov. Andrew M. Cuomo, running for a second term that year, initially made clear his intentions that any new stadium be privately financed, while then- and still current NFL Commissioner Roger Goodell said league owners were of one mind: Buffalo needs a new stadium.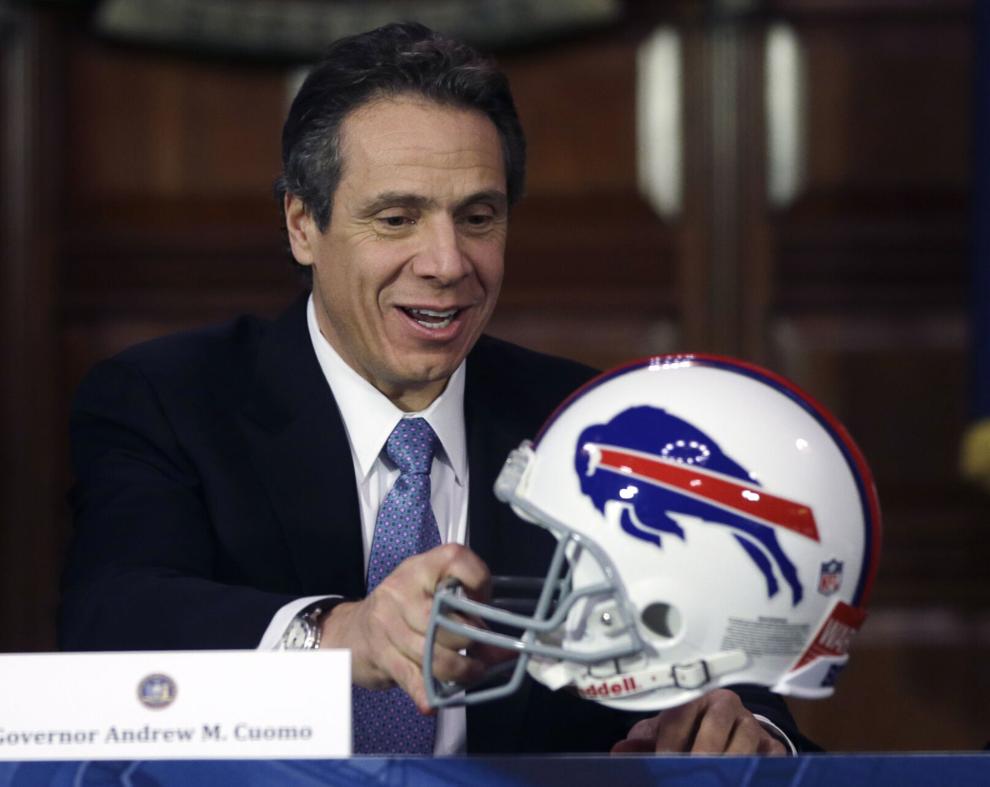 In New York State government and politics, 2014 might as well have been 100 years ago.
For starters, the $1.5 billion ask by the Pegulas caught some officials by surprise, even if it ends up being just an initial, out-of-the-gate idea to capture the attention of the Capitol and the Erie County executive's office.
By comparison, even an apples-to-oranges comparison, the state and New York City in 2019 offered Amazon $3 billion in public incentives. But that deal was offering something the Pegulas never could: 25,000 jobs and a huge development footprint by construction of a new Amazon headquarters in Queens.
That plan had the backing of Cuomo and New York City Mayor Bill de Blasio, who rarely see eye to eye on anything. Still, it collapsed under the weight of opposition by community activists, some unions and left-leaning politicians. One of their key worries: the amount of taxpayer subsidy to one of the wealthiest companies in history.
In the case of a new stadium, people close to the talks who support the Bills note there have been many studies over the years showing that pro sports stadiums, from a purely economic model factoring in stadium costs, can be revenue-neutral at best and not a major driver of new jobs, especially if a pro team is already in the community.
A changed Albany
Beyond just the dollar issue, new political realities have to be considered in any Bills' stadium talks.
For starters, the State Legislature has been taken over by Democrats, and both houses stormed to the political left for the past few years. Among its members are influential lawmakers who helped kill the Amazon deal. While Cuomo and his administration may be the point team now in the governments' talks with the Bills, the governor is not going to cut a megadeal like a Bills' stadium without legislative involvement.
Any business group will tell you that life in Albany is far more challenging for them in the all-Democratic Capitol. Many rank-and-file members adamantly oppose big state subsidy projects for corporations. They still cite as a sore spot the more than $1 billion in state and local money and tax breaks given to the Buffalo Billion project, which became most known for federal prosecutors exposing a bid-rigging deal at the RiverBend solar project.
Gov. Andrew M. Cuomo put out a statement this afternoon on the charges against nine people in the Albany pay-for-play corruption scandal, including Joseph Percoco, one of Cuomo's longest and closest former advisors, SUNY Polytechnic boss Alain Kaloyeros, as well a Buffalo Billion general contractor, Louis CiminellI: "I learned this morning of the charges filed by the U.S. Attorney's
Many of these same legislators openly express venom for something they consider just as problematic as corporate welfare: billionaires. Cuomo and lawmakers enacted income tax increases on millionaires and billionaires this year, but at levels far less than many lawmakers on the far left wanted. Forbes last month put team owner Terry Pegula's wealth at $5.4 billion.
There are other factors. A major infusion of cash for a new Buffalo Bills stadium will yield one certain response from other areas of the state: What about us? The state budget has been littered over the years with example after example. When one area got a minor league baseball stadium, other areas got a minor league baseball stadium. When one area screamed for state money for convention centers, other areas said: me, too. Also not lost on officials is that the Buffalo area already has infrastructure spending priorities for major road projects and other matters that are still up in the air.
While the state appears flush with cash following a big federal bailout, that money runs out in a couple of years. In the meantime, communities around the state are pleading for help to fix crumbling roads and bridges, build affordable housing and take care of long-ignored basic infrastructure like water and sewer systems.
Where, then, do the Buffalo Bills fit at this moment for Cuomo as he tries to score the state's capital investment needs? That's unknowable at this point, even for Cuomo.
What else has changed in a decade? Cuomo, and his power. The governor faces three separate investigations by lawmakers and prosecutors who are looking into everything from sexual harassment allegations against him to how he cut a $5.1 million book deal to write about his Covid experiences while the pandemic was still roaring, to his administration's undercounting of nursing home residents who died last year from Covid, to impeachment calls that will rise up again if one or all of those investigations yield any criminal findings.
The governor would score major points – going into the 2022 statewide elections – with Western New York voters if he could get a stadium deal that keeps the Bills in Buffalo for decades to come. But, assuming Cuomo survives the scandals he's facing, the governor could face a serious challenge from his political left.
"Governor Cuomo is committed to the Bills staying in Buffalo, as demonstrated by the state's contribution to the recent $130 million investment in the current stadium. The administration is fully engaged with the Bills and other stakeholders as we conduct due diligence to understand the economics around the team's proposal ahead of the current leasing expiring in 2023," said Freeman Klopott, a spokesman for Cuomo's budget office.
Daniel Meyer, a spokesman for Erie County Executive Mark Poloncarz, said the county would not have anything to say about the stadium talks until a deal is made.
The pushback
As seen in other cities in debates about public money for pro sports stadium deals, opponents are united on many points.
"I hope that after countless economic development corruption scandals that state and local governments are starting to realize that subsidizing billionaires to build anything is a fools' errand," said Ron Deutsch, executive director of New Yorkers for Fiscal Fairness, a group that, according to its IRS filings, provides advocacy "for lower and working class New Yorkers."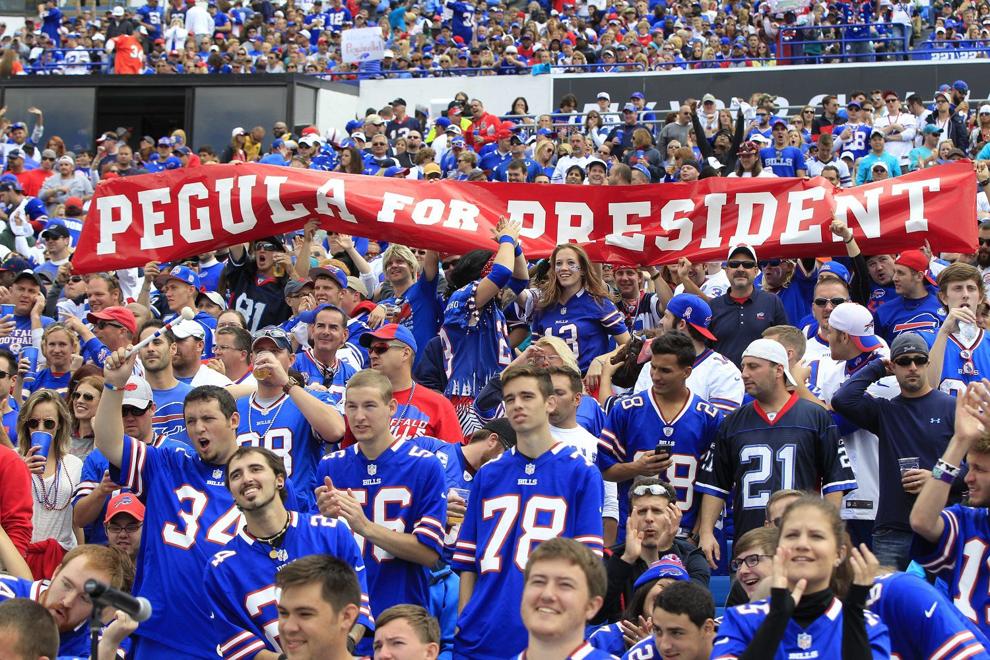 "Whether it's a stadium or a solar panel factory, we shouldn't be using taxpayer dollars to fund the development desires and dreams of billionaires. In this big league development game, one thing is for sure: the billionaires win and the public loses," he added.
"The research on stadiums … is they do not pay for taxpayers. They are just money thrown out the window," said John Kaehny, executive director of the watchdog group Reinvent Albany. "You'd get the same kind of return from burning stacks of $100 bills along Lake Erie than building a new stadium for the Bills or any other sports team."
Assemblyman Pat Burke, a Buffalo Democrat whose district includes the Southtowns, believes the Pegulas are too financially and emotionally invested in the Buffalo area to move the team elsewhere. But he also is a realist about how keeping them here will happen.
"We're not going to give away money we don't have,'' he said of public money for a deal. "But, we're going to recognize the Bills' value to Western New York."
This article has been updated from the original version to include a comment from a PSE spokesman, Jim Wilkinson. He said the team is not seeking funds for work at KeyBank Center. Wilkinson also said the figure of at least $1.1 billion being sought in public money for a new Bills' stadium was incorrect; he declined to say if the request by the team was higher or lower.