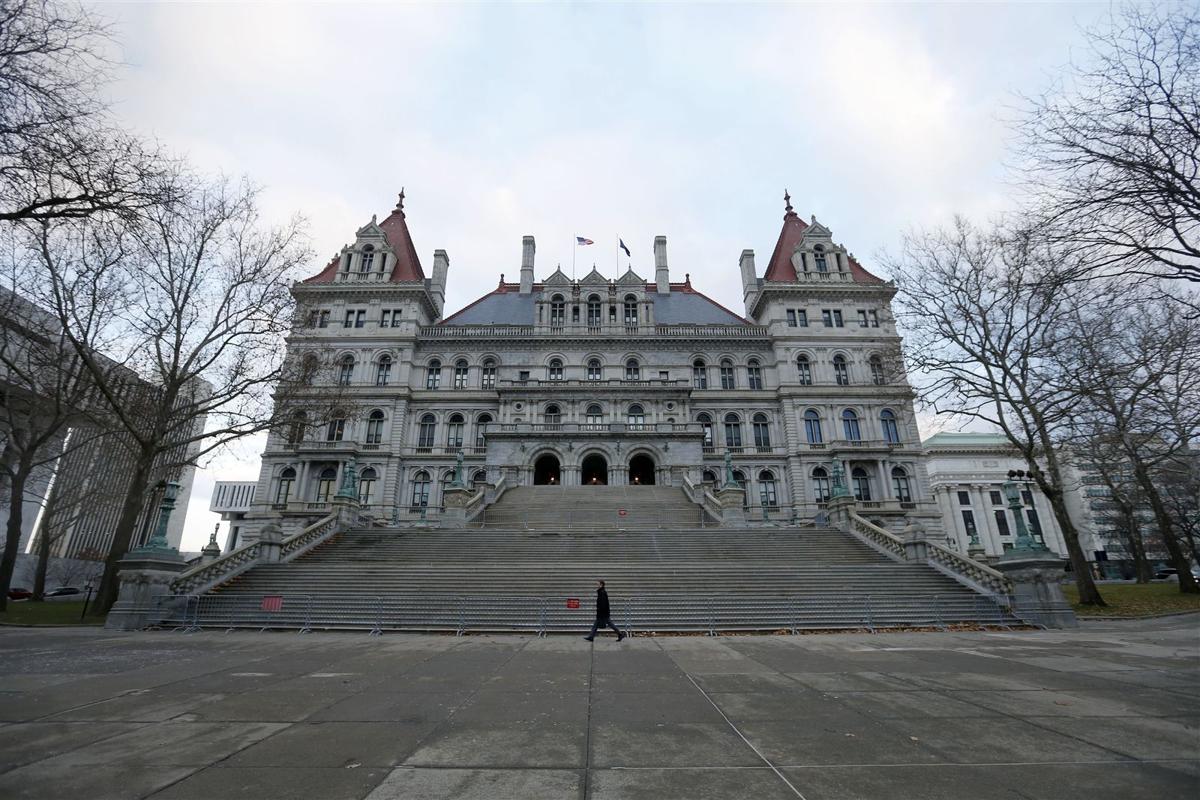 ALBANY – The adoption of a final state budget – which was to have been completed by March 31 – will release a torrent of spending hikes that would not have been possible without a financial bailout from Washington, big borrowing plans, tax hikes on New York's wealthiest and higher-than-anticipated state tax revenues.
What happens when the federal funding dries up is anyone's guess.
One upstate group called new taxes "a serious risk" that "will ultimately hurt New York's recovery efforts."
The 2021-2022 budget does all the usual fiscal things, with an added jolt to education, health care and infrastructure work. While many stakeholders of the budget are joyous, there are losers besides the rich: nursing home operators, certain kinds of corporations and, as always in Albany, the concept of a transparent government.
"This budget represents the light at the end of the tunnel, and shows us a path forward that will lead New York State through this pandemic and beyond," Senate Majority Leader Andrea Stewart-Cousins, a Westchester Democrat, told colleagues on the floor shortly after senators passed the last budget bill at 4 a.m. Wednesday.
The state budget is spread over 10 different bills. Some highlights:
With all sources of revenues and spending included, the budget totals $212 billion, 10% higher than last year's budget. Spending on things like crumbling roads, bridges and other capital projects will rise 34%, requiring borrowing that will take years to pay back.
New York expects to use about $6 billion of the $12.5 billion it can tap from the federal government's new stimulus law, a pot of funds with which the state can do almost anything.
For lawmakers, there is no more important political section of the budget than funds for the state's 700 public school districts. State aid will rise $3 million this year to $29.6 billion, with $1.4 billion dedicated to a stream of funds that helps pay schools operating costs, like teacher salaries.
A couple of hundred more schools statewide will be eligible to offer full-day prekindergarten classes thanks to an influx of state cash.
Importantly for schools and teachers, the budget promises to fully phase in the state's Foundation Aid formula over the next three years, as a way to fulfill a landmark court order in 2006 that said the state wasn't meeting its obligation in financing schools. Whether that promise can be kept will be determined by many things, including who might be governor three years from now as well as the health of the economy that will determine health of tax revenues to Albany.
The budget freezes for three years the SUNY system's "rational" tuition program, which permits annual tuition hikes that officials say is a more predictable plan than ad hoc, irregular and often big increases. Cuomo wanted the tuition increases to proceed; lawmakers said no.
The budget also gives a $500 increase – the largest in 20 years – to the maximum award under the Tuition Assistance Program, whose recipients are low- to moderate-income residents attending public and private colleges in New York. The current annual award is $5,165. It also restores nearly $75 million in operating aid cuts to the SUNY and CUNY systems proposed by Cuomo, and it rejected the governor's plan to cut aid to support private colleges by $35 million.
The budget anticipates more than $4 billion in new tax revenue from wealthy people and some corporations. The budget boosts to 9.55% the state income tax rate for those making more than $1 million a year. It requires two new higher rates depending on if a person's income is above $5 million or over $25 million.
The corporate franchise tax rate will also be hit with a higher three-year surcharge if income is more than $5 million. The new rate will go to 7.25%.
Lawmakers rejected a Cuomo plan to freeze a previously scheduled income tax cut for middle income New Yorkers that Cuomo in January said New York could not afford without major federal aid assistance from Washington. About $400 million in tax cuts will now proceed; those earning $43,000 to $161,550 will see their state income tax rate drop slightly from 6.09% to 5.97%.
Also, about 1.3 million tenants whose incomes are below $250,000 will get about $440 million in property tax relief if their incomes are below 120% of an area's federally defined income average, regardless of their immigration status.
A $3 billion environmental bond act, canceled last year, will go forward, though not until voters decide the matter in a Nov. 22 referendum.
Lawmakers pushed for, and got, a plan to push out all sorts of pandemic relief spending.
The final budget includes $2.4 billion to help certain qualifying tenants who could not pay rent because of Covid-related layoffs or other economic emergencies during the pandemic. Tenants also get eviction protection for a year. The financial relief will go to tenants at 120% of an area's federally defined income, regardless of their immigration status.
Some homeowners who saw their mortgage payments affected by Covid's economic slam will be eligible for some relief. Small businesses are in line for some tax cuts and access to business grants and tax credits. And there will be pots of money for arts groups and restaurants hurt by the economy, with a special carve out for New York City theaters.
Local government/infrastructure
Local governments were among the big budget winners. Cuomo's plan to cut the main funding program for aid to cities, towns and villages was rejected in the final budget, as was a plan to erase revenue-sharing payments to "host" communities with VLT casinos, a Cuomo effort that would have dug a deep hole for Hamburg and other localities with the racetrack-based betting halls.
The main state fund for repair and maintenance of local roads, bridges and other infrastructure won't see the Cuomo-proposed cut; rather it will see a $100 million increase. Cuomo's plan to zero out $65 million in payments for localities to fix roads damaged by extreme winter weather was rejected, and lawmakers boosted the program to $100 million. And a new $100 million fund is created to help fix streets and sidewalks in urban central core areas as a way to attract new economic development.
Nursing homes, hard hit by Covid patient deaths the past year, will be required to spend at least 70% on direct patient care, with 40% on staff who provide direct patient care. The estimated $64 million higher costs for nursing homes, the industry says, will force some facilities to close. Health care worker unions pushed the plan.
Cuomo-proposed cuts to Medicaid will see $415 million in restorations, a boost pressed for by hospitals and others.
Lawmakers also put in some health-related pork barrel funding and local restorations, including for programs like rabies and Lyme disease prevention and school-based health centers. Western New York lawmakers also rejected $13.5 million in Cuomo-planned cuts to Roswell Park Comprehensive Cancer Center.
Cuomo in recent years rejected legislative attempts to legalize mobile sports gambling, saying such gambling would need to go through a lengthy constitutional amendment process. In January, before the federal bailout, he embraced mobile sports betting, though in a less free-market way than lawmakers wanted. His successful plan will have the state ostensibly run, via for-profit entities in a competitively bid process, in what he calls a lottery-style oversight process.
His successful plan also calls for major revenue-sharing tax payments by the betting vendors, which will place their computer servers at four upstate commercial casinos to take bets from anywhere in the state – an effort to try to withstand legal challenges that might come saying the program is unconstitutional. Betting could be underway by the end of the year.
This is what Democrats call migrants living in the country without legal immigration status who will now be eligible to get up to $16,500 in direct payments from the state. The money is intended to go to undocumented immigrants who were laid off last year but not eligible, because of their immigration status, for federal stimulus checks or unemployment benefits. Backers say many of them pay taxes and help local economies and so should be eligible for Covid-era relief from the state. Lower payments will go to such people who can't show certain proof, such as valid pay stubs or a letter from an employer.
Cuomo said the program will not be implemented until after a review by the state comptroller and attorney general to ensure anti-fraud measures are strong enough.
The least contentious area of the final budget: bears.
Cuomo proposed lowering the age to hunt bears and deer from 14 to 12. The final budget gave the OK for younger children to hunt deer, not bears.
State Sen. Liz Krueger, a Manhattan Democrat, told colleagues that bears – versus deer – were too dangerous for 12-year-olds to hunt.
Or as she put it: "We have saved the bears.''