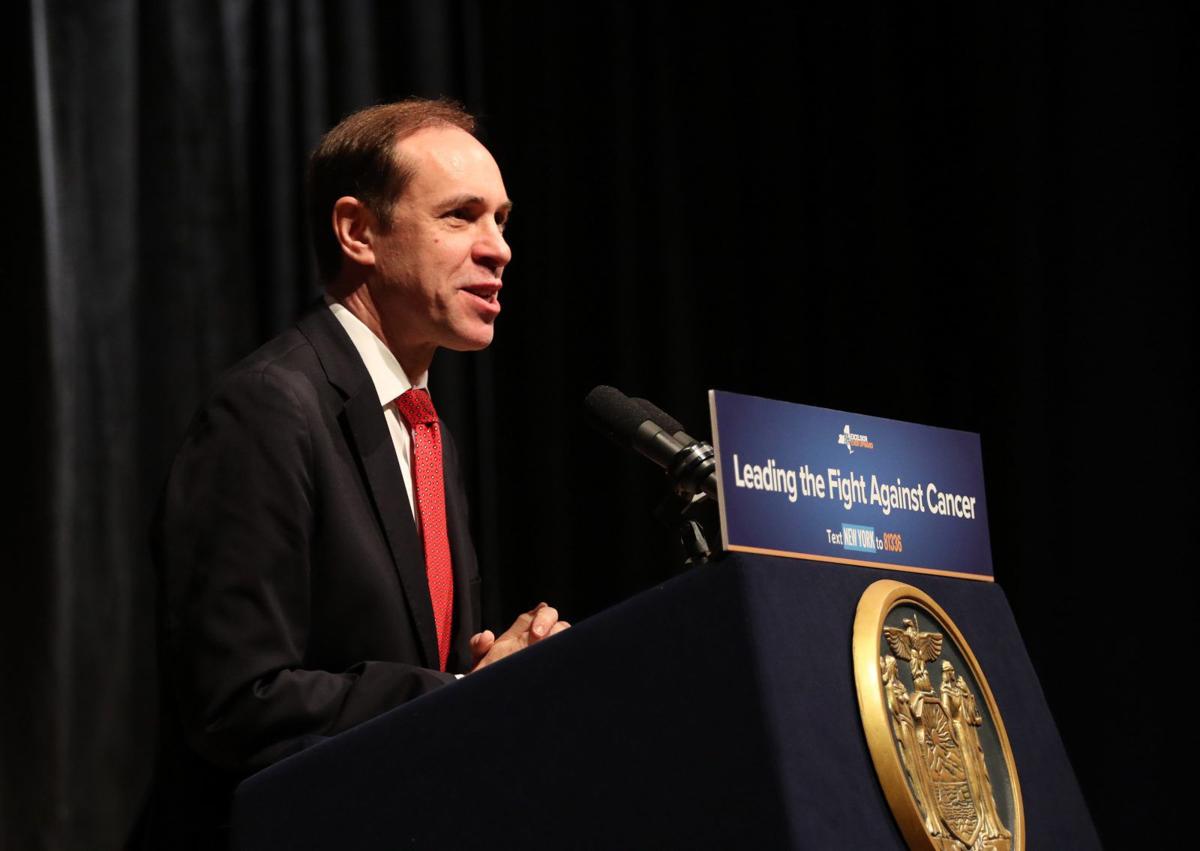 New York State Health Commissioner Howard Zucker defended Monday the state's response to more than 6,400 Covid-19 deaths at nursing homes as legislators grilled him in the first of two virtual hearings.
Zucker said the Health Department has provided unprecedented transparency by making public information on the deaths, whether they are confirmed or presumed to be caused by the virus.
That didn't sit well with Senate and Assembly lawmakers at the joint hearing who said the Health Department's statistic of more than 6,400 nursing home deaths due to Covid-19 represented an intentional undercounting because infected nursing home residents who died at hospitals were not included.
"I will not provide information that is not absolutely accurate. I will get you that number," Zucker said at different points during the hearing, referring to deaths of nursing home residents in hospitals.
State Sen. James Skoufis, a downstate Democrat, pointed out that other large states, such as California, provide statistics on Covid-19 fatalities of nursing home residents who die in the facility or at a hospital.
State Sen. Gustavo Rivera, Democratic chairman of the Senate Health Committee, offered this stinging assessment: "It seems, sir, that you are choosing the information so that you can look better."
Rivera said that New York State has had more Covid-19 deaths than any other state. There are 25,172 confirmed deaths, according to the state Health Department.
A spokesman for Gov. Andrew Cuomo later pointed out that the rate of deaths per 1,000 among nursing home residents places New York at ninth among other states in the country.
In explaining why hospital deaths are not included, Zucker said that he didn't want coronavirus deaths in nursing homes to be counted twice by including hospital deaths, and that was why the numbers are kept separate.
Rivera told Zucker it is important that state legislators receive "clear information" in order to "make better policies" in responding to Covid-19.
Lawmakers also questioned the impact of a March 25 directive from Cuomo's Health Department that nursing homes admit Covid-19 positive individuals.
Zucker cited an internal Health Department study that he claims proves the directive did not have a major bearing on the number of nursing home deaths. He said it was determined that asymptomatic nursing home workers had unknowingly brought the virus into the facilities dating back to Feb. 25, long before the directive was put in place.
A total of 37,000 of the 150,000 nursing home workers at the state's 613 facilities have tested positive for Covid-19 at some point, Zucker said.
He placed the blame for the high number of Covid-19 deaths, in part, on a delay in halting commercial airline flights from Europe that allowed the virus to enter New York State.
The Health Department's Covid-19 limit on visits at nursing homes also was a major concern among lawmakers. On March 12, Cuomo announced a ban on all visits to nursing homes to stop the spread of the virus. In early July, the department allowed visits at nursing homes to resume if there were no cases of Covid-19 at the facility for 28 days.
Zucker said he was sympathetic that visitation is limited but he does not want to see a flare-up of Covid-19 in the facilities. The Health Department, he said, is spending $1 million to enhance technology to increase visitation. He did not provide details on how that would work.
He said 117 nursing homes have opened to limited visits and 209 have submitted plans for visiting.
That did not impress lawmakers who said constituents are deeply worried that loved ones are suffering from extended isolation and depression since Cuomo issued the visitation ban.
Out of anybody entering a nursing home, lawmakers said, relatives of residents would take the most precautions not to bring the virus into the facility for fear of infecting their loved ones.
Democratic State Sen. Rachel May, chair of the Senate Committee on Aging, suggested family members be "deputized" as nursing home staff members to gain admission.
Michael Balboni, executive director of the Greater New York Health Care Facilities Association, an industry group, said nursing homes are now in a much better position to expand visitation.
"I strongly urge the Health Department to open visitation. Loneliness is a comorbidity. Nursing homes have learned so much about decontamination," Balboni said.
Assemblyman Richard N. Gottfried, a Manhattan Democrat who chairs the Assembly Health Committee, asked, "Are we learning in this pandemic ... that increasing staffing would make a difference?"
Neil Heyman, president of the Southern New York Association, which represents health care facilities, said staffing levels in nursing homes dropped because workers were contracting Covid-19 and unable to work.
Balboni said other staff members did not go to work because of a "realistic fear" of becoming infected.
Heyman said nursing home staffing levels have since "caught up."
Advocates for residents who testified presented a different picture, stating that nursing home staffing levels have long been a problem. Family members who lost loved ones also testified that staffing has been an issue prior to the pandemic.
May, the chairwoman of the Aging Committee, pointed out that the Health Department was supposed to release a study in December on the Legislature's 2019 proposed safe staffing law, which would require minimum standards for the average amount of time nursing staff spend each day with nursing home residents.
Zucker blamed the pandemic for the delay in the study's release, which, he said, will now be released Aug. 14. 
May said, "We wanted that in December, so I don't think you can use that excuse."
Gottfried said, "For years we have heard inadequate staffing at homes, inadequate enforcement personnel at the Health Department, lax attitudes in enforcing and lack of funding made all of the problems of Covid much worse."
Richard Mollot, executive director of the Long Term Care Community Coalition, said it was his belief that there are long-standing problems with staffing levels and infection control at nursing homes.
"All this stuff is basic, hand-washing, changing gloves when you go from one patient to another. But it all comes down to staffing," Mollot said.
The virtual hearing is scheduled to continue next Monday.