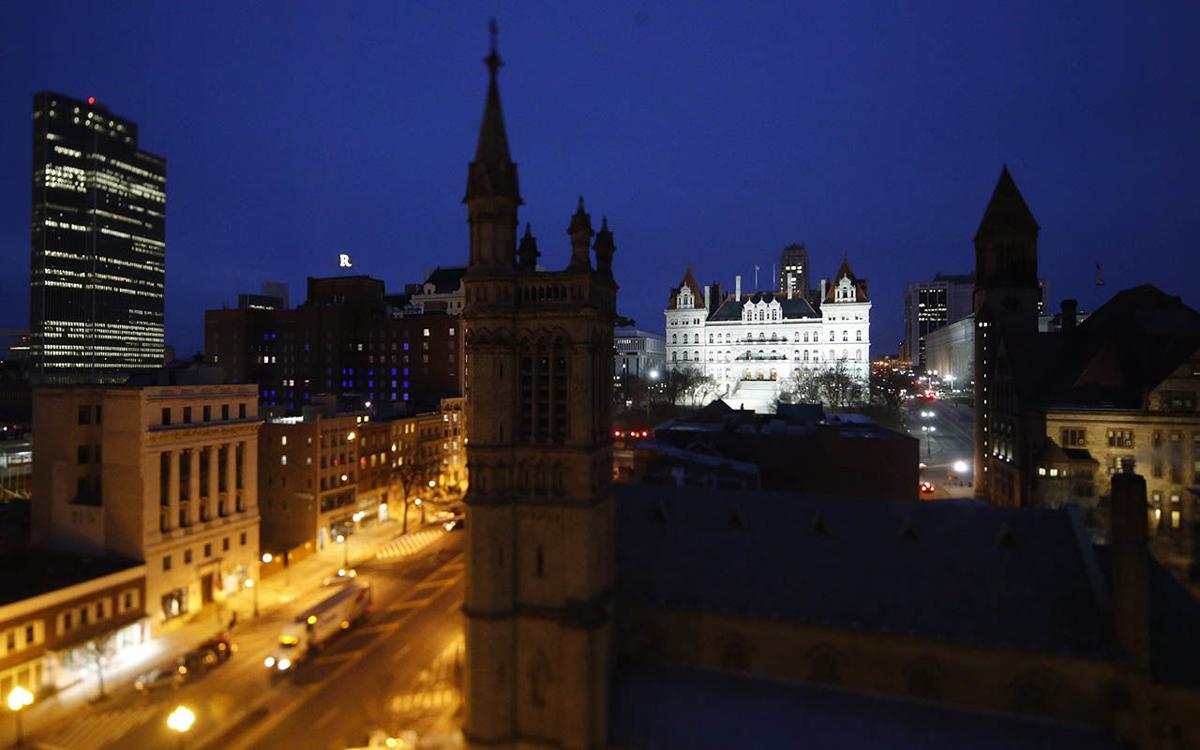 ALBANY – A new state budget is supposed to be approved so that the plan is in place for the start of the new fiscal year overnight Thursday.
It's always risky to say something definitely won't happen in Albany. But, if several government officials are correct, that won't happen.
"No way," as one government official, speaking on condition of anonymity, said Monday.
The Cuomo administration, however, while not specifically addressing the question of an on-time budget, said Monday that talks are about where they always are this time of year in Albany.
One of 10 bills that will make up the budget this year was introduced Monday night, but many controversial sections were "intentionally omitted," meaning either those matters won't be a part of the final budget or they will appear, rewritten, in a different, omnibus bill that Albany each year likes to call "the Big Ugly." Lawmakers will pass on time, if history is a guide, a bonding authorization bill to pay for ongoing borrowing expenses.
Not yet introduced are the major bills, like education and how all the spending is going to be funded. The sides are hoping to finish up this week and not spill into the Easter holiday weekend, but no one can say when everything will be completed.
The almost-certain tardy 2021-2022 state budget is not wholly a result of a distracted Gov. Andrew M. Cuomo, who is facing an onslaught of allegations from his sexual harassment accusers and investigations over Covid-19 deaths of nursing home residents.
Another major factor is that Albany is flush with cash, both from higher-than-projected revenues and a historic federal bailout, and lawmakers see an opportunity to spend far more than Cuomo wants through new taxes imposed on wealthy people.
It's that time of year at the state Capitol when most aspects of a budget that will top out above $200 billion have already been agreed to or are not controversial at all.
That leaves decisions over the last few billion dollars, and traveling that road between ideas and a budget deal can be both bumpy and long.
Like last year, many of the budget talks are being done virtually to try to reduce the risk of Covid spread. Unlike last year, one of the three people who negotiate the final tricky details of the plan – Assembly Speaker Carl Heastie, a Bronx Democrat – has Covid.
That has left talks among Heastie, Cuomo and Senate Majority Leader Andrea Stewart-Cousins to be done via Zoom or by telephone.
The overriding detail that will affect all the rest of the unresolved pieces of the budget: Will the state's spending rise beyond just what New York is getting in discretionary bailout money from Washington, thanks to tax increases on millionaires and billionaires and certain corporations?
Put simply, another government official speaking on condition of anonymity said, the Legislature envisions $7 billion or so in new tax revenues while the governor's plan is pegged at about $2 billion.
How that gets resolved is a fight over the soul of the Democratic Party, which is in control of both legislative houses and the governor's mansion. With more liberal lawmakers getting elected – a growing number by defeating more centrist Democrats – the left wing of the party sees 2021 as its year to strike on a major spending increase along with major tax increase.
They say many problems facing communities have been around long before Covid arrived, and that 2021 is a year to both tap heavily into the federal stimulus money and to boost the tax obligations of the rich. They note that hitting the wealthy up for more tax money is also popular in the polls, even while Cuomo raises concerns that New York does not want to see such people or corporations leave a state where so many have already left because of high taxes.
The pro-tax and pro-higher-spending stakeholders include not just liberal Democrats, but politically potent labor unions, many of them representing public sector workers like teachers, who think past state budgets have been inadequate.
Why all the need for such major taxes in light of more than $12 billion earmarked for New York State by Washington, money that can be spent over the next few years?
Because, advocates say, that federal money is going to run out.
"The Legislature is saying we need recurring revenue to invest deeply in the communities hardest hit by Covid and that have also been hit by a decade of disinvestment in past Cuomo budgets," said Michael Kink, executive director of Strong Economy for all Coalition, a group whose members include unions and community groups.
He noted that a post-Covid economic recovery has been forecast by some to be a stronger growth period than in generations. As such, it makes good financial, economic sense – "and is the morally right thing to do" – to increase taxes on the wealthy and corporations that will most benefit in that period, he said.
But critics of that approach believes the major spending hike for the state budget is being led, chiefly, by unions representing teachers and health care workers. That includes the New York State United Teachers union and 1199SEIU – which represents hospital and nursing home workers – who know that higher education and health spending by Albany will end up as higher salaries for their members.
"They want to do the biggest spending increase in modern times, even bigger than any of the Rockefeller years. They want to do a quantum leap in spending," said E.J. McMahon, senior fellow at the Empire Center for Public Policy.
What people like McMahon preach is that state spending should slow and taxes shouldn't be raised at a time in history like now as a way to prepare for the cliff the state is facing when the federal bailout money ends.
"They want higher revenues to protect themselves from the hangover when the federal money runs out," McMahon said.
The left in the Legislature has several things on its side, including a politically weakened governor who, some believe, would rather not be in a protracted budget fight at the time he's trying to beat back calls for him to resign in the wake of the number of scandals he's facing.
Moreover, the left has a powerful threat against Democratic lawmakers who don't go along with a huge tax increase: June 2022. That's when the next primaries will be for lawmakers, and centrist Senate and Assembly Democrats have only to look to last year when a slew of their centrist or modestly liberal – compared to many in office today – were defeated in primaries.
The fiscal year starts Thursday, and the day before is known as the deadline for a budget deal. For years, lawmakers and governors didn't really care about a deadline. Onetime Assembly Speaker Mel Miller every year would say a good budget is better than an on-time budget.
It once used to matter, decades ago, when Albany need to do a major springtime borrowing program. It also used to matter when schools and others who needed some clear picture from Albany in the spring in order to do their own budgets. But there were plenty of examples when the state adopted a budget long after other lower forms of government had to have their plans in place.
Cuomo, however, first ran, and kept running on, a theme of government competence, and that included an on-time budget. Many of his budgets have been late, though not dramatically.
Recently, however, he floated the idea that this year's budget could be late, in part, because so many talks couldn't take place face to face in order to more quickly close down deals.
Freeman Klopott, a Cuomo budget spokesman, on Monday said the budget is "one of the most complex and largest" in state history.
"However, even as the pandemic creates the additional challenge of negotiating remotely, negotiations are progressing and are at the same point they are every year at this juncture. We have been working with the Legislature around the clock to deliver a budget that supports New Yorkers in need and sets the state on a course to reimagine, rebuild, and renew New York as we move beyond the pandemic," Klopott said.