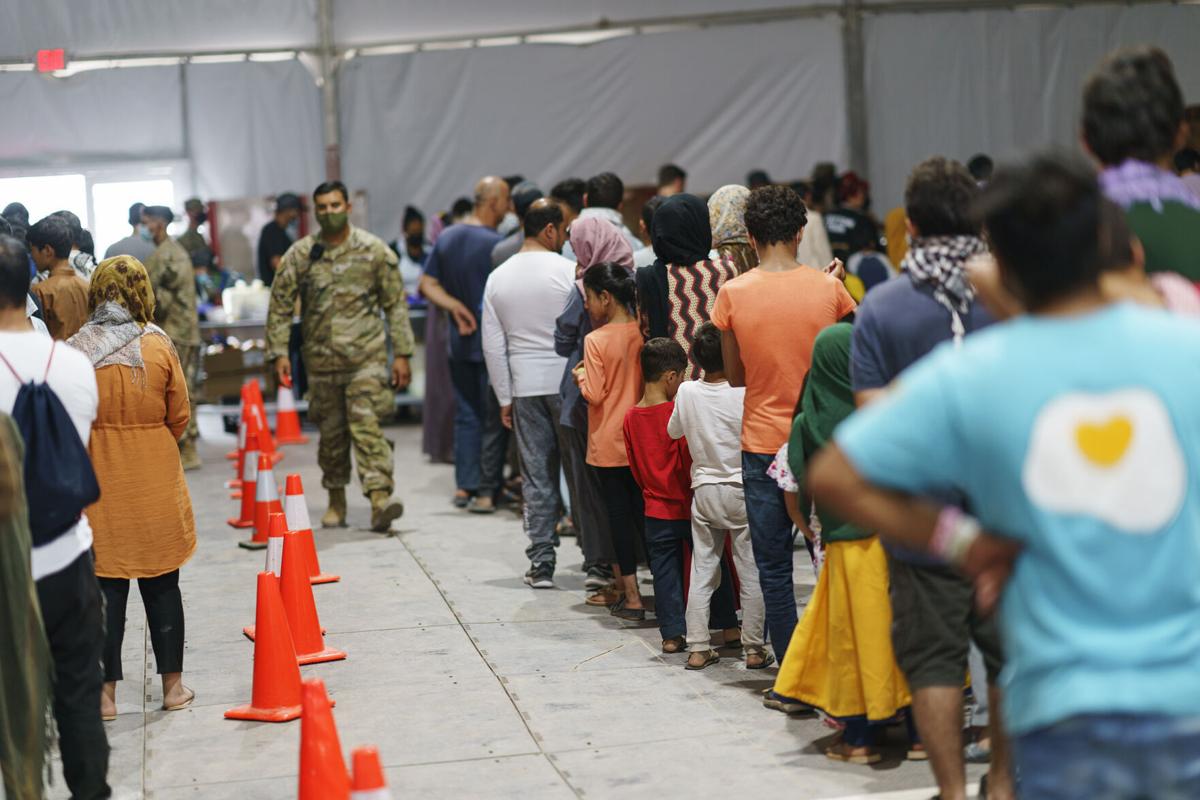 ALBANY – The Buffalo area will be at least the temporary home to nearly one-third of Afghan nationals heading to New York State – the most of any region in the state – who were recently evacuated from the now Taliban-controlled country.
Gov. Kathy Hochul said the U.S. State Department has informed her administration that up to 1,143 Afghan refugees will come to New York State in the next six months, including up to 335 to the Buffalo area.
"New York has a storied history of welcoming those seeking a safe haven from violence and persecution – a proud tradition our state continues today by helping evacuees from Afghanistan rebuild," Hochul said Thursday.
The New York refugee resettlement infrastructure, especially in a number of upstate areas including Buffalo, has been especially strong in recent decades. The State Department said besides the 335 Afghan refugees heading to the Buffalo area, 248 will go to Syracuse, 240 to New York City, 200 to Rochester, 100 to Albany and 20 to Utica.
Some already have arrived in the state, Hochul said.
"The heart-wrenching images and stories of people fleeing their homeland were a call to action that New York State is more than willing to answer. We welcome our new Afghan friends with open arms and pledge to provide them the assistance they can rely on to rebuild anew," the Democratic governor said.
The idea of helping the Afghan nationals – an unknown number of whom were airlifted out of Kabul after the Taliban ousted the previous Afghanistan government as the U.S. was heading to pull all its remaining troops out – has been backed by many Democrats and Republicans in Albany, especially if the state is assisting Afghan refugees who gave various help to U.S. military forces over the past two decades of the now-ended war.
Word came to New York about the numbers heading to the state from the U.S. Department of State's Afghan Placement and Assistance Program.
Some assistance to the Afghan nationals legally permitted to enter the United States will be provided by agencies including the Bureau of Refugee Services, a division of the state Office of Temporary and Disability Services. Another state agency, the Office for New Americans, can offer them various services like mental health and legal services.
The Buffalo News previously reported that extra challenges face the four refugee resettlement agencies in Buffalo because the arriving Afghan nationals do not qualify as refugees under federal law since they left their former country so quickly and without going through the usual resettlement process. They will be eligible for a $1,225 payment, like other refugees, but won't immediately be able to work or get certain kinds of public assistance.
The Hochul administration Thursday said the Afghan refugees can remain in the U.S. for a temporary period as they seek formal asylum or a more permanent immigration status.
The state said about 7,500 Afghans live in New York, many of whom came to the United States this year.
The release Thursday of the numbers of Afghan nationals coming to New York came as lawmakers and immigration rights groups and others gathered in Buffalo to celebrate Welcoming Week, a national initiative that seeks to highlight communities' efforts to be more inclusive of immigrants and others. The event include Buffalo groups that will be involved in the resettlement efforts of the Afghan refugees, a task that involves raising private donations for the coming refugees.
State Sen. Sean Ryan and Assemblyman Jon Rivera, both Democrats from Buffalo, said estimates are that up to 80% of the Afghan refugees will be considered "humanitarian parolees" and not technically refugees, which will deny them access to a number of federally funded programs.
One private Buffalo effort, called Buffalo United for Afghan Evacuees, is seeking to raise $750,000 for the several hundred expected in the area from Afghanistan – money that will help pay for food and shelter and other expenses. The International Institute of Buffalo said that $60,000 has been raised so far and local residents are signing up to volunteer to assist the refugees.
Ryan and Rivera announced in April that the new state budget included $3 million to various refugee resettlement agencies, up from $1 million the prior year. They noted that the recent federal census revealed Buffalo's population grew for the first time since 1950, due heavily to additional refugees and immigrants making the city their home.
"With the end of the war in Afghanistan and many Afghan allies on their way to the United States, it is pivotal that we here in Buffalo are doing all we can to make sure this is a welcoming and safe place," Ryan said in a statement Thursday.
"Our world-class resettlement agencies are ready, our state is ready and our city is ready to welcome Afghans and all refugees to their new home," he added.