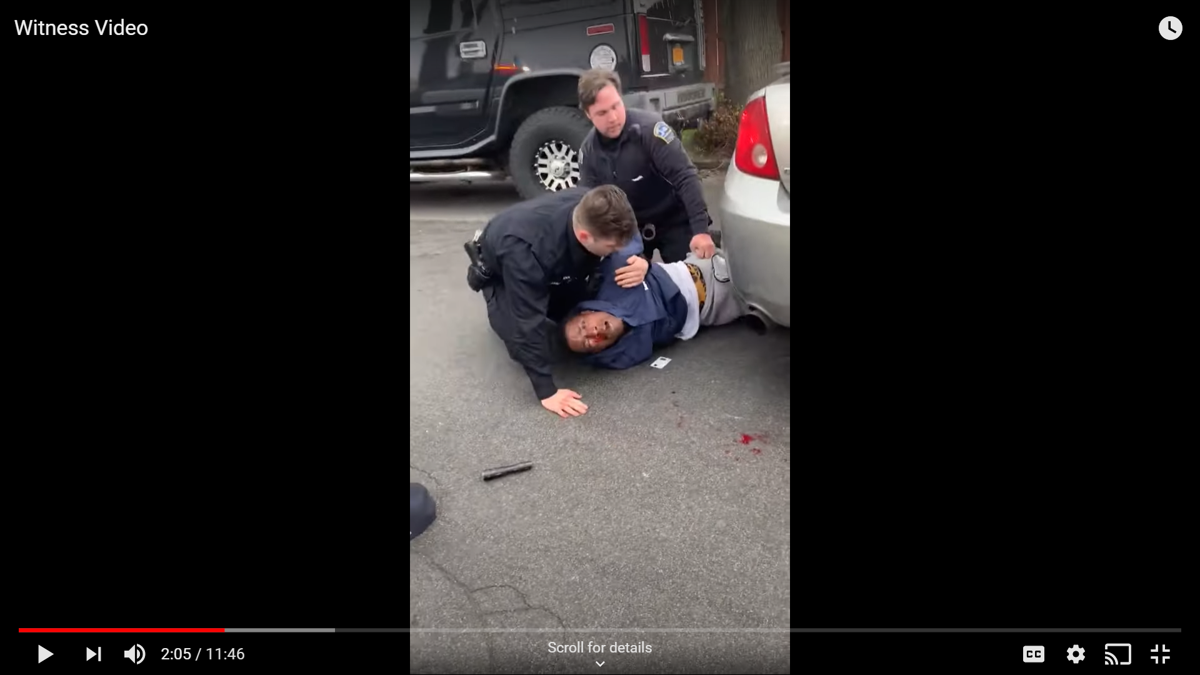 A special prosecutor has been appointed to investigate the actions of Buffalo police officers during a violent arrest on May 10 of Quentin Suttles. 
The Erie County District Attorney's Office on Tuesday cited a conflict of interest in seeking a special prosecutor. State Supreme Court Justice Christopher J. Burns signed the order Tuesday, transferring the case to the Monroe County District Attorney's Office.
A short clip of a cellphone video that was widely shared in May led to an internal investigation by police and prompted Erie County District Attorney John J. Flynn to open an investigation. 
The case centers on the violent arrest made by Buffalo police officers Ronald Ammerman and Michael Scheu, one of several cases that has drawn the attention of Black Lives Matter protesters in Buffalo.
In the Mother's Day incident, the officers stopped Suttles after he turned the wrong way onto a one-way street while he was, according to his attorney, driving to his mother's house. 
The District Attorney's Office said the officers smelled marijuana in the vehicle, which prompted them to remove Suttles from the vehicle. Suttles was later charged with resisting arrest and destroying evidence as well as two traffic violations. 
The cellphone video of the arrest shows Ammerman repeatedly punching Suttles in the face while Scheu held him down on the ground near the back of a car.
"Get off of him!" an unseen woman yells. "Stop! You're going to hurt him. Get off of him!"
One officer tells the man repeatedly to "let it go" and "you're making this way worse on yourself." One of the officers also can be heard saying, "Please stop." 
Then one officer punches Suttles in the head and the woman screams: "You can't hit him like that."
Suttles suffered a fractured shoulder blade and orbital bone, according to legal papers filed by his attorney in State Supreme Court.
The conflict of interest is rooted in the Erie County District Attorney's Office currently prosecuting Suttles, 30, of Buffalo, "in multiple pending criminal matters," according to the DA's release.
An assistant district attorney for Erie County is also a potential witness.
The DA's office is prosecuting two other criminal cases against Suttles.
Suttles was arraigned on Feb. 24, 2020, on an indictment charging him with second-degree criminal possession of a weapon.
Prosecutors allege that on around midnight on Sept. 8, 2019, police recovered a 9 mm handgun from Suttles, who was the passenger in a car that was pulled over for speeding near Broadway and Mohr Avenue. Prosecutors say police smelled and saw marijunana in the car, resulting in a search in which Suttles allegedly refused to come out of the car, fought with officers and was forcibly removed from the back seat.
A return date before State Supreme Court Justice M. William Boller has not been scheduled yet.
The DA's office also said that Suttles faces charges of first-degree criminal contempt and second-degree harassment stemming from a Feb. 4 incident in which he allegedly knowingly violated an order of protection by calling a victim several times and driving by the victim's home several times. 
That case is pending before State Supreme Court Justice Deborah Haendiges and scheduled to return July 21.
The case against Suttles from the May 10 incident will continue to be prosecuted by the Erie County District Attorney's Office. A return court date has not been scheduled yet.
The cellphone video was taken by Suttles' girlfriend, who was a passenger in Suttles' car, during the arrest. 
Police body camera footage obtained and released by Suttles' attorney shows additional details about the traffic stop leading up to the incident.
Be the first to know
Get local news delivered to your inbox!