RALEIGH, N.C. — The fossil skeletons of two dinosaurs intertwined in what looks like a final death match have been donated to a North Carolina museum.
The nonprofit organization Friends of the North Carolina Museum of Natural Sciences said in a statement Tuesday that it acquired the fossilized animals with private funds. The skeletons will be gifted to the Raleigh museum's vertebrate paleontology collection.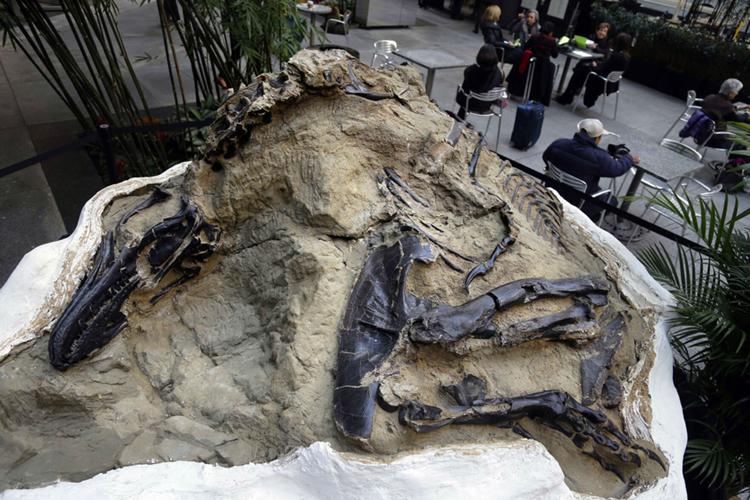 The Tyrannosaurus rex and Triceratops horridus known as the dueling dinosaurs were buried together 67 million years ago.
Their fossils were discovered on a Montana hillside and remain entombed within the sediment where they were found. The nonprofit said the distinct preservation will give museum paleontologists an unprecedented opportunity for research and education.
The skeletons are worth millions of dollars and were the subject of a court battle over who owned them after their discovery in 2006.
n June, a U.S. appeals court ruled the fossils belong to the owners of the land's surface rights, not the owners of the mineral rights.
50 of the greatest archaeological discoveries of all time
Oldest-known human footprints in North America
Tutankhamun's tomb
Borobudur
The Lost City of Tenea
Pompeii
Terracotta warriors
Rosetta Stone
Knossos
Sutton Hoo
Ġgantija megalithic temple complex
The Acropolis of Athens
Senegambian stone circles
Lalibela churches
Medieval cities in Cambodia
Serra da Capivara National Park
Thingvellir
Homo luzonensis
Petra
Machu Picchu
Cave of Altamira
Staffordshire Hoard
Spanish Stonehenge
The Lost Leaders of Jamestown
Dead Sea Scrolls
Nazca Lines
Ayahuasca from the Bolivian Andes
Pre-Hispanic skeleton
299,000-year-old skull
Tombs of pyramid builders in Egypt
Painted shell from Neanderthals
1.8-milion-year-old skull
The earliest story told in pictures
Library of Alexandria
Hidden Japanese settlement in British Columbia
Recording of long-lost Beatles performance
Chichén Itzá
Tikal
Helmets made from children's skulls
Stonehenge
Sir Ernest Shackleton's whisky
Ħal Saflieni Hypogeum
Göbekli Tepe
Hidden Palace of Ramesses II
Lucy, the first Australopithecus afarensis skeleton
Frozen bodies of children sacrificed by Inca
Medieval female scribe
Ancient human jawbone outside of Africa
Angkor Wat
Frozen Siberian mummies
Skara Brae
Be the first to know
Get local news delivered to your inbox!