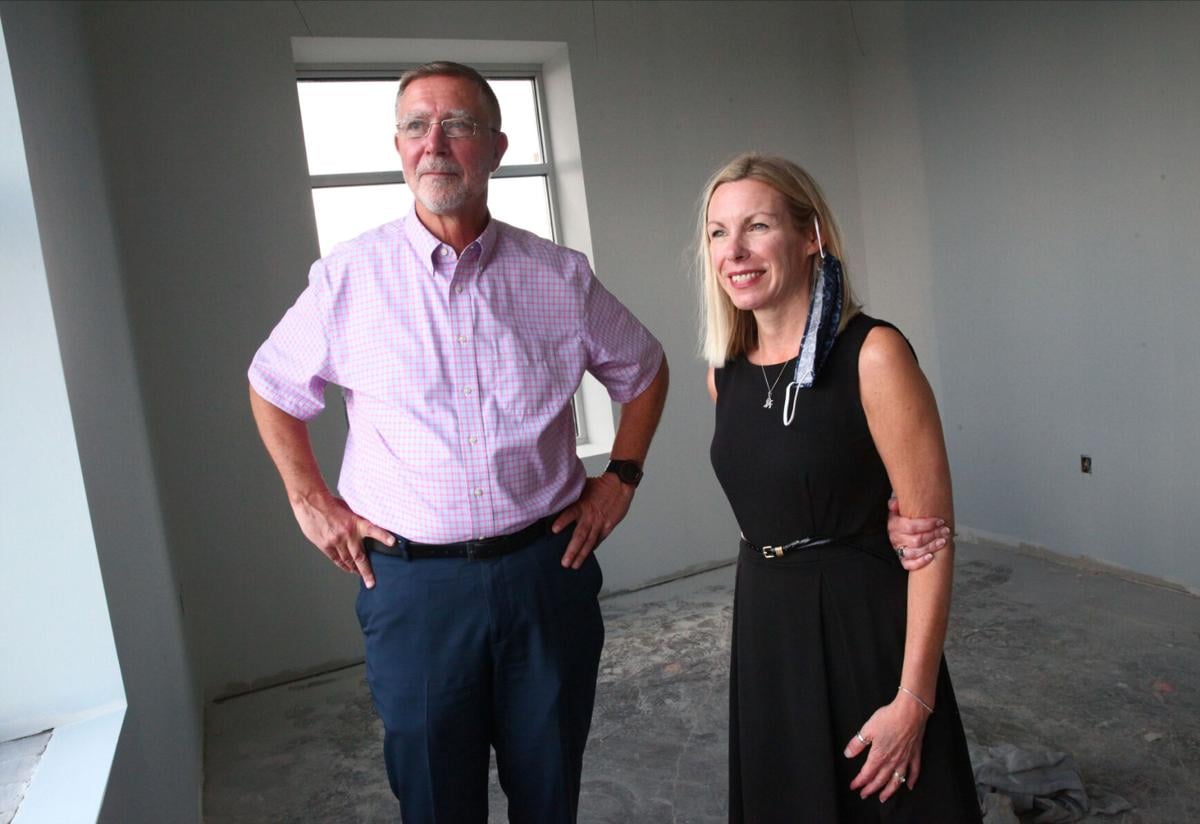 Melinda DuBois stepped onto the fifth-floor roof of her new workplace this week, flashed a look at St. Stanislaus Catholic Church to her left, then gazed over the top of the Broadway Market toward the downtown Buffalo skyline.
"We're going to have to do some yoga classes up here," said DuBois, who will take command Tuesday of Mental Health Advocates of Western New York.
She succeeds Ken Houseknecht, who nine years ago became executive director of what was then called the Mental Health Association of Erie County. In coming weeks, the organization will become one of seven social services agencies to move onto the East Side to help boost the most beleaguered part of the region.
The effort is designed to create a one-stop shop for children and adults who need medical, dental and mental health care, as well as help with parenting, wellness and loved ones with disabilities.
 "We are looking at innovative ways of supporting families and raising children with the health care, the academic support and the social-emotional support that they need and deserve," said Tara Burgess, executive director of Every Person Influences Children (EPIC), among those agencies. 
Mental Health Advocates promotes mental well-being in the region through education, programs and training. The MHA also supports individuals and families living with mental illness by linking them to treatment and outreach services.
Houseknecht rescued the agency from financial turmoil in 2011 and worked with his staff to honor that mission.
A Mindset program helps companies improve mental wellness in the workplace.
Many schools benefit from mental health training and support for teachers, administrators and students.
Legal services and other programs advocate for those in crisis.
Support groups, many run by peers, are available to those with mental illness as well as their loved ones.
Just Tell One was established four years ago to help prevent depression, drug abuse and suicide for those ages 14 to 26, steering those who are struggling, as well as their families, to resources that can help avert a crisis.
Staff has worked through faith-based organizations and other channels to raise mental health awareness.
MHA (mhawny.org) moved its programs online in March because of the coronavirus pandemic. It will gradually welcome participants into its new office at 1021 Broadway after it opens in October.
Houseknecht, 63, who lives in Hamburg, leaves the top post on Friday but aims to continue leading some workplace training as a volunteer.
"I'm retiring from paid work," he said. "I'm not retiring from work."
Houseknecht handled communications and business development with Gibraltar Industries for 14 years before he joined the MHA. Before that, he served in executive posts in the public relations, food and banking industries.
How do you acknowledge what's happening without being overwhelmed? Find ways to keep yourself upbeat and positive?
His wife, Diana, was diagnosed in 2008 with metastatic breast cancer. He was taking theology classes at the former Christ the King Seminary when he became MHA executive director. His wife died in early 2015.
He plans to continue to serve on the boards of Buffalo Hospice and MHA Foundation, and looks forward to spending more time with his three children, two infant grandchildren, and his girlfriend, Tina Smeal, a retired Niagara Falls school principal.
Houseknecht became a volunteer with the MHA 35 years ago, after two of his closest high school friends were diagnosed with bipolar disorder.
DuBois launched her career for similar reasons. One of her sisters has bipolar disorder and learning disabilities.
"What we discovered is that when my sister is able to really connect with a support system around her, that's when she does best," DuBois said.
The new executive director holds a bachelor's in psychology from the University at Buffalo and is a graduate of the UB School of Social Work.
She and her husband, Frank Drexelius, who works at Moog, live in East Aurora. They have a 19-year-old daughter, Lila Drexelius, who just started her sophomore year at Temple University.
DuBois became regional director of patient services of Planned Parenthood of Central and Western New York in late 2014 and since early 2016 also served as its vice president for health services.
Before that, she was administrative director of primary care, mental health, health education and alcohol and other drug programs at SUNY Geneseo and executive director of Buffalo Womenservices, which specializes in reproductive health.
"I have spent my whole life working to address issues of mental illness and mental health," she said.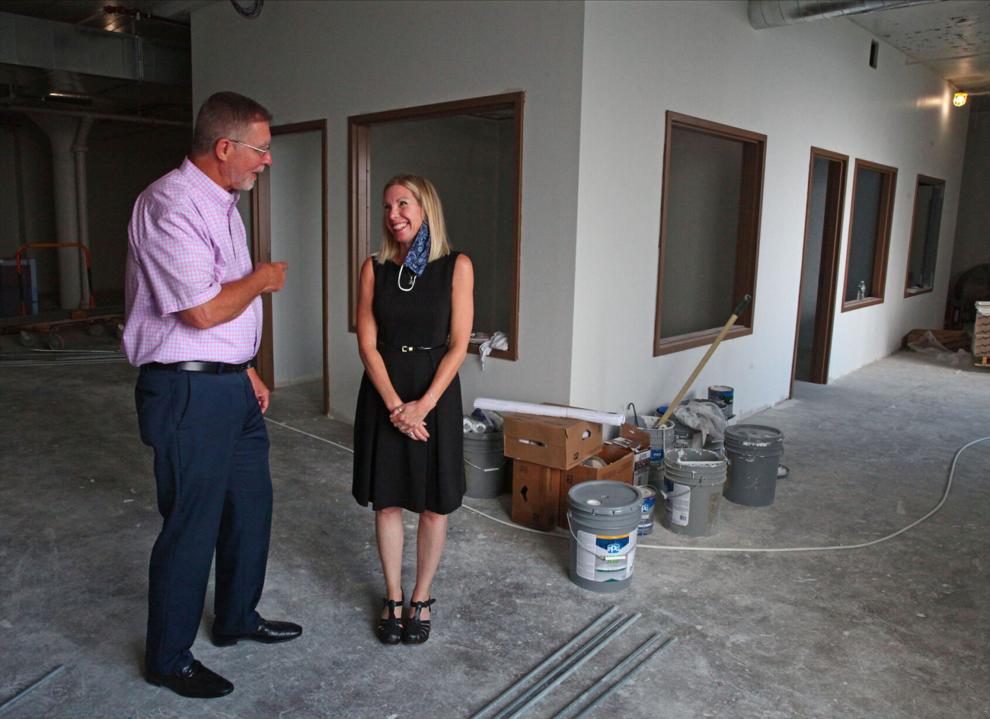 Friends and associates said Houseknecht will be remembered for his strong spiritual beliefs, self-deprecating humor and heart-on-his-sleeve approach.
The MHA relied on 90% of its funding from government when he arrived. It still gets about half its revenue from the state, but the rest comes from individual, foundation and corporate support, as well as fees for some services.
"Ken has got the biggest dreams, the biggest ideas, of anyone I have ever met, and he is steadfastly committed to those dreams," Burgess said.
During the last five years, Houseknecht helped reimagine and anchor the regional Care Management Coalition of WNY, which endeavors to provide a unified voice for the needs of children and families.
The coalition put together the WNY Human Services Collaborative, eight agencies focused on programs and services that help families with health and wellness, parenting, developmental disabilities and other needs.
They all figure into the buzz at the Market Square complex at Broadway and Lombard Street that in decades past housed two furniture stores and Sattler's department store annex.
Other agencies that will join them in coming weeks include EPIC and the Parent Network of Western New York, which also are moving their headquarters there.
The Learning Disabilities Association of Western New York, Self-advocacy Association of New York State, the state Office for People With Developmental Disabilities, and Spectrum Health and Human Services will open satellite offices.
Jericho Road Community Health Center, another collaborative member, opened its third health-care clinic in the building two years ago and occupies most of the lower three floors. It shares the third floor with WNY MRI, a satellite location of WNY Imaging Group. A new dental office also will soon open in the building.
The John R. Oishei, Key Bank/First Niagara, Peter and Elizabeth Tower, and Patrick P. Lee foundations collectively earmarked almost half the $3.2 million collaborative members needed to renovate space and set up shop on the fourth and fifth floors.
"We don't just want to do things alone anymore," Houseknecht said. "We really think the magic is in collaboration.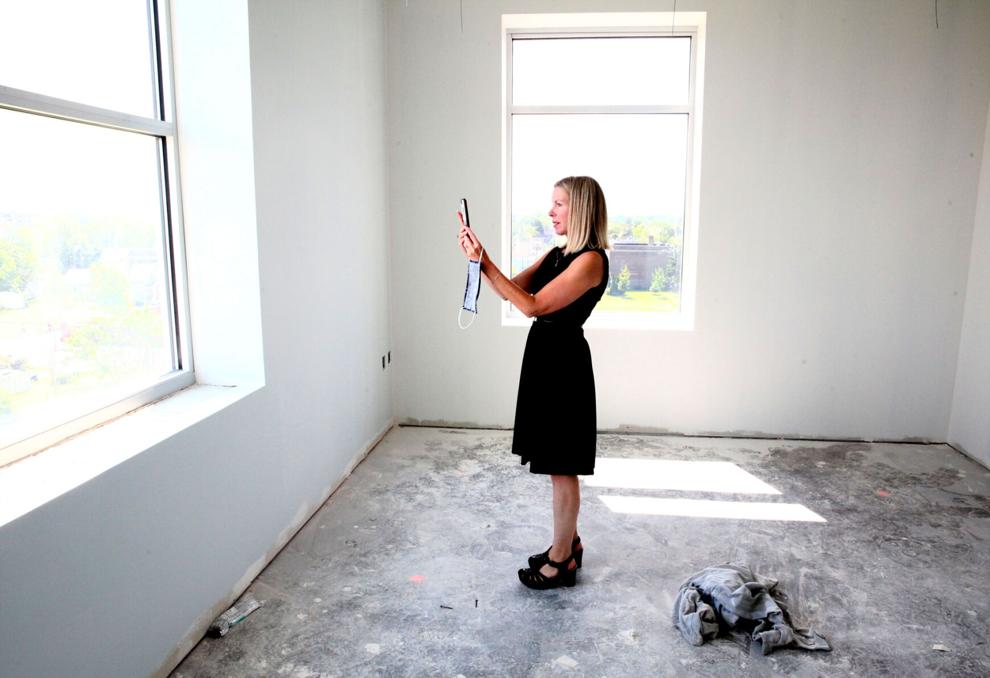 The MHA sold its former Delaware Avenue headquarters in June in anticipation of the move and plowed $645,000 in proceeds from the sale into its foundation endowment, which will help over time with operating costs and program development.
Its new 5,400 square feet of "direct space" is a bit smaller than the old building, Houseknecht said, but nooks and crannies it will share with fellow collaborative members will create much more working and breathing room.
The arrangement is designed to spur collaboration, financial efficiency and savings, and a more comprehensive approach toward well-being for vulnerable people during uncertain times.
Coalition leaders, including Houseknecht, asked the general contractor to add more windows on the upper floor of the building to bring in more natural light and provide a bird's-eye view of the region they will serve.
DuBois wasn't kidding about the yoga, either. She became an instructor six years ago and, during non-pandemic times, teaches a trauma-informed yoga class Saturday mornings at St. Matthias Episcopal Church in East Aurora.
"As a yoga teacher, as a meditation practitioner, I also understand the importance of really taking care of yourself and getting help when you need to," she said.
Adverse childhood experiences – including abuse, neglect and parental drug abuse – can lead to addiction, mental illness and thoughts of suicide in young people and adults, Trauma-informed health care is designed to better address the needs of those who suffered such experiences.
MHA had a pre-Covid staff of 45, most who work from home and will eventually work in the new fifth-floor office. More than 100 volunteers help the agency run support groups, programs and fundraisers.
DuBois hopes to build upon the strong foundation Houseknecht helped construct, while bringing a more trauma-informed approach focused on compassion and new collaborations.
She said the move will allow MHA to work more closely with other agencies to address the root causes of mental illness and promote good mental health during a Covid-19 pandemic and national racial reckoning that has raised uncertainty, anxiety and fear.
"It's a really a unique, unprecedented time," DuBois said. "People have experienced trauma. We all have, and I think the key here is how do you respond to that? How do you adjust? … We are in a great position to do amazing things."
Houseknecht sees hopeful signs on the MHA horizon. He has witnessed a growing acceptance and understanding of mental illness during the last decade. He believes financial support for mental health continues to lag but is encouraged by projects like the collaboration on Broadway. He continues to see a strong emphasis on helping those challenged by mental illness but would like to see a greater priority given to nurturing mental health.
"There is no family, no country, that isn't affected by mental health," Houseknecht said. "It's not a question of if you're going to pay for mental health, it's just a question of where. You can make a small investment in the life of a young child to give them the tools to be emotionally well or you can just leave things the way they are – and look where that's taken us."