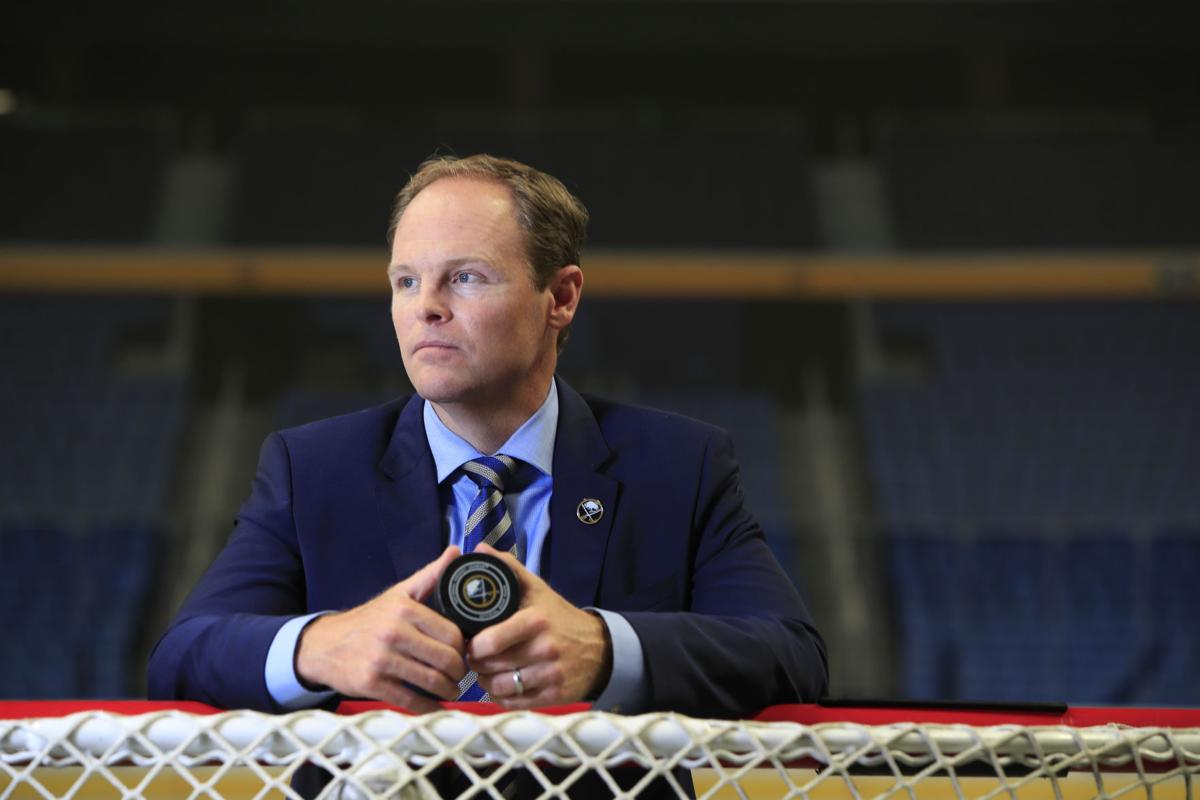 Kevyn Adams did not win his first draft lottery as general manager of the Buffalo Sabres, but he earned a different kind of victory Friday night.
Adams and his scouting staff learned they will select eighth overall in the first round when the NHL holds its amateur draft in 2020. The pick will allow Adams to add to a prospect pipeline that includes Dylan Cozens, Casey Mittelstadt, Ukko-Pekka Luukkonen, Mattias Samuelsson and Oskari Laaksonen, among others.
Additionally, Alexis Lafreniere, the unquestioned top prospect in this draft class, may not end up in the Atlantic Division. Neither the Detroit Red Wings nor Ottawa Senators, who owned the first- and second-best odds, won the lottery.
In a shocking turn of events, one of the eight teams that lose in the NHL's play-in round will own the No. 1 overall pick. Placeholders were used for those spots and a second lottery will be held following the play-in round, which is expected to end sometime in August.
The winner is expected to select Lafreniere, an 18-year-old winger who totaled 114 goals with 183 assists for 297 points across three seasons with Rimouski of the Quebec Major Junior Hockey League. The Senators will own the third and fifth picks, while the Red Wings will select fourth overall. The Los Angeles Kings own the second pick.
The Sabres can now move forward with planning for their first draft under Adams, who officially replaced Jason Botterill as general manager June 16.
"We have a great amount of existing information on this year's draft and, obviously, in my new role I'm going to continue to scrutinize the players that are eligible and take a look at things," said Jeremiah Crowe, the Sabres' new director of scouting. "Obviously, we're going to look at where we move forward with staff, but also refining the unique process that we're looking to put in place."
Buffalo did not qualify for the NHL's 24-team return-to-play format this summer, extending its playoff drought to an NHL-worst nine seasons and earning it the seventh-best odds of getting the first overall pick Friday night.
Sabres owners Terry and Kim Pegula overhauled the hockey operations staff June 16 by firing 22 employees, including Botterill's assistant general managers and scouting heads. The dismissals of assistant general manager Randy Sexton, Ryan Jankowski, director of amateur scouting, and Jeff Crisp, assistant director of amateur scouting, left Buffalo without the people who ran pre-draft meetings over the previous months.
Additionally, Adams retained only four amateur scouts on a staff that started the season with 15 people across the globe. Buffalo does not currently employ amateur scouts in Sweden or Finland.
Adams, Crowe and newly appointed assistant scouting director Jason Nightingale have access to the amateur scouting reports culled by the previous staff. Crowe also plans to rely on those who remain on the amateur staff, including Jerry Forton, the head of collegiate scouting under Botterill, and Kevin Devine, a longtime staff member whose previous titles include director of amateur scouting, assistant general manager and director of player personnel.
It's unlikely Adams and Crowe are using the same scouting model implemented by Botterill and Sexton. It's also unclear how much, if any, influence coach Ralph Krueger will have in draft decision-making.
The Sabres own six picks across seven rounds, including selections in the first, second and fourth rounds. Their third-round draft choice was dealt to the Carolina Hurricanes as part of the Jeff Skinner trade in August 2018. Although it's likely none of its selections this year will appear in the NHL in 2020-21, Buffalo needs to add more talented prospects, particularly at forward.
There are some talented scorers atop this draft. According to NHL Central Scouting, the top North American skaters behind Lafreniere are Sudbury center Quinton Byfield, Erie defenseman Jamie Drysdale, USA Hockey National Team Development Program defenseman Jake Sanderson, Saginaw center Cole Perfetti and Ottawa center Marco Rossi.
The top European skaters in the class are Mannheim winger Tim Stuetzle, Swedish winger Alexander Holtz, Finnish center Anton Lundell, Swedish winger Lucas Raymond and Russian left wing Rodion Amirov.
This scouting staff's first draft may indicate what trends we can expect in years to come. For example, Botterill preferred to avoid picking players from the Canadian Hockey League in mid-to-late rounds because the CHL's development agreement with the NHL prevents a prospect from competing in the American Hockey League before their 20th birthday.
The rule can be detrimental to a player's development because the NHL club may have to keep him in juniors longer than it would prefer. Across three drafts with the Sabres, Botterill chose six players from Sweden, three from Finland, six from the United States Hockey League, one from NCAA, one from the CHL and one from Czech Republic.
Crowe worked as a scout with the USHL's Dubuque Fighting Saints and ran player personnel with the USA Hockey National Team Development Program in Plymouth, Mich. While at the program, Crowe helped pick the 2001 class that included 2019 first overall draft choice Jack Hughes.
"There are a lot of people on our staff that remain that I'm going to learn a lot from, that's another part of the job I'm really excited for," said Crowe. I think collaboration and effective communication is key, especially with how hard scouts work. They're going to be an integral part of this organization in how we do things moving forward and they're all going to know that. That's not defining a style. It's making a statement, but we're excited about this group moving forward."
It's also unclear how the Sabres' new three-tiered approach to scouting will impact their first draft. Adams and Crowe explained to The Buffalo News on Thursday that the organization plans to supplement in-person evaluations with video scouting and analytics. It's possible that model could significantly change how the Sabres view draft-eligible prospects now compared to a month ago under Botterill, although his staff also utilized the latter two components out of necessity in recent months.
Nightingale added his new title after spending the previous three years as the Sabres' director of analytics, and Adams told The News he wants analytics to be widely used across the hockey operations department.
The coronavirus pandemic caused the NHL to suspend its draft, which was originally scheduled for this weekend in Montreal, and the league canceled the scouting combine in Buffalo. The lack of a combine left all 31 teams without off-ice testing results and forced scouting staffs to interview prospects via Zoom conference call.
Over the previous seven drafts, the Sabres have used top 10 selections on Rasmus Ristolainen (eighth overall, 2013), winger Sam Reinhart (second overall, 2014), center Jack Eichel (second overall, 2015), winger Alex Nylander (eighth overall, 2016), center Mittelstadt (eight overall, 2017), defenseman Rasmus Dahlin (first overall, 2018) and center Cozens (seventh overall, 2019).
Be the first to know
Get local news delivered to your inbox!