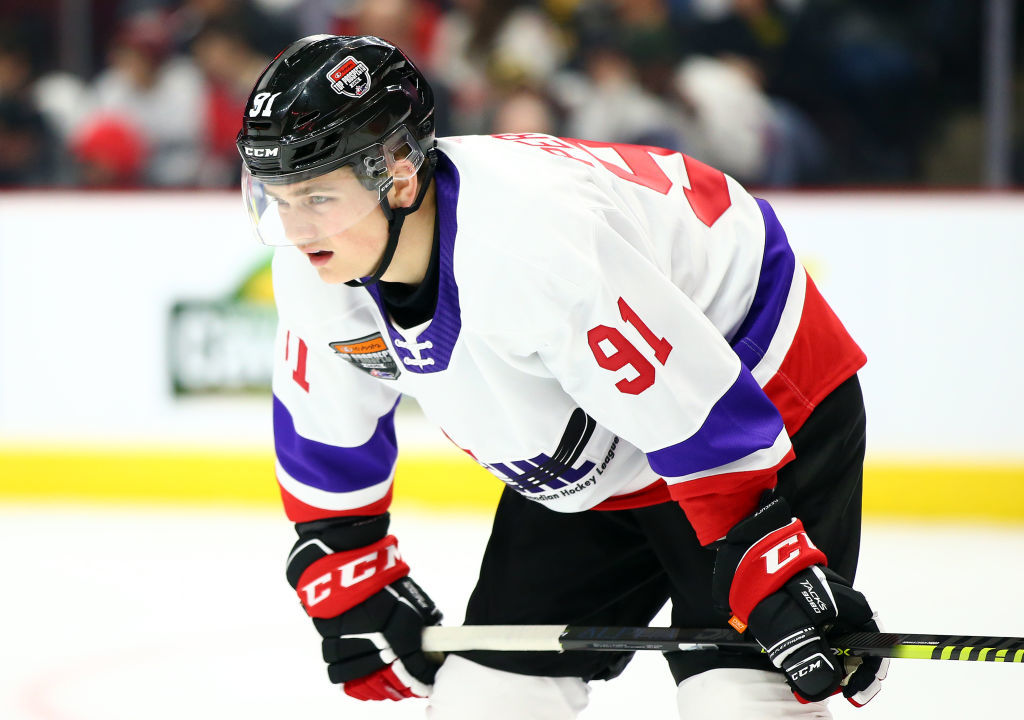 New Sabres General Manager Kevyn Adams and his scouting staff may have up to four months to prepare for their first draft.
The Sabres will pick eighth overall in the first round and own six picks across seven rounds. While it's possible Adams will add a goalie for the NHL roster this offseason, Buffalo has two outstanding goaltending prospects in Ukko-Pekka Luukkonen and Erik Portillo.
Defense is also an area of strength of the Sabres. Adams needs to address the organization's need for more talented forwards, particularly goal scorers.
Although Alexis Lafreniere, Quinton Byfield and Tim Stuetzle will likely be long gone at No. 8, the Sabres should be able to land a dynamic forward. Here are some draft-eligible prospects that could join a prospect pipeline that includes Dylan Cozens and Casey Mittelstadt:
Cole Perfetti, center, Saginaw (Ontario Hockey League)
Following a 2018-19 season in which he led all first-year OHL players in goals and assists, Perfetti had an outstanding showing at the Hlinka-Gretzky Cup last August by scoring eight goals in only five games for Canada.
His game took another step with Saginaw this season, as the 5-foot-10 center proved to be one of the top playmakers in the Canadian Hockey League. Perfetti used his outstanding on-ice vision to find teammates in the offensive zone and created space by stickhandling around opponents. He was also a force defensively by using his speed to strip pucks from unsuspecting defenders.
This season Perfetti totaled 37 goals, 74 assists and 111 points with a plus-49 rating in 61 games for the Spirit. According to multiple scouts, Perfetti's analytics are among the strongest in this class, which would make him an intriguing first pick for Adams, who wants the Sabres to use data to supplement in-person and video scouting.
Additionally, one of Perfetti's assistant coaches with Saginaw, Jared Nightingale, is the brother of the Sabres' newly-appointed assistant director of scouting, Jason Nightingale. NHL Central Scouting has Perfetti as this draft's fifth-best North American skater and it's possible he could be gone by the time the Sabres are on the clock.
Marco Rossi, center, Ottawa (Ontario Hockey League)
Rossi led the CHL in scoring with 120 points (39 goals, 81 assists) in 56 games Ottawa. He's listed at only 5-foot-9, but Rossi has tremendous skill. The 18-year-old has the speed to split out-of-position defensemen in the neutral zone and the stickhandling-ability to be a threat in tight spaces in the offensive zone.
Rossi has the passing ability and vision to send the puck through a tight lane to a teammate. His two-way game is among the best in this draft class, which likely stems from his unique background. Rossi was born in Austria and played most of his youth hockey in Switzerland, whose hockey development program emphasizes the need for strong defense.
There are a few Sabres connections with Rossi. Krueger was coach of the Swiss national team from 1997-2010 and has numerous hockey contacts in the contract. Additionally, Rossi's father, Michael, was coached by Krueger with VEU Feldkirch from 1991-93.
Alexander Holtz, winger, Djurgardens (Sweden)
NHL Central Scouting ranked Holtz as this class' second-best international skater after the 18-year-old had an impressive season with Djurgardens in Sweden's top professional league. His 16 points were the most by an under-18 player in the league. The right winger regarded as the top goal scorer in this class, but he'll need to improve his game away from the puck.
His exceptional shot has allowed him to score goals at every level – including 30 in 38 games during his last full season of junior hockey – and he has the stickhandling ability to beat defenders in the neutral zone or create room for himself in the opponent's end. He's also listed at 6-foot and reportedly had no issue handling the physical grind of his first pro season
Anton Lundell, center, HIFK (Finland)
Lundell is a strong two-way centerman whose play has drawn comparisons to Mikko Koivu of the Minnesota Wild. Lundell, who is listed by central scouting as the third-best international skater, played the past two seasons in Finland's top professional league. He was also teammates with Sabres prospects Luukkonen and Oskari Laaksonen when Finland won gold at world juniors in January 2019.
Lundell had 10 goals with 18 assists in 44 games for HIFK this season. He's a reliable defensive player, which would earn high marks from Krueger, and his experience playing center fits an area of need for the Sabres.
Lucas Raymond, winger, Frolunda (Sweden)
The Sabres' previous management developed strong connections with Frolunda by drafting Rasmus Dahlin and Portillo, but it's unclear if the remaining staff members have the same sort of relationships in Sweden. The organization doesn't currently employ an amateur scout in Sweden.
New scouting director Jeremiah Crowe likely won't need to search for additional information on Raymond, who has a dynamic skill set that includes creative playmaking. Raymond has the wrist shot and vision to become a first-line player in the NHL. He already has 44 games of experience in Sweden's top professional league, which could prepare him for an earlier arrival in the NHL.
Jack Quinn, winger, Ottawa (Ontario Hockey League)
Quinn was ranked by NHL Central Scouting as this draft's seventh-best North American skater after he totaled 52 goals, 37 assists and 89 points in 62 regular-season games for Ottawa. It was a breakout season after he scored only 12 goals in 61 games the previous season, but Quinn has scored at every level.