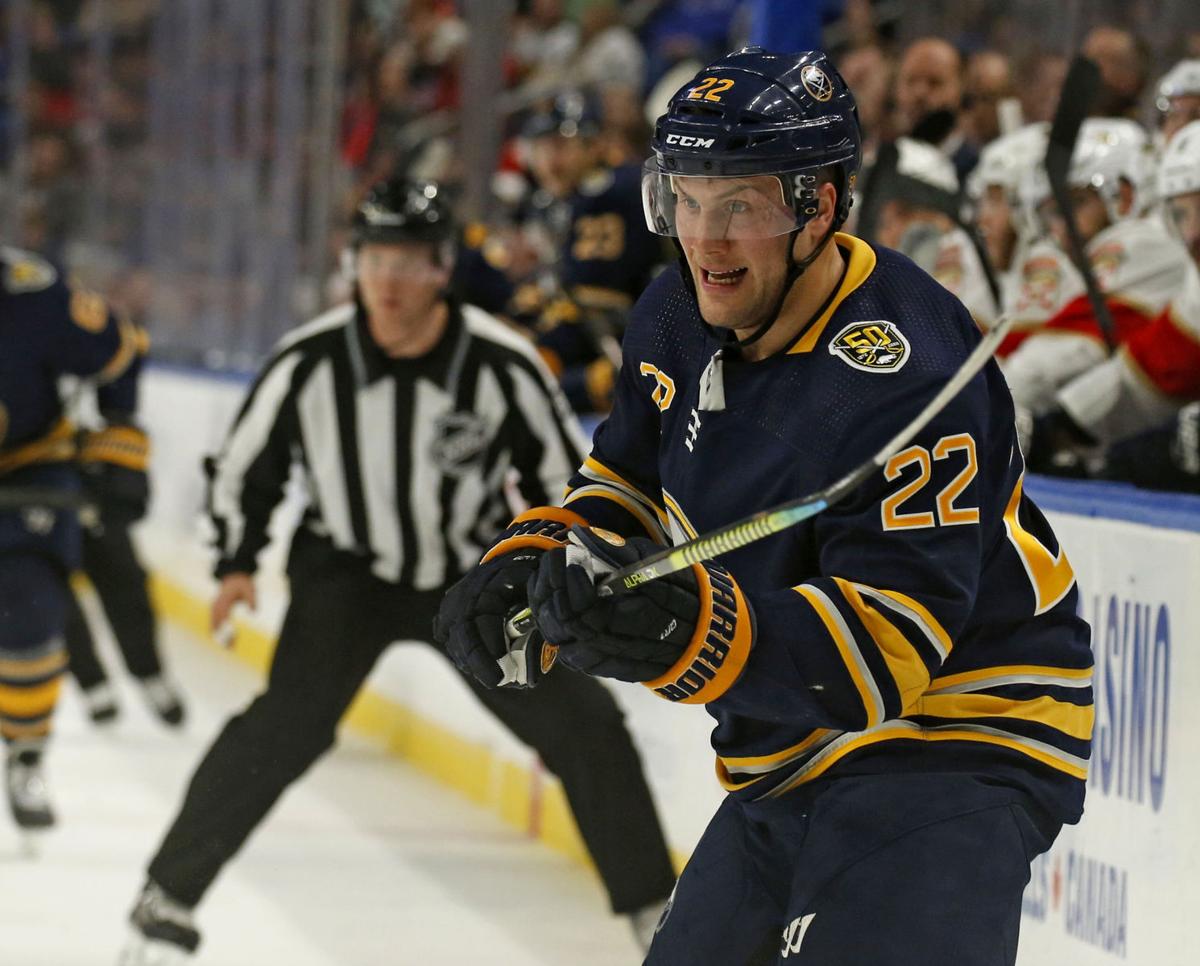 One of Kevyn Adams' first actions as general manager was a phone call to Jack Eichel.
Adams described the conversation as brief, but he plans to again connect with the Buffalo Sabres' 23-year-old captain. Actions will speak louder than words, though.
Ignore the speculation that Eichel could request a trade this offseason, but the Sabres need to show him they have a plan to turn this around. Adams needs to ace this offseason and establish he's the right person to push this organization over the finish line.
This isn't an easy time to run a hockey team, either. The NHL is reportedly instituting a flat salary cap over the next three seasons and there is some uncertainty regarding a start date for next season. You could argue there are more questions about the Sabres now than before Jason Botterill was fired on June 16.
With that in mind, I answered questions submitted by our readers via Twitter and email:
Ed Helinski: With the change at general manager and an apparent new management philosophy, which pending free agents are retained by the Sabres?
Lance Lysowski: With coach Ralph Krueger likely having more say on how this roster is constructed, it's difficult to envision a scenario in which the Sabres don't make a strong push to retain Zemgus Girgensons and Johan Larsson. Does either player want to return, though? While both had an outstanding season under Krueger, they are pending unrestricted free agents and endured plenty of losing during their time in Buffalo. Girgensons may have priced himself out of Buffalo, but Adams needs to recognize that Larsson is more valuable than a typical fourth-line center.
Wayne Simmonds fits a few needs for the Sabres, but is he strong enough defensively to play for Krueger? Adams was college teammates with Simmonds' agent, Eustace King. This deal makes sense if the price is right. Eichel wants veterans with toughness and Simmonds fits the bill.
Jimmy Vesey is an interesting case. He would be a low-risk signing – the cap hit should be around $2.5 million – and he's capable of producing more than the nine goals he scored this season. But Vesey never carved out a clear role on this team and the Sabres would be wise to dedicate their cap space to players with more upside. It's also fair to wonder if Vesey would be interested in returning. This is the first time he'll hit the open market since August 2016.
Fletcher Doyle: Why doesn't Brandon Montour fit with the Sabres now? Will the team retain him for next season?
LL: Montour has elite skating ability and he makes his greatest impact when he's allowed to join or lead the rush into the offensive zone. Krueger doesn't want his defensemen taking such risks. He would prefer them to remain in position in the event of a quick counterattack. Sure, it's possible that Krueger could alter the system to free Montour, Rasmus Dahlin and the other puck-moving defensemen on this roster.
Is Montour really worth $5 million as a restricted free agent if you're limiting his impact offensively? I believe Montour is capable of being better defensively – playing him on the left side did not help matters this season and he's been on some bad teams in his career – but he hasn't made enough of an impact on the power play, either. The Sabres need to decide which right-shot defensemen remain on the roster among a group that includes Montour, Rasmus Ristolainen, Henri Jokiharju and Colin Miller. They can't have another season of playing seven on the blue line and Montour has enough value that the Sabres could trade him to acquire help up front.
Ralph Joseph: Does Kevyn Adams believe in contract buyouts?
LL: Adams hasn't spoken about this specific topic, but a buyout wouldn't make sense this offseason. The NHL is reportedly instituting a flat salary cap over the next three seasons – including $81.5 million for 2020-21 – which will make spending tight for some clubs.
The Sabres need to somehow extend Sam Reinhart and Rasmus Dahlin over the next 12 months. They'll need all the cap space they can get.
Kevin Palmer: Are the Sabres actually going to apply analytics in hockey decision-making? If so, does this mean Rasmus Ristolainen is gone?
LL: Promoting Jason Nightingale to assistant director of scouting was an excellent first step, but I'm reserving judgment until we see if Adams hires data engineers and analysts. This can't be a one-person job and the entire organization needs to embrace the benefits of analytics, including the coaching staff.
Krueger spoke about analytics early this season, but his lineup decisions – including the reluctance to give Larsson more shifts with Jeff Skinner – made me question whether he was paying attention to the data. Ristolainen had another ugly season, yet the coaching staff spoke as if he morphed into a Norris Trophy candidate.
Which leads me to the answer to your second question: No. We know Krueger will have influence over the roster and he made it clear that he views Ristolainen as an important part of this team's core. 
Rob Scheerer: Do you think Kevyn Adams will look to trade the pick at No. 8 overall?
LL: No. I'm only moving the pick if it's possible to acquire someone as talented as Tampa Bay center Anthony Cirelli. It better be a legitimate No. 2 center who is capable of scoring 25 goals. Otherwise, you're trading a possible top-line forward for a fringe top-six piece.
There are some excellent prospects in this draft, particularly at forward. The Sabres might even be able to select a player who can contribute in 2021-22. Anton Lundell would be an excellent addition if Marco Rossi is gone. The prospect pipeline isn't strong enough right now and the Sabres need talented players on entry-level contracts, especially with a reported flat salary cap.
Good luck affording Eichel, Reinhart, Dahlin, Skinner and this established No. 2 center. 
Ross Clark: Any prospects that might fall to No. 8 that could surpass Dylan Cozens in the system?
LL: It's difficult to predict who is chosen after Alexis Lafreniere, Quinton Byfield and Tim Stuetzle. The Sabres' scouting staff likely will want two defensemen to be chosen within the first seven picks. Such a scenario could allow the Sabres to pick Lundell, Rossi, Lucas Raymond, Jack Quinn or Seth Jarvis. Any of these forwards would immediately become among the top two prospects in the organization.
Adam Gosse: Is Kevyn Adams happy with the Sabres' goaltending situation or will he explore a potential upgrade?
LL: Adams hasn't spoken publicly about specific players on the roster. I'm sure his opinion is similar to Botterill's: Linus Ullmark has No. 1 potential with a limited track record of success and Carter Hutton needs to improve. I like both goalies, but there are some question marks here. The Sabres' precarious salary-cap situation would make it difficult to give a free-agent goalie term, and I don't see them wanting to part with the assets to acquire Pittsburgh's Matt Murray, a pending restricted free agent.
The more likely move is signing a goalie to a short-term contract and finding a team that will take the final year of Hutton's contract. The Sabres can't count on Ukko-Pekka Luukkonen to arrive within the next two seasons, so a contingency plan is needed.
Thomas Larsen: Who will have more control: Kevyn Adams or Ralph Krueger?
LL: Adams is the Sabres' general manager. He'll hire the staff and, ultimately, he'll make the final decisions pertaining to the roster. That said, Adams will consult with Krueger and ownership. The former will have a say in how this team is built.
This model could work if Adams is allowed to execute his vision, not the vision of ownership or Krueger. Yes, all involved told the media they have the same vision, but there will be some natural deviation as Adams hires staff members and confronts the challenges of a long offseason. Successful organizations don't have the head coach or ownership meddling in significant personnel decisions.
Adams' approach will be nontraditional – we learned this by the consolidation of the pro and amateur scouting departments – and he has the knowledge to have success with this model. He'll want a healthy amount of collaboration and communication, but there needs to be a clear leader of the Sabres' hockey operations department.
Nathan Cohen: What do you think the Pegulas have to do to earn the trust back of Sabres fans and the community?
LL: Sabres fans won't trust the direction of this franchise until this team is back in the playoffs, but the Pegulas also need to show they care. Implementing a fan advisory board is a solid first step. Improve the game-day experience by replacing the seats inside KeyBank Center and negotiate with Delaware North to lower the cost of concessions. 
Ownership needs to continue to study how other teams are luring fans into arenas. Sure, winning always helps, but you need to get people excited to come to games. Make the atmosphere unique to Buffalo. Look back at Memorial Auditorium. What made it special to go to a game inside that building, aside from the talent on the ice? Make it a difficult place to play and find a way to have fewer opposing fans filling the 100 level.
My advice to the Pegulas would be to take responsibility for what's gone wrong. They have done so in various forms in the past, but the message never seems to resonate with fans. Don't blame previous general managers and coaches. Tell everyone you need to be better and that you will be. Then do everything within reason to put a winning product on the ice. Have patience and remember the Sabres used to be ingrained in this community. Find a way to connect the team to the fans again.
Jax: Where will the scoring come from next season?
LL: It's safe to pencil in Eichel for 40 goals. Imagine what he'll accomplish during this long offseason. Victor Olofsson should also see an increase in production if he's healthy, and you can count on Reinhart to produce around 25 goals.
The biggest question is Skinner. If possible, Adams needs to acquire a reliable second-line center to skate alongside Skinner, who has seven years remaining on his contract. Counting on Cozens to fill that void would be a miscalculation. Cozens is not physically ready to play center in the National Hockey League, though I don't see him returning to juniors.
Adding a center should help the team's need for supplementary scoring. Dominik Kahun was an excellent addition at the trade deadline. Marcus Johansson would produce more if he's allowed to play on the wing and maybe it's time to consider moving Casey Mittelstadt to the left side.
Adams needs to go bargain shopping to address the need for forward depth.
Be the first to know
Get local news delivered to your inbox!