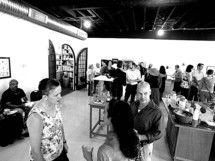 Saturday's "Big Night" celebration at Just Buffalo Literary Center will feature a reading from poet Amy King, a performance by Lisa van Wambeck and Neil L. Coletta, a lecture from music expert Ian Nagoski and music from Pam Swarts.
King, who studied with Susan Howe and others at the University at Buffalo, is the author of at least six collections of poetry, three of which were published by the Buffalo-based press Blazevox. John Ashberry called the poems from her latest collection, "I Want to Make You Safe," "abstractions to brilliant, jagged life, emerging into rather than out of the busyness of living."
Under the collective title of "OOooOO," Wambeck and Coletta will perform a live version of "Mugle," René Daumal's surrealistic 1978 text written while the author was experimenting with the drug carbon tetrachloride.
Nagowski's lecture, "The Widow's Joy: Pride, Genius, Grief & Lies from International 78rpm Recordings," presents collected recordings from the early to mid-20th century, and the stories behind them. As usual, food by BlazeVox publisher and chef Geoffrey Gatza will be on hand.
Just Buffalo's eclectic evenings of poetry, music and art have been drawing the disparate groups of Buffalo's arts community together under one roof since they were launched by Michael Kelleher and Aaron Lowinger in 2007. – Colin Dabkowski
"Big Night" – When: 8 p.m. Saturday. Where: Western New York Book Arts Center, 468 Washington St. Info: 832-5400 or www.justbuffalo.org