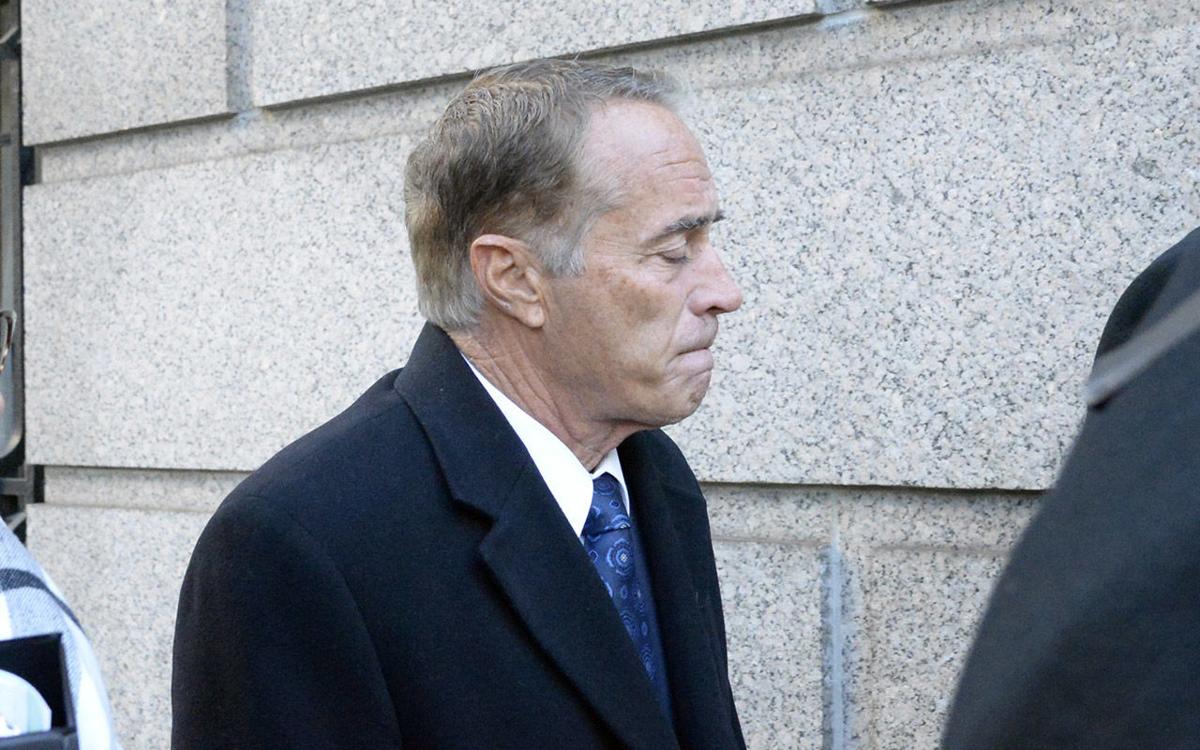 On his first full day home after 10 weeks in prison, Chris Collins acknowledged he is a changed man.
Unlike all those months when the former Erie County executive and congressman denied the insider trading charges lodged against him, he readily admits his wrongdoing. Now, he seems to relate to the "other half" – like the prisoners he considers his close friends  – the kind of people he never encountered at his homes in tony Spaulding Lake or Marco Island, Fla.
And he appreciates little things – such as the cup of Dunkin Donuts coffee he sipped during a 75-minute phone interview with The Buffalo News from his Florida home on Thursday. Indeed, Collins was looking forward to the best Christmas Eve and Christmas Day of his life, following his late Tuesday release from the federal prison camp at Pensacola, Fla. – courtesy of the pardon issued by President Trump.
Despite his close relationship with the president since becoming the first member of Congress to endorse his candidacy, they have not spoken since he was indicted in August 2018 for sharing inside information about an Australian biotech firm in which he heavily invested. He pleaded guilty in September 2019, and was sentenced to 26 months in prison.
Trump's pardon of Collins came only 11 months after Collins stood weeping in a New York courtroom as he pleaded for leniency from a federal judge.
Now, he's a free man with various rights restored. He can even reclaim his father's World War II guns that were seized upon his 2019 guilty plea, and he is enjoying Christmas with his family. He said he is forever grateful to Trump, and will find a way to convey his feelings.
"I will thank him profusely on behalf of my family and myself," he told The News. "And I will assure him that as a result, my life will now be about giving back to the community and the nation."
Collins' life changed dramatically this week over the course of only a few hours. Tuesday afternoon, he learned that his request for compassionate release due to Covid-19 concerns had been denied. So, it was with major trepidation that he answered another summons from camp officials at about 5:30 p.m.
"I heard it from up the hall: 'Hey Collins, Hey Collins. The CO (corrections officer) wants you up here,' " he recalled. "Generally speaking, those are words you don't want to hear. I could only think I had screwed up bad."
He said the officer told him to gather his mask and ID.
"Follow me," the guard told him. "You're getting a Covid test."
Legal experts across the country do not believe it was appropriate for President Trump to pardon former Rep. Chris Collins, who pleaded guilty to insider trading.
Collins said his mind was "spinning." He had already been tested, though he remained concerned that his asthma, high blood pressure and his age (at 70, he was the oldest inmate at Pensacola) made him susceptible to the coronavirus. When he returned to the dorm area, the other inmates figured out exactly what he had not: anyone being released gets a Covid-19 test; Trump had pardoned him.
"I told them 'Yeah, in my dreams, perhaps,' " he said, adding he was then summoned to report to the secretary's office around 6:30 p.m.
"'Mr. Collins, you're going home tonight,' " the secretary told him. "'You've been pardoned by the president.'
"I broke down," he said, pausing for a few seconds during The News interview to compose himself.
Thus began a complicated ritual of release. As a freed prisoner suddenly with no sentence to serve, Collins could no longer remain in a Bureau of Prisons facility. Only after his family frantically arranged for money, a nearby hotel room and a car rental late in the evening, was he finally free.
About 50 fellow inmates shook his hand, patted his back and chanted his name as he left the dorm area in a "gauntlet." He spent Wednesday driving to his Marco Island home, 9 1/2 hours away.
"Mary had a nice dinner waiting for me, and I had a half bottle of wine," he said of his wife. "And I couldn't wait for that Dunkin Donuts coffee in the morning."
"The president has the right to grant this pardon," Reed, of Corning, said in a statement. "The Collins family has paid a price for Chris' transgressions and justice has been served."
Even though he served only 10 weeks in prison, Collins seems to bear the scars. A man who amassed a fortune in business, occupied Erie County's highest office, served in Congress, flew on Air Force One and conversed with the president in the Oval Office had been humbled in every possible way. His first 23 days were spent locked with a prisoner named George Garcia (now a close friend) as both endured the pre-camp Covid-19 quarantine in a nearby medium security prison.
In the prison's Special Housing Unit (the SHU), he spent virtually all day with Garcia in a tiny cell. Meals arrived via a slot in the door. Three showers a week. No outside communication.
"I asked to get a book. What was I supposed to do? Sit and stare at the walls? And I kept telling them I wasn't supposed to be there," he said. "They told me, 'You're in the SHU, and you'll follow SHU regulations.' 
"There wasn't even a clock. Once I asked them what time it was," he added. "'Daytime,' somebody yelled back."
The day before he reported to the minimum-security Pensacola prison camp, Collins told The News in a phone interview that he expected to make friends there. He did. The men there congregated in four groups: Puerto Ricans, Mexicans, Blacks and whites. He said he had friends in all four.
"I very much went out of my way to learn peoples' names," he said. "'Hey, Mike: How did you do in that chess game last night?' A guy named Cheese cut my hair. I told him I can't wait to show my wife the haircut I got in the prison bathroom by a guy named Cheese."
The men at Pensacola taught him much, Collins said. He listened to their stories; some funny, some sad. He said he left the camp on Tuesday with eight to 10 friends he expects will remain part of his life.
And he made them a promise he intends to keep: He will pass on messages from 40 or 50 men reluctant to convey to families their concerns about prison life because officials always eavesdrop on phone calls, he said.
"I was thrilled to leave, but sad because they couldn't go," he said. "There are about eight or 10 who have no money from outside in the commissary who will all get Christmas presents from me. It's the least I can do."
Collins said he figured that several new prison sentence guidelines would have resulted in an April release, and one inmate already put in a request for his work boots. That guy will get a new pair soon, he said.
Collins said he wants to devote a good portion of his life to promote prison reform in some way. He called it a "crock" that prison teaches skills and aims at rehabilitation. Because of Covid-19 restrictions, he said there is little opportunity for education or any kind of recreation.
"It's very, very awful," he said.
He has few good things to say about Pensacola's corrections officers. Few wear masks during a time of pandemic. They often threatened him, he said, and seemed to do everything in their power to make life miserable.
"A judge sends you to prison as punishment; he doesn't send you to be further punished by guards," he said. "For some COs, it's their right and duty. They feel a need to pile on."
The former congressman said he hopes to volunteer in the community, perhaps teach business. He and his wife will continue to live at their Clarence home during summers, he added.
Prison TV sets were rarely tuned to news channels, he said (sports, home and garden channels and movies), but he is catching up with the wave of opposition to Trump's 65 grants of clemency so far. It's all fine with him.
"It's the president's unilateral and constitutional authority to pardon anyone he wants for anything he wants," Collins said. "People who aren't pleased need to understand it's the prerogative of every president.
"I am very grateful I was on that list," he added. "He saw the suffering of my family and knows me as the kind of person I am, and thought I was deserving of a pardon.
"He is one of the most loyal people there has ever been," Collins added. "He did me a tremendous, tremendous favor."