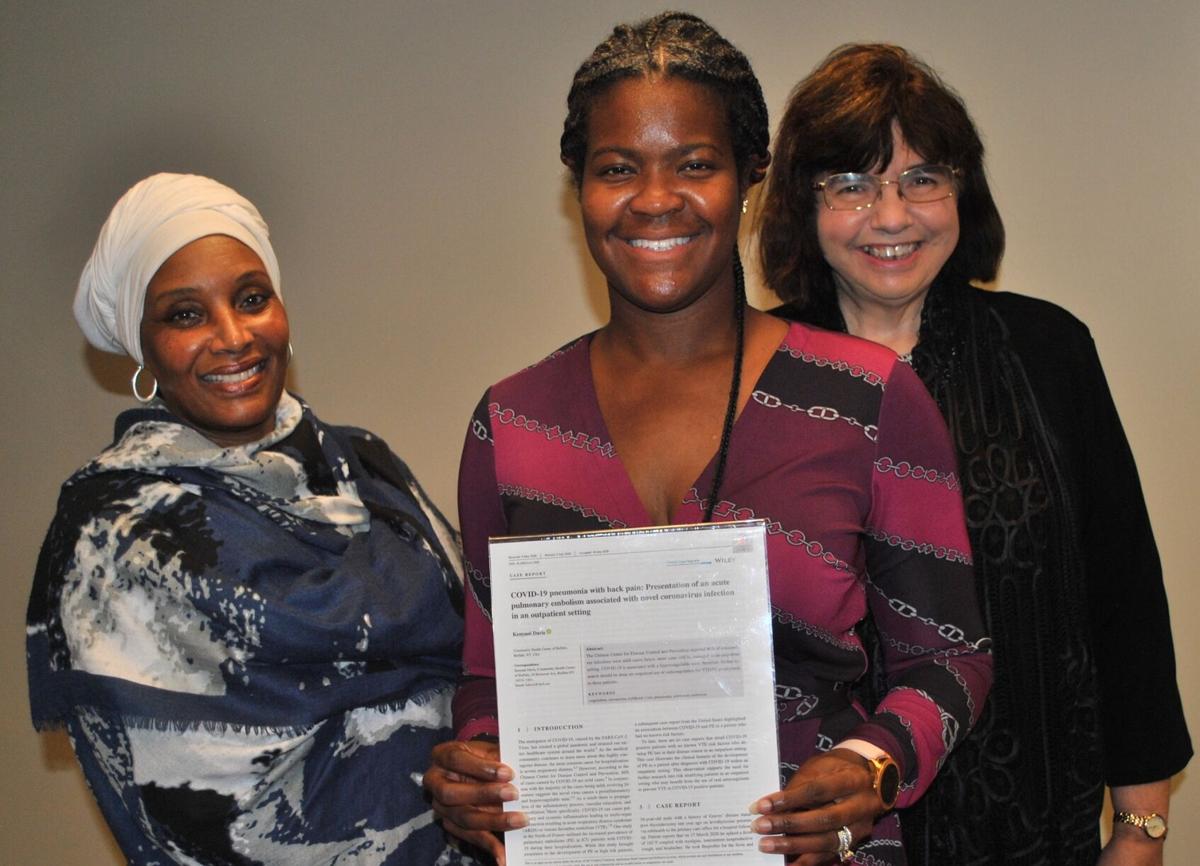 A Black patient in his late 20s reached out by phone in mid-March to Dr. Kenyani Davis, an internist with the Community Health Center of Buffalo, as the coronavirus pandemic intensified.
The otherwise healthy young man complained of achiness and fatigue. His breathing was labored. He feared he had Covid-19 – but with the availability of only 200 tests in the region, set aside for hospital patients and front-line workers, Davis could only go with her gut.
"Hospitals were handling 20% of patients and primary care doctors were handling 80% at the time," Davis said. "We didn't know how to treat anything, and there was no guidance for physicians. I told myself, 'We've got to start keeping detailed notes.'"
That led to a talk with health center CEO LaVonne Ansari, the creation of an interdisciplinary Covid-19 task force within the practice, and the first of what center health care providers expect will be several clinical studies on the best ways to treat patients of color with the disease caused by the novel coronavirus.
"Primary care is the foundation of all care," Ansari said. "If we don't tell our stories, and establish the research, then we will never have a real voice."  
A staff of 150, including 30 health care providers, handles care for 20,000 patients in the federally funded health center, which includes a headquarters at 34 Benwood Ave. in Buffalo, and smaller offices in Cheektowaga, Lockport and Niagara Falls.
Roughly 90% of patients are Black.
Davis – a Phoenix native who moved to the region eight years ago for a residency at the University at Buffalo Jacobs School of Medicine and Biomedical Sciences – wrote the first study based on how she was able to help diagnose a blood clot in her young patient through telemedicine.
A black person can expect to live five years less in Erie County than someone who is white, and nearly seven years less than the New York State average. The mortality rate for a black child in the county is more than twice as high as for a child who is white – and that black child is almost
The clinical case report recently was published in the Wiley Online Library, which features original, peer-reviewed research from more than 1,600 journals and thousands of other sources across a broad range of scientific disciplines.
Clinical demands made it hard for providers to conduct research at the health center, which opened in 1999, but the pandemic underlined long-standing health inequities in the region which now demand it, Ansari said.
Two staff members tested positive shortly after the pandemic swept into the region, she said. Most others with the practice had loved ones and friends who got seriously ill or died from Covid-19. As those front-line employees headed for work, children and spouses feared for their safety.
The health center task force comprises leaders from its dental, medical, pediatrics, mental health, pharmacy and physical therapy teams. Members meet to detail the most common and troublesome cases and, using a whiteboard, compare notes to improve treatment protocols.
For Davis, the need to treat a young black man through telehealth, and the inability to verify he had Covid-19, symbolized "how we become vulnerable when we're not connected to care."
She referred the patient to an emergency room in Buffalo, where an X-ray strongly suggested the man had Covid. He was sent home, asked to monitor his symptoms and call his doctor if things got worse.
A dozen days after onset of symptoms, he told Davis he was suffering with back pain – an atypical Covid-19 symptom – and figured it must have been the way he was laying on his couch while trying to recuperate.
The doctor spent much of that call stressing that her patient, who she has known for several years, steer clear of his children and partner, who live with him. She asked how he was feeling otherwise. He said he had blood in his urine.
"As a primary care provider, my awareness heightened," Davis said. "And that's one of the primary purposes of the case study: to alert other providers that even patients without risk factors can develop blood clots as a result of Covid."  
A subsequent CT-scan at Millard Fillmore Suburban Hospital showed the patient had double pneumonia and a blood clot in one of his lungs. Blood-thinners, other medications and in-person office visits have since helped his condition improve, though the patient has lingering symptoms, Davis said.
Without the diagnosis and team treatment, she said, "he would have died, in his house, right by his newborn baby."
"It showed we have to listen to people, we can't just talk to people," Davis said. "It also showed I've got to keep notes on these patients because I've got to recognize a pattern so that we could start to help people who were calling completely out of breath and tremendously afraid. At one point we were fielding 30 calls a day about Covid."
Work on more clinical studies should help boost treatments during an expected new wave of cases in coming weeks.
Those will focus on the quality of Covid-19 care among Black and other underserved community health center patients, Ansari said, as well as how to more effectively educate those who struggle with social determinants of health that include homelessness, hunger, joblessness or underemployment, and limited access to affordable housing, a quality education, transportation and healthy foods. Those determinants dictate 80% of health, Davis said.
"Communities of color, particularly African Americans, are very hesitant about research in the first place," Ansari said, "and very hesitant when we go out to test. We've even had to answer questions about if the nasal swab gives them Covid. Combating misinformation is something that we have to constantly battle."
They fight with a familiar refrain.
"Going forward, there's going to be a lot of onus placed on the patient to be more safe, to comply with masks, to be able to be more connected with care," Davis said. "I don't think that the first time you develop a fever and a cough is the first time you see a doctor, right? At this particular point, if you do not have a doctor, if you have not seen your doctor in the last two years, now is the time to establish that relationship."