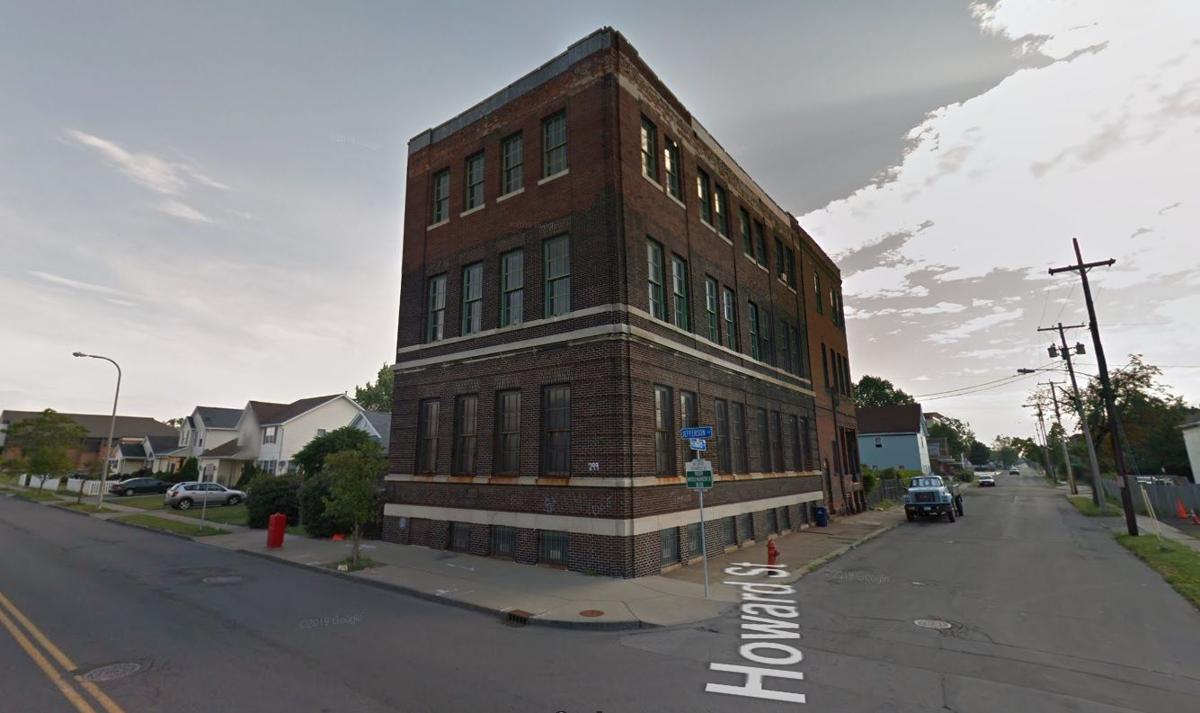 Dr. Greg Daniel is facing a big decision with his latest real estate project, just weeks after unveiling it: Either pull the trigger on the deal or start paying a monthly fee to extend a purchase contract.
The doctor-turned-developer, who owns Kanaka Partners, is seeking to convert the former New York Telephone building at 299 Jefferson Ave. into a mixed-use building with 33 apartments, to complement a separate nearby project for wellness services.
The aging four-story brick building at Jefferson Avenue and Howard Street is still owned by Bruce Pagels, but Daniel has had it under contract since late last year. Kanaka filed plans with the city in  March for zoning changes it needed.
However, those plans were upended by the novel coronavirus pandemic, which shut down almost all activity in March – including much of the work of the Common Council and its committees. So the rezoning application wasn't acted upon, and is only now coming before the Council's Legislative Committee for review, with a public hearing slated for Monday .
That's a critical piece of the project, along with five variance requests that are also pending, but now can't be acted upon until at least September.
Meanwhile, the purchase contract included contingencies or protections for Kanaka that are set to expire in the coming weeks, attorney Sean W. Hopkins said.
So Kanaka would either have to drop the project – or commit to it without the certainty of having municipal approvals in place. Or it can start shelling out monthly payments to the seller to extend the contract and contingency terms.
Kanaka also plans to apply this fall for state affordable housing tax credits or other subsidies through New York State Homes and Community Renewal. But Hopkins acknowledged that they may not have all the approvals before the application deadline in September.
"We'd love to be in for this fall, but it's not clear whether we're going to be ready for that," he said. "That's something that has to be evaluated as we move forward."
The East Side project is the second major venture for Kanaka, which is also converting the former Pierce-Arrow Administration Building in North Buffalo into 105 apartments and a restaurant and event center. Work on that $30 million Pierce Arrow Lofts project at 1695 Elmwood Ave. is underway, after being delayed by the pandemic.
On Jefferson, plans by Silvestri Architects call for 15 studio apartments, 12 one-bedroom apartments and six two-bedroom units, with a focus on providing affordable housing for residents of the area. The building would also include 1,326 square feet of first-floor commercial space and nine underground parking spaces for tenants.
Kanaka plans to seek federal and state historic tax credits to help finance the $6 million project, in addition to the housing funds, and tax breaks from the Erie County Industrial Development Agency for adaptive reuse. Built in 1913, the 15,306-square-foot building was home to the telephone company and contains a penthouse apartment on the third floor that was originally the company's executive offices.
"It's actually quite nice. While it's vacant and needs some TLC, we think it'll be an excellent candidate for adaptive reuse," Hopkins said. "The existing building has a lot of character and transparency, and we're trying to match that."
The project includes renovation of the existing building and construction of a three-story addition that – at 55 feet, 10 inches – would match the existing structure in height and appearance, but would be higher than the 44-foot limit in the Green Code. That's one of five variances that Kanaka is seeking from the ZBA.
Hopkins said the variances would provide "very clear benefits" by allowing Kanaka to proceed with the mixed-use project, provide onsite amenities and reuse a vacant building without harming the community.
The site also consists of three parcels totaling one-third of an acre, including 299 and 311 Jefferson, as well as 12 Howard. Both 311 Jefferson and 12 Howard are vacant properties – currently littered with debris and other junk that Kanaka will remove – and both Jefferson parcels are already zoned to allow the project. But Kanaka needs the Common Council to rezone the 0.18-acre site on Howard from residential land to an "edge" parcel.
The project also needs site-plan approval from the Planning Board.
Be the first to know
Get local news delivered to your inbox!