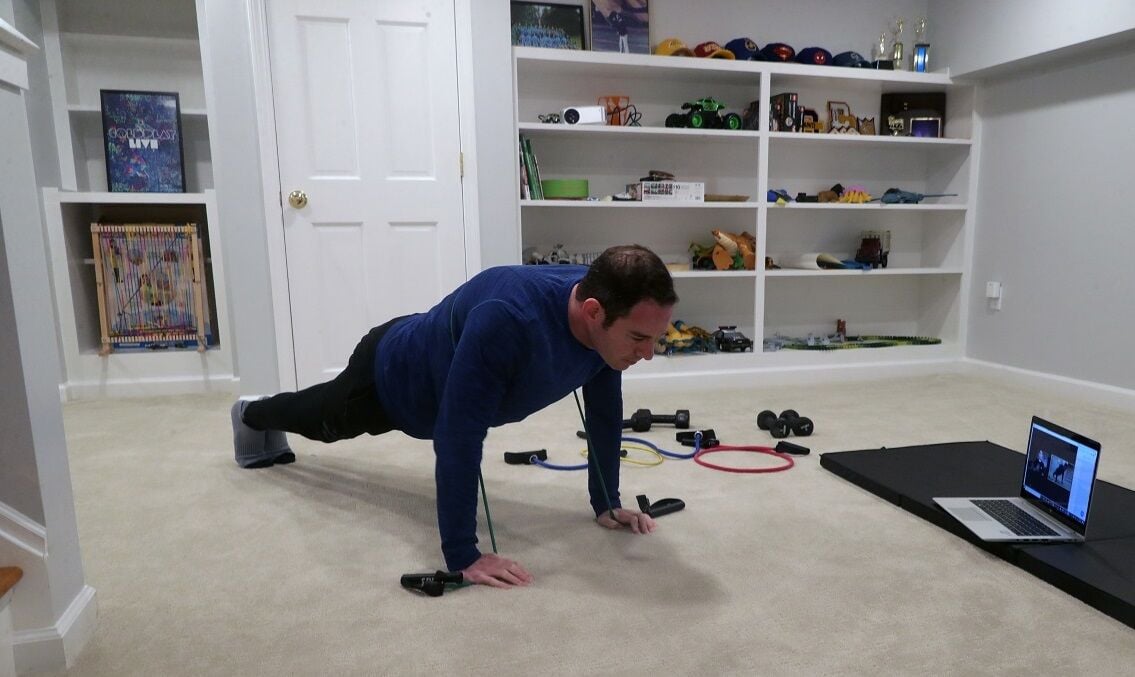 Alon Kupferman likes to keep fit, which used to be more challenging when he traveled twice a month for work.
While away from Buffalo, most of his exercise took place in hotel swimming pools and fitness centers. It was enough to keep him healthy while subsisting on mostly restaurant and airport food, but he wanted to get stronger, too.
Then the pandemic struck the region in March and he started to work from home and his gym closed. So Kupferman decided to go tackle virtual workouts in his basement with a personal trainer, a practice that continued for many safety-conscious fitness buffs during a limited 13-week reopened engagement.
Online training is expected to grow in popularity with fitness and studios again closed in much of Western New York amid a second regional coronavirus spike.
"With the virtual training, it's been nice, because now I've got a larger menu of things I can do," said Kupferman, 42, of Amherst, a business transformation specialist who handles digital and regulatory work for M&T Bank.
He has added strength training to a fitness repertoire that already included running outdoors and hitting the pools at both branches of the Jewish Community Center of Greater Buffalo, where scheduled lap swimming can still take place.
The weekly routine has given him more mental clarity and greater injury prevention, even though he spends less time on individual workouts, said Kupferman, chair of the JCC board.
Patty Simonson, associate director of the nonprofit, suggested last spring that he vary workouts by adding strength training on the equipment at the Benderson Family Building about two miles from his home. When the pandemic first closed JCC gyms, she recommended he ask Benderson fitness floor manager Connor Black to train him online – even though Kupferman had little more than an exercise mat and a few resistance bands in his basement.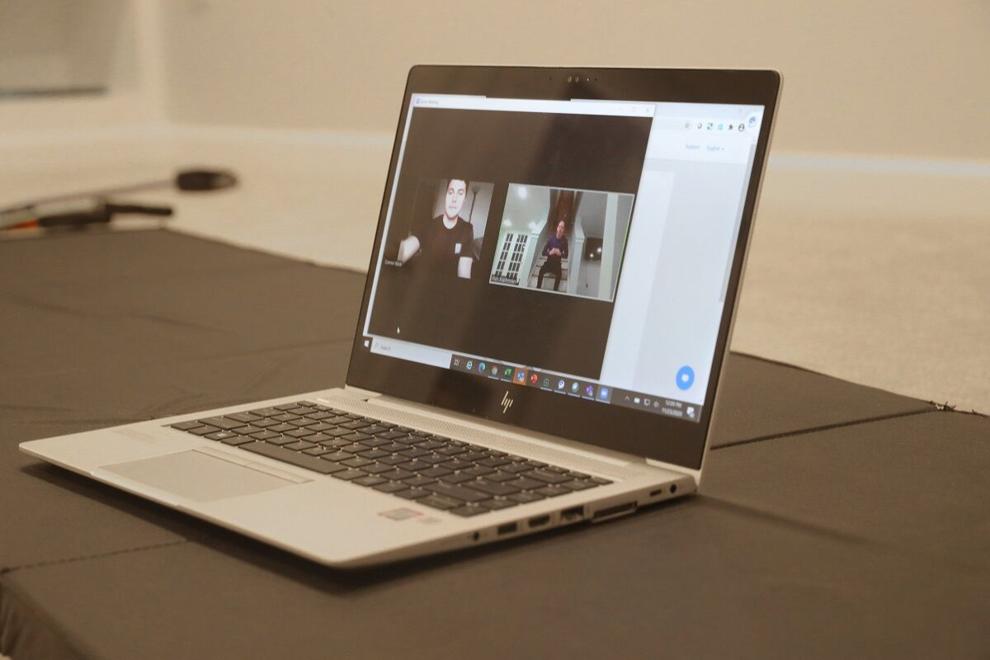 "It is a little bit easier and people get more out of it when they're at the building, but you can get a great workout at home," said Black, who started working at the JCC seven years ago and holds a bachelor's of exercise science from the University at Buffalo.
Black trained four clients online while the Benderson was open at partial capacity from Aug. 24 to Nov. 20. Several of the 15 clients he was training in person plan to do the same until they can return, he said.
Personal training sessions cost $23 for a half hour and $40 an hour, the same as at the gym, he said. Nonmembers pay about $30 or $50.
The JCC – like many studios and fitness centers – also offers virtual group classes, in its case at jccbuffalo.org.
"During the first session, I literally have the client walking around their house to see what I can turn into kind of a workout," Black said.
Footrests and ottomans become benches. Stairs become boxes for step-ups and calf raises. Backpacks, filled with books and strapped on the back, can add various levels of difficulty to pushups and planks.
Some clients use treadmills, stationary bikes or Bosu balls to warm up, but dynamic stretching, squats or jumping jacks can work just as well.
Kupferman does his twice-weekly routines using mostly a mat, his stairwell, a basement post, resistance bands and body weight resistance. Black – who keeps an eye on form and helps keep Kupferman motivated and accountable, also loaned him one pair each of 5- and 8-pound dumbbells.
The trainer also sends him directions, with photos, for one workout to do on his own each week.
Many of his clients enjoy high-intensity interval training, or HIIT, more than they thought they would, Black said. That involves alternating short bursts of exercise and rest.
Most clients have the same goal.
"They might not necessarily be looking to completely transform their body," Black said. "They want to stay in shape for when things do get back to normal."
The U.S. Surgeon General recommends 150 minutes of moderate exercise or 75 minutes of vigorous fitness each week, stretched over three to five days.
Fitness centers have an ample supply of dumbbells, free weights and circuit training equipment – as well as a far greater social outlet – Black said, but in a pinch, "you're basically doing the same major movements you would at home, but you have a cable machine versus you're just doing pushups."
Kupferman said he lost 10 pounds in three months when the pandemic stopped his travel and he started eating healthier at home. He regained 6 pounds of mostly muscle and feels better overall.
"I've done that by spending less time running, more time in the pool and more time in strength training with Connor," he said.
Despite less time jogging the streets of his neighborhood, he also is running 8-minute miles, nearly two minutes faster than before the pandemic.
Kupferman is hardly alone when it comes to online exercise training.
Michael Antkowiak, manager of G&G Fitness Equipment stores in Amherst and Orchard Park, said business has doubled since the pandemic began. He has since doubled his staff, to six.
Customers have paid $1,500 to $7,000 for treadmills, functional trainers and home gyms, as well as another $100 to $400 for assembly and installation.
"Many people are saying, 'We don't even want to even go back after the vaccine comes out or the whole pandemic ends. We're invested on staying at home and working out," Antkowiak said.
Kupferman longs for the day when he can use the strength-training equipment at the JCC, and on the road, without wearing a mask.
"Eventually, when things go back to normal, I think I've got a more sustainable fitness regime in place," he said. "I'd still say that the person in a gym with the full amenities is going to have a better experience, though virtual is a great option, especially if you're in a high-risk [health] category.
"If you had told me months ago that I was going to be able to stay in shape and do meaningful strength training in my own basement, with two sets of weights, three bands and a staircase in my partially finished basement, I would have said no way. But Connor was able to provide a pretty good challenge."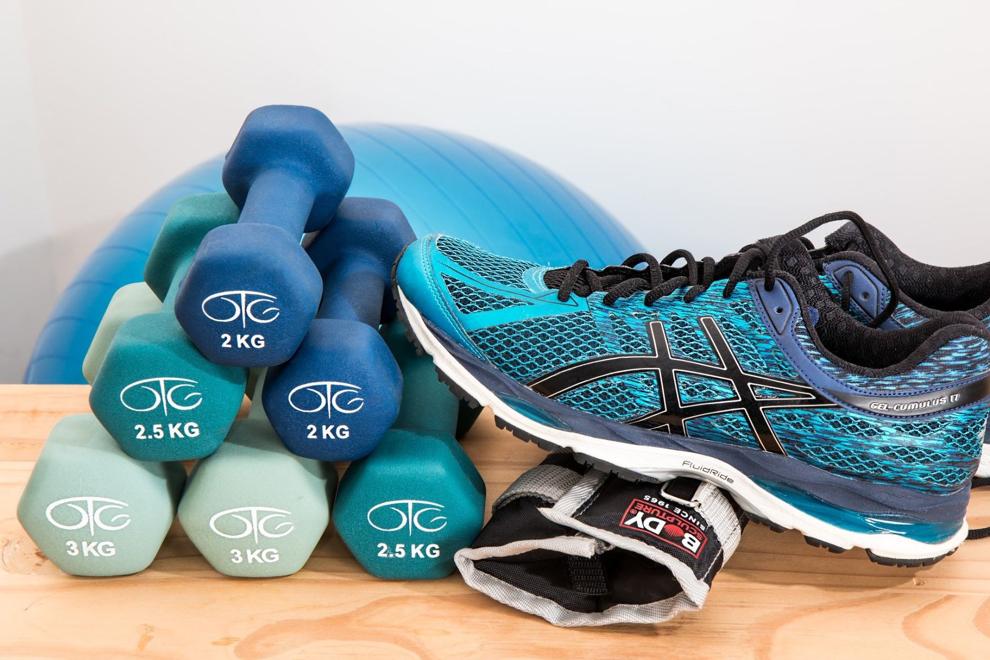 Here are a few things to know if you want to get the most out of a home workout.
Help a local gym: Do a web search for a gym or studio near you, visit its website and take online personal training sessions or group classes.
Reach out to the experts: Personal trainers and fitness equipment professionals can help even if you're on a budget.
Trainers matter: They create workouts that target various muscle groups while helping you to build strength and endurance, add muscle and burn calories. They also can keep you accountable and watch your form to help your avoid injury. They also may be willing to write up workouts you can try without paying for an online session.
Regional fitness retailers matter: Sales staff can ask you the right questions, watch as you try out equipment and make the best recommendations.
Understand what you need: Resistance bands, which are readily available at sports, fitness and department stores, can make for more challenging workouts if you know how to use them – and 10- or 12-pound dumbbells create the best added versatility, said Black, a personal trainer with the JCC. These can suffice for temporary at-home workouts. If you're thinking long-term, do some research online and at least have some idea what you're looking for before you spend thousands of dollars on equipment.
Patience counts: Dumbbells and weight plates are the hardest equipment to get in these pandemic days. Treadmills, ellipticals and other large equipment are in high demand but greater supply. There may be some delivery delays.
Reserve weights: Call a retailer near you and get on a waiting list. Antkowiak, manager of G&G Fitness Equipment, said customers who ordered through June got dumbbells and plates in August. Those who ordered since will get what they wanted by mid-January, if not Christmas – and some extra supplies may be available then, too.
Know the cost benchmarks: Expect to pay about $1.50 a pound for steel and $2 a pound for rubberized weights, which are harder to make. 
You may find deals online – or not: Those who sell on Craigslist or other online marketplaces know certain equipment is in high demand, so expect to pay far more. In the case of treadmills, cycling bikes and other higher-cost equipment, don't expect these sellers to follow up regularly to see how it's working, if you need more help using it properly and if it needs servicing.