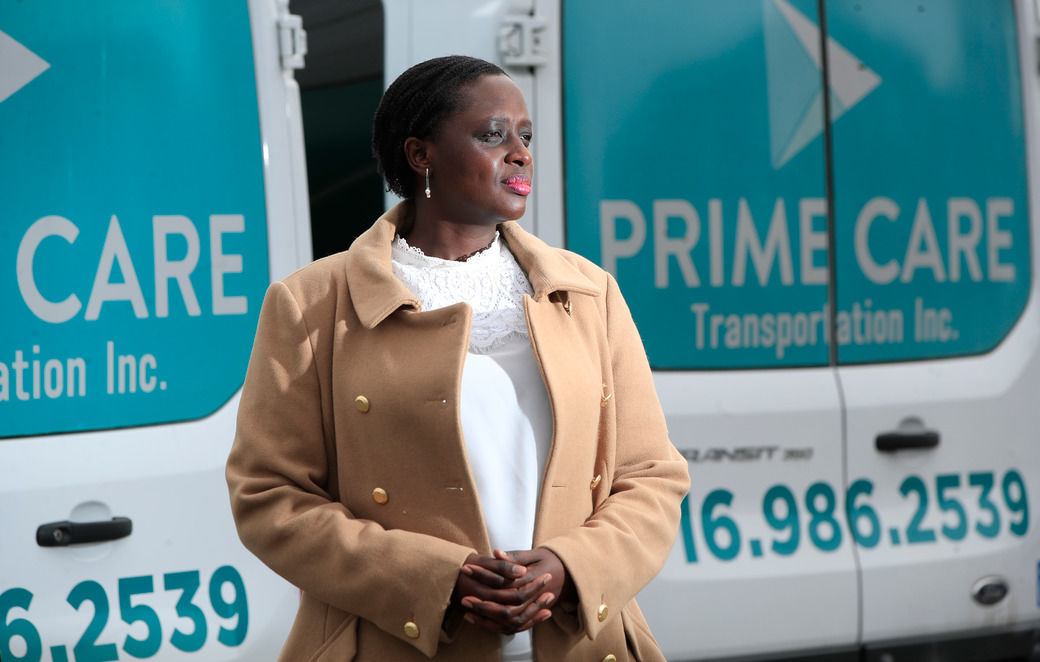 WASHINGTON – The federal government's main effort to rescue small businesses during the pandemic tended to benefit wealthier neighborhoods far more than predominantly Black parts of metro Buffalo, according to a new study by a group that researches federal policy and its implications nationwide.
The study found that the ZIP code with the largest Black population in Buffalo, on the city's East Side, received the smallest number of loans. Meanwhile, the most loans locally went to the 14221 ZIP code, which includes Williamsville and parts of Amherst and Clarence.
The group that did the research, called Accountable US Action, said Buffalo was by no means the only place where PPP loans tended to go to white neighborhoods more so than Black neighborhoods.
"What we see nationally is an unfortunate trend," said Derek Martin, director of allied programs at Accountable US Action. "There are disparities between which communities had access to this program and which did not – namely, that a lot of Black communities and Black-owned businesses, for a variety of reasons, did not actually obtain access to this program."
The study compared the number of PPP loans to the population of each of the ZIP codes in the Buffalo area, and found that the neighborhood with the smallest number of loans compared to the population was ZIP code 14208, which straddles Jefferson Avenue on Buffalo's East Side. In that ZIP code, where the population is 85% Black, only 43 businesses got PPP loans.
Other ZIP codes that received comparatively few PPP loans include those straddling Genesee Street (14211), one that runs along Broadway (14212) and one that straddles the Kensington Expressway west of Harlem Road (14215).
Those happen to be the four Buffalo ZIP codes with the highest Black population, the study noted. Those four ZIP codes received 497 PPP loans.
Meanwhile the four ZIP codes with the highest white population received 1,231 loans. Those ZIP codes cover West Seneca (14224), Blasdell and Hamburg (14219), Kenmore (14217) and Cheektowaga (14227).
The Williamsville ZIP code – 14221 – received a fifth of the region's PPP loans, the study said.
The results of the study came as no surprise to Buffalo Mayor Byron W. Brown and Henry Louis Taylor Jr., a professor of urban and regional planning at the University at Buffalo.
Brown noted that the study echoed the findings of a Federal Reserve Bank of New York report from August that found that counties with a large number of Black-owned businesses received a disproportionately low percentage of PPP loans.
Black neighborhoods were especially hard-hit by the Covid-19 pandemic, meaning businesses there were under greater stress than those in predominantly white areas, Brown said.
"Another explanation is that Black firms started off with weaker cash positions, weaker bank relationships and pre-existing funding gaps," Brown said.
Established by Congress in March, the PPP program aimed to quickly get forgivable loans into the hands of small businesses so that they could keep their employees on their payrolls. Banks that already did small business lending distributed the government-backed loans.
Taylor said that meant banks tended to give PPP loans to their existing, established customers, rather than distributing them on the basis of need. Many small Buffalo-based businesses complained to The Buffalo News at the time of getting shut out of the program, and those that did often did not have strong banking relationships.
The PPP program expired in March, but if Congress reopens it, "the distribution system has to be shifted and changed," Taylor said. "Instead of having financial institutions distribute funds, you need to have neutral region-wide bodies set up that would be able to distribute resources on the basis of need in the hardest-hit areas."
The region's largest small business lender, M&T Bank, reached out multiple times to all of its small business customers when the PPP opened, said Eric Feldstein, the head of M&T's business banking division.
Feldstein described a massive undertaking, in which the bank's 20-person small business team quickly grew to over 2,000 M&T employees.
"The entire bank came together to support the small business community in western New York and across our footprint" as M&T quickly put together 5,274 loans, totaling $963 million, after the coronavirus crisis hit, Feldstein said.
And while some small businesses may have been left out of the PPP program, Feldstein noted that some ZIP codes simply are home to more businesses than others, which could obviously impact the number of loans made there.
Nevertheless, there's no doubt that in Buffalo, comparatively well-off entities received PPP loans.
Accountable noted, for example, that New Era Cap Co. received a PPP loan of at least $5 million only to lay off 117 Buffalo-area employees a few months later. Ellicott Development, owned by prominent Buffalo businessman Carl P. Paladino, received at least $2.15 million in PPP funding, the group also noted.
"It's kind of like the Payroll Protection Program ultimately ended up in the hands of those businesses that really did not need it and could have gotten by without it," said Taylor, of UB.
But Feldstein, of M&T, stressed that vast numbers of Western New York businesses that needed emergency help got it under the PPP program.
"The stories that we are hearing from our small business clients in Western New York are that PPP has been a life-changer for them, for their employees and for their community – and that without these PPP funds, they may not be a running entity today," Feldstein said.
Accountable US Action also did a nationwide study that showed the poorest congressional districts received far fewer PPP loans than wealthy ones. Kyle Herrig, the group's president, said that's a disparity that Congress must address if it extends the PPP program in additional coronavirus stimulus legislation this fall.