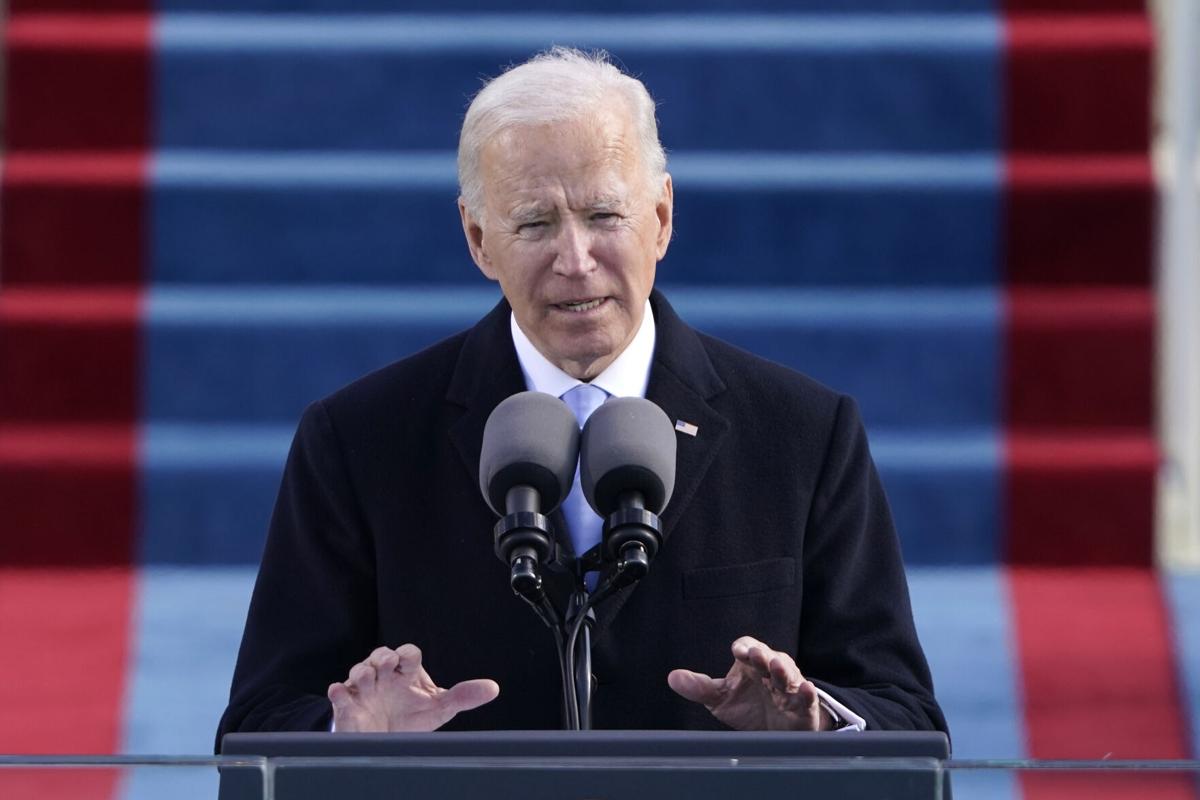 WASHINGTON – Every four years, a crowd of hundreds of thousands gathers here to celebrate democracy, creating a low murmuring buzz that rises and falls with the power of the words uttered by the person just inaugurated as president.
But this year, in a nation stripped of 400,000 souls, the pandemic and the Jan. 6 Capitol insurrection changed things. The National Mall was empty, and instead of that rising and falling buzz of the crowd, a howling wind served as the background noise Wednesday as Joseph R. Biden of Delaware took his oath as 46th president of the United States.
It was a radically different inauguration both for the 1,000 or so people in attendance and those who would have been if they could have been, yet one thing remained the same. Even in a nation suffering amid a pandemic and social unrest and economic struggles, this inauguration served as a celebration of democracy – one that seemed especially sweet because it followed by only two weeks an insurrection that tried to bring democracy down.
"I was filled with a tremendous amount of pride – proud to see America on full display to the world, showing the world that what we saw two weeks ago was not American, but that what you see today is the way we do it," said Rep. Tom Reed, a Republican from Corning who attended the inauguration. "And for us to be able to do this in two weeks' short order, to move from that heinous moment to such a proud moment, just reminds me how precious America is."
Rep. Brian Higgins, a Buffalo Democrat who watched the inauguration on television back home, said Biden's inaugural speech set a tone that could move the nation beyond the divisions that culminated in the Capitol riot.
"His campaign was premised on healing the soul of the nation, and I think his words, beautifully prepared and beautifully delivered, continued that theme today," Higgins said. "It's reaching out to people, it's saying there's nothing to be fearful of – that we don't need to focus on the differences between us, but look at the challenges before us."
The focus, as it is at every inauguration, was on the future, on how much change would occur as the nation moves from one administration to the next. But the change from the Trump administration to the Biden administration is expected to be especially stark, both in terms of tone and policy. Whereas Trump falsely claimed he won an election he lost by 7 million votes, and promised a Jan. 6 protest that "will be wild" to try to topple the election results, Biden spoke of healing what he called "the uncivil war" between left and right.
"Unity is the path forward," Biden said. "And we must meet this moment as the United States of America. If we do that, I guarantee you we will not fail."
The power to try to do that now lies in Biden's hands, and one small proof of his newfound power could been seen in the presence of Rep. Chris Jacobs. Only seven months earlier, Jacobs, an Orchard Park Republican, won his seat in Congress in part with ads that echoed Trump's raucous rhetoric.
But on Wednesday Jacobs didn't go to the sparsely attended send-off ceremony that Trump threw for himself at Joint Base Andrews.
"I didn't know about it," said Jacobs, who issued a statement saying: "It was an honor to represent the citizens of the 27th Congressional District at the 59th Presidential Inauguration to witness the peaceful transition of power that has, and always will be, a cornerstone of our democracy."
Two weeks after voting against certifying the presidential results of two swing states in unison with other Republicans aiming to overthrow the election, Jacobs praised the tone of Biden's speech.
"Stop the shouting and turn down the temperature – I think that's a really good message for both sides," Jacobs said.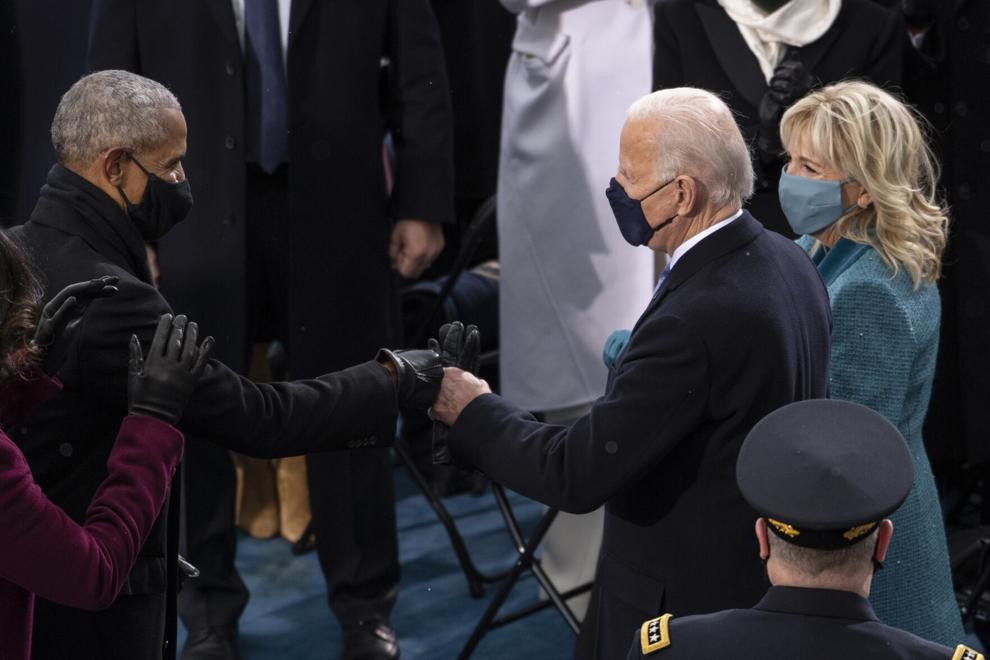 While many lawmakers of both parties opted to attend the inauguration, Higgins did not, for two simple reasons.
"The president-elect, now the president, discouraged people from traveling to Washington," he said. "And as you know, there's really not much going on other than the speech."
That's for sure. Usually a Democratic presidential victory means that Erie County Democratic leaders travel en masse to Washington, but this year Erie County Democratic Chairman Jeremy Zellner watched the inauguration at home and Erie County Executive Mark C. Poloncarz – who said he probably would have been in D.C. if attendance hadn't been so limited – watched it in his office.
Poloncarz liked what Biden had to say, which the county executive summed up in one sentence.
"You can disagree on policy and do it in such a manner where you can still work together to create a better country for all," Poloncarz said.
Of course, a typical inauguration is not just one big speech. It's both a learning opportunity and a series of parties, which this year had to either take another form or disappear entirely.
Four years ago, SUNY Buffalo State political science professor Peter Yacobucci brought his class to D.C. to learn what an inauguration is like up close and personal. But this year, predictably, he and about 40 students gathered on Zoom to watch the event. 
"I had some students in there that were originally Trump supporters, but to a person, everybody was very impressed with the ceremony and also with the speech that Biden gave," Yacobucci said.
Mary Ann Hess of Niagara Falls, who attended the last two inaugurations, didn't even see it. The owner of Niagara's Honeymoon Sweets Gourmet Chocolate, she normally comes to D.C. to show off her products at the New York State Society's quadrennial inaugural gala.
But this year there was no gala, so Hess spent the hour of Biden's inauguration at her day job: cutting hair at the Shop Hair Studio in Niagara Falls, which she also owns. 
Asked about the inauguration, Hess said, in a disinterested tone, "I will probably just catch up when I get home."
Paul Lobo, the president of the New York State Society, was plenty interested. He said he felt sad that the State Society couldn't have its traditional event, which – like all the traditional inaugural balls – fell victim to Covid-19.
Lobo said inaugurations, and the State Society's gala, celebrate the peaceful transition of power, something he longed to celebrate again this year.
"I was feeling so down about it that we actually had a little inaugural ball at home," he said. "I have a 5-year-old and a 2-year-old daughter and they got dressed up in their Disney dresses this afternoon after the president spoke and we had a little dance party."