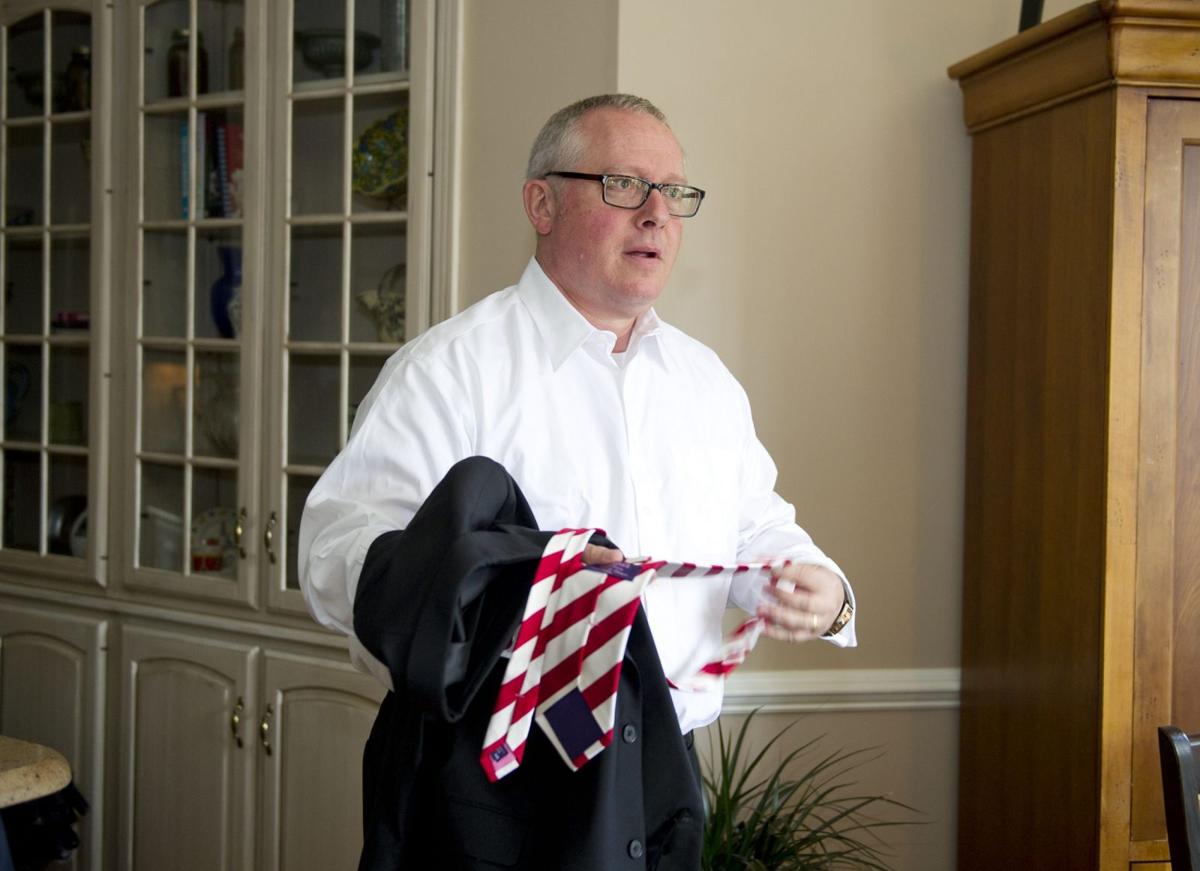 WASHINGTON – Michael R. Caputo, speaking to friends on Facebook Live on Sunday, told them to prepare for what he predicted would be a bloody aftermath to the 2020 presidential election.
"If you carry guns, buy ammunition, ladies and gentlemen, because it's gonna be hard to get," a seemingly distraught Caputo said in the video, which The Buffalo News obtained Tuesday, a day after the New York Times revealed its contents without posting the video itself. "It's a sad, sad thing. I urge you to, if you're in Buffalo, or anywhere in New York, I urge you to look up the New York Watchmen. My friend Charlie, he put it together. They're not a militia. They're just people who band together like different friends of mine."
Caputo's comments predicting mass civil unrest – and urging his followers to check out a new group aiming to protect its members from such chaos – made for another day of controversy Tuesday for the longtime Republican political consultant from East Aurora, whom President Trump appointed to be assistant secretary of public affairs at the U.S. Department of Health and Human Services in April.
Politico reported Tuesday that Caputo had apologized to his staff for the Facebook Live appearance. Politico and the New York Times also reported that unnamed sources said Caputo is considering stepping aside to take a medical leave, and that Caputo planned to meet with Health Secretary Alex Azar.
The "New York Watchmen," according to its founder, Charles Pellien, is a new group concerned about Antifa and dedicated to protecting its members from violent civil conflict.
Pellien said Wednesday that his group has no connection to the ""Watchmen of America," which was labeled "an active antigovernment group" last year in a report by the Southern Poverty Law Center. An earlier version of this story indicated that the New York Watchmen were connected to that long-established Mississippi-based group, which has chapters nationwide.
Instead, Pellien said, his organization -- which has about 100 members -- is a chapter of a separate Watchmen group based in North Carolina.
"We're going to do some political lobbying, we're gonna do some trainings, like on legal issues and firearms and how to be safe -- self-defense and things like that," Pellien said. "All good things that have no illegal intentions or any bad intentions. We're just a group of citizens looking out for one another."
While Caputo's comments predicting armed unrest  attracted much attention, less notice was given to his endorsement of the Watchmen.
The Southern Poverty Law Center, in a report last year, identified the Watchmen group based in Mississippi as anti-government, but Pellien stressed that his group is not anti-government.
"We're pro-government. We're pro-police. We back the blue. It's a non-aggressive, non-violent, non-confrontational, non-racist" group, he said. "Ethnic supremacy is absolutely not tolerated."
Saying he was concerned about Antifa, a loosely organized leftist group that has been involved in some recent protests nationwide, Pellien said: "With different groups coming into neighborhoods and threatening people and damaging businesses and stuff like that, we're just a group of people that want to organize and look out for one another, that's all."
The Mississippi-based Watchmen group, which as been in existence for years, portrays the Watchmen as a nationwide mutual aid society.
"When a society breaks down for whatever reason.....Bad things happen to good people who are vulnerable and un-prepared!" the website says. "As a National Membership organization, we are building Secure Networks of Community Based Civil Prepardeness Chapters all across the Nation so that our Members do not have to face these situations alone."
And while Caputo did not say much about the New York Watchmen on his Facebook Live appearance, he said plenty about the kind of situation he is expecting. Predicting that President Trump will win the election but that Biden will not concede – and will count on fraudulent mail-in ballots to win – Caputo outlined a nightmare scenario of parallel presidential inaugurations where both men claim to be president.
"When Donald Trump refuses to stand down at the inauguration, the shooting will begin" as radical leftists rebel, Caputo said.
Calling the fatal shooting of a Trump supporter in Portland earlier this month "a drill," Caputo added: "The droves that you've seen are nothing. It's child's play. I'm telling you: Get ready for this. Get ready."
Caputo appeared uneasy throughout the video, which appeared to be shot from the front porch of his home in East Aurora. He also acknowledged the stress involved in managing Health and Human Services public affairs during the Covid-19 pandemic. 
"The first time I use my voice every day is to discuss death," he said. "We count the dead."
It's all a heavy burden to bear, Caputo added.
"My mental health is affected," he said. "I don't like being alone in Washington. The shadows on the ceiling in my apartment there alone, those shadows are so long."
Caputo also claimed Centers for Disease Control and Prevention staffers have formed "a resistance" to undermine Trump. He said the Canadian epidemiologist Paul Alexander, whom he hired, was suggesting changes to the CDC reports that document deaths and illnesses stemming from the novel coronavirus.
"I've never read" any such reports, he said. "Never once. I don't have time."
On the Senate floor Tuesday, Minority Leader Charles E. Schumer blamed Azar for allowing Caputo and other political aides to push for revisions to CDC research.
Calling for Azar to resign, Schumer, a New York Democrat, said: "Too many people within HHS are trying to suppress the science. The Secretary of Health and Human Services. Alex Azar, has not only failed to push back against these outrageous moves by President Trump. He's been almost entirely silent about the chaos and mismanagement in his own agency."
Others focused on Caputo – and sometimes, with a degree of sympathy.
"Michael Caputo's weekend statements were politically toxic," tweeted MSNBC host Joe Scarborough. "But his personal comments also revealed an isolated and despondent man. He should step down for the good of the country, but also for his own personal health."
Be the first to know
Get local news delivered to your inbox!