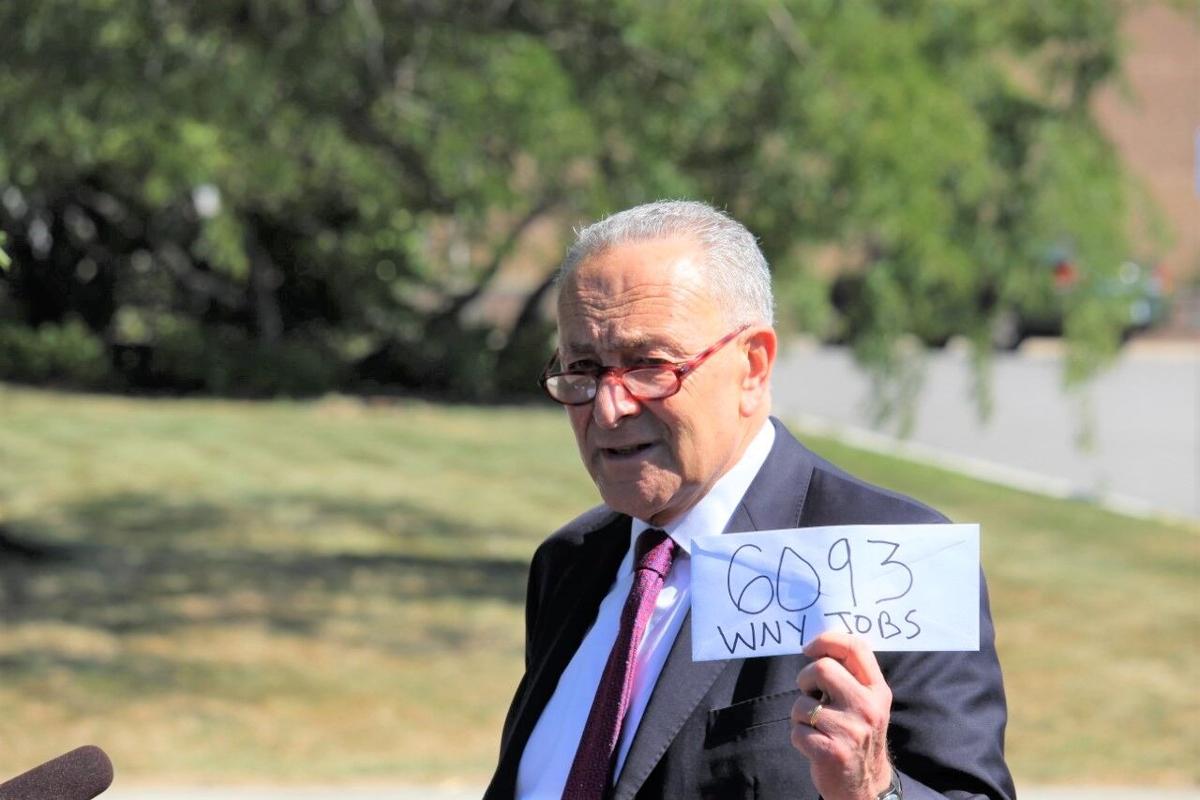 WASHINGTON – Mail is arriving late at homes across Western New York and the nation, and postal union officials and federal lawmakers worry that it is because of changes at the U.S. Postal Service – including the removal of several mail sorting machines from Buffalo's Postal Distribution Center on William Street – fewer than three months before a largely vote-by-mail presidential election.
Postmaster General Louis DeJoy, a businessman and Republican campaign donor appointed to the post by President Trump, implemented many of the policy changes, which include a prohibition of overtime for postal employees that has curtailed delivery in some areas.
As a result of the changes, "we've had entire towns that didn't get their mail that day," said Frank Resetarits, president of the American Postal Workers Union Local 374. "I'm talking about some of the bigger ones – East Aurora, Lancaster."
Concerns about the changes and the delays have prompted about 450 people to contact the office of Rep. Brian Higgins in the past two weeks alone. Senate Minority Leader Charles E. Schumer traveled to Buffalo Thursday to warn that the changes could lead to job cuts at agency, which employs 6,093 people in Western New York.
The changes come amid a pandemic-related cash crunch at the Postal Service that Trump has refused to address in the next round of federal stimulus legislation. Trump told Fox News Thursday that he was resisting funding the agency because of his oft-expressed concerns about mail-in voting.
"Now they need that money in order to make the post office work so it can take all of these millions and millions of ballots ... But if they don't get those two items that means you can't have universal mail-in voting," Trump said.
Trump's comments only further concerned Schumer, who said in an interview that he's especially worried about the effect the delays have on homebound seniors who get their prescription medications through the mail.
"I depend on getting medicines in the mail," Schumer said in an interview. "Now mine aren't life-threatening, but I need statins. When I have two pills left, I get nervous. I don't like it. Well, imagine a senior citizen who has life-threatening needs who gets their medicines in the mail. It's awful for them." 
The Postal Service has removed five of the 20 mail sorting machines from the William Street facility, Resetarits said. Called delivery bar code sorters, the machines sort mail the size of letters and post cards, including mail-in ballots. 
USPS spokesperson David Partenheimer did not respond to a request for comment. But in an earlier response to Vice News – which broke the story about the sorting machines being dismantled in Buffalo and elsewhere – Partenheimer said the move was connected to a decline in mail volumes amid the Covid-19 pandemic.
"The Postal Service routinely moves equipment around its network as necessary to match changing mail and package volumes," Partenheimer said. "Package volume is up, but mail volume continues to decline. Adapting our processing infrastructure to the current volumes will ensure more efficient, cost effective operations and better service for our customers."
Resetarits said other changes implemented by DeJoy have also led to delays. For example, Postal Service truck drivers are no longer allowed to wait if employees at the William Street facility are not yet done sorting the day's mail. Instead, the trucks leave mail behind at the processing facility.
Such moves result in mail delays, especially in rural areas such as parts of Cattaraugus County, said Lori Cash, president of American Postal Workers Local 183.
"I have some zip codes that there's days they get no mail," Cash said. "I have one zip code in particular that sent me a message yesterday that they didn't get any letter mail three days in a row."
Such complaints are resonating among Republicans and Democrats alike in Washington.
Rep. Tom Reed, a Corning Republican whose district includes Cattaraugus County, said he's written a letter to DeJoy, asking him to explain the policy changes.
Asked about Trump's remark that he didn't want to provide more funding to the Postal Service in order to prevent universal mail-in voting, Reed said: "I am aware of those comments and obviously I disagree with that commentary. I believe the Postal Service deserves and needs to receive the necessary funding, and that it needs to be stabilized, and that it needs to be in a position to function, especially during this crisis."
Reed highlighted his concerns about the Postal Service in a news release and conference call with reporters.
Rep. Chris Jacobs, an Orchard Park Republican, responded to a request for comment with a statement that said: ""Our Postal Service is integral to our society, especially at a time when many Americans are staying home and relying on deliveries for critical products, such as food items and medications. I am aware of many of the issues regarding Postal Service funding and pending insolvency and we need to look at reforms that ensure this service has a balanced and funded budget, and make sure service is efficient and high quality."
Trump has repeatedly and without evidence said that mail-in voting amid the pandemic will lead to widespread voter fraud. And now, Higgins said, Trump is trying to sabotage mail-in voting before an election amid a pandemic where 75% of the voters are expected to vote by mail.
"The bottom line here is you have the president of the United States seeking to destroy the efficiency and the effectiveness of the United States Postal Services for, admittedly, his own political purpose," Higgins, a Buffalo Democrat, said.
Schumer, who along with Higgins pressed to save the Buffalo mail processing center when it was threatened with closure in 2012, stressed that the Covid-19 pandemic has left the Postal Service with a $13 billion loss. He said Democrats are insisting that the agency be sent additional funds in a new coronavirus stimulus package, but that the Trump White House has steadfastly refused.