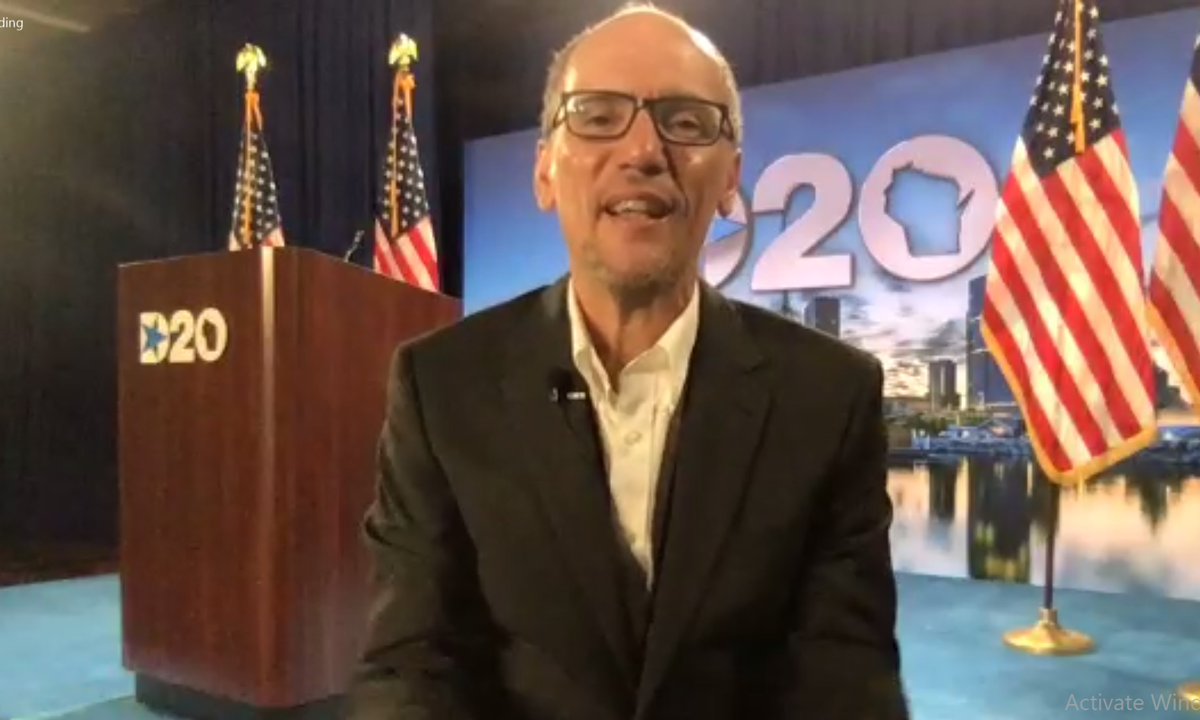 WASHINGTON — Democratic National Committee Chairman and Western New York native Thomas E. Perez came away from the first night of his party's virtual convention in a buoyant mood, lauding the two-hour made-for-TV production as a boon to the party's chances in November.
"We accomplished our goals," Perez said Tuesday morning at an online breakfast sponsored by the New York State Democratic Committee. "We wanted to make sure that we introduced the widespread support for our presidential candidate, Joe Biden."
Key to that, Perez said, was the last speech of the night: former First Lady Michelle Obama's passionate pummeling of the Republican candidate, President Trump.
"The power of her message that this president is simply in over his head, he lacks the empathy, the requisite basic skills to do the job," Perez said. "He's chronically incompetent. That was a searing message."
Perez delivered his remarks from Milwaukee, which was supposed to host a gathering of thousands of Democrats and even more journalists. But thanks to the Covid-19 pandemic, the Democrats decided months ago to transform their convention into an online event, featuring caucus meetings via Zoom during the day and a slickly produced two-hour television show over the gathering's four nights.
"I think the reason we were able to have such a well-produced convention last night is that we didn't come to this conclusion two weeks ago that we needed to do this," Perez said. "We've been planning for every single contingency."
Only a couple hundred party officials are in Milwaukee as the party built a nationwide event, said Perez, who will speak tonight to usher in the roll call that will officially nominate Biden for president.
"The call of the states tonight is going to be unlike anything we've seen before, because we're going to go to every single state, and it will be a wonderful time," Perez said.
A Buffalo native, Perez focused heavily on New York during his brief remarks, giving shoutouts to Lt. Gov. Kathy Hochul and State Sen. Tim Kennedy of Buffalo as well as Gov. Andrew M. Cuomo, who spoke Monday night.
"Gov. Cuomo really hit it out of the park, highlighting what you've done in New York, what we need to continue to do as a nation" to beat back the Covid-19 pandemic, Perez said.
The convention's first night seemed like a deliberately designed show of unity, with speakers ranging from Sen. Bernie Sanders of Vermont,  a democratic socialist, to former Gov. John Kasich of Ohio, a Republican, berating Trump and praising Biden.
"I have a profound disagreement with Gov. Kasich about the right to form a union and women's reproductive health," Perez said. "Those are really profound disagreements that I don't see common ground on. But what I appreciate about what he and other Republicans said is that sometimes you have to put country over party."
New York State Democratic Chairman Jay Jacobs introduced Perez, praising him as a unifier who pulled together an often-fractious party.
"That's probably one of the hardest jobs in this country because, you know, you talk about herding cats — this is herding tigers and lions," Jacobs said.
What's more, Jacobs said, Perez and his team put on a great show Monday night.
"I was surprised, actually, because I enjoyed it a lot more than I thought I might have enjoyed it, given that we were doing a convention remotely," Jacobs said.