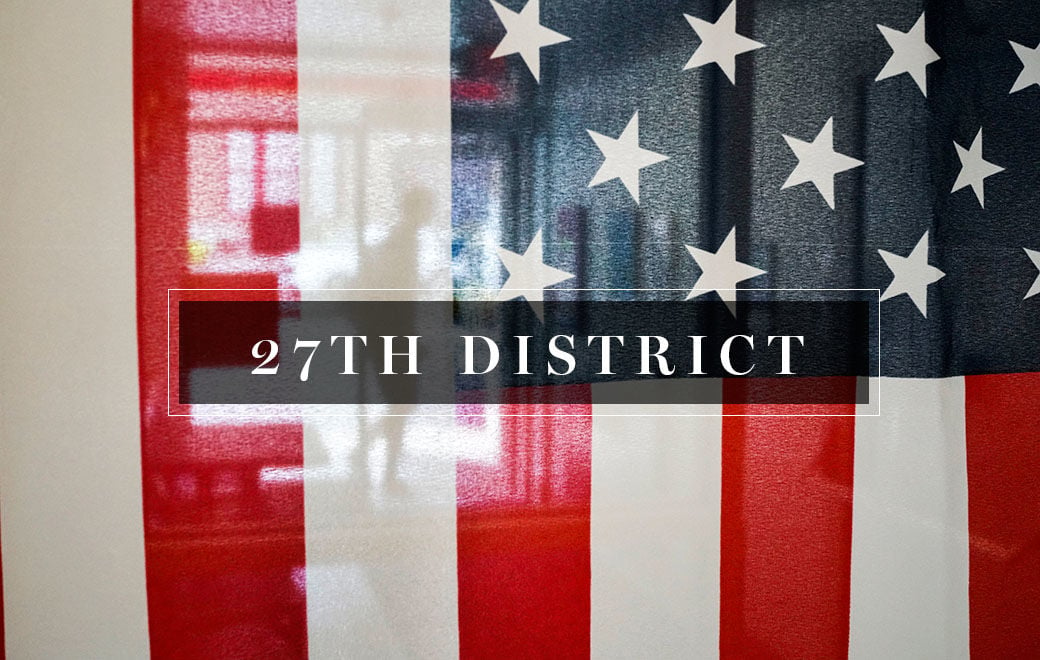 The man in the tri-corner hat and blue colonial uniform walked up to the effigy of Gov. Andrew M. Cuomo dangling at the side of the stage and began with the first of many indignities, angrily ripping the blue surgical mask off the lifeless figure's face.
Next came the show trial in front a jury of gun rights activists who gathered Saturday outside of Hamburg Town Hall.
"Is Andrew Cuomo guilty of infringement on the Second Amendment right?" the man in the tri-cornered hat, Melbourne Sann, asked the crowd.
"Guilty!" the crowd proclaimed, prompting a man to slap the Cuomo effigy across the rear with what appeared to be the butt end of a rifle.
That was just the start. The mock Cuomo would endure at least five more such blows. Egged on by Sann – who has been displaying his Cuomo effigy at gun rights rallies for years – the crowd pronounced the governor guilty of everything from promoting abortion rights to "putting a surveillance system on the Thruway."
The video of that scene roiled Western New York politics Monday, as Democrats denounced it as a possible precursor to real electoral violence and as aides to Rep. Chris Jacobs – an Orchard Park Republican who spoke at the event – aimed to disassociate himself from it. 
Leading the charge for the Democrats was Nate McMurray, Jacobs' opponent both in the June special election that put Jacobs in Congress and in the November election for a full two-year congressional term.
"The hatefulness on display Saturday is a disgraceful new low," said McMurray, who circulated videos of the mock trial as well as Jacobs' speech. "Chris Jacobs and his comrades have fully embraced the worst of Trumpism in Western New York."
In response, Jacobs spokesman Christian Chase said: "Chris spoke at the beginning of the event and left immediately after his remarks to attend an event in Monroe County. The puppet was not on display during his remarks."
Pressed for a comment on the mock trial and the subsequent beating of the Cuomo effigy, Jacobs' political consultant, Cam Savage, said that while Jacobs didn't see it, "it seems like an unnecessary attempt at political satire that went too far." 
That's certainly what Democrats think.
"As we have learned through history, disgusting displays, like the one that took place outside the Hamburg Town Hall near Buffalo this past weekend, are often just precursors of potentially even more and real violence coming in the future," said New York State Democratic Chairman Jay Jacobs. "We can engage in legitimate debate on even the most contentious of issues. But when that debate devolves into the display of violent, hateful symbols, like the hanging in effigy of our governor, decent people everywhere need to speak out."
Erie County Democratic Chairman Jeremy Zellner spoke out, too, calling for Jacobs and Joshua Mertzlufft, a Republican State Senate candidate who spoke at the event, "to denounce this action."
Zellner said there was a noose around the neck of the Cuomo effigy, but video of the event does not show that, and the organizer of the event, Frank J. Panasuk, said Sann did not use a noose during his performance at the rally.
"He could have used a fancy hangman's noose or something like that, and we wouldn't have allowed that," said Panasuk, who heads the 1791 Society, a gun rights group. "And you know, he didn't. It was a puppet, that's all."
What's more, there's nothing new about Sann's act. News accounts show that Sann, of Rome, N.Y., has been traveling with his Cuomo effigy since at least 2014. And a New York Daily News account of a gun rights rally in Albany that year describes him spanking the Cuomo "puppet" with a piece of wood shaped like an assault rifle – until a State Police officer confiscated the piece of wood.
Sann did not return a phone call to the Buffalo News Monday, but in that Daily News account, he described himself as a regular figure at gun rights protests.
"I do it every chance I can get – before we have to come down here with regular weapons," Sann told the Daily News.
McMurray – who said he watched upwards of three hours of video from the rally – said Sann's performance was appalling.
"They would scream out the charges, and they would all scream 'guilty' and beat (the Cuomo effigy), which is even scarier," McMurray said. "I mean, it was like some kind of ad hoc trial in the streets. It's really a terrifying thing."
For his part, in his eight-minute speech at the rally, Jacobs seemed much more worried about the protests that have swept the nation in recent months than he was about the crowd at the gun rights event.
"We have elites in Hollywood, our media, and others, activists that we see – I don't want to give the credit of protesters because they're not really protesting for anything other than trying to tear down our way of life," Jacobs said. "We have to unify and say no, this is not acceptable. And that's why being here today is so important."