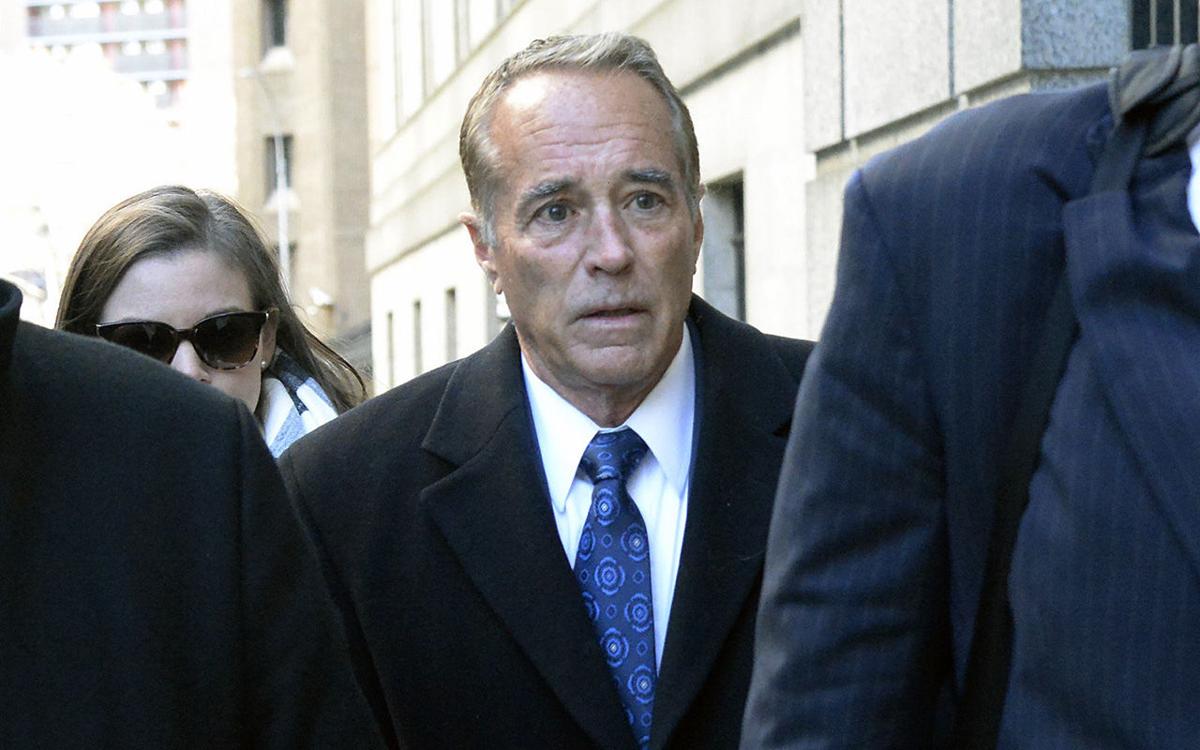 WASHINGTON – As the Trump administration winds down despite the president's cries to the contrary, there are increasing signs that he will deliver parting gifts to some of his closest allies and maybe even his family members: presidential pardons.
But one big name remains missing from all the discussion over whom Trump might exonerate: that of the first member of Congress to endorse the outsider Republican candidate back in 2016, then-Rep. Chris Collins.
Despite rampant speculation about a Collins pardon in Buffalo, his name hasn't even surfaced among Washington's chattering classes about who Trump might pardon and when. And there are good reasons why not.
For one thing, while Collins serves his sentence in a federal prison camp in Pensacola after pleading guilty to insider trading charges, control of the U.S. Senate hinges on two Jan. 5 runoff elections in Georgia – where insider trading allegations swirl around both Republican incumbents. So if Trump were to pardon Collins now, he would be handing Democrats ammunition they could use in ads that would liken GOP Sens. David Perdue and Kelly Loeffler to the disgraced inside trader from Western New York.
Then there's the question: What's in it for Trump? Several experts on presidential pardons noted that Trump's pardons so far have largely gone to far-right celebrities – like former Arizona Sheriff Joe Arpaio – and to those caught in the vortex of various Trump administration scandals, such as former National Security Adviser Michael Flynn and political consultant Roger Stone.
Collins doesn't qualify in either category, but even so, those experts don't dismiss the idea of Trump pardoning the former Buffalo-area lawmaker.
"I think that's a jump ball question," said Mark Osler, a professor of law at the University of St. Thomas in Minnesota who studies the presidential pardon power. "You know, it's easy to imagine Trump giving him a pardon and saying he was very badly treated. But it's also questionable whether Collins was actually close enough to Trump to have that kind of sway."
Presidents George H.W. Bush and Bill Clinton left office in a forgiving mood. Bush pardoned major figures in the Iran-Contra scandal, while Clinton exonerated everybody from top donor Marc Rich to the president's own brother. And now it appears that Trump is about to do the same sort of thing, only more so.
The New York Times reported that Trump is considering pardoning his three eldest children, son-in-law Jared Kushner and Trump's personal lawyer, Rudy Giuliani. Politico reported that Trump is contemplating pardoning upwards of 20 aides and associates. And the Washington Post, compiling a list of those who Trump may pardon, named, among others, former campaign managers Paul Manafort and Steve Bannon as well as WikiLeaks founder Julian Assange and famed government leaker Edward Snowden.
Experts in the president's pardon power reacted with shock that Trump would consider leniency for such people. Osler noted that the Founding Fathers designed the pardon power not to allow presidents to help their cronies and benefactors, but as a way to right the justice system's wrongs.
"There's a lot of talk about the handful of pardons he may give to friends and family, but more than 13,000 petitions (for pardons) have been waiting for years by people who followed the rules, filed support letters, filled out all the forms," Osler said. "They've just been ignored."
It's not unprecedented for a president to pardon someone who hasn't even been indicted. That's what happened when then-President Gerald Ford pardoned his predecessor, Richard Nixon, in 1974. But legal experts such as James Gardner, a constitutional law professor at the University at Buffalo, said it would be unusual for Trump to issue a wave of such preemptive pardons to those close to him.
"It's a gross perversion of the pardon power," he said.
One conspicuous name has been missing from both the reportage and the speculation in Washington about who Trump might pardon: Collins.
And one possible reason for that can be gleaned from ads that are now running in the state of Georgia, which, in those Jan. 5 runoff elections, will decide which political party controls the U.S. Senate.
"Now we learned the FBI has been looking into David Perdue and a federal grand jury has been investigating him for insider trading," says one ad, from the Democratic political action committee called the Georgia Way.
"Kelly Loeffler investigated for trading on insider information," proclaims an ad from another Democratic PAC, Georgia Honor.
In other words, those two key Senate races – which will determine whether Democrat Charles E. Schumer of New York is minority leader or majority leader – feature Republicans accused of doing exactly what Collins pleaded guilty to doing.
Neither Perdue nor Loeffler have been charged with crimes, and both Republican senators said investigators probed their actions but came up empty.
For that reason and others, Andra Gillespie, a political scientist at Emory University, said the stock scandals haven't alienated the GOP voters from Perdue and Loeffler. 
"Republican voters have made their peace with that, and they're still going to support the candidate of their party," she said.
That's exactly what happened in New York's 27th district in 2018, when Collins narrowly won re-election while under indictment.
Even so, Democratic PACs have already committed more than $10 million to ads ripping into Perdue and Loeffler's stock trading habits. And by the sound of things, Democrats would probably love a pardoned Chris Collins' name to re-emerge in the news as they continue their effort to tar the GOP senators.
"The dam is just beginning to break and we plan to fully expose their unethical and potentially illegal behavior in the weeks ahead," said J.B. Poersch, president of the Democratic Senate Majority PAC.
Collins' lawyers, Jonathan Barr and Jonathan New, did not respond to emailed inquiries about whether they are seeking a presidential pardon or sentence commutation for their client. And a source close to Collins said he has not heard one word about that possibility.
So far, though, all the talk in Washington is about Trump looking to pardon far bigger fish than Collins. What's more, the president is getting pushed in that direction by one of his most ardent media allies.
"If Biden ever became president, I'd tell Trump pardon yourself and pardon your family," Fox News host Sean Hannity told his viewers late last month.
While a presidential pardon would not shield Trump from prosecution in New York's ongoing investigation of his finances, a self-pardon – which many scholars believe is legal – would shield Trump from any federal prosecution connected with either his business or political activities as president.
It's unclear, though, why Trump might think a pardon would be needed to shield either Donald Trump Jr., Eric Trump, Ivanka Trump or Kushner. Giuliani, however, has been the target of federal investigators looking into his activities in Ukraine, which led to Trump's impeachment last year.
So could Trump slip in a little Chris Collins clemency among what would be a number of far more headline-grabbing pardons? Jeffrey Crouch, an assistant professor of American University, said he didn't know enough about the Collins case to speculate. But Crouch knows enough to say one thing.
"This may be the time in Trump's presidency that he is the least accountable for controversial clemency decisions: as he has already lost his reelection bid, has already been impeached and has just weeks remaining in office," said Crouch, author of a book called "The Presidential Pardon Power." "He is likely receiving lots of clemency requests, and it's anyone's guess who will ultimately receive a pardon or commutation before noon on January 20."