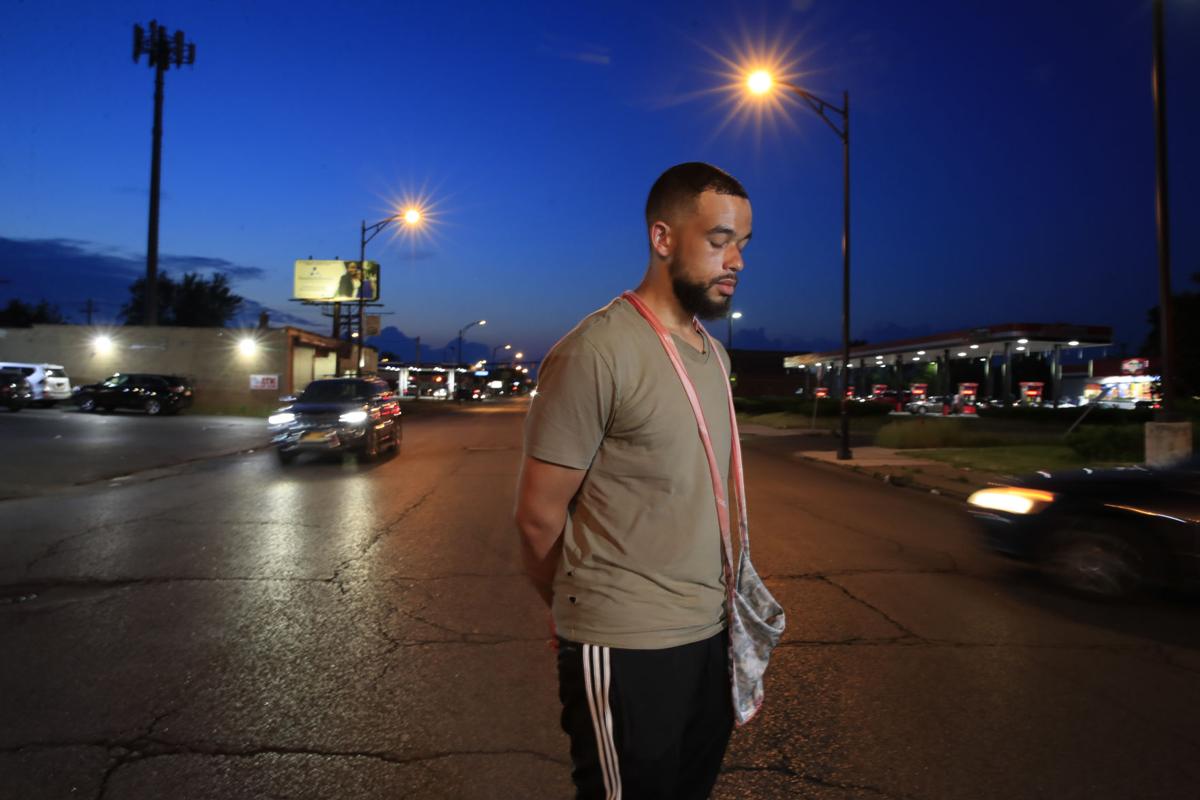 Myles Carter stood in the middle of Bailey Avenue, a busy thoroughfare on Buffalo's East Side. The cool June night was illuminated by street lanterns and police car lights. The sounds of footsteps and barks cut through the air. Carter held his hands up, looked toward a WIVB camera, and started to explain why he was out protesting that night.
Nine seconds after he started talking, Carter was tackled to the pavement by police.
Everything the 30-year-old had lived to that moment would be channeled into what came next.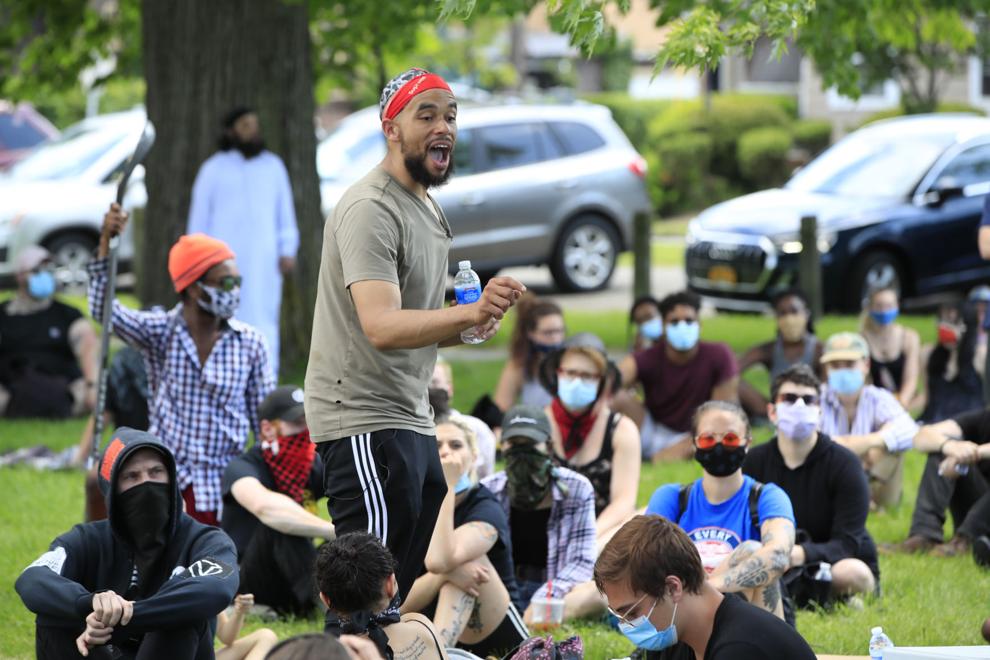 Carter is a parent and a business owner who grew up with a Black father and white mother. He spent time in the foster system, and had interactions with police throughout his life. He went to college and became part of corporate America. He was arrested for protesting against police brutality that he later said "is alive in Buffalo just as much as it's alive in Baltimore. Just as much as it's alive in Minneapolis." Carter was briefly jailed in the Erie County Holding Center and charged with obstruction and disorderly conduct. Over the next few days, he decided to speak out.
That Friday, Carter held a news conference, convened by the New York chapter of the Council on American-Islamic Relations at Schiller Park on the East Side. He was supposed to read a brief statement. Instead, Carter launched into a 45-minute unscripted speech, pointing out that as the nation protests the death of George Floyd, the Black man killed beneath the knee of a Minneapolis police officer, Western New York needs to look inward.
He pointed to the case of Quentin Suttles, a 30-year-old man who was arrested in May by Buffalo police officers who pinned him beneath a vehicle and repeatedly punched him. He spoke about Courtland Renford, the 20-year-old Buffalo man facing federal charges for allegedly throwing a firebox through a City Hall window during a protest. Renford could go to prison for up to two decades if convicted.
"How many lives were lost because of the firebox that he threw? Zero – but you want to take his life away," Carter said, urging for Renford to be released from jail and provided "the treatment he needs to make sure he doesn't go through this again. And we will make sure that we save a Black life, instead of destroy it."
Carter also spoke of Deyanna Davis, a 31-year-old mother whose life changed that same evening of June 1, just feet from Carter moments after he was tackled. Davis, who was driving an SUV, was shot multiple times and plowed through police. She was arrested and is jailed in the Erie County Holding Center, where she is recovering from her wounds.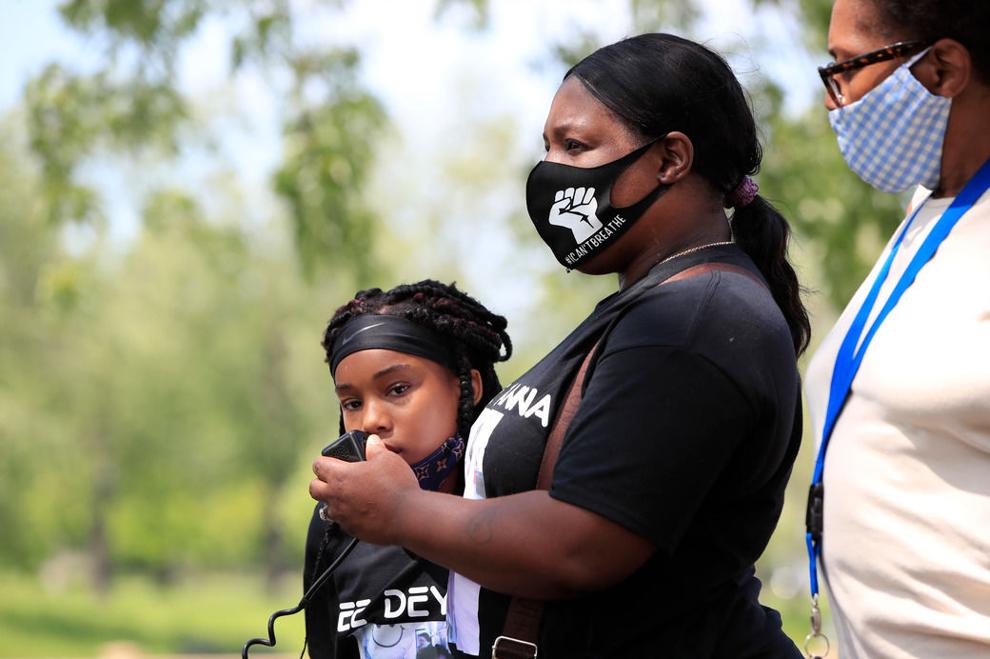 "I'm told if I act angry – which I should be – that you guys are going to paint me in a negative light," Carter said to the assembled media. "If I act angry, because I was maliciously tackled by the police during a peaceful protest, I might look like the bad guy."
It was apparent that day – and every day since – that Carter has little patience for appearances, diplomacy or politics. He has been leading protests around the city where he delivers impromptu speeches imploring elected officials to take action. He calls out politicians, particularly Mayor Byron Brown, who had referred to Carter as "an agitator" trying to rile up the crowd on Bailey Avenue on June 1.
Carter, who is scheduled for a July 17 arraignment on the charges from that evening, tells the story differently. After he was tackled, Carter said, he looked up from the pavement through a cloud of tear gas, he saw an SUV advance through a line of police officers. One went over the hood. Another was under the vehicle, and Carter said he saw him get dragged. One of those officers, New York State Trooper Ronald Ensminger Jr., suffered a broken leg and shattered pelvis and was hospitalized for nearly three weeks.
Later, Carter learned that the woman who drove the SUV into a line of police was Davis. She was his age, and like him, has young children. (Davis has four; Carter five.) Unlike Carter, who came out that night to join his siblings in speaking out against the violent arrest of Suttles, Davis wasn't there to protest. She was driving home from a funeral, her family later explained. The order of events that followed is murky and will likely be unraveled in court, but it is clear that Davis was shot multiple times. If that happened before her SUV accelerated through the police, it could be construed as an accident. Carter, and some observers and people who have seen the video, believe it was indeed that – an accident. Prosecutors disagree, and have levied multiple charges on Davis, including first-degree attempted murder.
Carter – active on the East Side through his mosque by helping raise $120,000 for a playground and supporting the development of a domestic-violence shelter – decided to start speaking out. He felt the outrage protesters were expressing that night could still be expressed peacefully, and says that is why his hands – and others' hands – were in the air.
"I was really angry at the police officers because, you know, everything could have been a lot different had that whole interaction on Bailey Avenue gone down differently, right?" he said. "And now you see how many lives are affected."
Carter, who graduated from Amherst High School, was the second-oldest in a family of seven children. His late father, Robert, was a dry cleaner and onetime member of the Black Panthers. Myles Carter has mixed memories of his father, who suffered a stroke and was paralyzed when Carter was a child and died about eight years ago. In his younger years, Robert Carter had legal problems.
"He did his time as far as selling drugs and being on drugs," Carter said, "and serving time in prison. All that stuff occurred before I was born."
Carter remembers learning from a young age that that "we have to build ourselves, we have to better ourselves, and we have to help those around us." Still, challenges persisted during Myles' childhood and his parents separated.
When Carter was a preteen, and with his mother struggling to care for the family and running into her own legal problems, the Carter children were placed in foster care.
"School was always like my safe haven," he said. "All my brothers were running out to the streets, I was going to school."
The story wasn't poetic. When he was 12, Carter ran away from his foster home and was gone nearly three months. "But I realized I was missing too much school," he said.
Carter turned himself into police, whom he recalls arresting and handcuffing him. As a student at Amherst High, he was arrested for fighting, and later again as an adult he was arrested in an altercation that he said happened as a group of guys jumped his brother outside a house.
Those legal issues didn't define his adult path.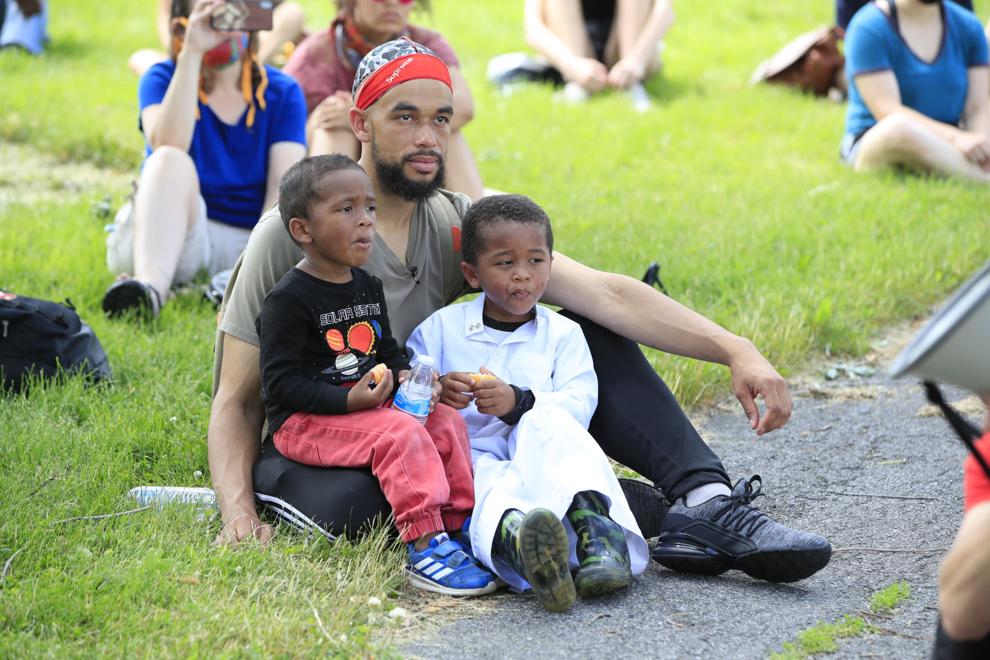 Carter graduated from Amherst in 2008. He went on to work for Bank of America and attend Medaille College, where he graduated in 2012. He became an early employee of Solidifi, a company that provides valuation and closing services in the mortgage industry, and went on to start his own property-inspection business.
"I'd be lost not to recognize that I made it out," said Carter, who lives in Tonawanda but is moving to Buffalo. "I made it out for myself ... to come back and lend my voice and lend my hands to my brothers and sisters that haven't. Because I literally have brothers and sisters that haven't."
On a late June afternoon, Carter joined another community activist, Dominique Calhoun, and the Coalition of Concerned Citizens for a news conference outside the office of Crystal Peoples-Stokes, the Buffalo Democrat who is majority leader of the New York State Assembly. That position makes Peoples-Stokes, who is Black, one of the state's most influential legislators. With a cadre of cameras in front of them and about a dozen supporters behind them holding signs with names such as "Deyanna Davis" and "India Cummings," a woman who died in custody in the Erie County Holding Center, Carter and Calhoun reviewed a list of demands for police reform as Peoples-Stokes joined them.
The demands, which Calhoun developed by speaking with community and religious leaders, educators and police, included creating an accountability board, reforming internal affairs reporting, greater availability of body camera footage, abolishing pretextual traffic stops, supporting Mayor Brown's directive to not arrest people for low-level offenses, emergency renegotiation of the police union contract and greater accountability for police. The final two items on the list were not charging Courtland Renford with a federal crime, and granting compassionate release to Deyanna Davis so she can recover at home. (Three days later, a federal judge ordered Davis into home confinement, pending her posting bail in federal and state cases.)
Peoples-Stokes voiced her support and noted that some of the reforms were addressed in legislation passed in Albany this month. She pointed out, too, that support from Republicans was notable.
"The people came out and demanded it, and they didn't all just look like us," she said, motioning to Carter and looking at a group of young Black men standing behind them, holding signs with names and messages such as "STOP Police Brutality" and "STOP Killing Us." "They looked like other people. And so those same guys who voted against something for five years, or more, voted yes for the exact same police reform."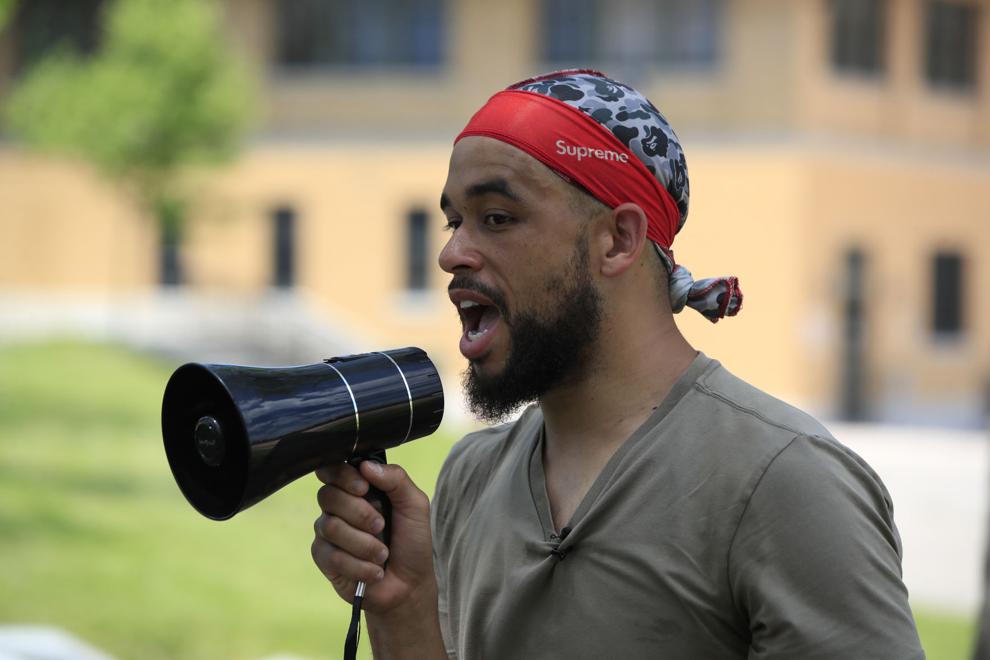 Carter, separately, has pointed out a similar observation: Black Lives Matter protests this month have included a strong contingent of people who are white.
"I feel racism is going away," he said. "White people, Black people, Hispanics, Asians – everyone is coming together behind this cause of Black Lives Matter."
Racism that does still exist "is one component of the structure," he said, but not the core issue.
"I'm not going to focus on racism," Carter said. "That's somebody's personal feelings – and I really don't care about people's personal feelings when it comes to justice and to real criminal justice reform." His focus is changing "the laws and the policies that are in place that are affecting Black people."
Carter is rarely diplomatic about it. During the press conference outside People-Stokes' office, he looked at the majority leader – who moments earlier, had politely admonished him for talking over her while she held the microphone – and said, "I'm passionate when I speak about it, because our people have been given the short end of the stick. Our people have been getting the short end of the stick, along with the Native American people, along with Hispanics, along with all the other brown people in this country. We've been getting the short end of the stick, and we are taking the microphone and we are demanding change because the change has not been coming fast enough and we are still dying today."
Carter turned to the cameras.
"Our people are being fed into the criminal justice system today at the hands of police brutality, at the hands of district attorneys, at the hands of judges, at the hands of elected officials," he said, his cadence hastening. "Our people are being fed into the only institutional form of slavery that still exists."
A man behind him interjected, "That's right, brother! That's right!"
Carter continued, his voice increasingly intense: "Highly affecting black and brown people. So yes, reform is needed. Yes, legislation is needed. But time is not a commodity that we have to waste anymore."
At the press conference, Peoples-Stokes emphasized that current and coming legislation in Albany will help address many of the issues around policing, save for those that must happen at the city level, such as reworking the Buffalo police contract. In a call later that week with The News, she addressed Carter's sense of urgency for reform. Change, Peoples-Stokes said, "doesn't happen because you emotionally feel it's the thing that should happen. It happens because people are saying the same thing at the same time."
That appears to be happening – across the country, in Albany and in Buffalo.
At the end of the news conference outside People-Stokes' office, Carter asked the majority leader, "Do you support the compassionate release of Deyanna Davis?"