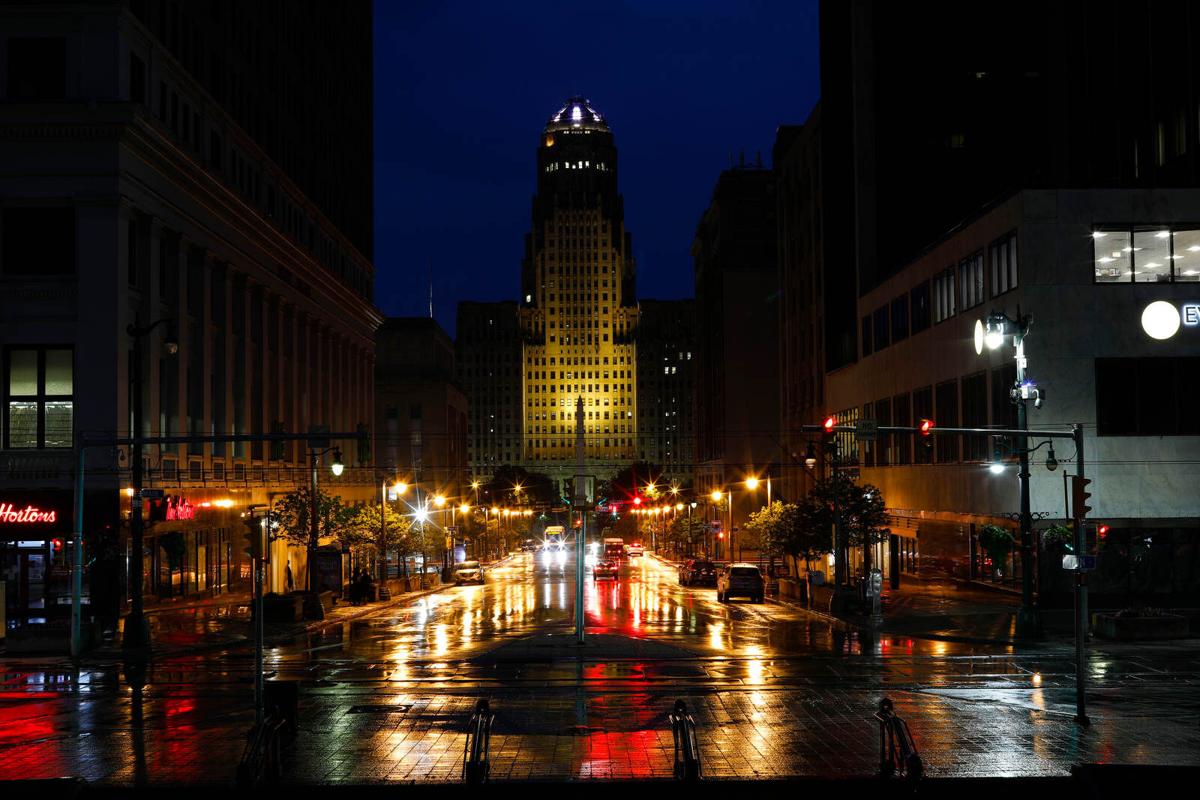 WASHINGTON – As Congress dawdles and debates about whether to help local governments that have been sick with the novel coronavirus for months, county and municipal officials fear their budgets will soon be sicker than ever.
Counties, short of sales tax revenue since the springtime shutdown shuttered restaurants and retailers, now face a new worry: costs associated with vaccine distribution.
Meanwhile, the City of Buffalo is staring into a budget hole where it thought millions of dollars of federal aid would be. And cities and towns throughout the region have already trimmed payrolls and raised taxes to deal with their shortfalls, which could grow worse amid the pandemic's second wave.
All this is happening just as extended unemployment benefits, an eviction moratorium and other federal aid programs are set to expire around the end of the year – which would once again increase the burden on counties and localities.
Buffalo Mayor Byron W. Brown summed up what many local officials fear amid the congressional stalemate over state and local aid.
Unless Congress acts, "the crisis will be at a depression level," Brown said.
Counties have been on both a buying spree and a strict budget ever since the Covid-19 pandemic began. They had to load up on personal protective equipment and make other expenditures to prepare for the pandemic just as a drop in sales tax revenue forced them to trim other expenses.
Now they see a necessary and welcome extra cost headed their way: the cost of managing a big chunk of a massive vaccination effort. They have no idea how much money it will take or how to pay for it. 
"We need a second round (of federal aid) to not only address what is the second wave of the Covid-19 outbreak, but to also help local governments that are going to be the front lines with the vaccine delivery," Erie County Executive Mark C. Poloncarz said last week at an online event sponsored by the New York State Association of Counties. "Without it, we're going to be put way behind the eight ball."
Erie County got a fiscal boost early in the pandemic because of a quirk in the $2.2 trillion Covid-19 relief bill Congress passed in March. That legislation parceled out aid to localities with a population of more than 500,000, meaning that Erie County came away with $159 million while other Western New York counties got shut out.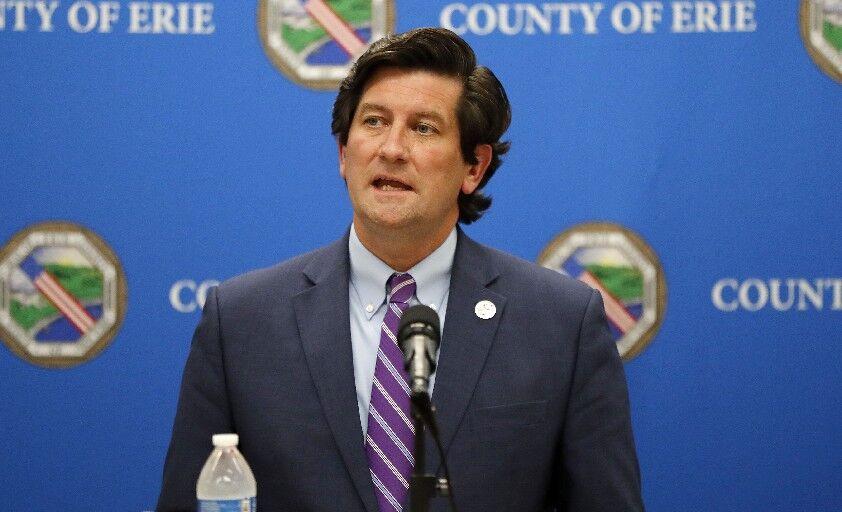 To cope with Covid's increased costs and a decline in revenue, Cattaraugus County delayed projects and hiring. And as the pandemic deepens, County Administrator Jack Searles said he is concerned that job cuts may follow.
"How are we surviving? We are seeking efficiencies wherever possible, we are struggling to maintain services and staffing against one of the highest levels of positivity in the state," Searles said. "Throughout this, our essential workers, who are beyond burnout, keep plugging away and keep us together. While we have proven to be more than resilient, we are beginning to fray around the edges. The current level of effort and the sacrifice of our staffs and businesses cannot be maintained without some reprieve and some assistance."
Chautauqua County Executive Paul M. Wendel Jr. agreed, noting that vaccine distribution will only further strain county finances unless the federal government provides some help.
"If we have to execute this, we need their assistance," Wendel said. "Right now we need to hire more people, and the funding to do that is limited."
It ought to be a no-brainer for the federal government to provide that assistance to counties, said Marc Molinaro, the Dutchess County executive and president of the New York State Association of Counties.
After all, "vaccine distribution and vaccinations may be the most critical job county governments will have ever played," Molinaro said.
Trouble in cities and towns
While cities and towns don't face the same looming burden that counties face, they each face a unique fiscal reckoning.
Buffalo, for example, drew up its current budget assuming that it would get an additional $65 million in Covid-19 relief from the federal government. But nearly halfway through the city's fiscal year, that money is nowhere in sight.
So far, the city has been able to avoid layoffs and service cuts by freezing spending and trimming overtime costs while applying for every state and federal grant it can find.
But the cost savings produced by those moves are limited and coming to an end, said Brown, the city's mayor. Asked if the tightening money situation might force job cuts, Brown said: "It's certainly possible. We don't want to get to that point."
To avoid that point, Brown said the city needs federal help – especially given the fact that the demand for city services won't let up as the Covid-19 pandemic deepens. Brown worries that the city government and other localities will be under even more stress if Congress doesn't both provide stimulus money while extending the unemployment benefits and eviction moratorium that are set to expire.
"This is a crisis point now," he said. "We're already reading stories from other parts of the country where people are in food lines in their cars for hours, where people are stealing from grocery stores because they can't afford to buy food."
Niagara Falls Mayor Robert Restaino worries about the coming months, too. His city is managing the fiscal pinch through a 3.4% property tax hike for homeowners and a 1.5% hike for businesses, along with a few job cuts in youth programs and senior centers. But he said federal aid is needed in many communities to forestall further tax hikes that would push the fiscal burden onto those who can least afford it.
"The only way that local governments can continue to sustain services is by an increase in tax – and as you increase tax, of course you will increase rents," Restaino said.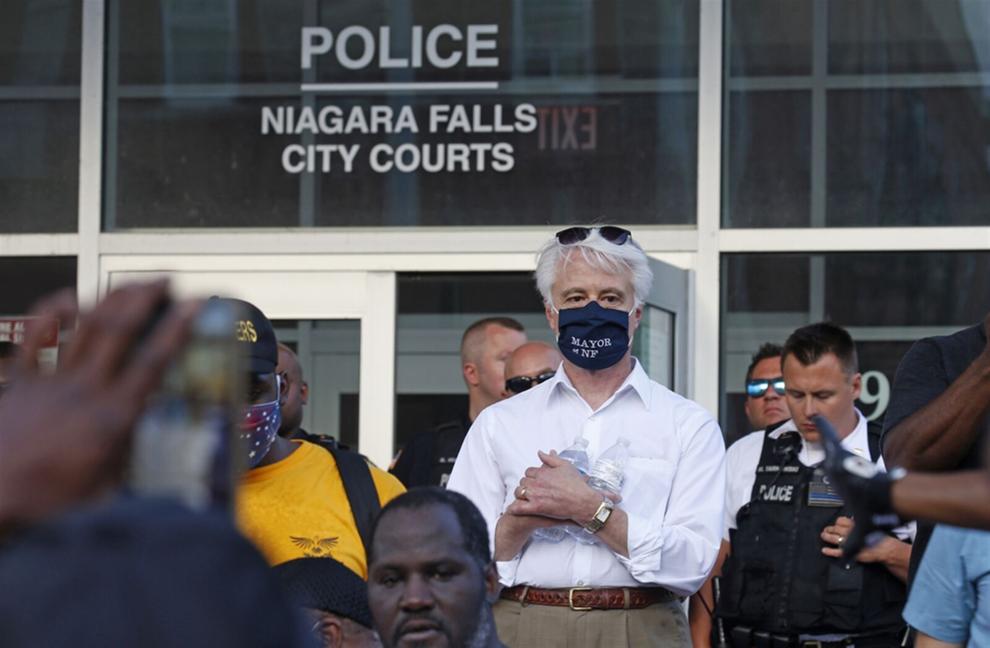 Renters in Amherst may well notice that, given that the town had to boost property taxes nearly 7% to help patch the hole in its budget. Supervisor Brian Kulpa said he hopes federal funding comes through so he can propose a tax cut next year – but first he has to worry about rising expenses and falling revenues.
"Now we're staring at maybe another round of Covid-related expenses right?" Kulpa said. "And we continue to lose revenue because things shut down. You know, we lost a million dollars on our ice rink this year. I mean, that's a lot of money."
Other towns haven't implemented such large tax increases, but have taken other big moves. The Town of Tonawanda furloughed more than 400 part-time employees, and Supervisor Joe Emminger said he is still looking at more budget tightening.
"I've said no a lot more over the last eight months, and I will for the next six months, at least," Emminger said.
Despite all that budget-cutting and hand-wringing in local communities, the congressional debate on state and local aid remains where it's been since May: mired in stalemate.
Senate Majority Leader Mitch McConnell, a Kentucky Republican, has resisted state and local aid for months. This week, he deemed it too "controversial" to be included in any Covid-19 relief package.
McConnell has also insisted that any relief measure relieve companies of liability for their actions connected to the pandemic. And McConnell's chief Democratic rival, Senate Minority Leader Charles E. Schumer of New York, said that liability issue is what really stands in the way of Covid relief legislation.
"It's an unconscionable position: no relief for the American people unless corporations receive blanket immunity from lawsuits," Schumer said.
While McConnell is by no means the only Republican who opposes state and local aid, there's bipartisan agreement among New York lawmakers that that money is needed. 
Rep. Tom Reed, a Corning Republican who co-chairs the meet-in-the-middle Problem Solvers Caucus, has been pushing for such funding for months. His group has now signed onto a $908 billion Covid relief bill that would set aside $160 billion for state and local governments.
Reed said he fears widespread local government layoffs if Congress doesn't help.
"Generally the consensus is that that's pending, but coming down the pipeline," Reed said. "That is a reality we are facing if nothing is done on state and local."
Rep. Brian Higgins, a Buffalo Democrat, agreed. He likened the need for Covid relief to the need that localities face in other emergencies such as blizzards and hurricanes.
"This is disaster aid – you know, money for vaccines, the infrastructure to do all of that. This is a federal government responsibility," Higgins said.
Rep. Chris Jacobs, an Orchard Park Republican, said he constantly hears from constituents not only about the need for local aid, but for help for small business owners and the unemployed.
"I think that I think every elected official, whether it's a senator or congressman, is hearing from their constituents, hearing how severe things are," Jacobs said. "And I just I hope that when lawmakers go home this week, they're going to hear from constituents and then really do a lot of soul-searching – especially those in leadership, both in the House and the Senate – and come back and earnestly get this done."