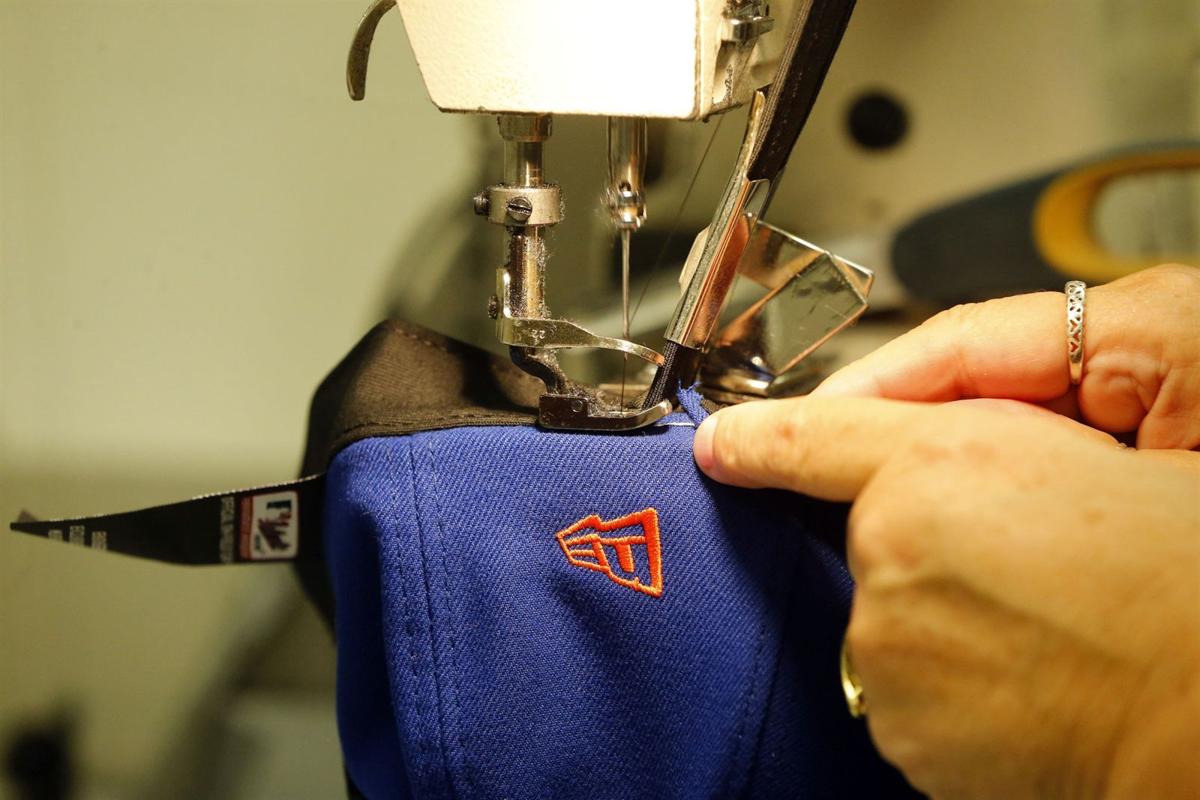 News that New Era Cap plans to shut down its Derby manufacturing facility in March shocked the plant's 219 workers, jolted the union that represents them, and angered politicians and residents this week.
Most of the caps manufactured in Derby, up to 4 million a year, will now be made by third-party manufacturers overseas. A small number of those caps – the ones worn by Major League Baseball players for games – will be made at New Era's plant in Miami.
Digital Engagement Editor Qina Liu collected questions from readers, including whether New York State taxes played a role in the decision, how much the company pays for naming rights for New Era Field and how many jobs will be lost. The answers, written by News staff reporter Tim O'Shei, are based on interviews with sources in and close to the company.
The company released a media statement but didn't make officials available for an on-the-record interview.
From @john71105/Twitter: I'm still confused as to why they have to close a plant in America in order to fulfill a contract that requires hats be made in America. 
O'Shei: In the interest of being precise, two clarifications: New Era doesn't "have" to close this plant, nor are they doing it to fulfill a contract. They are choosing to do it, and they're moving a small portion of their work in Derby to Miami in order to fulfill a contractual obligation.
Why are they closing the Derby plant? Company officials would tell you it's because New Era has become a company focused on design and branding, with more of a focus on social marketing and e-commerce than on the actual manufacture of a product. New Era officials believe someone else can make their product, and that's already happening. More than 60 million of the about 65 million pieces of headwear New Era produces each year are made by third-party manufacturers. That means New Era designs their caps, has someone else make them, and then buys them from that manufacturer.
New Era has a deal to be Major League Baseball's exclusive provider of the caps players wear on the field. As part of that contract, those caps need to be made in the United States. That work – and only that work – is being shifted from Derby to Miami, where New Era has a facility that specializes in screen-printing apparel.
New Era officials would also tell you this is a decision about the company's focus, not about costs. But as with everything in business, money matters. In his media statement, CEO Christopher Koch said, "I have an obligation to our employees, partners and customers to ensure the long-term success of this company and we need to keep pace with changes in our industry."
Having the right focus drives "long-term success." But so does money, including how much you make, and where you spend it. By closing the Derby plant, New Era is saying they don't want to spend money on this anymore. 
From John Bisci: New York State taxes? 
O'Shei: Hard to say. I've yet to meet a businessperson who doesn't think New York's taxes are too high, but that didn't come up in my discussions with New Era officials. If they have a real problem with it, we'll probably hear about it in relation to their downtown Buffalo headquarters, where they employ 337 people.
From Philip Bousquet: Is this a ploy by New Era to regain tax incentives?
O'Shei: We're told no, the company isn't interested in tax breaks for the plant. That doesn't necessarily include its downtown headquarters. Those offices aren't affected by this announcement; it's conceivable (but not imminent) that at some point, New Era could seek incentives there.
From Richard Romano: Trump's fault again? 
O'Shei: Koch spoke out this fall against President Trump's China tariffs, but insist those didn't affect this decision. They say the plant closure was under deep consideration well before the trade war with China heated up last summer. But others, including Rep. Brian Higgins, a Democrat whose district includes New Era's downtown headquarters, suspect otherwise.
From @coryzale/Twitter: Did they receive any public money to open this plant?
O'Shei: New Era has benefited from multiple inducement packages over the years, which company officials tell me helped keep the plant viable longer. But they're not seeking one for the plant now.
From Martha Richter: It's always about the money. Why wasn't the Derby facility brought along to be up to date and competitive? Shame on the company leadership. This will be a huge impact on this area.
O'Shei: It's heartbreaking. And while I can't speculate on what was or wasn't done to update the plant, this thought comes to mind: New Era has known for years that its business was moving away from manufacturing and into marketing and branding. The way they spend their money – from hiring to advertising campaigns to licensing deals to parties – reflects that.
From Phil Anders: Are they a publicly traded company?
O'Shei: No. New Era is privately held and family owned. Chris Koch is the fourth-generation leader. I asked him a couple years ago if he'd consider going public, and he said no. He noted that while he'd profit from the move, it wouldn't change his lifestyle and that he enjoyed the work the company is doing.
From Buffalo Wing Wear: Will New Era no longer sponsor the Bills football stadium or will it still be New Era Field? #SeriousQuestion
O'Shei: That deal was signed in 2016 and lasts seven years. There's no indication it's changing.
From @Neillhaseleyjr/Twitter: And how much was spent on naming rights to New Era Field?
O'Shei: New Era reportedly pays $5 million to $7 million a year.
From Kelly Nicole: And why did they spend tens of millions of dollars on the naming rights to the Buffalo Bills stadium if they couldn't even afford to keep their local manufacturing plant open?
O'Shei: If New Era officials were speaking on record this week, we'd ask them. Best guess: The stadium name is marketing — and that's New Era's focus. Remember, it's not that New Era won't spend money. They just don't want to spend resources – presumably including money – on running their own cap-making plant.
But with all this talk about money and focus, let's also acknowledge this big, open question: New Era has to sell a lot of caps to pay for things like the stadium naming rights, splashy ad campaigns, executive salaries, a private jet and more.
Officials told me this week that the company is still profitable and revenues are growing. But New Era is a privately held company, so we can't independently verify or quantify that. We can only take their word and watch their actions.
From Lou Vallone: Just a thought. They now name the stadium. Is this a money swap or forfeit of the plant money to name the stadium?
O'Shei: Interesting question. People close to New Era have speculated on whether the company overpaid for the naming rights, but given that it's privately held, I can't answer that without purely guessing.
From Mikki Tourot Tutterman: Didn't they close a plant years ago and lay off many employees?
O'Shei: Yes. New Era shut down its unionized operations in Alabama one decade ago. In 2004, the company closed a 340-employee factory in Buffalo.
From @lisseibel/Instagram: Where is the plant moving to? Or the work? 
O'Shei: The work is moving mostly overseas, with a small portion going to Miami (see above). The plant isn't moving at all.
From James McMahon: What is happening to the employees?
O'Shei: Most or all are losing their jobs. New Era is working on severance packages with the union, and says it will be helping connect its workers with potential future employers. I'm told more is to come soon on that.
From @mmcorcha/Instagram: How many jobs will be lost? 
O'Shei: The plant has 219 workers; 192 of them are represented by the Communications Workers of America.
From @k__a__f/Instagram: Are the workers of the Miami represented by a union? 
From Sandra Hogan: So on-field caps have to be made in the USA. Where are the millions of off-field caps, worn by Americans (and others), manufactured?
O'Shei: New Era has built a big global supply chain. Right now, most of its caps are manufactured in China, Vietnam, Bangladesh and Haiti. The vast majority of the work now done in Derby will be sent to manufacturers in those countries.
From Tom Grossman: Where is the New York State governor? What's Cuomo doing to retain New York State jobs? 
O'Shei: I can only offer this: Politicians can only retain jobs with companies that want or need those workers. New Era is cutting workers, not moving them. It's a key difference, and one that takes away public officials' ability to negotiate. Only a 180-degree switch in thinking by New Era would change that.
From Ann Morton: Why do they always wait just before the holidays to make this announcement? Just saying.
O'Shei: I wish I could say. End-of-year fiscal decisions, perhaps? It's worth noting, too, that New Era is contractually obligated to inform the CWA of its intentions and leave open a period of time for discussion. Company officials tell me those talks are unlikely to change the result, but the advance notice is required. Waiting any longer could push the plant closure into baseball season, which presumably would interfere with the transition of Major League Baseball work to Miami.