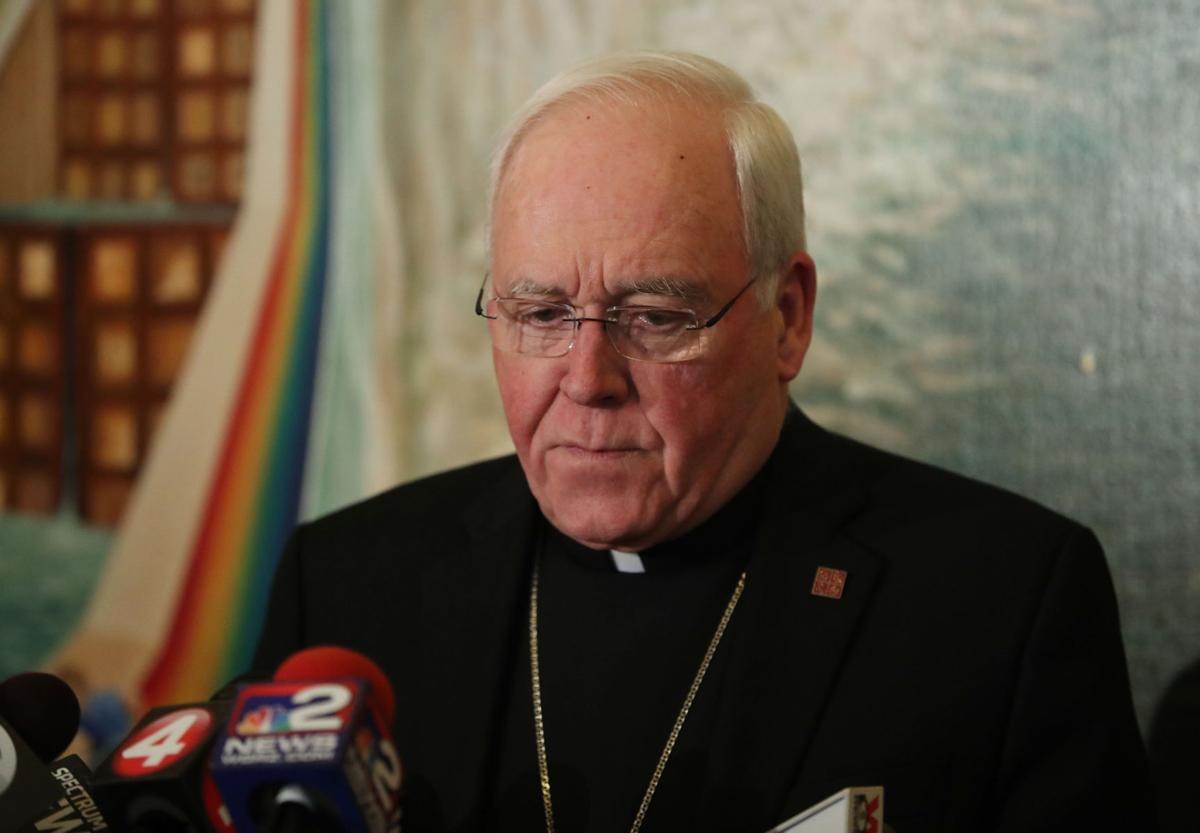 It's been two months since The Buffalo News first reported that a retired priest from the Catholic Diocese of Buffalo admitted that he sexually abused "probably dozens" of teenage boys in the late 1970s and early 1980s.
Since then, The News also has published more than 30 stories related to the sexual abuse scandal within the Catholic Diocese of Buffalo.
Among The News' findings:
Bishop Richard J. Malone announced April 17 that his residence at 77 Oakland Place will be sold to help pay victims of clergy abuse. The diocese has created a new program to compensate victims of clergy sex abuse who reported accusations before March 1.
Readers had questions about our ongoing coverage on the sex abuse scandal, so we caught up with reporter Jay Tokasz and editor Mike McAndrew.
Question from Sandra Golata Harrity, Antonietta Tyrpak, Lisa King, Mary Williams, Karen Sabatini and Teddy Kielbasa: Why aren't these priests in jail? Too much time passed?
Tokasz: The Buffalo Diocese's release of the names of 42 priests who were credibly accused of sexual abuse of minors happened only recently, in March. The abuse is alleged to have happened, in many cases, decades ago. At this point, we do not know exactly when diocesan officials were made aware of a priest's suspected abuse. Decades ago, even if alleged abuse was reported to the diocese, it often was not reported to police or district attorneys for prosecution. Simply put, it's likely too late for prosecutors to do anything about the cases that involved the 42 priests, many of whom are dead. But laws have changed in recent years to allow more prosecutions in the future. State lawmakers eliminated the statute of limitations on first-degree felony child sex abuse offenses. For lesser charges, the statute of limitations remains at five years, starting from the date the victim turns 18.
McAndrew: Of the 42 priests identified by the Buffalo Diocese as having credible allegations against them, The News knows of only one who was arrested. That priest was sentenced to probation after pleading guilty to attempting to sexually abuse two teenage boys.
Question from Jeff Turton: Why aren't priests paying directly to settle sex abuse allegations? I have heard of many of them that have retired as millionaires?
Tokasz: I'm not aware of many priests retiring as millionaires. The current salary range for priests in the Buffalo Diocese is $24,000 to $31,500 per year, depending on years of service, which isn't exactly millionaire-making pay. The Diocese of Buffalo, on the other hand, has an investment portfolio of more than $47 million.
Question from Robert Johnson, Jon Cers and Phyllis Brewer: Why does the bishop of the Catholic Diocese of Buffalo live in a mansion in the first place? 
Tokasz: Diocesan officials and some Catholics maintained over the years that the Oakland Place mansion allowed the bishop to host functions that raise tremendous amounts of money on behalf of Catholic causes and charities, without having to spend money renting space. The mansion's many bedrooms also were used to host visiting out-of-town guests of the diocese. The diocese also probably didn't mind the image of power and success implied in its ownership of one of the finest homes on one of Buffalo's most exclusive streets, especially when soliciting wealthy donors for gifts to the church.
Question from JoAnn Brennan:  There are nine bedrooms and six bathrooms in a home that has over 11,000 square feet. How many are in residence there? Just the cost to maintain it and pay the staff must be quite high.
Tokasz: Over the years, the bishop has lived in the residence, usually with his secretary and with the diocesan chancellor, a high-ranking administrator. I don't know the cost to maintain the residence. The diocese does not make public a line-item accounting of its expenditures.
Question from Bob Garbacz: Can anyone from The News ... find out if all these priests were originally from this area or if they came to this area?
Tokasz: Most, if not all, of the 42 priests on the list were originally from Western New York.
Question from Kathy Lewandowski Seely: Will The Buffalo News be publishing the number of allegations against each priest? When will all the priests be included on the list and not just dead priests that have two allegations?
Tokasz: We don't know the exact number of allegations against each priest. The diocese has not released any more information beyond the names of the credibly accused priests. The list of 42 priests provided by the diocese included 17 priests who are alive. However, diocesan officials in 2003 said that they had compiled a list of 53 priests who had been credibly accused, so there's a discrepancy of 11 priests who we know the diocese has not named. Bishop Malone said earlier this week that the discrepancy is due to so-called order priests that do not technically report to a bishop but instead are part of a community of clergy that is led by an elected provincial minister. The News has compiled its own list of credibly accused priests that served in the Buffalo Diocese. That list includes both diocesan and order priests and has 58 names. 
McAndrew: The News' list does include a priest accused of having unwanted sexual contact with an adult and one accused of exposing himself to adults. It includes others who served in the Buffalo Diocese and were later accused of molesting children while working in dioceses elsewhere. It also includes some who were accused of possessing child pornography but not of having sexual contact with children.