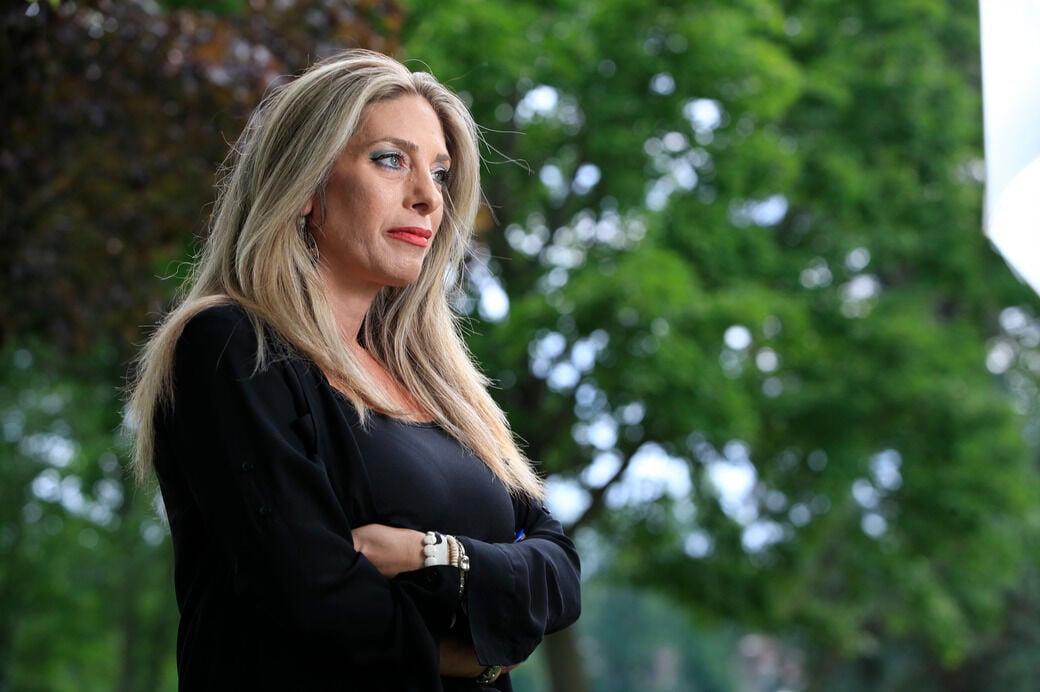 Sarah Esposito's job disappeared when the Covid pandemic tanked the hospitality industry.
The mother of two had earned $1,096 per week before taxes as a hotel office manager in Niagara Falls. With the CARES Act's $600 supplemental unemployment payment, Esposito was able to recoup her salary plus $8 on unemployment, receiving $1,104 before taxes. The hotel industry is still in the dumps but, now that the extra benefit expired Friday, her weekly unemployment check has shrunk to $504. 
"I cannot live on that. It's not possible for me," said Esposito, 43, of East Amherst.
Workers like Esposito, sidelined by the coronavirus, will find their checks $600 lighter this week than they've been since the CARES Act was signed into law March 27. It's happening at a time when roughly 30 million people are out of work and jobs are scarce.
The math works out like this: For every single job that is open, there are roughly four unemployed people. Things haven't been that bad since December 2011, when the nation was still recovering from the Great Recession, according to federal employment data. In all, there were 5.4 million job openings in May, nearly 2 million fewer than there were a year ago, when the economy was growing steadily and the job market was tight.
Rushing to get relief to American workers amid the crisis, the CARES Act awarded an additional $600 per week to workers across the board, whether they were heads of household with children or teenagers working part-time jobs. That meant some people ended up making more on unemployment than they did when they were working (which business owners said has made filling certain positions difficult), while others made less than they made at their jobs, even with the added federal benefits.
Christopher D'Arcy was a senior at Lancaster High School working part time at Regal Cinemas when coronavirus shut down movie theaters. His biweekly checks ranged from $88 during his team's football season, to about $800 during the theater's busy holidays. On unemployment, with the extra $600, he was bringing home $722 every week.
He set some aside, but he was still able to splurge on a thousand-dollar gold necklace and a new hard drive for his Xbox. He did try to find another job once he got bored staying at home, he said, but maybe not very hard. He had quit Tops to start at Regal so that wasn't an option. Wegmans turned him down after the second interview when they found out he had quit Tops, and Valu Home Centers never called him back, he said. Now that the enhanced benefits have expired, D'Arcy brings home $180 per week, and will likely continue to when he leaves town to start at Alfred State College this month.
Before the pandemic hit, Anna Olson of North Buffalo was an operations assistant for the Buffalo Sabres and also, during the summer, an experience manager at Live Nation. Both were dream jobs but, without sports or concerts, she has been "furloughed indefinitely," she said. 
"I love working for both companies so this is taking an emotional toll," she said. "I just keep hoping things start to turn around."
For her, the "extra" $600 was not extra. It actually left her $125 short. Now, without the enhanced benefit, she'll run $725 short every week. For now, she has to put off "badly needed" home repairs and is considering going back to school for industries that have not been as adversely affected by the pandemic.
"I have been joking that my home equity loan has become my emergency pandemic loan," Olson said. 
Leslie Fineberg, a public affairs organizer for a national nonprofit, had to leave her dream job, too. With the clock ticking on enhanced benefits, and having been furloughed for 11 weeks with no idea of when or if she would ever be called back to work, she began looking for a new job and put in her notice as soon as she got her first offer.
"I was forced to find another job and leave because I could not have survived without that extra $525," she said, referring to what's left of the supplemental payment after taxes were withheld.
It worked out. She loves her new job at another nonprofit and, as manager of development, even makes a higher salary.
The Coronavirus Aid, Relief, and Economic Security Act, a $2.2 trillion economic stimulus, was a bipartisan bill signed into law by President Trump at the beginning of the coronavirus shutdowns.
But Democrats and Republicans are divided on the next step, with talks continuing Monday. Democrats have been pushing for an extension of the $600 supplemental benefit. On July 27, Republicans proposed the HEALS Act, which would reinstate the Federal Pandemic Unemployment Compensation program at an extra $200 per week until Oct. 5.
After that and until Dec. 31, the supplemental benefit would amount to whatever it would take for a person's salary to reach 70% of their previous wages when added to their state's unemployment payout. 
For example, in New York State, a person making $65,000 per year (or $1,250 per week) being paid 70% of their normal salary would be paid $45,500 (or $875 per week) on unemployment. With New York State's maximum benefit at $525 per week, the enhanced federal benefit will total $350.
Under the same scenario in Florida, the extra federal benefit would be $600 per week. Both workers earning $65,000 would still earn 70% of their former pay, but, since Florida maxes out its unemployment benefits at $275 per week, the federal government would have to pitch in more to bridge the gap.