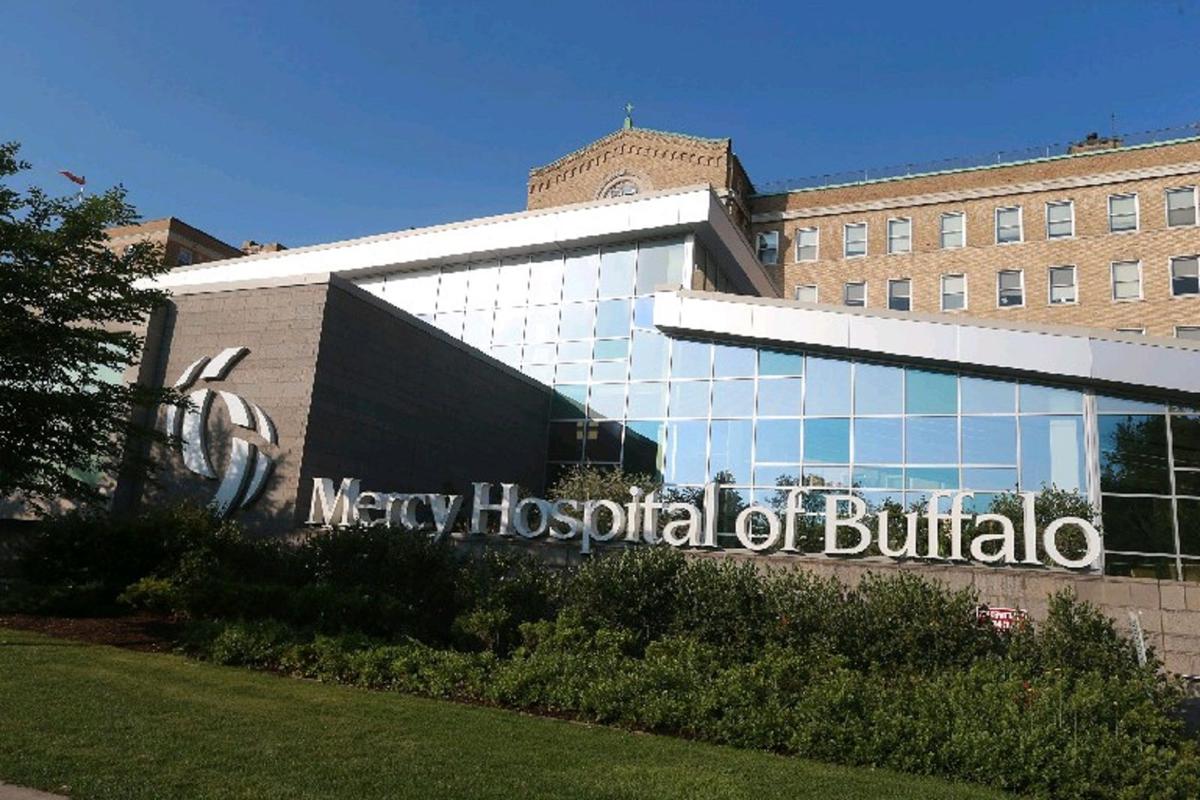 Western New York's hospital capacity is hovering around its lowest level for all of 2021, squeezed by Covid-19 cases and hundreds of workers losing their jobs or being put on leave because of the state's vaccination mandate.
And hospitals were bracing Thursday for even more capacity constraints with a possible strike by unionized workers at Mercy Hospital.
If a deal is not reached, it is expected that about 2,000 workers will be on the picket line in front of Mercy Hospital at 6 a.m. Friday.
Kaleida Health's hospitals and Erie County Medical Center warned about possible longer wait times in their emergency departments – and more pressure on its bed capacity – as Mercy suspended some of its services ahead of the possible walkout.
"The hospitals still have capacity, but that's also being a little bit threatened because of the impending strike with Mercy Hospital," said Dr. Gale Burstein, the county's health commissioner, at a county Legislature committee meeting on Thursday.
The timing of a potential strike is far from ideal. Covid-19 cases are rising at their fastest level since April and hospitalizations are at their highest level since late spring.
CWA and Catholic Health are negotiating six contracts covering 2,500 workers at three facilities, but under a previous agreement, a strike could only happen at Mercy. 
Western New York's percentage of available hospital beds, on a seven-day rolling average, was down to 27% from 39% in early July, according to data from the state Health Department. And the capacity of intensive care unit beds was 20%, down from 44% in late July and 32% as recently as a week ago.
Hospitals are already coping with staffing disruptions generated by the state's vaccination mandate for health care workers, which took effect Monday.
Hundreds of health care workers were either put on leave or let go as a result, exacerbating a staffing squeeze that hospitals already were grappling with because of a tight labor market that made it hard to hire new workers.
"It's a tough time for hospitals right now," Burstein said. 
Catholic Health vowed to keep Mercy open and operational in the event of a strike, using replacement workers.
Starting Wednesday, labor and delivery services will be suspended at the hospital.
Even so, Mercy this week trimmed some patient services ahead of a possible strike. Ambulances are being diverted from the South Buffalo hospital, although Mercy's emergency department remained open to walk-in patients. Mercy also has suspended labor and delivery services, pushing those patients to other local hospitals.
Kaleida officials said they already have seen some impact at its facilities, and have contingency plans in place to handle more patients.
"We are monitoring the situation very closely and working with our leadership team to ensure we respond when and where we can," said Michael Hughes, Kaleida's chief administrative officer.
Oishei Children's Hospital has seen an uptick in labor and delivery patients, and Gates Vascular Institute has handled more cardiac and stroke cases, Hughes said.
Ambulance traffic at Buffalo General Medical Center on Wednesday was "extremely high," and emergency department volumes at Kaleida's facilities were up but still manageable, he said.
The Communications Workers of America, which represents nurses, technologists and service workers at Mercy, ratcheted up the pressure in contract talks Monday when the union served notice of its intent to strike in just over a week.
ECMC as of Thursday had not yet seen an influx of patients due to the service cutbacks at Mercy, said Peter Cutler, an ECMC spokesman.
But ECMC has already cut back on services of its own, stemming from staffing reductions due to the vaccine mandate. The hospital has suspended inpatient elective surgeries and is limiting transfers of intensive care unit patients from other facilities.
With staffing already tight, Kaleida and ECMC are telling patients with less serious conditions to consider alternatives to going to the hospital.
Both are recommending patients who don't have critical care needs to consider consulting first with a primary care physician, going to an urgent care center and using telemedicine services.
Catholic Health noted that it was continuing to offer full patient services at its own hospitals aside from Mercy. It also has contracted with Huffmaster, a Michigan-based staffing agency, to provide registered nurses and other personnel to keep Mercy operating in the event of a strike.
The CWA on Monday gave Mercy Hospital a 10-day notice of its intent to strike, starting Oct. 1, if a new deal isn't reached by then.
"Our community needs us to make sure Mercy is open, as much as it can be to support their needs, and we had to take that prudent measure," said Mark Sullivan, Catholic Health's president and chief executive officer.