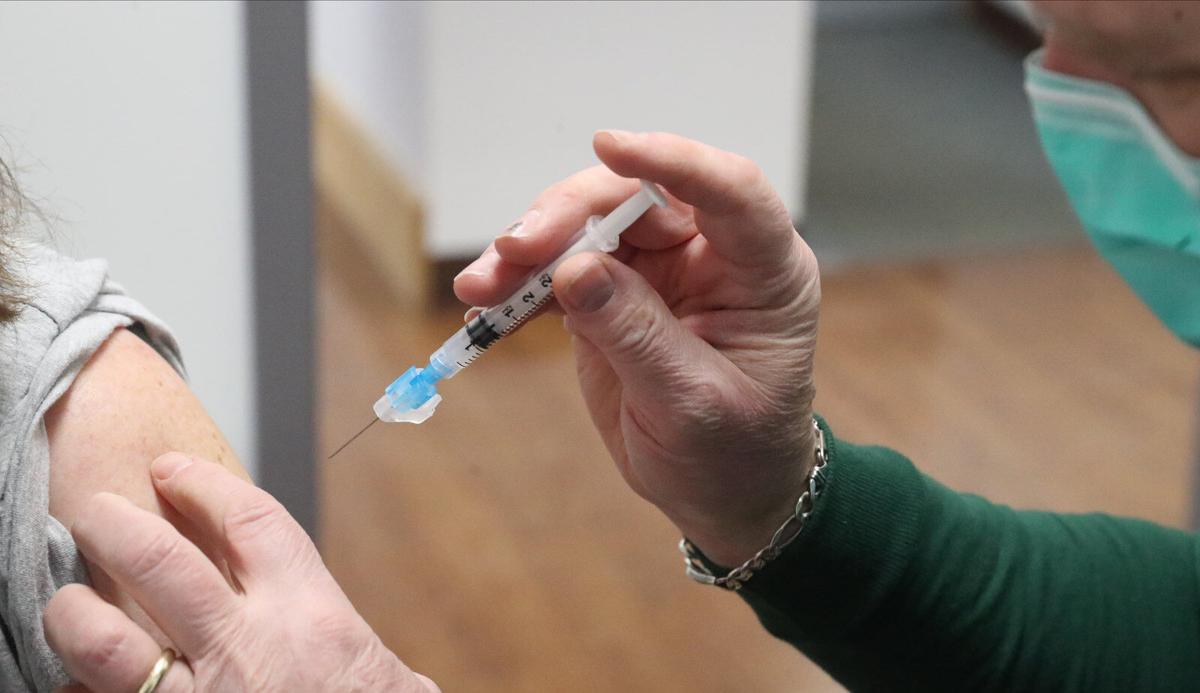 Herd immunity to Covid-19 is still many months away. But almost a full year after Western New York recorded its first case of the novel coronavirus, there are tentative signs that enough local people have acquired immunity to blunt the impact of the disease.
New daily case counts and hospitalizations have both fallen by more than half since the start of the year. The average test positive rate plunged from almost 9% to less than 2% in that same period. And the share of the regional population that has immunity to Covid-19, whether through the vaccine or by fighting off the disease, is growing rapidly as the rollout accelerates.
Last week, disease modelers at the University at Buffalo unveiled a model linking even low daily vaccination rates – as few as 2,000 second doses per day – to falling censuses at area hospitals. In the past week, local providers have administered more than 4,700 second doses per day, on average.
"There's a reason we're seeing those declines, and it has to do with the larger body of people that are protected through natural immunity or through the vaccine," Erie County Health Commissioner Dr. Gale Burstein said in a February interview. "We're already seeing a positive effect, just with a small number of people vaccinated."
These insights are part of a Buffalo News project to track and analyze critical Covid-19 metrics, expanded this week to include regional vaccination data. Using data from the state and local county departments of health, as well as the state Department of Education and the New York Times' national coronavirus database, The News is tracking the still-unfolding story of Covid-19 in Erie, Niagara, Chautauqua, Cattaraugus and Allegany counties.
Those data continue to look good, at least locally. On Monday, the director of the U.S. Centers for Disease Control and Prevention warned that a recent drop in national case counts appeared to be leveling off, perhaps due to the spread of new Covid-19 variants or a relaxing of social distancing measures. That is not currently the case in Western New York.
New infections here have fallen to their lowest point since early November, even as loosening eligibility rules at Erie County test sites yielded the region's largest single-day test numbers of the pandemic. Fewer than 190 Western New Yorkers were hospitalized with Covid-19 this week, a level last seen in November.
Meanwhile, the average test positivity rate – the share of all tests that come back positive over a weeklong period – has dropped to 1.8%, a fraction of the rate when the year began.  
Public health experts have credited the late-winter deceleration, both in New York State and across the country, to a range of overlapping factors, including the end of the holiday season and a continued emphasis on masking, social distancing and other preventative measures.
But there's little doubt that a growing slice of the population also has immunity to the virus. In Erie County alone, more than 63,100 residents – or roughly 7% of the total population – have contracted and recovered from Covid-19 in the past year, giving them some measure of natural immunity, though it's unclear how long that persists.
At the same time, almost 16% of county residents now have at least one dose of the vaccine, and almost 10% have both doses. Importantly, the vaccination rate among Western New York nursing home residents, perhaps the population most vulnerable to severe illness, is even higher: 54% for staff and 75% for residents.
Neither of these figures approach herd immunity, the threshold at which enough people in a given population are immune to Covid-19 that even susceptible people are unlikely to get it. While the CDC has cautioned that it doesn't yet know that exact threshold, epidemiologists have generally estimated that it lies somewhere between 65% to 85%.
But even much lower thresholds can start to curb the disease, said Dr. Peter Winkelstein, the executive director of the Institute for Healthcare Informatics at the University at Buffalo, whose new model shows a clear correlation between rising Erie County vaccinations and falling hospital censuses. Winkelstein was "surprised," he said in a statement, by how quickly the impact of the vaccine rollout showed up in local metrics.
That rollout has accelerated rapidly in recent weeks as the supply of vaccines expanded. New York's "week 11" allocation from the federal government neared 700,000 vaccines, up from roughly 500,000 four weeks ago. New York could also see its first shipments of the newly approved, single-dose Johnson & Johnson vaccine as soon as the end of this week, according to the New York Post.
Since Western New York recorded its first case of Covid-19 on March 14, 2020, more than 94,400 people have tested positive for Covid-19 in Western New York and more than 2,200 people have died of the disease.