Mike Radomski used to play a lot of golf. Then he found hiking.
The discovery came a decade ago during a conference in Lake Placid, when Tom Wagar of Amherst convinced him to skip a tournament and climb some nearby mountains instead.
"Our adventures have escalated since," said Radomski, of Hamburg, who along with his good friend has now climbed the 46 highest Adirondack peaks.
During the last two years, Radomski nurtured his passion closer to home, forging a website focused on outdoor activities, chief among them a biannual WNY Hiking Challenge that has put a growing number of boots on the ground in regional parks and nature preserves.
He launched the challenge as part of an online business venture called Outside Chronicles. His wife, Stephanie, a group fitness instructor, handles most of the social media as president; Radomski is CAO: chief adventure officer.
Radomski also is a whitewater rafting hiking guide, and offers hiking education programs through Outside Chronicles (outsidechronicles.com).
The hiking challenge was inspired by similar efforts including the Adirondack 46ers and Allegany 18, the latter of which Radomski tried for the first time before the first WNY challenge in the winter of 2019-20.
"It was really cool to see people talk about trail conditions and which trails they've done, and people met up and did hikes together," he said. "It gave me the idea to do a bigger challenge with trails in Western New York. I thought I could bring a lot of value because I've hiked all these trails. I drew on my GIS background, and I was able to map them all."
Radomski works in information technology across the SUNY system. He sports a bachelor's degree in computer information systems and mathematics, and a master's in Great Lakes environmental science, both from SUNY Buffalo State.
"Having an IT background allowed me to automate a lot of the processes of the challenge," he said.
The first winter challenge attracted 350 people. Last summer, during the pandemic, 850 signed up. More than twice that number of hikers participated last winter.
Roughly 5,000 hikers are registered for the current challenge, which runs to Nov. 19. Those interested can sign up on the website. The cost is $20 per person and $65 for a family of up to six people.
Participants download a challenge packet that includes maps in PDF format and GPS coordinates for parking lots, trails and landmarks. The map outlines at least two or three routes that pass along a landmark Outside Chronicles has chosen as a special feature. Waterfalls, historic ruins and rare trees or plants are among them. Participants share photos of themselves with those landmarks on a related Facebook page for proof that they've hiked a trail.
The challenge includes 32 trails broken into four groups. Hikers need to complete routes of 3 to 5 miles for five trails in each group.
"We make sure people spread out, that they don't only just go to the places that are close to their house," Radomski said. "There are different difficulties in each one of the groups, so if you're a new hiker, you don't have to do any of the strenuous hikes to complete the challenge. If you're a seasoned hiker, you can pick all the hard ones."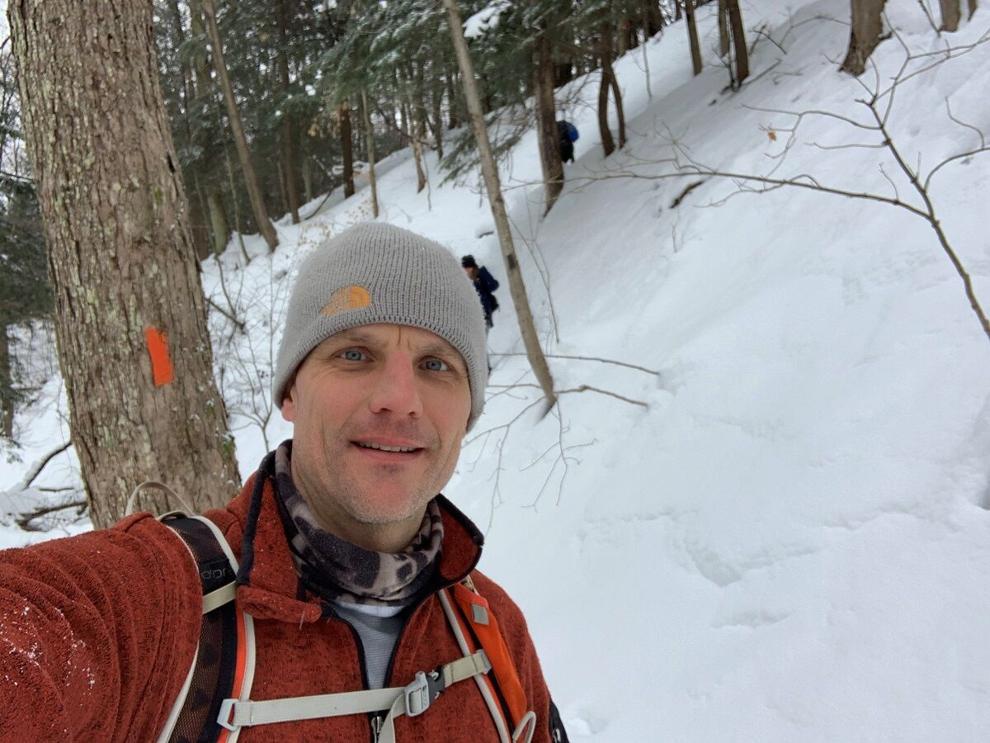 A first-time Ultra Challenge costs $10 more and involves five routes of 15 to 25 miles along the Finger Lakes Trail, which traverses the Southern Tier from Allegany State Park to the Catskill Mountains and has spurs that push north in Buffalo-Niagara toward Lake Ontario.
"My value proposition was that if you pay $20, you're going to get maps for almost every park in Western New York," Radomski said.
Those who compete the challenge get hiking patches and other paraphernalia.
Participants have access to a private Facebook group where fellow challenge hikers can give and receive advice about trail conditions or see if someone would like to hike with them. A related public Hike WNY page has almost 29,000 users.
The challenge fee helps cover the cost of patches and online expenses, but the Radomskis plow the bulk of it into causes that give fellow outdoors lovers an extra reason to participate.
The strategy aims to create a system of connected and protected forests, providing a corridor for wildlife to move back and forth.
Friends of Reinstein Woods received $6,000 in proceeds from the first challenge to improve the Cheektowaga preserve. The contest last summer raised $14,000 to help the Western New York Land Conservancy save College Lodge Forest in Fredonia. Outside Chronicles steered $36,000 from the last winter challenge to the Beaver Meadow Audubon Center in North Java.
The current challenge has so far raised $80,000, which the Radomskis will split between a Land Conservancy effort to turn a swath of land north of Allegany State Park into a protected "wildway," and the Finger Lakes Trail Conference, an all-volunteer group that maintains the Finger Lakes Trail.
Pets also can become part of the current challenge for $20. Their owners will receive a paw patch upon successful completion. Proceeds will go to Sadie's Safe Harbor Canine Rescue in Orchard Park, Mike Radomski said.
Outside Chronicles plans another winter program later this year and may add a junior challenge next summer for those who would like shorter routes more accessible to families with young children.
Radomski embraces involvement in all of it, including better health.
"I do get stress relief benefits from hiking," he said, "but I would say I'm more driven by the physical challenge and the enjoyment of climbing, summiting a mountain, and the amazing views that you get."