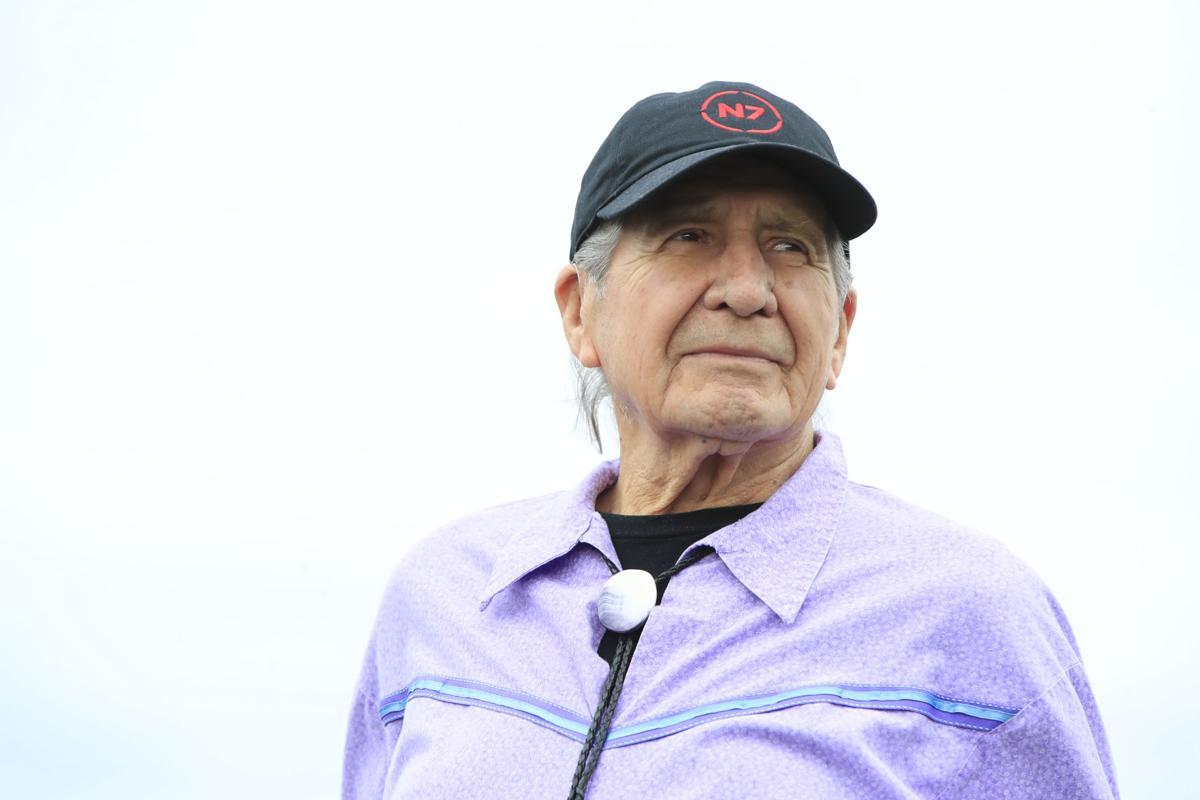 Early Friday, the city of Buffalo took down a familiar statue of Christopher Columbus. If it had happened in the days before the pandemic, Rick Hill might have sat with Oren Lyons to talk for hours about the decision, to reflect on how such an event came to pass within their lifetimes.
Yet Lyons, an Onondaga Nation faithkeeper who taught for almost 40 years at the University at Buffalo, is now 90 and dealing with back problems related to his military service, long ago, as an Army paratrooper. He is staying on a farm near Syracuse, preparing to do a little painting and essentially quarantined until the danger from Covid-19 has passed.
Hill, a Tuscarora artist, historian and indigenous educator, lives at the Six Nations of the Grand River territory near Brantford, Ont. He misses his old friend, but for now the two men must be content with long phone conversations.
They both say they were moved by the decision about the statue, primarily because the request that made it happen came from within a regional Italian-American cultural federation, a move supported at a Friday news conference by Mayor Byron Brown and other civic officials.
"This is a huge one for Buffalo," Hill said Friday, "and such a powerful step."
It comes in a month of rippling consequence for Native Americans, both legally and symbolically. A few days ago, the Supreme Court ruled that roughly half of Oklahoma – by treaty rights – remains native land, a monumental decision handed down not long after a federal district court ordered a shutdown of the Dakota Access Pipeline, which native groups and environmentalists opposed for years.
"We can only hope that it signals a new day," said Joe Heath, a lawyer who serves as general counsel for the Onondagas, one of the Six Nations of the Haudenosaunee, or Iroquois Confederacy. Adding to Heath's thought were signs from Washington, D.C., that the city's National Football League franchise is finally ready to discard "Redskins" - a nickname based on a racial pejorative that native leaders have wanted to see changed for years.
For Lyons, who has achieved an international reputation as an environmentalist and a tireless voice on native issues, the decisions offer a burst of affirmation after 90 years of balancing disappointment against quiet and sometimes glacial points of movement.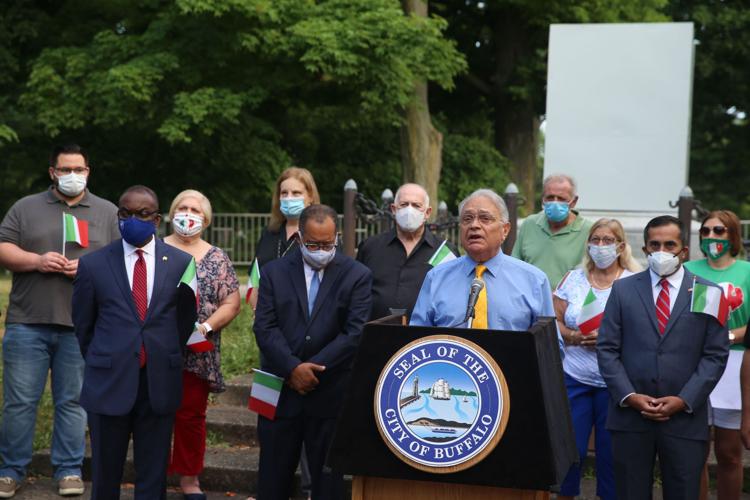 "We're just coming to a time," he said of a frank appraisal of Columbus and centuries of history, "when you have to acknowledge everything that happened."
Former federation president Don Alessi said the decision guarantees the statue comes down voluntarily, rather than as an act of protest. A new monument honoring Italian-American immigrants and heritage will be erected in a renamed park, the statement read, and the second Monday of each October - traditionally celebrated as Columbus Day - will now be known as Italian Heritage Day in Buffalo.
The statement framed these decisions as respecting "a wonderfully interwoven mosaic of rich and varied cultures and traditions" in the region.
That thought carried deep meaning for Hill, who has an especially intimate perspective. He reflected on how he was born in the old Columbus Hospital on the city's West Side, after his dad – a Mohawk iron worker – settled in Buffalo. Hill spent the early years of his childhood in a city packed with immigrant families, and he spoke "of having a lot of empathy for Italian-Americans, who were a long time outcast."
He understands the symbolic meaning of a Columbus statue on the pedestal, how a community that was often met with rejection and hostility found early identity and value in the tale of the first European navigator to reach the Americas.
Still, any objective reading of history presents what native people understand was an entirely different Columbus. After coming to a shore he did not expect to find, historians say Columbus not only brought the first sampling of the disease that would devastate native populations, but willingly embraced a cruel strategy that included enslaving and trafficking in human beings. Lyons hopes Buffalo's example means a statue in Syracuse will be the next to go, a sculpture that includes a mural of Columbus presenting kneeling native captives to the king of Spain – one of the original acts of centuries of bondage involving what Europeans soon called the New World.
The sense of reconciliation offered in Buffalo, Hill said, could provide a template of broader meaning - and lead to a new monument of beautiful significance.
"My study of art history tells me Italian-Americans have so much to be proud of, so much beyond Columbus," said Hill, speaking of a rich legacy of sculptors, painters, scientists, writers, civic leaders and philosophers.
He and Lyons are keenly aware of the power of cultural symbols. More than 30 years ago, while Lyons was teaching at UB, they helped develop the Haudenosaunee flag that is now a familiar presence at Six Nations territories in Upstate New York and southern Ontario.
At the time, the Iroquois Nationals lacrosse team needed a flag for international competitions. Lyons suggested basing it on the Hiawatha belt, an ancient wampum with a pattern showing the nations of the Haudenosaunee around a symbolic tree of peace. Hill drew out a sketch that Tim Johnson – a Mohawk and a then-student at UB who is now retired from the Smithsonian's National Museum of the American Indian – turned into a design that his father, the late Harold Johnson, made into a flag.
Tim Johnson had a flash of pained boyhood memory as he watched the national debate over whether to stand for the flag, during the national anthem. Johnson is a Mohawk, a member of the Six Nations, raised in North Tonawanda. He remembers, as a child in public schools, standing for the Pledge of Allegiance and feeling concern about the
Born in Buffalo, it became a statement of true identity throughout the Six Nations, the absolute opposite of, say, sports team mascots that treat native heritage as garish cartoons from the past. Still, some change takes a long time to happen, and it was only after the death of George Floyd touched off the sweeping passion of the Black Lives Matter movement that some of these obstacles - teetering for years - are finally giving way.
Lyons spoke of his respect for the strength of the BLM movement, a widespread cry of time-is-now frustration from the African-American community about systemic racism, and he said the tremors set off by the marches and gatherings of the past seven weeks also push him to carry on the driving mission of his life.
"What I'm seeing in these protests is that there's more white people than black people out there," he said, "and that a lot of people are realizing we're all together in this thing."
Step back from it, Lyons said, and such unity is an imperative within a world of growing turbulence. He sees the real lesson of the pandemic as shining a hard light on an issue he has raised for years at such forums as the United Nations: The global population is expanding at such an explosive pace that it has already overwhelmed boundaries set by nature itself, igniting consequences of devastating effect.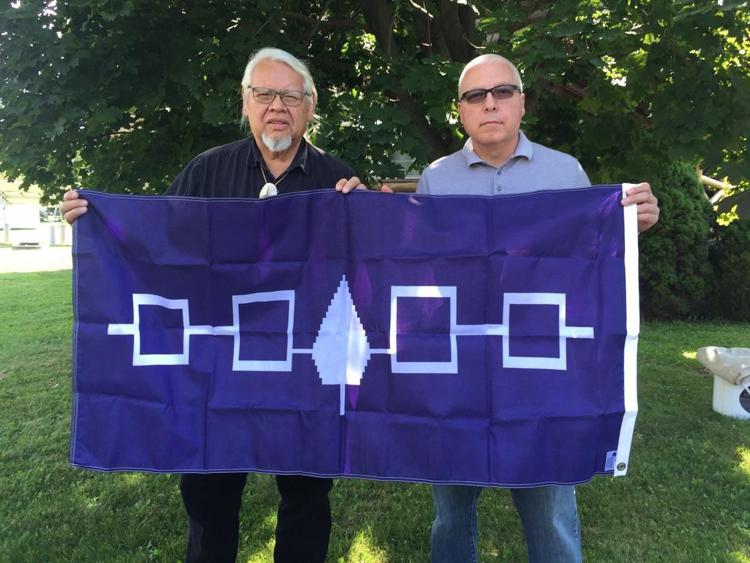 To Lyons, the pandemic shows the futility of grasping at tired solutions. He maintains the only chance for humanity lies in the ability to face up to seemingly intractable differences and to move toward a place where estranged groups – seemingly at odds for years – can bring themselves, in peace, to embrace a shared direction. In that sense, a statue that was once a symbol of a divide in Buffalo – now removed, as Lyons puts it, "without anger or combat" – rises into a quiet statement of hope on far more sweeping matters.
Over the phone, from the solitude of an Upstate farm, he offered a sudden laugh. While he had been speaking with reverence of great Italian scientists and artists, he brought up the lasting wisdom of a more recent contemporary, the late Yogi Berra, a beloved baseball player and sidewalk philosopher who provided a quote proven true about some longtime issues in the past few weeks.
"It ain't over 'til it's over," said Lyons, who then went back to work.
Get local news delivered to your inbox!
Subscribe to our Daily Headlines newsletter.