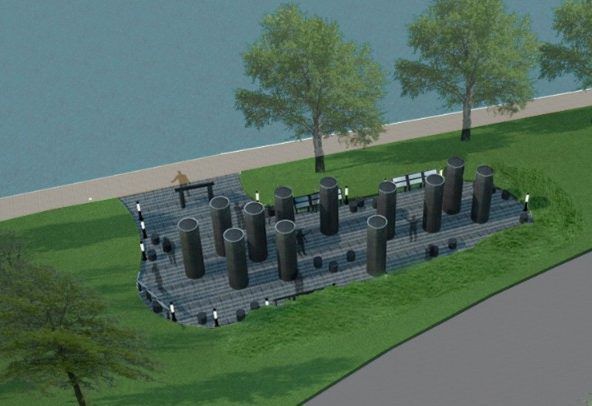 Supporters of a project to install a monument honoring African American military veterans have received good news with the approach of Memorial Day.
The final piece of funding is in place to begin construction.
The memorial, to be located at the Buffalo & Erie County Naval and Military Park on Buffalo's waterfront, will be the first in the U.S. to honor Black military veterans who fought in every American war to date, organizers say.
"Through the Revolutionary War all the way up to the war on terrorism," said Warren K. Galloway, chairman of the committee spearheading the monument. "It's the first monument in the country that directly honors African Americans in all the wars that this country's been in, all in one place."
The Buffalo Common Council agreed Tuesday to accept $200,000 in funding from New York State.
"This grant is the last piece of the puzzle that we need to get the full funding so that we can advance that very important project, and we're looking forward to advancing that work," said Michael J. Finn, commissioner of the city's Department of Public Works, Parks and Streets.
Committee members will meet Tuesday with representatives from the department to go over scheduling, bid release and the construction timeline, Galloway said.
"By next week we should have a schedule now that the money's all in place," he said.
A ribbon-cutting ceremony and construction were scheduled for last year but the Covid-19 pandemic delayed it.
The monument's design is a matrix that serves as a timeline and map of longitudinal coordinates, according to the committee's website. Each of the 12 black concrete pillars will be 10-feet tall and 3-feet wide and placed in chronological sequence to correspond to the dates of each of the country's 12 military conflicts.
The matrix's longitudinal coordinates represent the location where the war began. The spacing between the pillars represents peace time between each war.
The tops of the pillars will illuminate, representing candles that families would put in their windows as a beacon to guide a soldier home. The light emanating from the top of each pillar will glow continuously as an eternal reminder of the commitments made by African American veterans.
The design was created by Jonathan Casey and the team at Solid 716.
There also will be audio capabilities within the monument that will work through a smartphone app to allow visitors to hear – as well as read – information, Galloway said.
Funding for the $1.5 million project includes $800,000 in state grants; $100,000 from Erie County; about $100,000 through the city's capital projects account; about $200,000 from the Buffalo and Erie County Greenway Fund; $100,000 from M&T Bank; $100,000 from Delaware North; $50,000 from Catholic Health; and $50,000 from HSBC Bank USA.