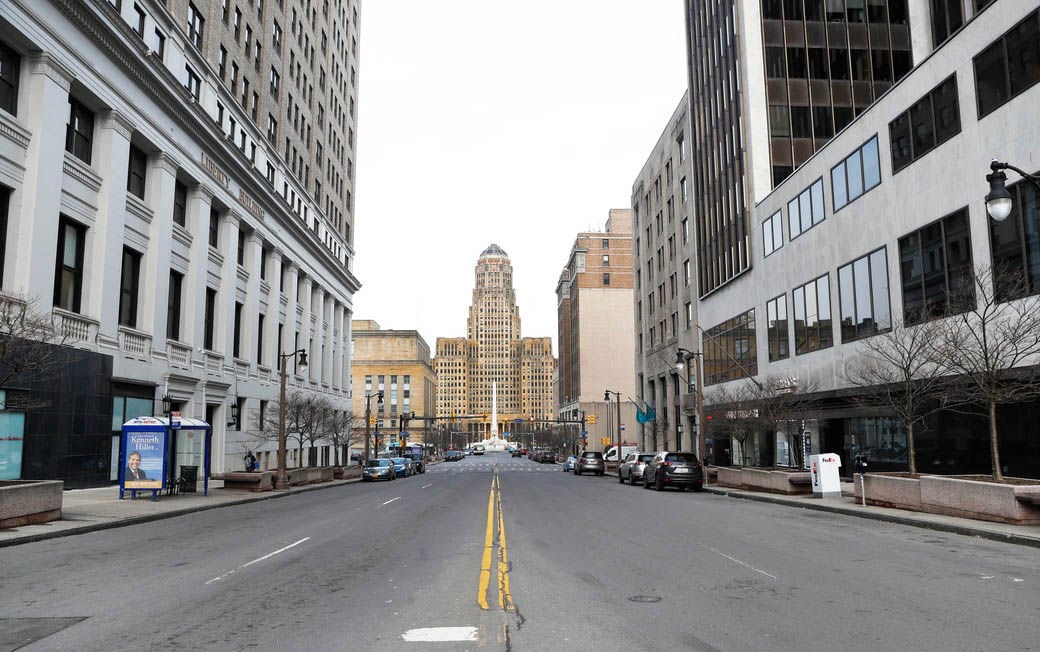 Restaurants can't serve food in their dining rooms. Engaged couples can't host the wedding receptions they planned. Kids can't play basketball at outdoor courts.
Residents can't speak up at city council meetings. Day-trippers can't cross the Canadian border. And reporters can't attend local news conferences.
These emergency regulations are meant to prevent the spread of the dangerous novel coronavirus.
"These are not normal times that we find ourselves in," said Tonawanda Supervisor Joseph Emminger, who is running virtual Town Board meetings. "Some rights have to be compromised – for lack of a better word – when you have a state of emergency for the public good, public health."
But the new rules reach deep into our private and financial lives and fray the connection between the public and its elected representatives.
Government officials say they are trying to protect public health during an unprecedented medical emergency. And they have employed social media and video streaming to stay engaged with the public.
However, experts say civil liberties are potentially at risk unless governments carefully balance public access and public safety and lift the restrictions as soon as it's reasonable to do so.
"Even in the best of times, open government is difficult," said Paul Wolf, an attorney and president of the Buffalo Niagara Coalition for Open Government, which urges local governments to act transparently.
Backlash possible
The Covid-19 outbreak has spread rapidly around the world and across the United States, with New York particularly hard hit.
And the confirmed cases reported daily by health officials don't measure the full impact of the virus, which experts say hasn't peaked here yet.
If tests were more widely available, the numbers no doubt would be higher.
To limit its spread and the potential for a surge in fatalities, governments around the world have restricted the size of gatherings, closed entire categories of business, ordered people to work from home and shut international borders.
The measures have come under some criticism. But public health experts and elected officials say they are needed to "flatten the curve" of the outbreak, to make sure coronavirus cases don't overwhelm health care networks and hospitals don't run out of life-saving equipment that is in short supply.
Balancing public health with basic rights, experts say, is something political leaders must do with care.
"There is a risk that if the government's restrictions are seen as too limiting or not justified by public health, that people will simply not follow the orders," said Michael Higgins, a staff attorney with the University at Buffalo Law School's Civil Liberties & Transparency Clinic. "The government can protect against this risk by proactively explaining their reasoning for the restrictions, making themselves available to the press for questioning and limiting their restrictions to only those that are necessary."
'A lot lost' in virtual meetings
Many city halls, town halls and other municipal buildings are closed to the public.
That means public meetings are taking place without the public, in empty meeting rooms as board members log in remotely over Zoom or other video conferencing services.
It's a central tenet of representative democracy in the United States that people have a chance to directly address the officials they elected.
Officials say they are trying to ensure members of the public can offer their opinions about what's on an agenda for a virtual town board meeting, though Wolf said these documents aren't always easy to find.
But it's harder to convey your passionate opposition to a commercial development going up next to your home, for example, if you're limited to electronic communication.
"There's a lot lost in the process," said Kevin Hardwick, a Canisius College political science professor and a Democratic member of the Erie County Legislature from the City of Tonawanda.
Some efforts, such as rezonings and bond actions, can't move forward because they require a public hearing before the Town Board can vote, said Amherst Supervisor Brian J. Kulpa.
And Kulpa said he would hold off on consideration of proposals that have generated controversy, such as those regarding the fate of the former Westwood Country Club.
But board members can act on other matters, and officials urged residents to call, email or leave comments on Facebook.
"We've still got to be functional," Kulpa said.
With the current emphasis on social distancing, officials such as Erie County Executive Mark C. Poloncarz and Buffalo Mayor Byron W. Brown are holding news conferences online.
This makes it more difficult for reporters to ask follow-up questions that go beyond the officials' talking points.
In Buffalo, Brown has shifted from holding in-person news conferences to briefings that stream online with one pool TV camera and separate teleconferences for reporters to ask questions.
"The reality is going to be that engagement is going to be different. It has to be different," Brown said.
Poloncarz came under criticism from some journalists for limiting access in recent weeks, though he recently started taking questions online from reporters again.
Poloncarz spokesman Peter Anderson said the county live streams its media briefings and puts the recordings on YouTube, posts extensive information online and set up a Covid-19 hotline.
"If anything, the level of public interaction and engagement with the administration and county departments has gone up exponentially over the past couple of weeks," Anderson said in an email.
Elections, Census impacted  
There also are other basic government functions that Covid-19 threatens to throw into flux.
Officials in New York already have postponed numerous elections scheduled for March, April and May – including the state's presidential primary, a special contest for New York's 27th Congressional District and school board elections.
Putting off elections, especially those that don't draw high interest to begin with, can sow confusion and reduce turnout further, said James Gardner, a UB professor who studies constitutional and election law.
"Delaying an election is upsetting the normal schedule of democratic oversight," he said.
Susan Lerner, executive director of Common Cause New York, said the state needs to expand early voting and streamline the process for absentee voting to ensure elections are held fairly and safely.
Another central government function is the U.S. Census, which measures the nation's population every 10 years.
Accurate population figures ensure federal funding is distributed evenly and drive how Congressional and legislative districts are redrawn each decade, Hardwick said.
Covid-19 likely will make it even harder for Census workers to perform critical door-to-door canvassing.
"It affects everything," Hardwick said.
Fearing a 'new norm'
History shows governments, including the United States, have at times responded to national emergencies by sharply scaling back basic freedoms. During the Civil War, for example, President Abraham Lincoln granted military commanders the power to detain without an indictment dissenters and others deemed threatening to military operations.
More infamously, President Franklin D. Roosevelt during World War II approved setting up a network of camps to intern about 120,000 Japanese Americans living on the West Coast.
And critics say the prime minister of Hungary in March used Covid-19 as an excuse to scale back civil liberties in that country.
Proponents such as Lerner want government to continue to conduct the people's business, act as transparently as possible – even when that work takes place remotely – and impose only those restrictions that are absolutely necessary.