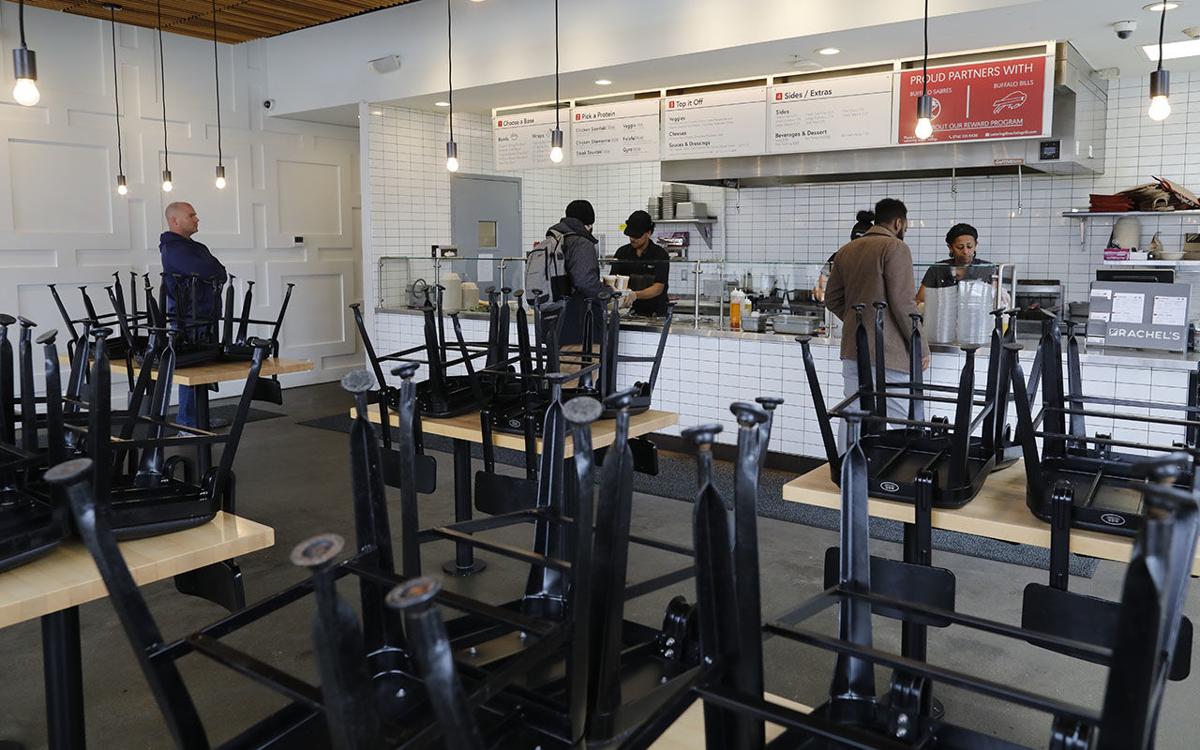 It's been a year that can't end soon enough for most of us, weary of the Covid-19 restrictions that have hampered our lifestyle and caused so much economic pain.
The recession has cost us about 40,000 jobs and the recovery first stalled and then went into reverse as the second wave of Covid cases hit this fall.
The toll is staggering. More than $600 million in lost wages in just the second quarter alone. One of every 14 jobs has disappeared in a wave of job losses that is more than twice as severe as the region endured during the Great Recession and the 2001 downturns combined.
But there is hope. Vaccines are starting to roll out, offering hope that the end of this painful pandemic is finally in sight after a year that left in its wake so many losers and a surprising handful of winners.
Doug Jemal. There doesn't seem to be a challenging development project in Buffalo that the Washington, D.C.-based developer isn't willing to tackle. The long-languishing Statler hotel? Turn it into a $100 million convention and event center hotel. The empty Buffalo police headquarters? Convert it into 130 apartments.
That seems overly ambitious. But Jemal also has made great headway in reviving the vacant Seneca One tower, landing M&T Bank's tech hub as an anchor and adding apartments and other structures to the complex.
Homeowners. You wouldn't think the worst recession since the Great Depression would be good for home prices, but it has been. Prices are up almost 10% over the past year. Buyers are bidding against each other for scarce homes in popular neighborhoods.
And the frenzy isn't showing signs of stopping, with homes for sale at a more than 20-year low and higher-income workers – a big chunk of buyers – more secure in their jobs and feeling confident about making the biggest single purchase of their lives.
ACV Auctions. The former 43North winner's plans to set up its online car sale auctions nationwide aren't being derailed by the Covid-19 pandemic.
It raised another $55 million in funding this year and added some heavy hitters to its board of directors, including M&T Bank's René Jones and another executive who has a history of preparing companies to go public. If that happens, the Buffalo-based company could be in line to be a winner again next year.
Manufacturers. Local factories finally caught a break. Over the last 30 years, two of every five factory jobs here have vanished because recession after recession has clobbered the region's manufacturing.
But the Covid-19 recession has been different. Companies and consumers are still buying stuff, so the demand for manufactured goods has held up. The welcome result: Factory employment here is up by about 2% since the pandemic began.
New Era Cap Co. The tide has turned against the Buffalo-based apparel maker. It already was on thin ice coming into 2020 after shutting its Derby factory last year. Then the pandemic hit and the ice broke.
With professional sports going mostly without fans during a deep recession, New Era's team-branded apparel sales plunged. It cut a third of its Buffalo headquarters staff just after its $8.4 million Paycheck Protection Program loan ran out this summer. And it backed out of its high-profile naming rights deal at Bills Stadium.
Delaware North. The Covid-19 pandemic hit the Buffalo hospitality and concessions giant hard in just about every way it could.
Sports stadiums without fans pummeled its concessions business. Business travel virtually stopped and vacationers mostly stayed close to home, slamming its hospitality operations. The company cut 14% of its local full-time staff, and more than half of its remaining salaried and hourly workers are on furlough.
Grand Island. The suburb could have been the site of a huge Amazon distribution center, bringing at least 1,000 full-time jobs to the region. But the project didn't sit well with some residents, who complained about its size, the traffic it would bring and the bridge headaches it might create.
So Amazon bailed. Now the site's owner has hatched a new plan for a smaller but still massive warehouse with an even bigger footprint that it thinks will fit local zoning rules by having only one floor, instead of five. And there's still opposition from residents.
Restaurant owners. It's hard not to feel sorry for restaurant owners. Their business has been decimated by events beyond their control, between the pandemic, capacity restrictions and periodic bans on inside dining.
They got some help from the first stimulus packages, but they've been on their own ever since, just trying to keep their heads above water until the vaccines can be widely distributed and people feel safe going out to eat again.