Thomas Allingham agreed on the spot Wednesday to get a flu shot during his first visit to a new primary care doctor.
At age 70, and with other health conditions, he understands the risks posed by highly infectious respiratory viruses, particularly during an ongoing pandemic.
It's why the retired Clarence business owner also is vaccinated against Covid-19.
"I can see why people might be a little nervous, but when you think about laying in a hospital with tubes shoved down your throat, the alternative is pretty easy," Allingham said. "To politicize it, that I really don't understand."
Three respiratory conditions – seasonal allergies, Covid-19 and respiratory syncytial virus (RSV) – have contributed in recent weeks to primary care visits and hospitalizations in Western New York and across the nation.
Most allergies will abate after the first frost, but influenza is on the doorstep, setting the stage for significant spread of three troubling diseases.
Early indications in the region suggest flu season could hit early – and hard – after cases of influenza and RSV fell dramatically last winter amid lockdowns and strong Covid-prevention measures taken by most individuals and communities.
High Covid-19 vaccine rates and the availability of boosters for those most vulnerable to that disease should bar a repeat of the largest peak during the pandemic last winter. But infectious disease experts fear that pandemic weariness, more indoor public gatherings and continuing vaccine hesitancy will drive more flu and RSV cases in coming months.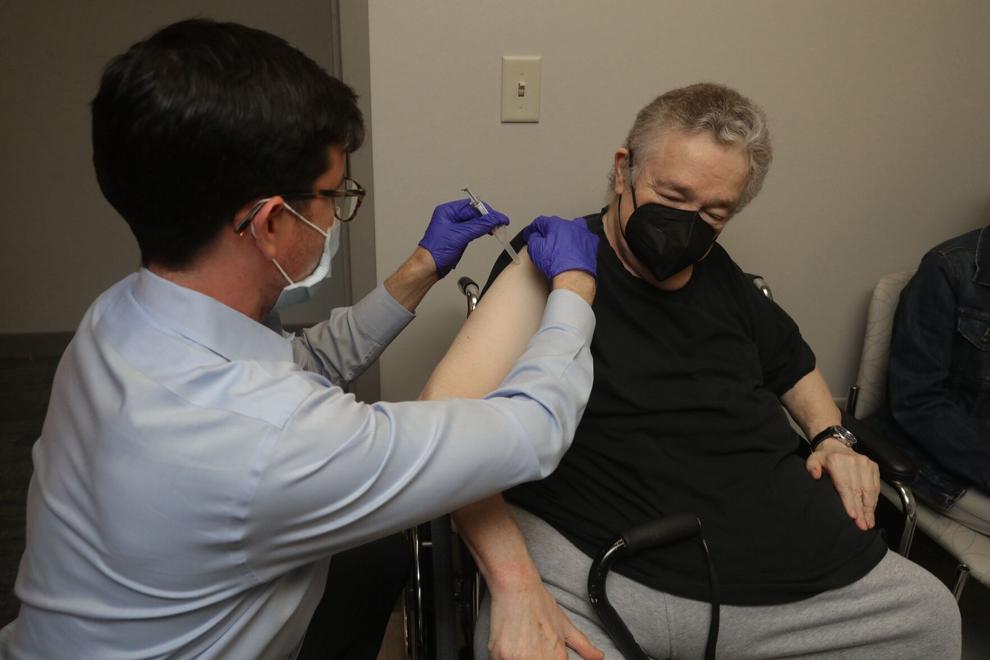 "We now have a whole year of the population not being exposed to RSV and the flu, so our immune system has forgotten a little bit what they are," said Dr. Stephen Turkovich, chief medical officer at Oishei Children's Hospital. "There's a lot of vulnerability out there. That makes me very worried."
The Centers for Disease Control and Prevention recommends those 12 and older get the Covid-19 vaccine. Infectious disease specialists also recommend getting a flu shot this month, as influenza season starts, for more protection as it intensifies in winter and tapers off in spring.
Several specialists answered questions about vaccination for both.
Q: What was last flu season like and what is predicted for this season?
Last flu season, 0.2% of respiratory specimens tested positive in American labs for an influenza virus. That proportion fell between 26.2% and 30.3% during the three previous seasons, said Dr. Anna Kanaley, medical director with Univera Healthcare.
"More influenza vaccine doses than ever before (193.8 million) were distributed in the U.S. during the last flu season," Kanaley said. Covid-prevention measures – including wearing masks, regular hand washing, physical distancing and limiting exposure to large indoor gatherings – also limited spread.
"Kids have returned to school and are inside the classroom," Erie County Health Commissioner Dr. Gale Burstein said this week, "and people are returning back to in-person work. That offers more opportunities for disease transmission of both Covid-19 and influenza."
Q: When is the best time to get the flu shot?
The region's health care system, already squeezed after hundreds of workers lost their jobs or were put on leave because of the state vaccine mandate, is facing even more constraints if unionized workers at Mercy Hospital go on strike Friday.
Burstein got hers last week. It usually takes about two weeks for the body to build immunity to dead or weakened virus in the vaccine, providing protection for about six months.
The flu shot won't prevent or ease a case of Covid-19, but greatly reduces the odds you won't end up trying to fight both back-to-back, or together.
More than 400,000 Americans were hospitalized with influenza during 2019-20 flu season. At least 24,000 died, according to the Centers for Disease Control and Prevention.
"If you are healthy and get vaccinated, you are less likely to get an infection and pass the virus to loved ones," said Dr. Thomas Russo, professor and chief of the Division of Infectious Diseases at the University at Buffalo Jacobs School of Medicine and Biomedical Sciences.
The vaccine is typically 30% to 60% effective in preventing influenza depending on strains that circulate during flu season but gives some protection against all of them. "That means those who get the flu are more likely to have a milder case, less likely to be hospitalized and less likely to die," Russo said.
Those who get vaccinated also help keep the community safer, Burstein said, and reduce prospects for an overburdened health care system. This, she said, is particularly important when flu season and the pandemic could put pressures on regional hospitals that currently have the highest inpatient census rates in two years.
Q: How important are getting the flu and Covid-19 vaccines during the pandemic?
Consider the alternatives. Influenza complications can include inflammation of the heart, brain or muscles, and multiorgan failure, according to Johns Hopkins medical specialists. Secondary bacterial infections, particularly pneumonia, can occur.
Covid-19 is five to 10 times deadlier than the flu and can cause long-term damage to the lungs, heart, kidneys, brain and other organs. More than 700,000 Americans have died from the disease and more than 6 million have been hospitalized, according to the CDC.
The agency also recently shared two related studies. The first examined 600,000 cases across 13 states in the spring and summer, as the Delta variant became the dominant strain. It found that those unvaccinated were five times more likely to get a coronavirus infection than vaccinated people, more than 10 times as likely to be hospitalized if they did, and about 11 times more likely to die from Covid-19. 
A second study showed that those vaccinated who got breakthrough cases were 49% less likely to have to have symptoms past four weeks, considerably reducing the prospect of a long-haul case of the disease. 
"We have the scientific tools we need to turn the corner on this pandemic," CDC Commissioner Rochelle Walensky said when sharing the findings. "Vaccination works and will protect us from the severe complications of Covid-19."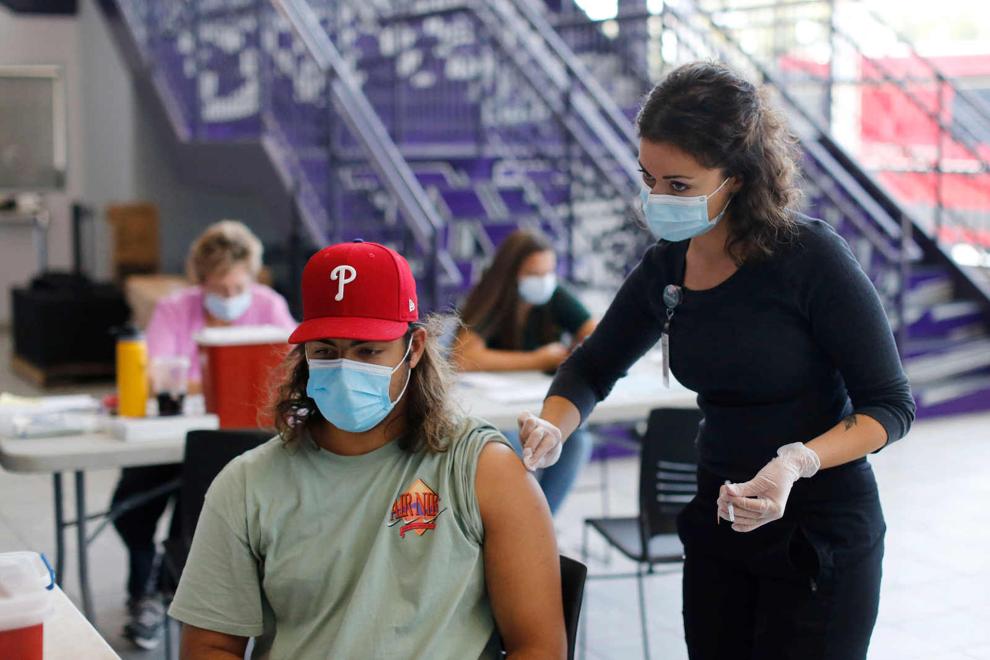 Q: Who should get vaccinated?
Those most at risk for a bad case of flu or Covid-19 have health challenges that include obesity, high blood pressure, lung or kidney disease, diabetes, asthma and a compromised immune system, as well as those who smoke.
The CDC recommends almost everyone 6 months and older get a flu shot. It also recommends almost everyone 12 and older also get the Covid-19 vaccine. The FDA by late this month could authorize a lower dose of the Pfizer vaccine for those 5 and older.
Burstein, a pediatrician, recommends those considering either vaccine talk with their primary care provider or pharmacist. "There are very, very few contraindications" for either vaccine, she said.
Q: What are the risks of both vaccines?
Soreness at the injection site is the most common side-effect and an allergic reaction is possible. Flu-like symptoms are possible after a Covid-19 vaccine and usually disappear in a day or two. Life-threatening reactions are rare, according to the CDC, and would most likely happen within a few minutes to a few hours after the vaccine is given.
Q: Why do children need a flu shot?
They are among those at risk. There were 188 pediatric deaths reported in the U.S. during the 2017-18 flu season, 144 the following season and 199 in 2019-20. Only one child died last season, when lockdowns and other steps to slow the spread of Covid-19 were common.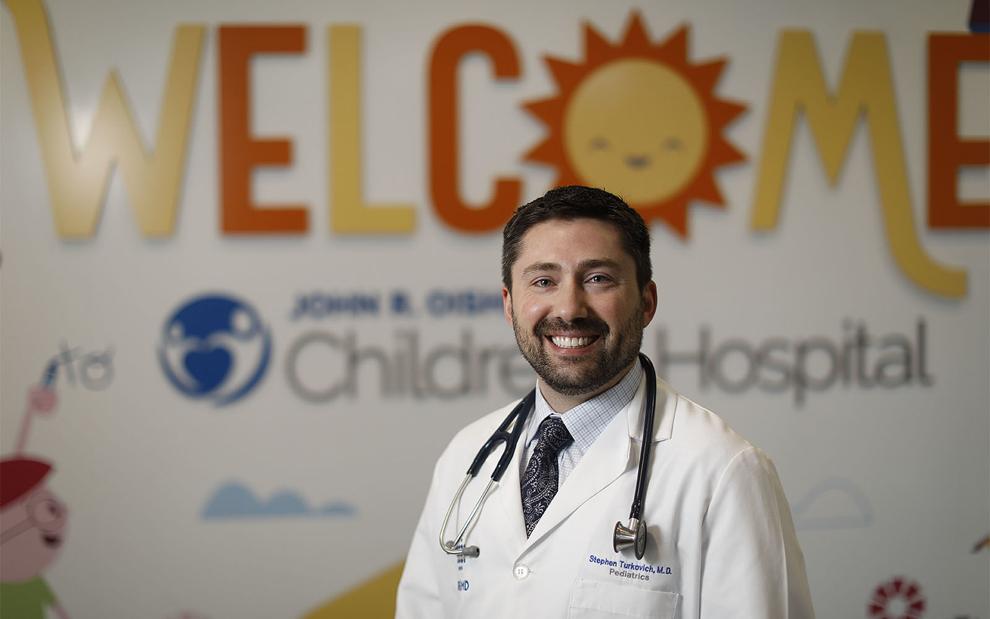 Q: What is RSV and why does it worry two leading WNY doctors?
This common respiratory virus usually causes mild, cold-like symptoms but can become serious, particularly for infants and older adults. RSV is the most common cause of bronchiolitis and pneumonia in children younger than 1. Almost all children get RSV by age 2. It is almost never fatal. Researchers are working on a vaccine to prevent its spread.
Oishei Children's typically sees cases start to climb in November. Last month, the hospital admitted 107 patients, including 26 to the pediatric ICU.
Q: How do flu, RSV and Covid-19 symptoms compare?
Though caused by different viruses, they have similar symptoms that can vary by degree. A cough is common in all three. Breathing challenges are rare with flu, sometimes come with Covid and often play a role in RSV. Loss of taste and smell is specific to Covid-19.
"The only way you're going to know the difference between them is to get a test," Burstein said. "There are many commercially available tests out there, so talk to your health care provider or you can go to an urgent care center."
Some tests can quickly differentiate between all three, Turkovich said. The Biden administration Wednesday announced a plan to make available free rapid Covid tests in U.S. pharmacies by December.
Q: When should I consider a booster?
Booster shots are meant to increase the body's immune response. As the Covid-19 virus continues to mutate and new variants emerge, they help ward against those variants, said Mona Chitre, a Univera Healthcare pharmacist. "As of right now, the booster vaccines are made up of the same components as the original vaccines," Chitre said. "However, the companies are testing other formulations of their vaccines that would target specific Covid-19 variants."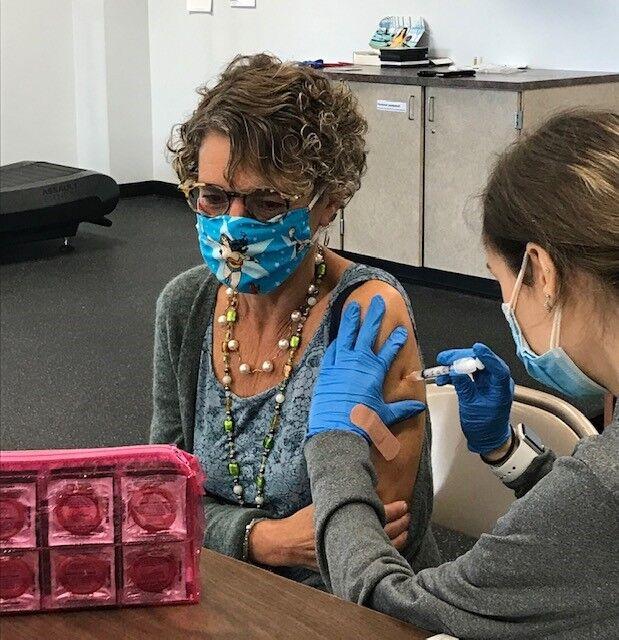 The CDC recommends Pfizer booster shots for those with autoimmune diseases, 65 and older, and at a high risk for exposure in the workplace. The booster is recommended at least six months after your first dose of the J&J vaccine or second dose of Moderna or Pfizer.
Q: Do you recommend getting a Covid dose and flu vaccine at the same time?
"Everything that we've learned up to this particular point in time shows that getting a flu shot, and whether it's your first, second or third Covid immunization, those are perfectly safe to have at the same visit," said Dr. Benjamin Zwierzchowski, a family physician at Buffalo Medical Group in Amherst and Allingham's new doctor.
Q: What should you do if you come down with symptoms that could be the flu, Covid-19 or RSV?
Call your primary care provider (or pediatrician if your child has RSV), who may order a diagnostic test and, depending on risk factors and severity of illness, want to start treatment. Medications often lessen the time and intensity of flu, and supportive care for RSV, when started early. A monoclonal antibody infusion, which must be given in a hospital, can often do the same for Covid-19.
"We're strongly encouraging everybody to get vaccinated to protect against Covid-19," Burstein said. "We're also strongly encouraging people to get protected with a vaccine against influenza. Influenza can also cause a significant disease, and the vaccine is a great primary prevention strategy."
Erie County Department of Health Covid-19 vaccine clinics
All High Stadium: 11 a.m. to 4 p.m. Saturday, 2885 Main St.
Zion Missionary Baptist Church: 10 a.m. to 3 p.m. Oct. 16, 179 E. Ferry St.
Visit erie.gov/vax for a listing of all upcoming clinics. Pfizer and Moderna doses are offered, including as boosters, unless otherwise noted. Registrations are requested but walk-ins are welcome.