Here's what to expect from the winter storm that clobbered Western New York and much of the eastern United States for most of Monday: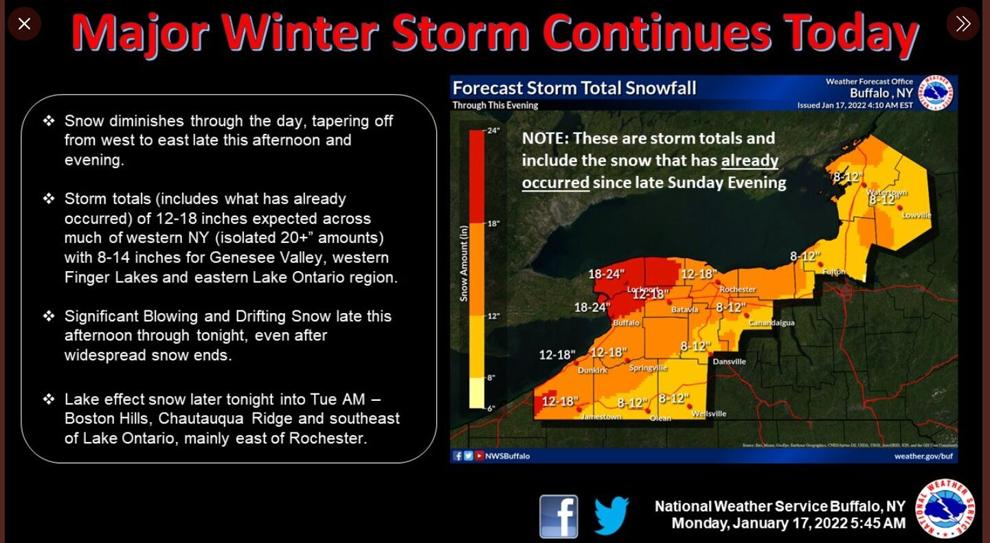 Overnight: The widespread snow will taper off from west to east, and as it does, some lake-effect snow will begin southeast of Lake Erie and along Lake Ontario. West to northwest winds gusting up to 35 mph will continue to cause blowing and drifting snow throughout the entire region.
A Winter Weather Advisory remains in effect until 6 a.m. Tuesday for northern Erie, Genesee, Wyoming and Allegany counties.
That Winter Weather Advisory stays in effect until 10 a.m. Tuesday for the rest of the Western New York, due primarily to the strong winds of Lakes Erie and Ontario.
The National Weather Service forecasts additional snowfall amounts overnight:
• Northern Erie County – 1 to 2 inches.
• Southern Erie County – 3 to 5 inches in the most persistent snow bands.
• Niagara, Orleans counties – up to 2 inches.
• Genesee County – about 2 inches.
• Wyoming County – 1 to 3 inches in the most persistent bands.
• Cattaraugus County – 3 to 5 inches.
• Chautauqua County – 3 to 6 inches.
• Allegany County – 1 to 2 inches.
The National Weather Service predicted storm totals through the end of Monday of 12 to 18 inches across Western New York, with as much as 18 to 22 inches in Niagara County.
Side streets in many areas remain difficult to traverse. A number of municipalities issued travel advisories or bans and warned against unnecessary travel when advisories were lifted.
Widespread snow will continue TODAY with a FEW more inches expected. Winds will also begin to pick up THIS AFTERNOON and last through TONIGHT, causing BLOWING SNOW. Additionally TONIGHT, lake effect snow to set up SE of both lakes Erie and Ontario with a few more inches possible. pic.twitter.com/7U3X5WUJ4E

— NWS Buffalo (@NWSBUFFALO) January 17, 2022
Tuesday: Lake-effect snow will end, but scattered flurries will continue throughout the day. Winds should diminish and become light and variable in the afternoon. Temperatures will begin rising through the 20s. There may even be some sunny breaks. 
Tuesday night: A chance of snow showers continues throughout the evening, then is expected to turn to rain before dawn as temperatures rise to the freezing mark. Winds will shift to the south and pick up to 15 to 20 mph.
Wednesday: The weather service predicts a significant warmup, with rain and snow in the morning and then rain alone and temperatures in the high 30s. Winds will gust up to 40 mph. 
Wednesday night: Forecasters say temperatures will plunge sharply as a cold front arrives, diving into the teens. There also will be a chance of snow showers, accumulating an inch or two in traditional snow belt areas.