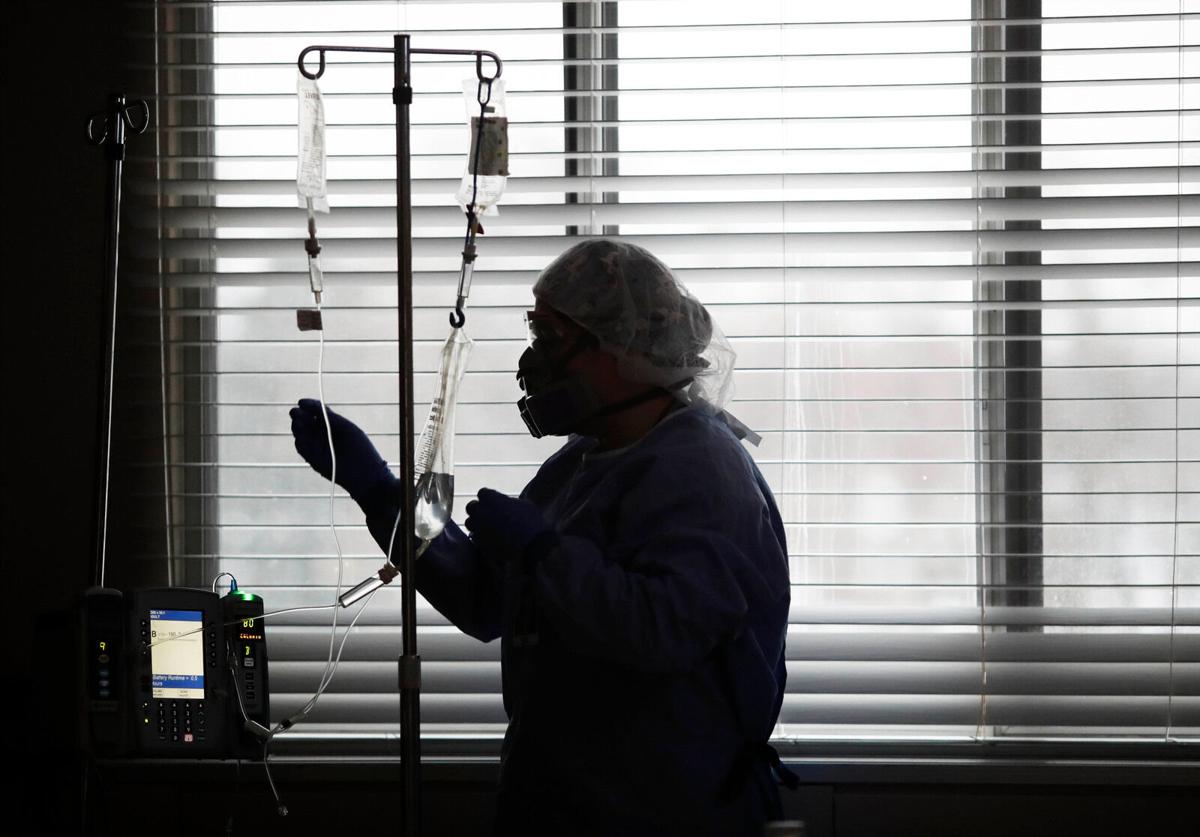 Medical leaders in Western New York believe that the more contagious British variant now causes most new cases of Covid-19 in the region.
Major hospitals are treating twice as many Covid-19 patients – almost all of them unvaccinated – than this time last month.
And if you get hospitalized with the new coronavirus in coming weeks, you will still be treated by staff in full personal protective equipment and will not be allowed visitors – unless you are near death.
These are among the realities as the region finds itself inside in a new wave of the coronavirus pandemic.
"We were all starting to kind of take a sigh of relief and then all of a sudden, we noticed that the community rates started popping right back up," said Dr. Samuel Cloud, an associate medical director and emergency department physician at Erie County Medical Center.
Covid-19 cases and hospitalizations have risen sharply in recent weeks in the Western New York region, which covers Erie, Niagara, Chautauqua, Cattaraugus, and Allegany counties for the state's Covid-19 tracking and coordination efforts. The average number of new daily cases reported over the seven-day period ending on Saturday was 634, an increase of 132% from the recent low average of 273 cases as of March 12.
Risk of infection remains high. There are still roughly 941,000 people, or 68% of the population, yet to have tested positive for the new coronavirus or be fully vaccinated for greater protection.
The best lines of defense, doctors say, continue to be getting a Covid-19 vaccine as soon as you can and using familiar infection-control measures, particularly when around those that you cannot be sure are fully immunized. Three leading physicians and a public health official said those steps will be important in coming weeks to prevent the spread of several more contagious variants of concern, particularly of the British B.1.1.7 variant, which the Centers for Disease Control and Prevention reported last week is the dominant form of the virus across the U.S.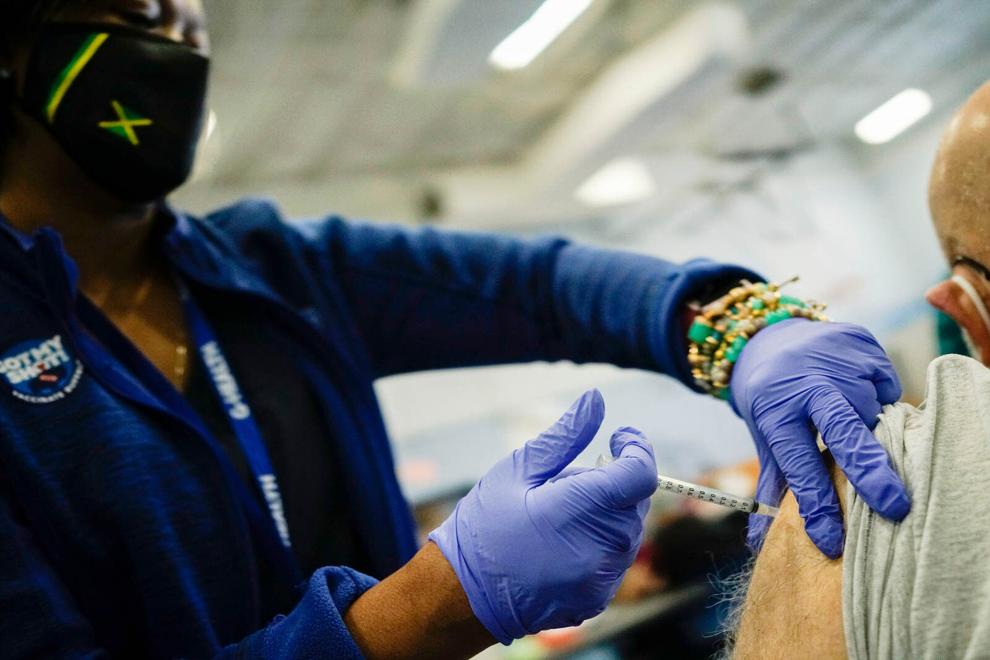 "I can't underscore this enough," said Dr. Kevin Shiley, an infectious disease specialist at Catholic Health, after visiting patients in a Covid-19 unit Monday morning at Mercy Hospital in South Buffalo. "These are truly for people, particularly people at high risk, life and death decisions."
Here are the key things to know about the latest coronavirus wave to hit the region.
Western New York is in a new pandemic peak
The latest climb in Covid-19 hospitalizations mirrors the early months of the pandemic – but the death rate is lower.
Still, the average 634 new daily cases over the last week remains well below those of the second wave of late fall and early winter, which peaked at 1,097 on Jan. 11.
The percentage of those who test positive for Covid-19 also has gone up since mid-March, but remains lower than the January peak. That seven-day average reached 8.8% on Jan. 5, just after the holiday season, and fell as low as 1.6% on March 12 before rising to 4.9% as of Saturday.
Hospitalizations, while also lower than in the second peak, are another troubling trend, though the picture looks different than both previous spikes.
Kaleida Health reported 136 Covid-19 patients hospitalized in its four hospitals Monday, including eight at John R. Oishei Children's Hospital and 29 in intensive care. That compares to 51 patients a little more than three weeks ago, including 13 in intensive care.
Catholic Health reported 109 patients spread out Monday among its five hospitals, including 25 in critical care. The regional hospital system had 53 patients exactly one month earlier, with nine in critical care.
Erie County Medical Center reported 49 patients hospitalized Monday with Covid-19, including eight on ventilators.  A month earlier, it had 25 inpatients, including six on ventilators.
"Our single highest day so far during the pandemic was on January 4, 2021 when we had 75 Covid-19 positive inpatients with four of those patients on ventilators," ECMC spokesman Peter Cutler said. "By contrast, our single highest census day last spring during the first phase of the pandemic was 43 positive inpatients with 21 of those patients on ventilators."
The hospital patient mix differs, but risks remain the same
Those hospitalized today are significantly younger than the patients seen in the early days of the virus. In Erie County, for example, 51% of patients were 64 or younger as of Saturday, compared to 38% as of Dec. 14.
Experts say this reflects the initial focus in the vaccine rollout of getting doses to the elderly and others most likely to become seriously ill from the virus. People younger than 50 became eligible just two weeks ago and those 16 and older became eligible more recently.
The virus now is taking a toll on younger people, officials said, with new cases among 20-somethings in Erie County more than doubling during March.
Over the same period, elderly residents in their 70s and 80s – among those most at-risk for severe complications – saw a more moderate increase, from 104 to 145 weekly cases.  
The average age of those dying from Covid-19 in Erie County also has fallen, from 81 in January, to 76 in February and again to 74 in the first part of March.
"We've even recently had patients in their 30s in the ICU very sick with Covid," Cloud said.
Cloud and other physicians said they also are seeing more patients than in recent months who need higher levels of oxygen support.
Despite their ages, those in need of hospitalization most often have other medical conditions, said Dr. John Sellick Jr., an epidemiologist who oversees infectious disease control at Kaleida Health and the Buffalo Veterans Affairs Western New York Health System. Those include obesity, high blood pressure, diabetes and chronic kidney, heart and lung disease. 
The contagion is different
Sellick blames the "hairpin turn" to higher case numbers to the greater amount of Covid-19 variants flowing into the region from travelers to and from other states, including Florida, New Jersey, Pennsylvania and Michigan – which along with New York now account for the greatest recent boost in coronavirus cases.
The British variant is about 50% more virulent than the earliest forms of SARS-CoV-2, he said, and likely more damaging.
Catholic Health, Shiley said, has been able to track the rise in variants of concern with Thermo Fisher polymerase chain reaction (PCR) testing used mostly with nursing home patients, outpatients and staff. The test examines three different genetic targets, including the spike protein considered key to coronavirus contagion. Fuzzy results for that protein suggest a variant is at play, though the testing can't decipher which one, Shiley said.
More sophisticated genetic sequencing conducted at specialized labs, including at the University at Buffalo, only has the ability to examine about 1% of confirmed virus cases nationwide. The British variant is by far the most common variant of concern.
Hospital precautions remain the same
If you get hospitalized with the new coronavirus in coming weeks, you will be treated by staff in full personal protective equipment and will not be allowed visitors – unless you are near death or have a developmental disability that requires a caregiver to help communicate your needs.
Hospitals in the region have set up special units or zones to separate Covid-19 patients from everyone else in the hospital, except those caring for them. ECMC had nine such zones during the height of the second peak and two four weeks ago. It now has six and is planning for a seventh, Cloud said.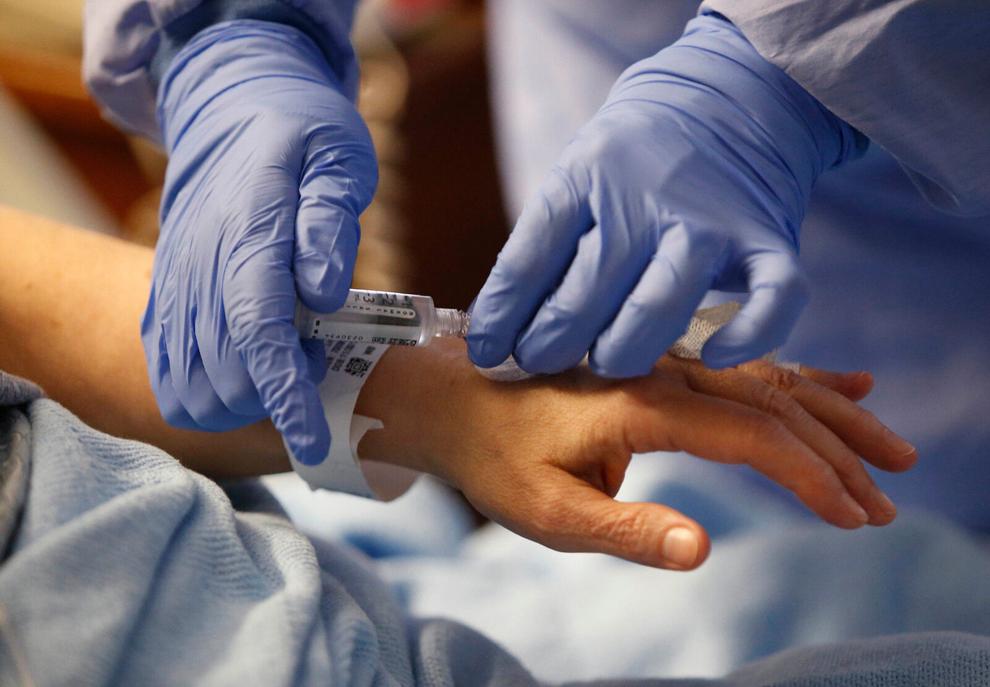 "Every single staff member in our units is dressed in full gear," said Catholic Health's Shiley. "That includes a specialized gown and a respirator, eye protection and gloves, so you don't really see our faces very well." 
Vaccines are making a difference
"I'm not admitting patients who are vaccinated," Cloud said of his duties in the ECMC emergency room, though he has seen some visitors with mild cases in the ER who have had their first dose of the Covid-19 vaccine.
"Erie County hospitals have reported to us that none of the patients hospitalized with Covid-19 have been fully vaccinated," said Kara Kane, county Health Department spokeswoman. "To us, that indicates the Covid-19 vaccine is preventing more serious illness that could require hospitalization, particularly in the older adults."
The latest peak underlines the need for everyone to get a Covid-19 vaccine, said Shiley, who was discouraged while leaving the Covid-19 unit at Mercy Hospital on Monday morning after several conversations with new patients who had yet to get one.
"When we kind of get into the reasons as to why," he said, "it's largely been folks that had chosen not to."
Western New York is not yet out of the woods
"If people get vaccinated, keep wearing their mask, maintaining distance, avoiding the big crowds, we will chop off this spike," Sellick said.
As vaccine rates climbed past 50% in Israel, Cloud said, case numbers, hospitalizations and deaths dropped rapidly.
"We're so close to the finish line," he said. "It's really incumbent upon everybody to be really responsible, particularly people who haven't been vaccinated, younger patients, middle-aged people that might have concerns about the vaccine. They're still very vulnerable to this, and even more vulnerable than they were months ago because these new variants are more transmissible.
"If people are responsible, I'm cautiously optimistic that a month from now we're going to start to see the numbers really drop."