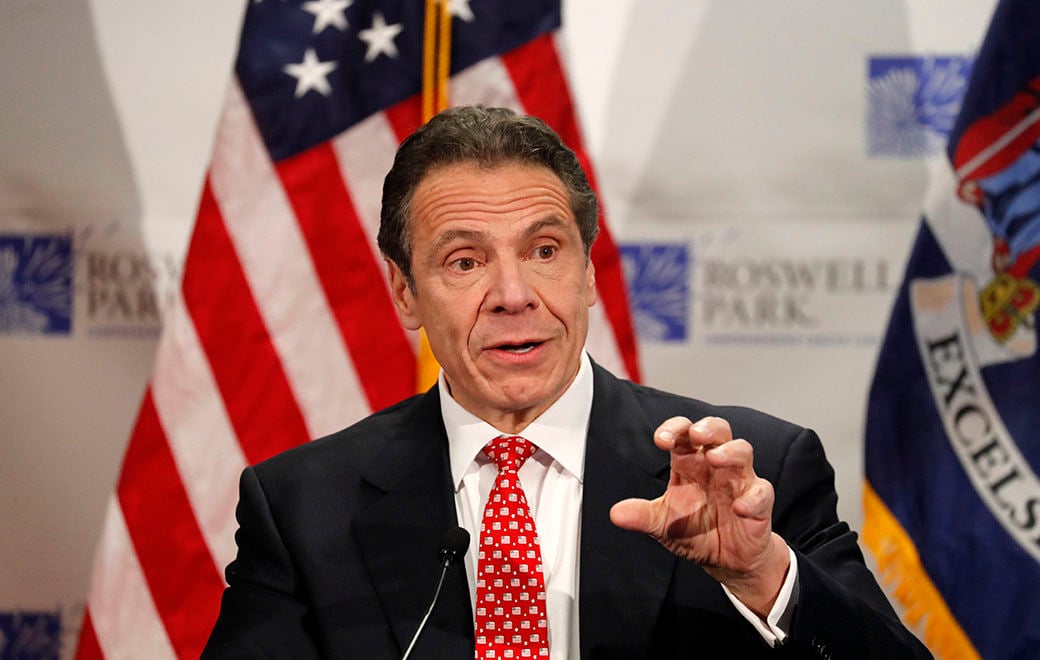 Western New York will begin the gradual reopening process on Tuesday, Gov. Andrew M. Cuomo said in Buffalo on Monday.
"It's been a long painful period, but we start to reopen tomorrow," Cuomo said during a visit to Roswell Park Comprehensive Cancer Center.
That means nonessential construction, manufacturing and wholesale trade businesses, along with agriculture, forestry, fishing and hunting, as well as curbside pickup at retail businesses may resume operations on Tuesday.
Cuomo also said he is encouraging professional sports teams to consider playing games, but without fans in the stands.
Cuomo on Sunday said the five-county Western New York region was on track to start the gradual reopening process as soon as later this week.
As of Sunday, Cuomo said, the region needed to meet just one more of seven benchmarks to reopen – that was to have a sufficient number of contact tracers in place.
Cuomo said Monday the region needed 521 contact tracers. On Monday, 525 had been identified and they are being trained today.
Local government officials have identified a variety of existing public servants across the region to become contact tracers, Lt. Gov. Kathy Hochul said. Various county public health and social services employees are being enlisted for the jobs. In Niagara County, that includes 50 sheriff's deputies who will undertake the work, Hochul said.
I'm happy to be with Governor Cuomo today to announce we have hit our number of contact tracers and will enter Phase 1 for reopening starting tomorrow. https://t.co/VsUXYCfODH

— Mark Poloncarz (@markpoloncarz) May 18, 2020
Contact tracers will be used to help reduce the spread of new Covid-19 cases. The work includes making phone calls to individuals who have recently been diagnosed with the illness to determine with whom the infected individuals have had close contact. Phone calls are then made to those individuals to urge them to take precautions.
Nursing homes
In order to help nursing homes meet the state requirement to test every staff member twice a week, the governor also said Monday the state is providing nursing home operators with test kits and has partnered with laboratories to have the samples tested.
The state is sending about 320,000 test kits to nursing homes and the labs will reserve capacity to test 35,000 workers a day, Cuomo said.
Houses of worship
In terms of when houses of worship will be able to reopen, that won't come until the state reaches the fourth phase, officials said. That phase covers mass gatherings, including arts, sporting events, recreation and other entertainment.
Some smaller gatherings in churches, synagogues and mosques may be permitted at some point, though if and when hasn't been determined.
Sports, without fans
Cuomo said professional leagues, sport-by-sport, will have to determine if it makes sense economically to play games without fans in attendance.
"Whoever can reopen, we are encouraging," Cuomo said, while showing a graphic that said, "I want to watch the Buffalo Bills."
But he urged caution about doing so.
He said he understands that some sports rely more on income from contracts for broadcasting rights than on stadium revenue.
"If they can make the numbers work I say great, come back," he said. "The state will work with you."
Cuomo said he understands that watching a game on TV at home is not the same as going to the actual game or even a bar to watch it.
He said he's been watching "the old classic games" being shown in lieu of live games.
"That's fun," Cuomo said. "I'd rather watch current sports."
Erie County Executive Mark Poloncarz on Sunday said he was hopeful reopening could start by the end of the week.
According to state data released Sunday, 189 people had been hospitalized with Covid-19 in Western New York as of Saturday. That was the same number of patients as Friday and was down from 204 Thursday and 214 on Wednesday, according to the data.
The region hit its peak for people hospitalized April 28, when the total reached 263 people. That means over a 17-day span there was a 28% decrease in people hospitalized with Covid-19, according to the state data.
State officials incorporated measures of Covid-19 hospitalizations and Covid-19 deaths in hospitals as part of the reopening criteria. The state has not released any raw data on Covid-19 deaths in hospitals since last Tuesday.
There were 106 state residents who died Sunday of Covid-19, 23 of whom lived in nursing homes, Cuomo said.
The state recently created what it called a "regional monitoring dashboard," a website that tracked where each of the regions stood in terms of the reopening standards.
On Friday, five of the state's 10 regions started the first phase of reopening, which includes nonessential construction and manufacturing businesses, as well as curbside retail.
In addition to Western New York, Cuomo on Sunday said the Central New York region, which includes the Syracuse area, is also getting close to starting to reopen.